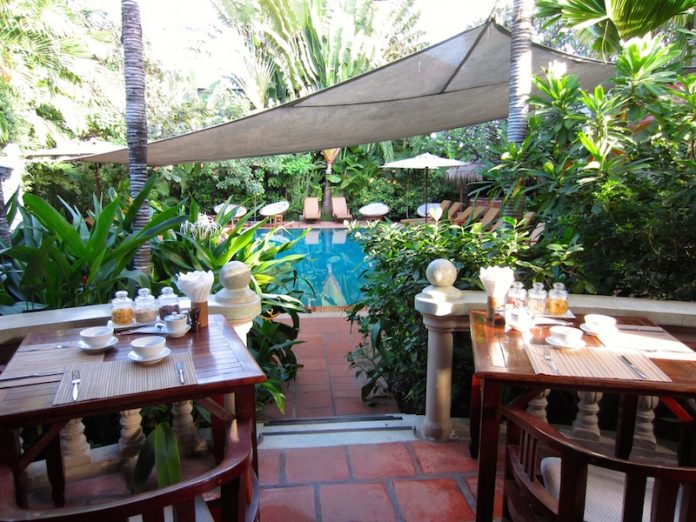 Editor's Note: This is one of several hotels Marie visited in Vietnam and Cambodia. Click here to read her full itinerary.
CONTRIBUTED BY MARIE LEWIS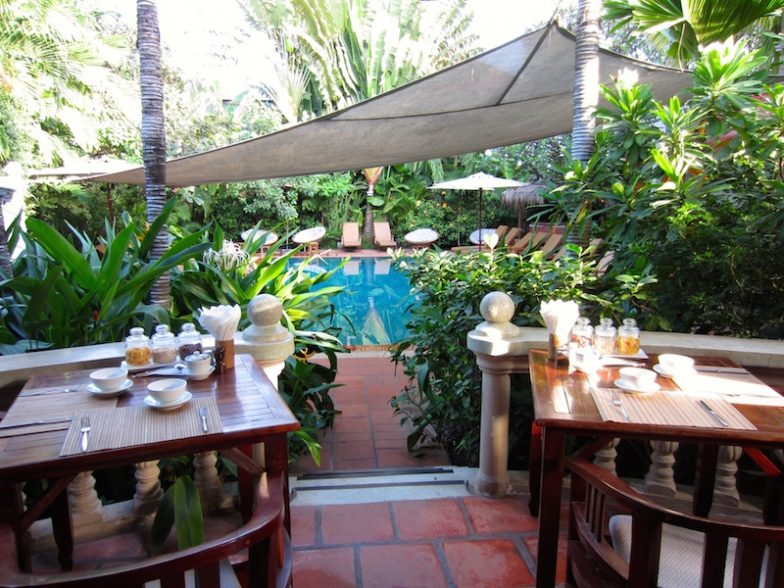 The Villa Paradiso is a boutique hotel where we stayed during the Phnom Penh leg of our journey. After a long boat ride through the Mekong Delta into Cambodia, we were welcomed with delicious drinks and cold towels. We actually stayed here two times, before and after our rustic adventure into Mondulkiri, and this hotel was a much-needed haven from the chaos of Phnom Penh. We could not have picked a more wonderful place to stay. At times I thought, "Why go out?" It was that great an experience; we had to, at times, force ourselves to get out and see the city.
Rooms: If you are looking for something truly unique, this place is IT. There are only 14 rooms, and each has its own theme (i.e. Balinese Garden Suite, The Music Room, The Island, etc.) The décor is gorgeous and perfectly suited to each theme. You can browse them on the hotel website to find the perfect room for you.
During our first two nights here, we stayed in The Sheikh room. We loved its rich furnishings and antique accessories.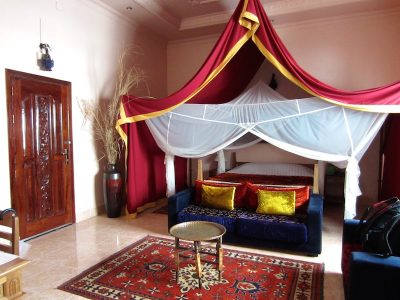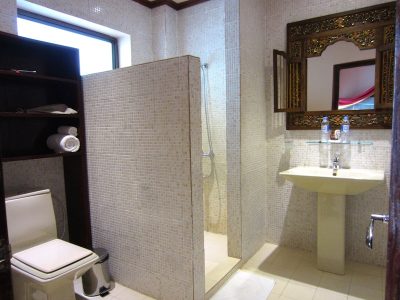 During our second two nights, we stayed in the Balinese Garden Suite. This was one of the two most expensive rooms, but it was worth the splurge! It was incredibly romantic, and we loved lounging on the Balinese platform seating area.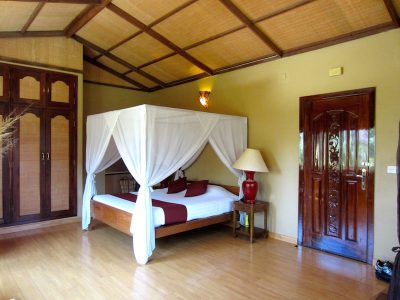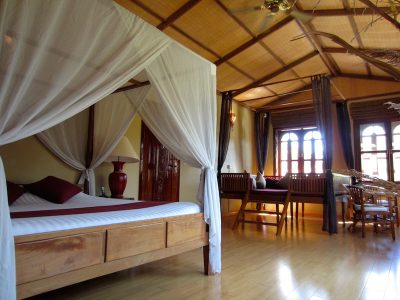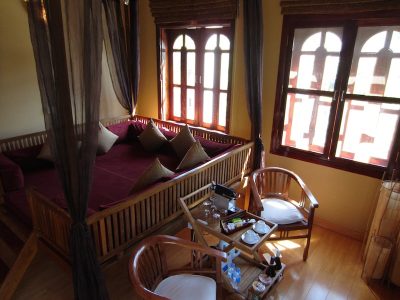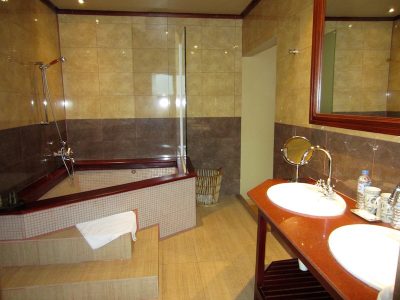 In addition to a well-stocked minibar, the rooms came with a huge selection of free movies on-demand, as well as free documentaries about Cambodia's tragic history (namely, the genocide committed by the Khmer Rouge). We found these to be a valuable history lesson in preparation for our visit to the former S-21 prison and the killing fields.
Location: The hotel is centrally located in Phnom Penh and a short tuk-tuk ride away from all of the major sights. It is tucked behind a tall wall on a quiet street, and easy to miss if you are not paying attention. I thought it was easier to spot at night (see below, daytime photo as compared to night).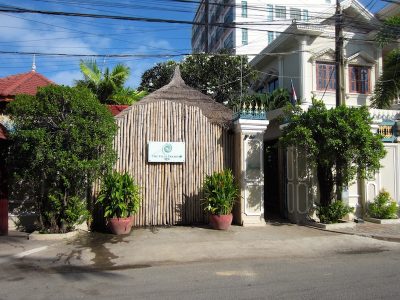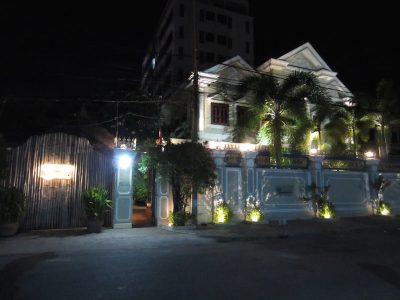 It's within walking distance to the Royal Palace, but I would not recommend walking as Phnom Penh is NOT a pedestrian-friendly city! Tuk-tuks are readily available outside the hotel (but they do not work with the hotel, so make sure you agree on the price before getting in.)
Service: Each and every member of the staff here went above and beyond to take care of EVERYTHING for us. Check-in was a breeze. When we left for Mondulkiri, the hotel stored our luggage for free since we would be returning for a second stay. The wait staff in the restaurant and poolside were always attentive and courteous.
Once of the things that really made this place stand out was the personal attention paid to us by the hotel owners, Sandra and Philipp. We saw them regularly in the restaurant and around the property, and if they were not deep in conversation with another guest, they were asking us about our stay and suggesting places to see and logistical tips. Philipp came to help us personally when we had trouble figuring out how to use the air conditioner remote in our room. Sandra checked our bus tickets when our driver to Mondulkiri was running late, and made a quick phone call to confirm he was on his way. Little courtesies like this really made us feel like we could totally relax – we were in good hands!
Food & Drink: In a word: superb. The food is served in an open-air restaurant overlooking the pool.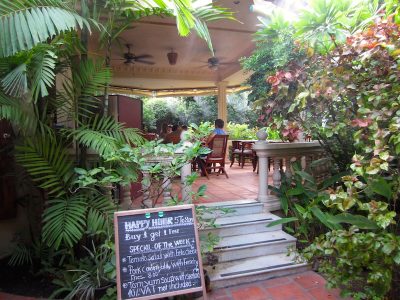 Everything was incredibly fresh, and while I was always satisfied it never left me feeling overstuffed. The food and drinks were reasonably priced (most cocktails were about $4 USD) and we also took advantage of the poolside cocktail and snack service (easily the best chicken tenders I have ever had – even though they were technically my husband's. Good thing he doesn't mind sharing)!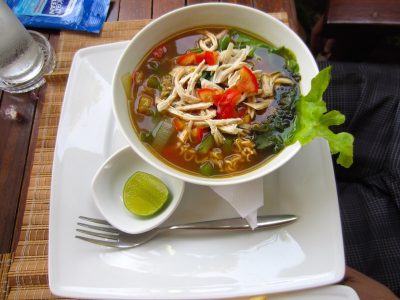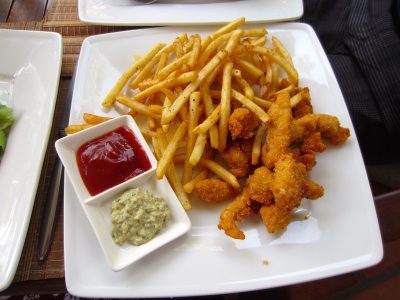 I devoured the exotic fresh fruit that was offered at breakfast every morning.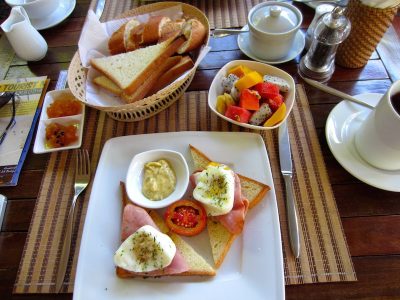 One of my favorite meals during our entire trip was a mango salad with sesame seeds and a homemade yogurt-based dressing. It was AMAZING!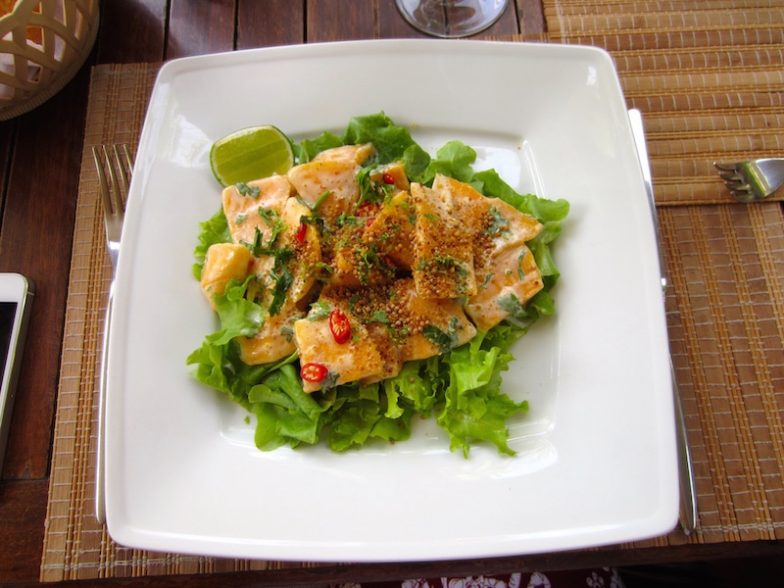 Pool: The pool was never crowded and the perfect place to unwind after our sightseeing trips. There was a canopy overhead to shield us from the oppressive sun. We also enjoyed the Jacuzzi adjacent to the pool. I felt especially spoiled by the little buttons we were given to summon a waiter whenever we wanted to order a drink or snack. We never even had to get up!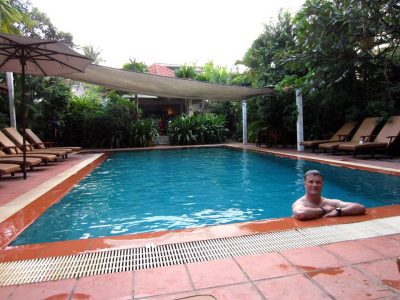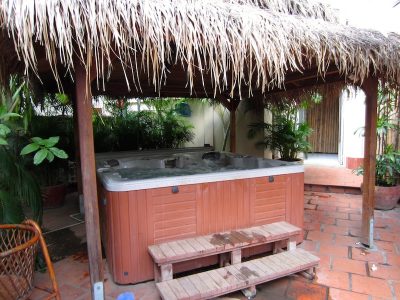 Spa: The spa is divided into five individual cabins tucked inside the greenery surrounding the pool. They offer a full range of massages and beauty treatments. I had a 60-minute aromatherapy massage for $26 USD. They offered me a choice of essential oils focused on relaxing, toning, or purifying. The massage was among the best I have had. I like medium pressure, and the therapist was careful to ask if I wanted more or less once we got started. Afterward, I enjoyed complimentary hot tea and fresh fruit at my favorite table overlooking the pool. I would highly recommend this spa even if you are not staying at the hotel. If I ever re-visit Phnom Penh, I will be back!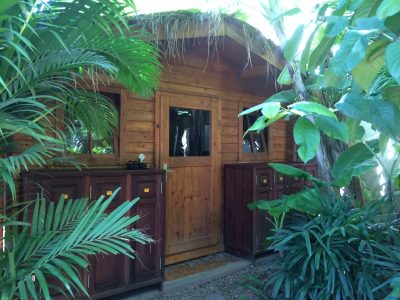 Other Amenities: There was not a gym here but I really didn't miss it. Between the pool, spa, Jacuzzi, free movies on demand, and an array of books and magazines to borrow, there was more than enough to keep us entertained. Excellent free WiFi too!
Value: This place truly was a paradise for us and while there are cheaper hotels in Phnom Penh, this place was worth every penny spent. If you want tranquility, quality and personalized service, I don't think you need to look anywhere else. Rooms range from $70-$180 per night depending on the type of room.
Know Before You Book: Only children older than 10 are allowed to stay at the hotel. As such, you will see mostly couples and adults-only groups here. For us, this was exactly what we wanted, but if you have young children you'll want to look elsewhere.
Hotel Website: The Villa Paradiso