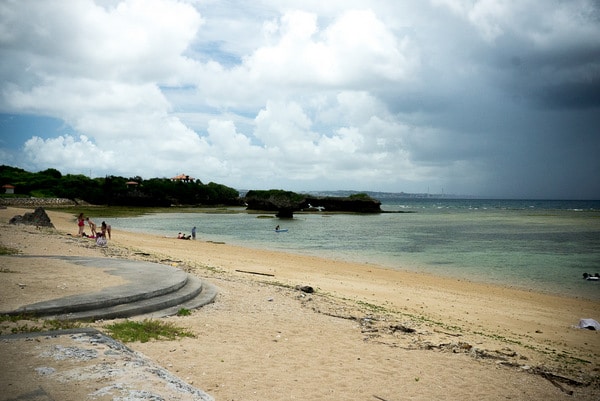 CONTRIBUTED BY MARISSA MATSUZAKI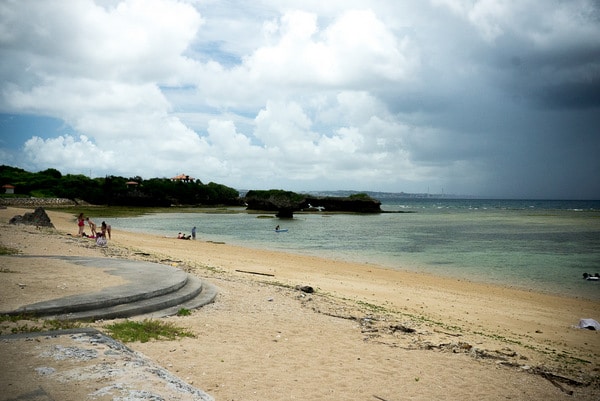 "Let's go to a new beach today!" Our wee one was napping and we were contemplating what to do with our family time when she woke.
"Alright, which one?"
"I don't know, but I saw it from the steps." There was a spot on the sea wall near Sunabe we called "the steps." One day we looked out and noticed a patch of beach just across the bay that looked inviting.
"Do you know how to get to it?"
"We'll figure it out."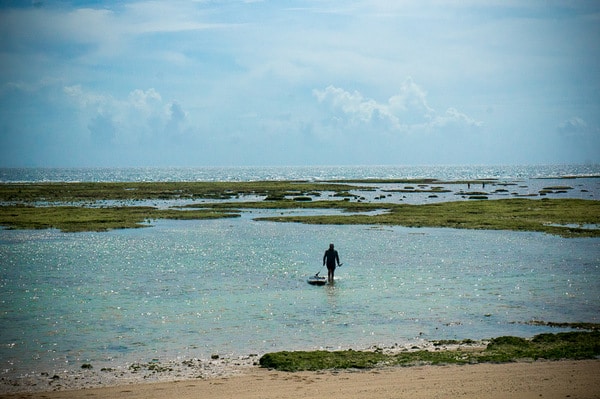 So we packed our car with a cooler, diaper bag, towels, sunscreen, and other beach gear and started to drive. We decided within our first couple of weeks on the island that my husband could navigate map apps more easily and I could follow directions so he went to work navigating while I drove. Not surprisingly we turned onto some narrow roads that were walled in by cement buildings, passed a red bridge, and soon began to weave through fields with tall crops. I expected to come to a small cliff, parallel park, and search for beach access but to my surprise, the maze of crops ended with a nice paved parking lot. To my left, there was a well-kept playground complete with cool roller slides. Straight ahead was an ambient restaurant overlooking the water with the smell of steak wafting out of the windows. Then to the right, we saw the white sand beach, small pavilions, picnic tables, and an ice cream vending machine. I saw a sign. We were at Toguchi Beach.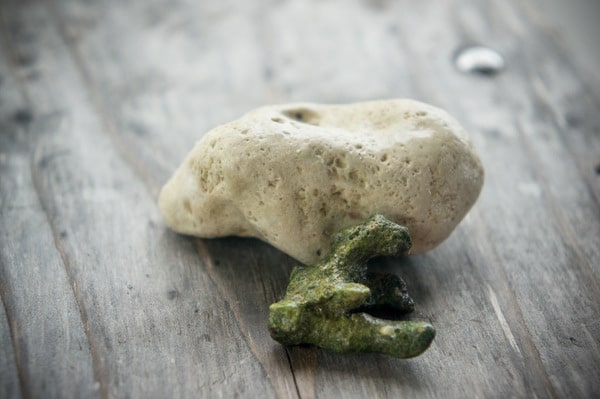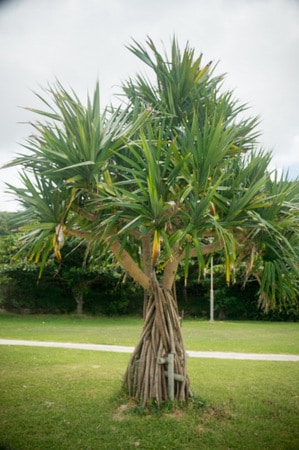 My husband went ahead and inquired about renting a picnic area (for around 5,000 yen) while our little one and I settled into a shady spot. The hot July sun wasn't so bad under the pavilion's shade with a few ocean breezes alleviating the heat. While my baby played with a few shells we had picked up, I relaxed listening to the music that must have come from hidden speakers. The playlist consisted of Latin rhythms, traditional Okinawan folk music, Hawaiian ukuleles, and other songs that paired well with ocean waves. A few other visitors occupied the beach but it was quiet and for us couldn't have been more perfect.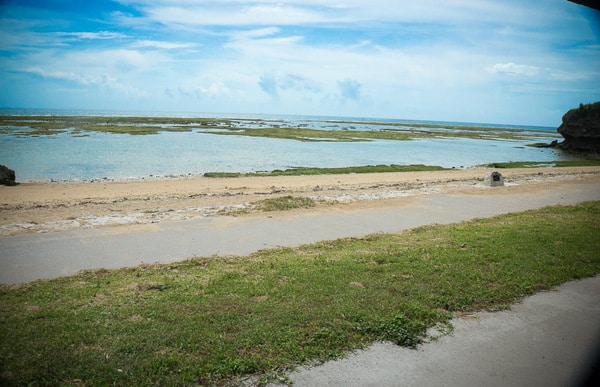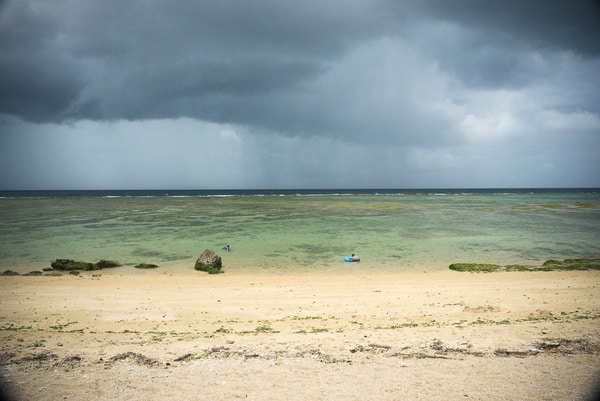 We wore shoes while in the water out of caution for Uni and other potential discomforts, but it was more of a sandy beach with less rocky coral in the water. Though the water was not as clear as it often is in rockier areas, we could still enjoy a bit of snorkeling and spotted a few seahorses, fish, and crabs. The current was calm enough to bring our little girl in the floaty to enjoy the saltwater. When we took breaks, we had a shady spot with a table where we could eat and enjoy our quiet ocean view.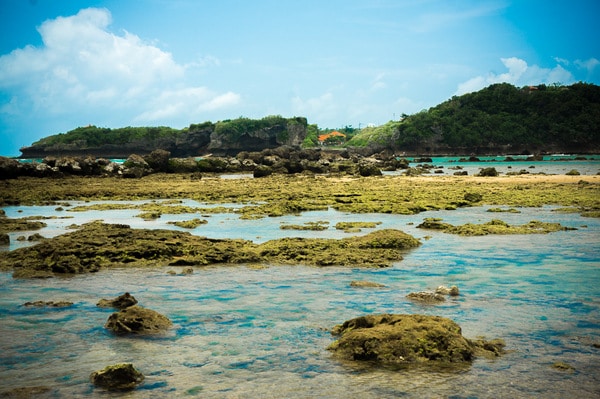 Upon leaving the beach I noticed the sign with all the beach rules regarding grilling, pets, play, noise, and such. "No wonder this beach is quiet…" I thought. It's not the beach for a party, but it's a great place to get away and relax. As my hubby packed the car and I made my way back with our baby, I stopped by the vending machine for a Beni-imo (Purple Sweet Potato) ice cream bar to enjoy on the ride home. It was nice being able to feel like I went on a vacation to Hawaii less than 15 minutes from our house.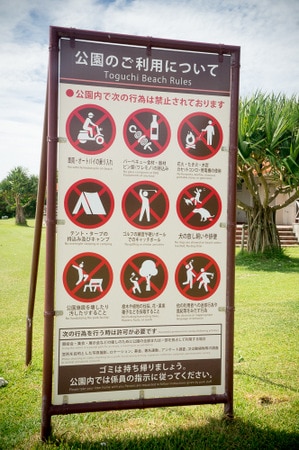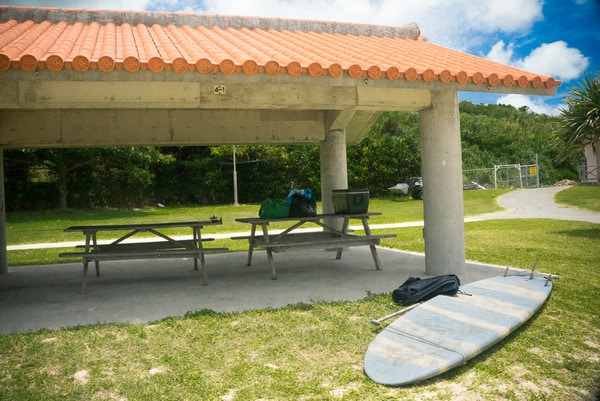 For more info on Toguchi Beach, see these Okinawa Hai posts:
by Meredith in 2007
Toguchi Beach & Cafe by Christina in 2013
---
Toguchi Beach
Address: Toguchi Beach; 228 Toguchi, Yomitan
GPS Coordinates: 26.3644617929, 127.738609923
Directions from Foster or Kadena Gate 1:
North on Hwy 58 (that's a right out of Kadena Gate 1). Pass Naval Kadena and the McDonald's on 58. You will see a light immediately after the pedestrian crossway and across from Kadena Gate 4. This is the MizuGama intersection. Make a left at this light. At the second light after you turn the road forks so make sure you take the left fork going towards the tombs. You will shortly find yourself on a red bridge. Keep going, you will see a Family Mart on your left. At the next light, you will see a Japanese gas station with blue trim and an orange and white sign. There is a large stone shisa at the entrance of this gas station. You will also see a large red arrow for Toguchi Baech pointing left with the words 1 km on it. Following the arrow, turn left. You will find yourself on a small road with fields and houses. Look for the red arrow that says 500 km and turns right at the arrow. Toguchi Beach is at the end of this road and you should automatically turn into the parking lot.
Directions from Kadena Gate 3:
There is a shortcut to Toguchi Beach. Take a left out of Gate 3. At the next light, you will see a sign with a large white/orange dragon on it. There is also an overhead sign pointing to Kadena Athletic Field. Take a right at this light. Keep going. You will eventually cross Hwy 58. After about 10 minutes you will see a Japanese Gas station with a large stone shisa on your left, and Starbucks across the street. Keep going straight. You will also pass a large red arrow marked 1 km on your right. Look for the arrow marked 500 m. Turn right. You will find Toguchi Beach at the end of the road.