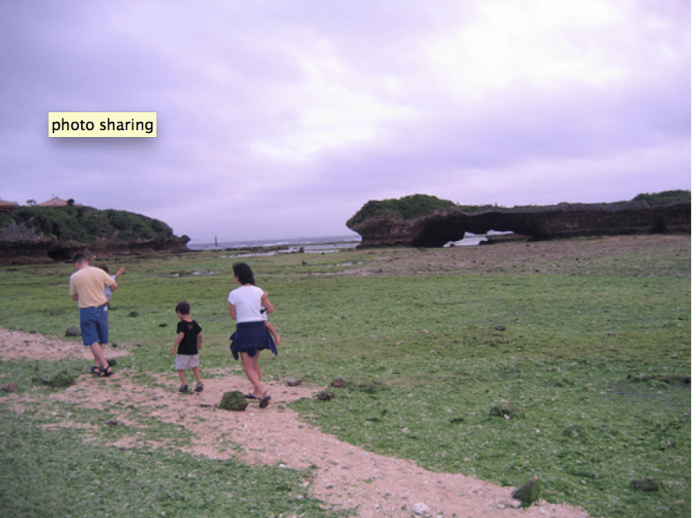 CONTRIBUTED BY MEREDITH NOVARIO
 Are you looking for a beach that screams "back to nature" but is kid friendly as well? Toguchi Beach is all that and more. This beach makes me feel like I'm on the set of "LOST" because it's isolated and wild in some parts. The views from some of the bluffs are breathtaking.
And yet, they have a kiddie play area with two of the coolest cement slides on the island. Also great covered pavilions for picnicking. Very awe inspiring, yet practical at the same time. But then again, that's what Japan is all about.
---
Toguchi Beach
Address: Toguchi Beach; 228 Toguchi, Yomitan
GPS Coordinates: 26.3644617929, 127.738609923
Directions from Foster or Kadena Gate 1:
North on Hwy 58 (that's a right out of Kadena Gate 1). Pass Naval Kadena and the McDonald's on 58. You will see a light immediately after the pedestrian crossway and across from Kadena Gate 4. This is the MizuGama intersection. Make a left at this light. At the second light after you turn the road forks so make sure you take the left fork going towards the tombs. You will shortly find yourself on a red bridge. Keep going, you will see a Family Mart on your left. At the next light you will see a Japanese gas station with blue trim and an orange and white sign. There is a large stone shisa at the entrance of this gas station. You will also see a large red arrow for Toguchi Baech pointing left with the words 1 km on it. Following the arrow, turn left. You will find yourself on a small road with fields and houses. Look for the red arrow that says 500 km and turn right at the arrow. Toguchi Beach is at the end of this road and you should automatically turn into the parking lot.
Directions from Kadena Gate 3:
There is a shortcut to Toguchi Beach. Take a left out of Gate 3. At the next light you will see a sign with a large white/orange dragon on it. There is also an overhead sign pointing to Kadena Athletic Field. Take a right at this light. Keep going. You will eventually cross Hwy 58. After about 10 minutes you will see a Japanese Gas station with a large stone shisa on your left, and Starbucks across the street. Keep going straight. You will also pass a large red arrow marked 1 km on your right. Look for the arrow marked 500 m. Turn right. You will find Toguchi Beach at the end of the road.