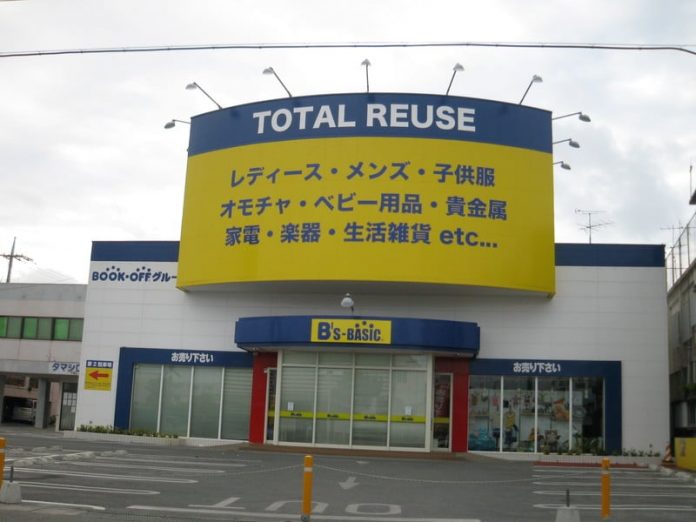 CONTRIBUTED BY DIANA MIDDLETON
I recently found a nifty thrift store on the island and I think you will like it, too. In previous discussions about thrift stores on the island, there was limited information out there. However, I think most of you will like this store "Total Reuse." If you have traveled to Tokyo, you know there is a chain of recycle stores with the three dots hovering over each store name. There is Book Off, Hard Off, Off House, Mode Off, Garage Off, Junk House, and Box Shop. Each store usually has specific areas of interest (Book Off has recycled books).
As I can tell from the store's sign, it seems to be a part of this recycling chain. What makes this store so cool is the wide selection of items to peruse. You will find everything from little knick-knacks, dishes, electronics, and musical equipment to sports equipment, men's clothing, and children's clothing. My favorite sections are the women's clothing section (with some aisles separated by color, I just love going through all of the black blouses and red blouses to find something I like), the purse section (lots of cool purses, again, separated mostly by color), and the kimono section (you'll find some pretty cool kimonos if you're lucky, I bought a platinum and silk obi at a killer sale price). I've also been at just the right times to find a cute dragon costume and some princess costumes for my daughter (sorted in with the children's clothing area). They also have shoes, jewelry, baby items, and much more.
You can also try to sell your stuff there. You can walk in and give them your stuff at the counter and they will give you a ticket number. While you walk around the store, they will go through your bag/box of items. Do not expect much from this part of the store, though. I went in with five bags of stuff I usually take to the flea market and ended up selling a teeny tiny portion of that worth a total of 300 yen. So, please don't rely on that amenity. Instead, spend your time buying more stuff to fill your closets!
Can you tell I love this store? I almost debated not posting it. More for me! Mine, mine, mine! No! I don't want to share! But then I had to remind myself how much the Okinawa Hai site has done for me and of all the cool places I've been able to check out thanks to other readers' posts. Dammit Jim, I'm a thrift store shopper, not a miracle worker! Okay, I'm over it. I hope you'll like this store as much as I do. It may not be for everyone, but that's okay, more for me! If I could spell out the sound of an evil laugh, I would.
Directions: From Kadena, go straight out of Gate 2 and turn left onto 330. Follow 330 until you get to Koza crossing. Go straight through this intersection. You will see a McDonald's on your right, Total Reuse is the store right after the McDonald's (see picture below).
From the Courtney area, turn left out of Courtney's main gate (the one with the bowling alley/movie theater) and follow 75 south past 85 until you see the McDonald's signs. Total Reuse will be on your right before McD's. As I cannot read Japanese, I am not sure what their operating times and days are, but I do know that they open at 10 am. Hope this helps and let me know if any of you get a chance to check it out!