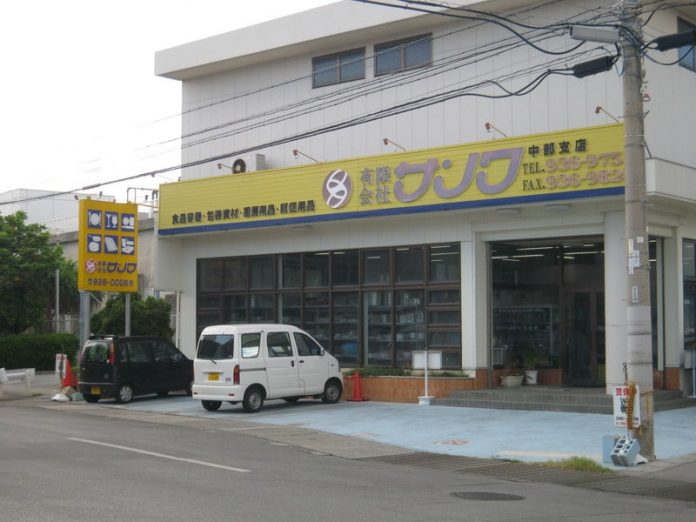 CONTRIBUTED BY DIANA MIDDLETON
I was referred to these stores by two different people for two different things but it turns out they both provide the same kinds of supplies. Before, I was looking for a pot large enough to have a steamer at the bottom for tamales cooking on the top. My friend Sato showed me Sanwa store by the seawall (pictured above with yellow sign). Then, as I was looking for places to post, my good friend Julie showed me Mitsuwa near the Jusco in Gushikawa (blue and beige building pictured below).
As it turns out, both stores provide a wide collection of restaurant supplies. You don't have to be a restaurant owner, though, to want, need or shop for these items. For example, say you are throwing a huge barbecue or office function, this is the perfect place to find all sorts of serveware, from bento boxes and trays for light snacks to little condiment containers.
I wish I could put into the words all the fun and cool things I found at these stores, but really, you'll just have to go to check it out. Mitsuwa in Gushikawa is bigger and has more items. Sanwa by the seawall is very small, so if I were you, I'd check out Mitsuwa first.
Just to list some of things I found here: bags of all kinds, bento boxes, bulk chopsticks, cute wrapping paper, various shapes and sizes of party trays, plates, bowls, pots, pans, knives, cooking oils, streamers, notepads, etc. It's a perfect place for party supplies whether it's a birthday, office, or holiday party.
Hours of Operation: Mitsuwa is open from 9:00 a.m. until 6:00 p.m
Payment:  Payment is accepted in Yen and Credit Cards only
Address: 13-2 Suzaki, Uruma-shi, Okinawa
GPS Coordinates: 26.332949, 127.85319700000002
Directions:
To Sanwa: From Kadena Gate 1, turn left as you leave the base onto 58. Turn right at the first light AFTER 23. Follow this road past two lights. Sanwa is on the right next to M's Surf Shack. Sanwa is open from 10:00 a.m. until 6:00 p.m. Payment is accepted in Yen and Credit Cards only.
To Mitsuwa: From Kadena Gate 2, turn left at the first light outside the gate, which is Route 85. Once on 85, go straight until you reach the Ikentou Higashi intersection, which should be the 4th light. At this light you'll turn right onto Route 85 (if you were to go straight, it would turn into 74 and lead you to Kadena gate 3). Once you're on this 85, go straight for quite a bit. You'll pass Marinos and Main City mall on the right. You'll go through Route 75. You'll pass Makeman on the left. Finally, you'll get to the Maehara intersection. There will be a Jusco on the bottom right-hand corner of this intersection and the Birthday Store in the top left-hand corner. Go straight through this intersection. Mitsuwa will be on the left hand side after about the 2nd or 3rd street. Look for the sign pictured above.