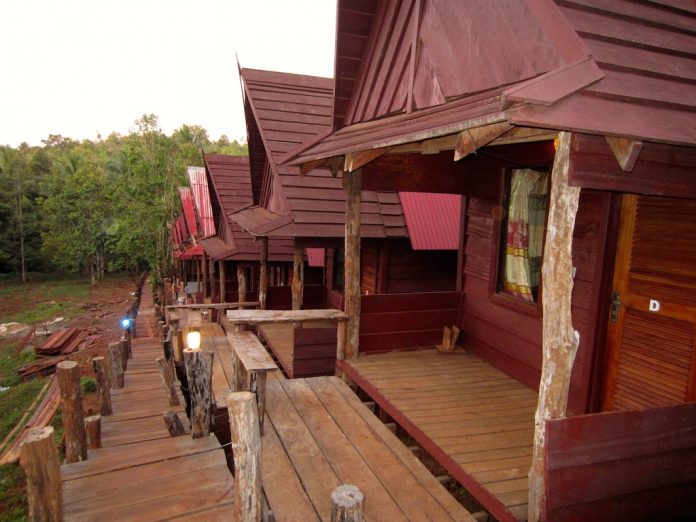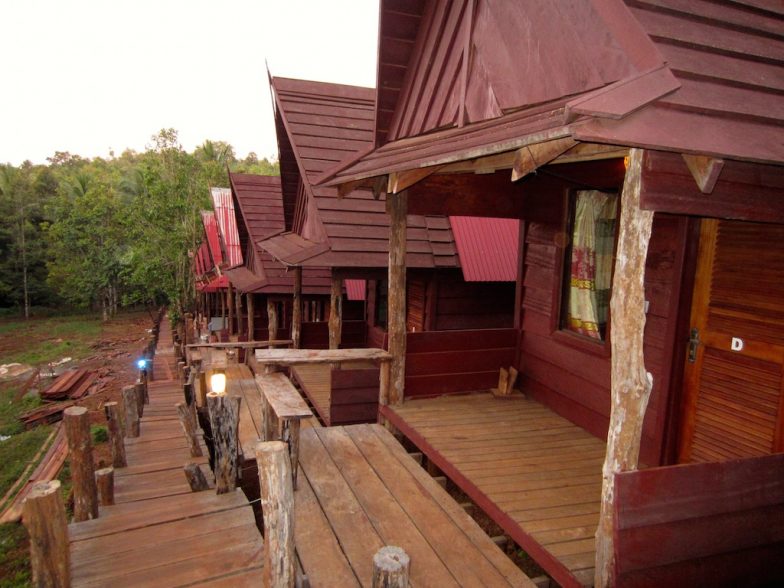 Editor's Note: This is one of several hotels/lodges Marie visited in Vietnam and Cambodia. Click here to read her full itinerary.
CONTRIBUTED BY MARIE LEWIS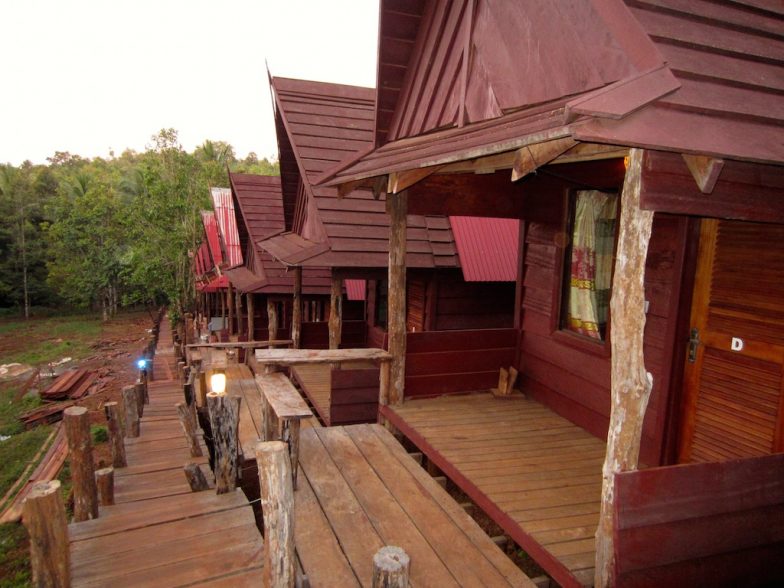 Tree Lodge was our base from which to explore Cambodia's "wild east" and trek with elephants in support of The Mondulkiri Project. It's an organization run by a local Cambodian family that provides an income to the impoverished people in the community by renting their land, while at the same time protecting the environment of the two female elephants in its care.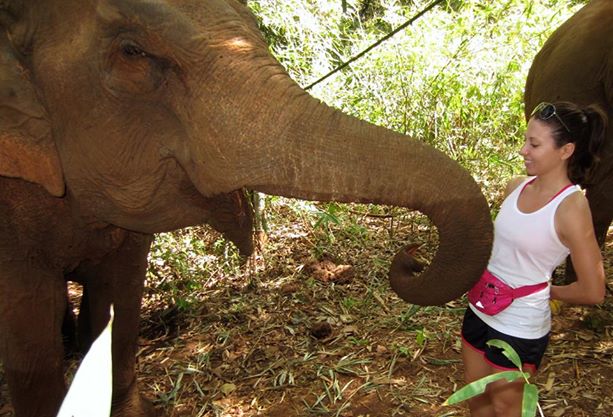 Before I launch into my review of the lodge, it's worth noting that the Mondulkiri Project does NOT allow tourists to ride elephants. We learned through Mr. Tree, the founder of the project and owner of Tree Lodge, that elephants used for tourist rides suffer a great deal of bodily harm over time from the way they are worked, and the rides ultimately shorten the animals' life span. I'm not an elephant doctor, but I'd rather err on the side of caution and stay away from anything that might be potentially harmful to animals. That said, we were more than happy to follow the elephants' lead on a trek and give them a bath in the river, always mindful that they were running the show. In the words of Mr. Tree, "You don't make my elephant do anything she doesn't want to do." For more on elephant trekking with the Mondulkiri Project, read Kassie's review HERE.
Rooms: Tree Lodge is essentially a cluster of very basic cabins in the woods.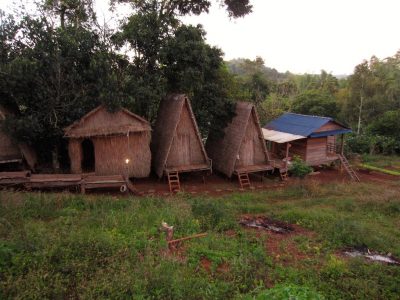 Our room consisted of a bed with a mosquito net, and a small bathroom with a toilet and a shower head. Rooms are $5 USD per night, or $10 USD if you want hot running water. It was surprisingly cool in this area of the country so we opted for the hot water.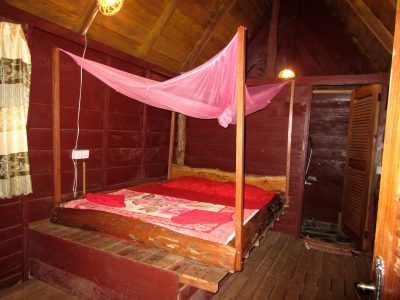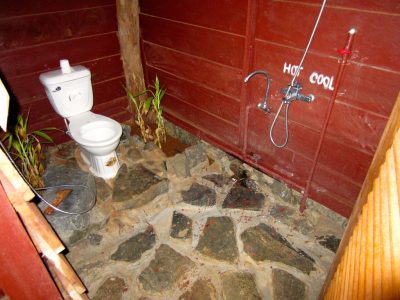 The bed was quite hard (you're sleeping on a thin mat rather than a thick mattress) and while I found it uncomfortable, it was all part of the experience. The simplicity of the room is part of its charm. If you don't mind roughing it a little, you'd love it. (Oh, and there are roosters outside that can't tell time, I'm afraid. They were cock-a-doodle-dooing all night!) But again, it was all part of the experience.
Location: The lodge is just a few minutes' ride from the center of town. From the bus stop, a man working there called Tree Lodge for us. All we said was "Tree Lodge" and he knew who to call! Mr. Tree's wife showed up not five minutes later to pick us up in the family car. She drove us to the Lodge, which is on the same property as their family's house. The family's living room actually serves as the lodge's reception area, restaurant and common lounge.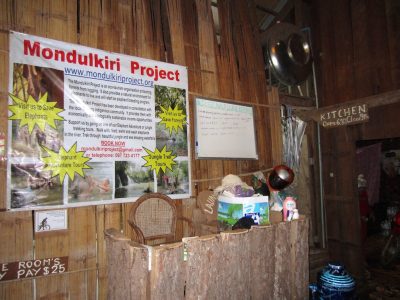 There is a porch out back overlooking the jungle, and it was the perfect spot to catch a wild Cambodian sunset.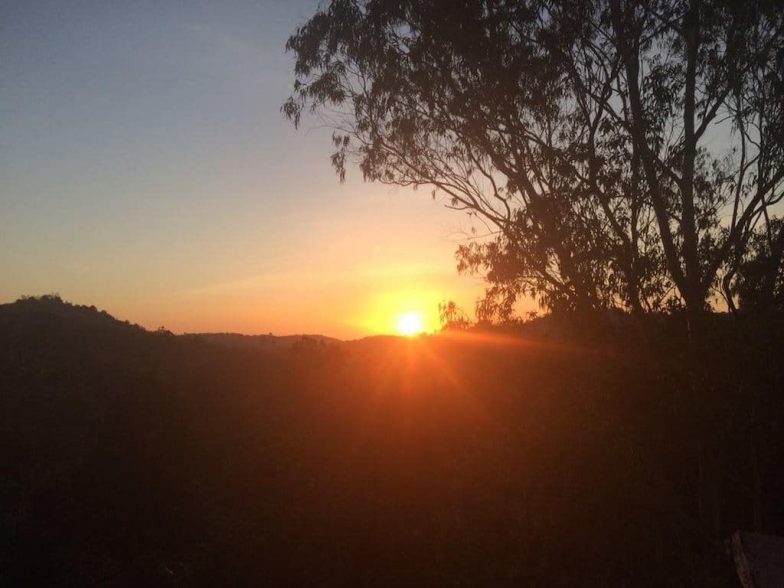 Service: The service is as personal as it gets, because you are being served by members of the Tree family. As I already mentioned, Mrs. Tree picked us up at the bus stop and drove us to the lodge (free of charge). She also arranged for a couple of vespa drivers to pick us up upon checkout and take us back to the bus stop (that ride was only $1 USD). Mr. and Mrs. Tree were there to help with anything we needed. It felt more like we were guests in someone's home than guests at a hotel. And in reality, we were guests in their home. We ate meals in the same room together, and had easy conversation during the day. They are lovely people who really seem to care about improving their own community.
Food & Drink: The food was simple and delicious, and nothing cost more than $4 USD. The House Vegetable Curry with fish was hands down the best meal I had during the entire trip. It cost a whopping $2.50 and left me so full my husband had to roll me out of there.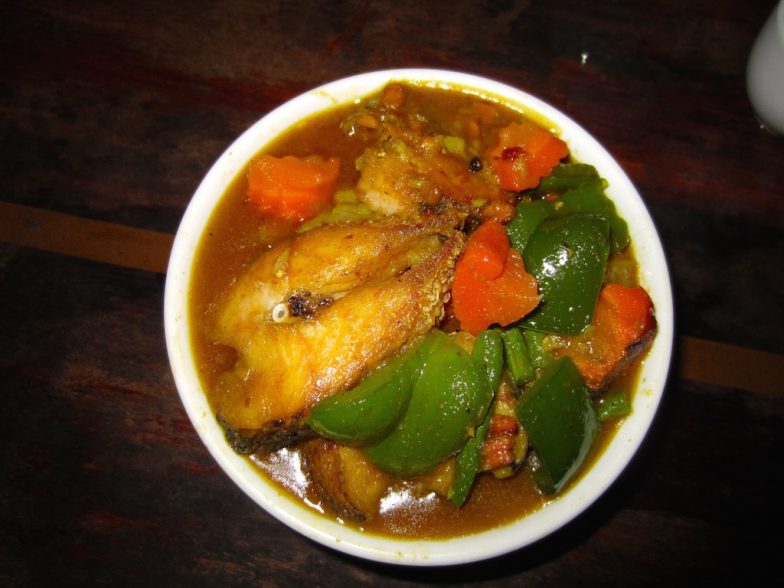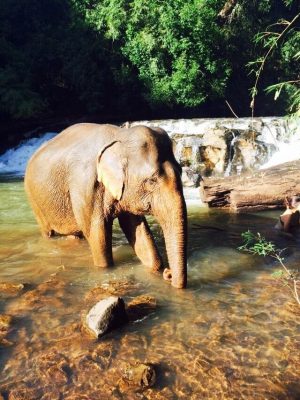 The menu consists of traditional Cambodian curries and stir-fried dishes, but they also had snacks like onion rings and French fries. For breakfast they have omelets, pancakes, and cereals. I also highly recommend the iced coffee with sweetened condensed milk – a local favorite that was an instant hit with us!
Pool: There isn't one here. But if you're trekking with elephants, you'll be chilling out in the river while you bathe one of them, so I think that's a decent alternative!
Spa: Again, not one here. Folks come here for the adventure, not pampering.
Value: Can't be beat. As I mentioned earlier, rooms are just $5 USD per night with cold running water, and $10 if you want hot running water. Nothing on the food and drink menu is more than $4 USD. At the time of this writing, the elephant trek is $50 USD per person. You can read HERE to find out exactly where that money goes. We were happy to support what we feel is a worthy cause in Cambodia, and one that is environmentally sustainable.
Lodge/Organization Website: Tree Lodge Cambodia and The Mondulkiri Project