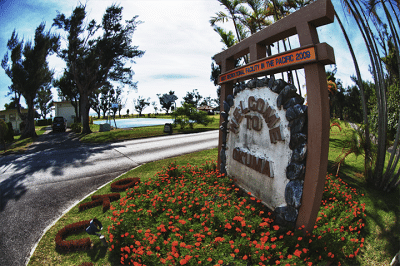 CONTRIBUTED BY KASSIE O'DRISCOLL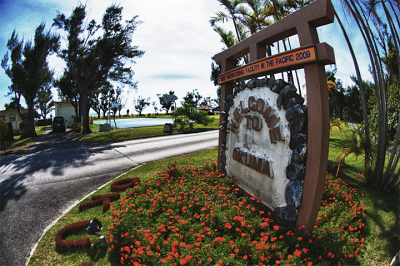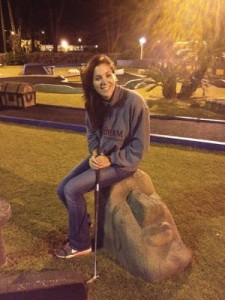 My husband and I took a little stay-cation to Okuma. It was a last minute decision, but that's what happens when cabins and resorts fill up so quickly around here! I woke up one morning and saw a Kadena FSS announcement that the resort had opened up another "Turtle Nest" cabin and they were now taking reservations. I called an hour after it was posted… all holidays were already booked! My husband was able to get the quick "go-ahead" for the last weekend in November. What did we learn here? Book ASAP!(I didn't do a very good job taking pictures so we can thank the KadenaFSS for the sign photo and photos of the cabins.)
Okuma is a military-affiliated facility so we had to show our military IDs upon arrival. They have a small gift shop, the check-in office (equipped with movies and gaming systems for rent), and a game room. There is a restaurant and bar on the grounds and lots of stuff to do!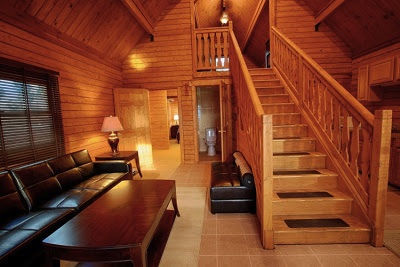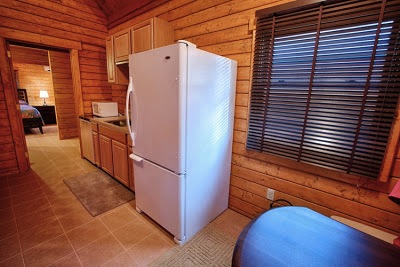 We were so happy with what we saw when we made it to the cabin. It's BEAUTIFUL!! It was way too big for the two of us, but we weren't complaining. It has 2 bedrooms, a loft upstairs with numerous futons, and a couch downstairs. There's also a small kitchen with everything you need, except a stove. However, don't worry, there's a really nice grill outside!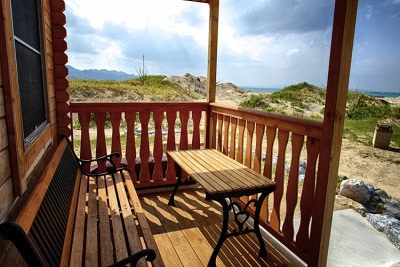 Outside, there's also a fire pit dug in the sand. We didn't take advantage of it, but we will be sure to do so next time. There is the bench on the left and a breakfast table and chairs on the other side. The beach is literally right there.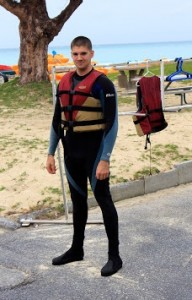 I've been dying to try paddle boarding since my sister told me how much fun it was. It was awesome that we didn't have to skip it even though it was cold and rainy. Thank goodness for wetsuits! Turns out, paddle boarding is a lot harder than we expected. We had a really good time trying, but we fell in the water… a lot!
There are a lot of water sports offered and it's all very cheap to rent everything. It only cost us $8 for 2 boards and 2 wetsuits. I know that we stayed during "off-season" so prices might change if you go during peak season.
Besides the Turtle Nest cabins, there's a lot of lodging options. They have hotel style rooms, studio style cabins with bunks, and camping. If you want to camp, but don't have the gear they have everything that you can rent. They've literally thought of everything!
Check out the website because they have PDF's and more photos of all of the accommodations offered! It's really worth the drive if you need a getaway, but don't want to fly off-island. Also, we saw that they were building a few more cabins so be on the lookout for their openings!
Website:  kadenafss.com/rec/okuma
Phone:  632- 3102/ 098-962-3102
Directions:  Leaving Kadena Gate 1, travel north on 58 for 51 miles.  At the intersection with Family Mart, turn left and drive past the JAL resort before turning left into the Okuma Gate.