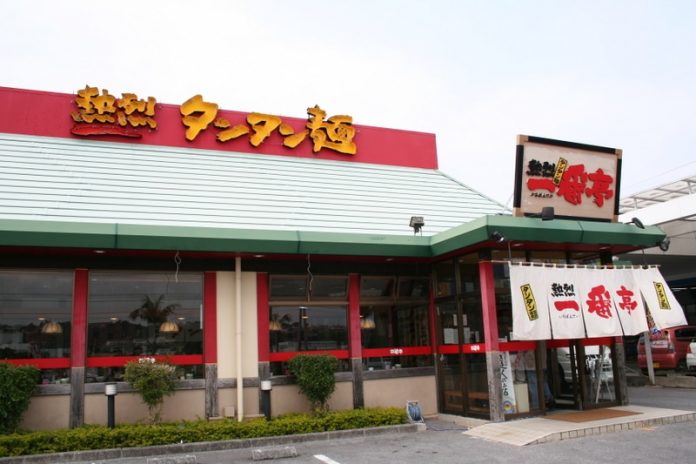 CONTRIBUTED BY KAHO
If you have an APO address, you have this wonderful store, Amazon.com, which you can shop on-line even from the other side of the Pacific Ocean and ships books to you. Our world has become so convenient. I like walking into a book store and pick books though. If you are looking for something specific like a guide book of Okinawa, picture books of Okinawa, etc., this is a good place to hit. Unfortunately, the only time I have been to this store is when I walked in to take some pictures of the store and I have never shopped there. Not because I don't find this store helpful to me, but because I'm Japanese and I go to regular Japanese book stores. I wish I could give you a better description of the store, but I hope that this will help some of you who are looking for a store to buy English books on the island. If you have been to the store, I would love to read your reviews.
This is the only book store that I know that sells English books besides the Base Exchange book section. Do you know any other stores…? Tuttle Book Store is located at the Plaza House Shopping Center.
They have a wide range of books such as language study books, magazines and children's picture books. They also have books of Japanese literature translated in English, magazines on interior decoration and food, and books on the Japanese culture such as tea ceremony and bonsai.
I received a book of Japanese old tales written in English as a gift, which was purchased at the Tuttle Book Store. It is very sweet.
The store also has a section for the books on Okinawa.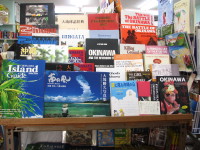 The book on the left bottom corner is a guide on Okinawa is called Island Guide. I have one from last year and it is very helpful. It's a good book to have in your car or at home to use as a tour guide. I think that book is probably one of the best guide books you can have for Okinawa especially for those who live here.
Hours: 10:00 – 19:00
Phone: 933-3520
E-mail: tuttle_book@yahoo.co.jp
Directions
From Kadena Gate 2: Drive out of the Gate 2 and continue until the big junction with Rt. 330. Take a right onto 330 to go south. This is the direction toward Camp Foster. Drive pass the Zoo, a big pachinko parlor, and a junction for the Rt. 24 and the Plaza House Shopping Center will be on your left. This is a shopping center right before the Awase Golf Course on the left and Camp Butler on the right coming from the north of 330.