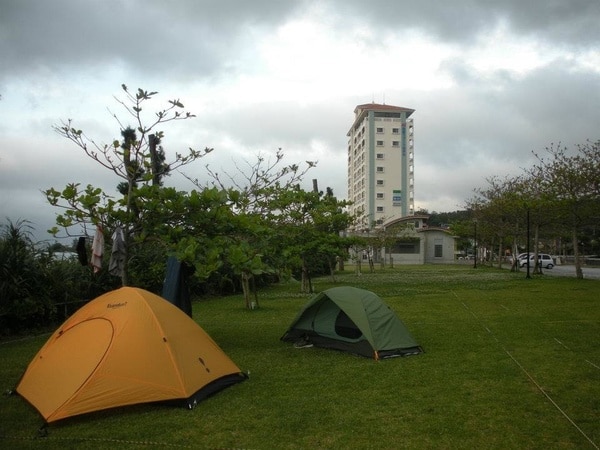 CONTRIBUTED BY JOELLE YAMADA
Or maybe the correct question is, DO you camp?  I have friends who hope to never repeat the camping experiences of their childhoods and maybe you are one of them.  But me?  I loved it then and I love it now.
I've found that without throwing the TV and the computer and the phone out the window, it is hard to get more than an hour of QUALITY time as a family.  But go AWAY for the weekend (even if it is a mile down the road) and VOILA — massive amounts of togetherness time!  My parents spent thousands of dollars one summer and took us to Hawaii, but I don't think my memories of that are any better than those I have of us camping each spring and summer on the coast in Southern California.  Sandwiches never tasted better, doing the dishes was never such fun, playing "fort" never so awesome, hot chocolate never such a treat and going to bed never as much of an adventure as when you are camping — and it probably didn't cost them much more than the same time spent at home.
As I'm writing, my husband and son are still napping in our massive tent on our big blow up mattress (I camp, but I'm not crazy!).  And I'm ruining my carbon footprint for the weekend by writing to you from the little computer room at Okuma.  Which is where WE are camping, by the way.  Granted, it's a bit windy and chilly up here this weekend — my husband mentioned in the middle of the night that it sounded as if we were sleeping on a helipad — but we're having fun!
So, do you camp?  And if so, where on Okinawa have you camped?  I love coming up here because it makes a day at the Aquarium seem like a shorter trip (though it isn't really), but would love to know of some other places to try out our new tent and to let the boys roam free…
Info on Okuma camping:  $8 a night ($7.20 with the club card).  You can rent almost everything at the Outdoor Rec building on Kadena near Overton pool, but I was surprised to find you can rent almost everything up here, too (lanterns, tents, mattresses, sleeping bags, pack n plays, ice chests, etc).  Firewood and ice can be bought as well.
Or tell me just how much you hate camping!  🙂