CONTRIBUTED BY HEATHER NORDELL
The 21st of July is Marine Day in Japan. At first being military-minded like I am, I thought that Marine Day was for The Marines. Then I started to wonder when Air Force Day or Army Day was. Of course I blurted out all of this to my husband before realizing that Marine Day was for marine life not The Marines. Blushing at my mistake I looked into the details on Marine Day.
Here is what wikipedia had to say
"Marine Day (海の日, Umi no hi?), also known as 'Ocean Day', is a Japanese national holiday celebrated on the third Monday in July. Many people take advantage of the holiday and summer weather to take a beach trip. As it is a modern secular holiday, there are no traditional ceremonies associated with the day.The law established this national holiday as a day of gratitude for the blessings of the oceans and for hoping for the prosperity of the maritime nation that is Japan." 

So in keeping with the upcoming holiday I thought I would tell you all about White Beach Recreation and Camping area. White Beach is a wonderful place to enjoy a weekend away and get closer to the ocean and truly celebrate Marine Day. This is the second beach we visited after arriving on the island and we loved it. It is a quiet and relaxing beach. We enjoyed walking along the beach looking for shells and other sea life. There is so much to do there and it has such a calm and quiet atmosphere. The beach is very natural with lots of coral, seashells and sea glass, so bring your reef shoes. Swimming is restricted to one area towards the end of the beach. You can also rent water sports gear such as jet skis, paddle boats, banana boats and more from Outdoor Recreation on White Beach.
If you are having so much fun you don't want to leave you can always stay over. They have several different types of accommodations for every type of camper. The main camping area is located near the ocean and has restrooms, picnic pavilions and fun playgrounds for the kids.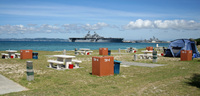 If you are ready to "rough it" you can rent a tent site near the beach for $10 night. Each site can accommodate a 4-man tent and includes water, picnic table, and a BBQ grill.
If you would still like to be near the beach but want nicer accommodations you can rent one of their Sea Side Campers.  Or if you are a "high maintenance" camper like me you can stay in one of their cabins. The cabins are located up on "Smuggler's Bluff" and there are several different sizes available.  You can see pictures of the campers and cabins HERE.  A full list of current prices and amenities click HERE.
If you'd like more information about prices, events, and other White Beach goings-ons, head over to their Facebook Page: https://www.facebook.com/NavyMWROkinawa
To make reservations call Navy MWR on Kadena, AB at extension 634-6952 from 7:00am – 3:30pm Monday – Friday.
Directions:  Head out Kadena Gate 3 and turn right at the light onto 74; turn left onto 85 and follow it to 33 and turn left on to 33.  Follow to 16 and turn right on to 16; continue on 16 until you reach 10; turn right onto 10 which will turn into 8 and follow till the road splits. You want to stay to the right and you see signs for the base. Once you go through the gate take a left and follow the signs for White Beach.