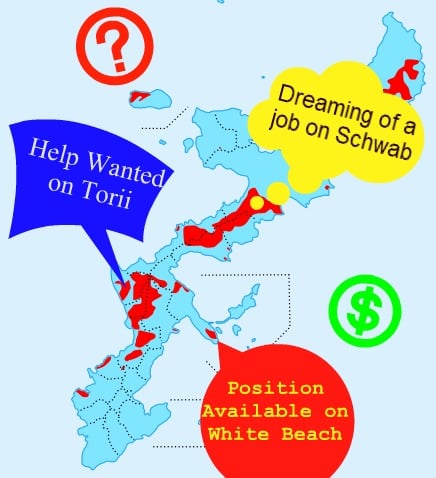 CONTRIBUTED BY SARAH FORTE

On base jobs
SEEKING EMPLOYMENT: I am new to the island. I have an education and viable skills. I am looking for employment while living on Okinawa, but am lost about where to start.
WANTED: Competent employees with education and skills to work on a US military base. Many career fields offered and experience may not be necessary. There will be some hoops to jump through to get a job on Okinawa's military bases, but employment is waiting for you.
It's a common story. You find yourself living in Okinawa without a job. Maybe your spouse got an assignment to come here and you left the job you had back at your last station. Perhaps you've never worked on a military base before. Most jobs back in the States don't have a branch in Okinawa where you can transfer! Now you are here and you would like to find gainful employment. This post is here to help you look for a job on base!
Two helpful attributes to keep in mind are flexibility and patience. Chances are the exact job you had in the states might not be available here. While you are looking, keep in mind what skills you have that can carry over from career field to career field. When you have a chance to present yourself to future employers, think of the past skills and abilities you have gained and emphasize how they will carry over to a future job, instead of dwelling on lack of experience.
It helps to be patient. A job hunt always takes time, and many jobs on base require a background check before you can start earning that first pay check. This can take time and leave you wondering if the employer was still considering you for the job. Be persistent and check in with your hiring agency if you haven't heard from them in a while, but also be patient and realize the process will take a little time.
There are a few terms that play a part here that you may not have run into while seeking State-side employment in the past. First is SOFA status. SOFA stands for Status of Forces Agreement. It is the set of rules and regulations that our host country and the U.S. government have agreed upon. Military personnel, some civilians stationed in Okinawa, and their dependents have SOFA status here. If you have SOFA status you are allowed to live in Okinawa without another visa for the length of your assignment. Some jobs on Okinawa's military bases require that you have SOFA status when you apply. These jobs are primarily for military dependents who have SOFA status with or without their job. Other jobs offer SOFA status if you do not already have it. Check the job descriptions carefully if you do not currently have SOFA status.
Military Spouse Preference (MSP) is offered to military spouses looking for employment with a Department of Defense (DoD) facility. This is a hiring advantage given as a way of recognizing that military spouses have to find new employment with every PCS of their spouse. With each new station, military spouses can use this preference until they land a full time job. When employers look at candidates for a job opening they are required to review military spouses first. If two or more candidates have equal qualifications, preference is given to the military spouse. Once you have started a continuing (not part time, flexible or temporary) position, you have used your MSP for this PCS and will not be able to use it again to seek employment until your next PCS. There are lots of military spouses looking for employment on Okinawa, so if you fall into this category, make sure you have properly indicated your MSP on your application.
Of course, different jobs have different requirements as far as previous education and training, citizenship, prior experience and abilities. Make sure you read the job description and fill out each application carefully. In some cases you may be disqualified if you do not indicate that you have fulfilled the requirements. If you have questions, contact the hiring agency.
There are quite a few avenues for gaining employment on a base. There may be more than are listed here, but this should get you started:
Agency/type: Air Force Non-Appropriated Funds (NAF)
On line application: http://www.nafjobs.org/
Physical office: Kadena HRO, building 723 (On Douglas Ave between Kuter Ave and Gate 3); 634-2330 Mon-Fri, 8 a.m.-3 p.m.
What kind of jobs: Hourly wage jobs in a wide variety of positions for 18th Force Support Squadron including cashier, child care, customer service, food service, recreation and more.
Agency/type: Marine Corps Community Services (MCCS) NAF
On line application:https://www.mccsokinawa.com/
Physical office: 645-8229 or Camp Foster 645-3151/3154; Camp Kinser 637-1307; Camp Courtney 622-7878; Camp Hansen 623-7736; Camp Schwab 625-2699;
What kind of jobs: Hourly wage jobs in a wide variety of positions for the MCCS including child care, food service, family readiness, human resources and more.
Agency/type: Federal Service General Schedule (GS) for all branches
On line application: http://www.usajobs.gov/
Physical office: Civilian Personnel Office (CPO) on the corresponding branch
Marine Corps and Navy: Civilian Human Resources Office (CHRO), Camp Butler, Bldg 495, 2nd floor; 645-2475 or 645-3380
Air Force: Kadena Civilian Personnel Flight, Bldg 721, Wing A; 634-1358 or 634-3285
Army: Civilian Personnel Advisory Center (CPAC), Torii Station, Bldg 236; 644-4401
What kind of jobs: Salaried, generally "white collar" positions, commissary positions
Agency/type: Department of Defense Education Activity (DoDEA) positions in the DoD schools
On line application: https://webapps.dodea.edu/EAS/login.cfm
Physical office: Tori Station, Bldg 214; 644-5799
What kind of jobs: Education and school support positions
Agency: Army and Air Force Exchange Services (AAFES)
On line application: http://odin.aafes.com/employment/hr_info.asp
Physical office: AAFES Recruiting Office, Camp Foster, Bldg 490
What kind of jobs: Retail and support positions at AAFES facilities
Agency: US Naval Hospital Okinawa
On line application: http://www.med.navy.mil/sites/nhoki/CivPers/Pages/default.aspx
Physical office: Navy Human Resources Office (HRO) at Kadena AB, Bldg. #3596; 315-634-6714 or commercial 01181-611-734-6714.
What kind of jobs: Health care and medical support
Agency: Community Bank
On line application: http://careers.dodcommunitybank.com
Physical office: Torii Station, Bldg 420; 644-5463/5464
Agency: Pentagon Federal Credit Union
On line application: http://www.penfed.org
Physical office: Kadena AB, Bldg 420; 632-7328/633-4505
Agency: Navy Federal Credit Union
On line application: http://www.navyfcu.org/jump/jobs.html
Physical office: Camp Foster, Bldg 1008/1009; 645-7331
Agency/type: Army Civilian Service (NAF and GS)
On line application: http://jobsearch.armycivilianservice.com/
Physical office: U. S. Army HRO, Torii Stations, Bldg 236 (Army MWR); 644-4270
What kind of jobs: A variety of positions both salaried and hourly
Agency: United Services Organization (USO)
On line application: http://www.uso.org
Physical office: Kadena AB, Bldg 337; 633-0438
Happy job hunting!