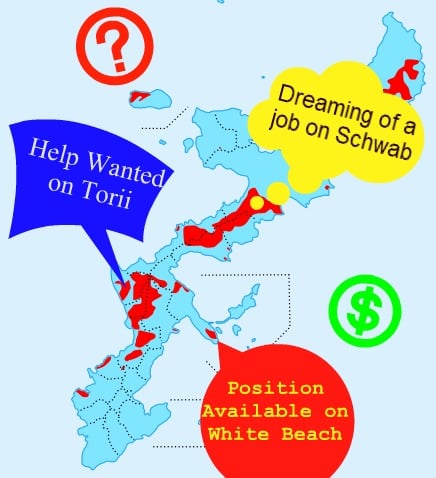 CONTRIBUTED BY SARAH FORTE
On base jobs
SEEKING EMPLOYMENT: I am new to the island. I have an education and viable skills. I am looking for employment while living on Okinawa, but am lost about where to start.
WANTED: Competent employees with education and skills to work on a US military base. Many career fields offered and experience may not be necessary. There will be some hoops to jump through to get a job on Okinawa's military bases, but employment is waiting for you.
Looking for flex work? Try here.
It's a common story. You find yourself living in Okinawa without a job. Maybe your spouse got an assignment to come here and you left the job you had back at your last station. Perhaps you've never worked on a military base before. Most jobs back in the States don't have a branch in Okinawa where you can transfer! Now you are here and you would like to find gainful employment. This post is here to help you look for a job on base!