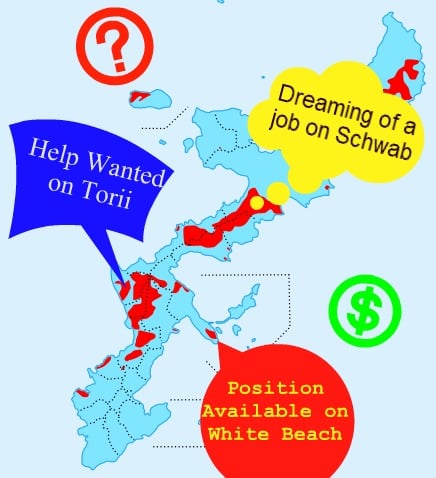 Two helpful attributes to keep in mind are flexibility and patience. Chances are the exact job you had in the states might not be available here. While you are looking, keep in mind what skills you have that can carry over from career field to career field. When you have a chance to present yourself to future employers, think of the past skills and abilities you have gained and emphasize how they will carry over to a future job, instead of dwelling on lack of experience.
It helps to be patient. A job hunt always takes time, and many jobs on base require a background check before you can start earning that first pay check. This can take time and leave you wondering if the employer was still considering you for the job. Be persistent and check in with your hiring agency if you haven't heard from them in a while, but also be patient and realize the process will take a little time.
There are a few terms that play a part here that you may not have run into while seeking State-side employment in the past. First is SOFA status. SOFA stands for Status of Forces Agreement. It is the set of rules and regulations that our host country and the U.S. government have agreed upon. Military personnel, some civilians stationed in Okinawa, and their dependents have SOFA status here. If you have SOFA status you are allowed to live in Okinawa without another visa for the length of your assignment. Some jobs on Okinawa's military bases require that you have SOFA status when you apply. These jobs are primarily for military dependents who have SOFA status with or without their job. Other jobs offer SOFA status if you do not already have it. Check the job descriptions carefully if you do not currently have SOFA status.