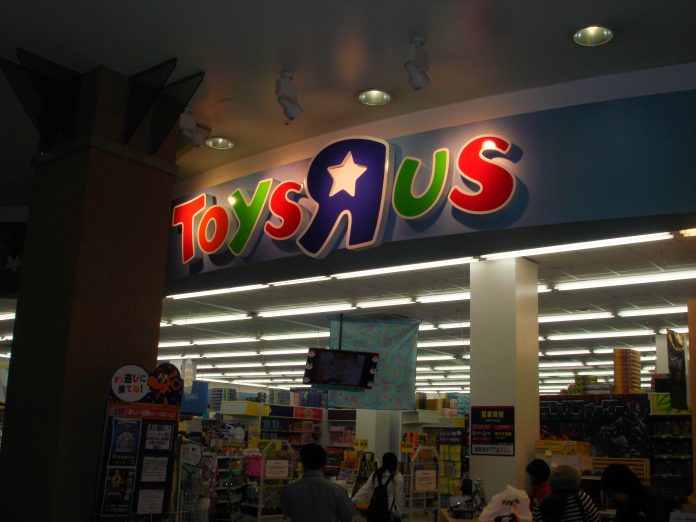 CONTRIBUTED BY HEATHER GELORMINE
We have lived here on island for almost ten months now, and somehow I've managed to avoid making a trip to Toys R Us in all that time. Call me a mean mommy, but I don't bring my kids toy shopping all that often.
But when I found myself heading down to Naha for lunch with friends, I decided to check it out. Just to see if I could even find it. And so I searched Okinawa Hai for a post about this branch of Toys R Us, and though I found many references to it, I couldn't find a single post telling me what to expect. And thus, I had a justifiable reason to visit this store that simultaneously holds the dreams of children and the nightmares of their parents.
I had been told by a friend that it was overwhelming at first. To me, the combination of a store and the word overwhelming is like putting a big sign with a skull and crossbones in front of my face: I back away. Quickly. But in the interest of helping those of you (the remaining few) who haven't yet been to Toys R Us, I pushed through the fear.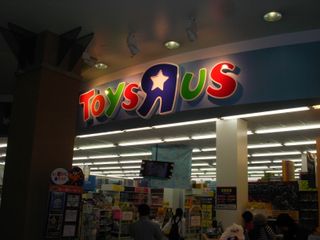 And really? It's just like any other TRU I've ever been in. Just with a lot more Japanese toys.
There's the requisite pink aisle: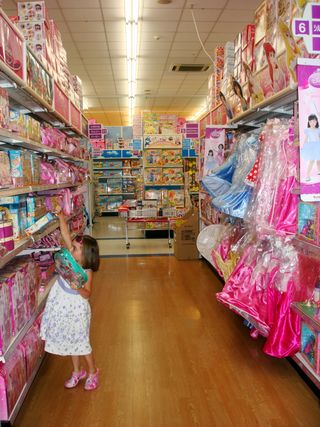 And the planes, trains, and automobiles exhibit: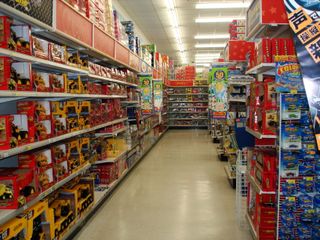 A cheaper outdoor sports equipment section, as well as a more extensive bike and scooter collection.
Including those adorable parent-assisted toddler bikes that I gravitated toward until I saw the price tags and quickly continued moving. They seemed to have the same selection of infant and toddler toys, as well as a large variety of toys for older kids as well, that you'd find in the states. So I headed over to the adjoining Babies R Us section of the store.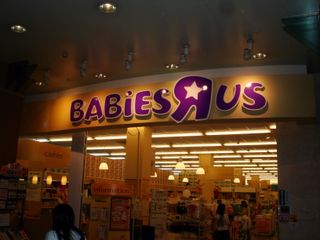 This was actually considerably smaller than BRU stores I've been in stateside, but they had a large variety of high-end (and high-priced) strollers, as well as the coolest potty training seats I think I've ever seen.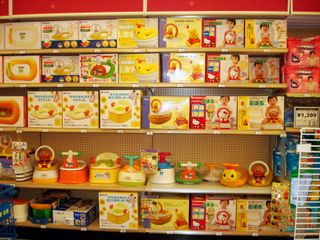 There's also a fairly large shoe section, a kids' clothing area, as well as a small maternity clothing section, and a variety of baby slings and carriers. Perhaps most importantly, they've got a sizeable "Baby Room" with changing tables and private nursing rooms to feed your babies.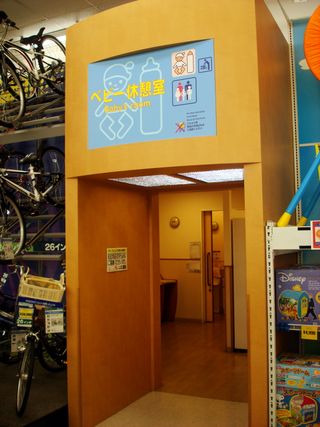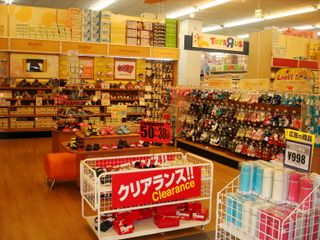 It seemed to me – the frugal [read: cheap] shopper – that the prices here at TRU are significantly higher than what you'll pay at the BX/PX… but you've also got a much larger selection here. There are some good bargains on some of the sand and outdoor toys, though you might also be able to find good deals on such things at ¥100 stores, too.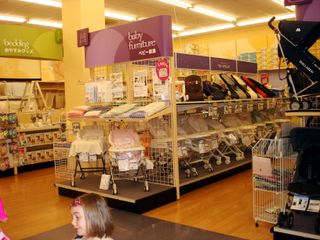 My final assessment: if you're making a trip to TRU with kids, make the effort to go down to the Naha branch. It's worth it for the YuKids Island play area upstairs. But if you're free of the kids for a few hours and want to be able to do some shopping (window or the real kind) at other stores, head to Awase.
---
Toys R Us
Address: 3-3, Omoro-machi, Naha
Google Maps Coordinates: 26.2123124, 127.67915679999999
Directions: Take 58 south to Naha. Try to stay in the middle lane, as the far left lane will sometimes become turn-only. After traveling over the second overpass, get into the left lane. Watch for the Uenoya intersection; it's not well-marked ahead of time, but you'll see it directly after a Pachinko building and the Premist Tower building. A Birkenstock store will be on your right across from Uenoya street.
Take a left here. Follow the road about a kilometer, past a Sports Depo and a UNIQLO strip mall on your left. The Co-Op (apple sign market) and Toys R Us/Babies R Us share the 1st floor of the same building. Free parking is either directly in front of the building, or in the parking garage within it.