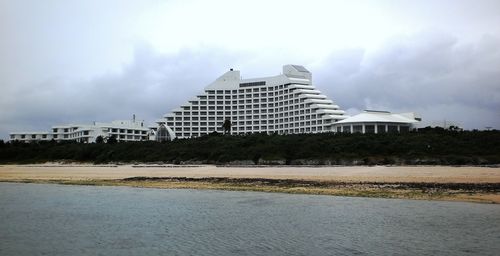 We were recently invited to enjoy a complimentary night at the ANA Intercontinental on Ishigaki Island.  Sarah & her husband happily obliged, but the opinions below are totally theirs.
 CONTRIBUTED BY SARAH FORTE
Remember weekend escapes? Those little chances to sneak away for a quick weekend; long enough to take a break, but not so long that you need a vacation to recover from your vacation? It seems like weekend escapes are trickier in Okinawa. The island is only so big; but if you are planning to leave, the travel time alone consumes more than a weekend.
You might consider escaping to Ishigaki Island, the most inhabited of the Yaeyama Island group, Okinawa Prefecture's most southern archipelago. Ishigaki is a quick 60 min flight from Naha, making it a great weekend (or longer) get-away. Just minutes from the airport and downtown area, but nestled peacefully along a private beach is the ANA InterContinental Resort and Hotel.
It is truly an "intercontinental" chain, with hotels like the Venetian in Las Vegas spread across every continent except Antarctica. Here in Okinawa they have a resort in Manza similar to the resort in Ishigaki. Both of these are ANA (All Nipon Airways) partners, for those of you looking to spend or earn ANA frequent flier points.
The hotel was visible from the airport. There are plenty of taxies and buses that run directly to the hotel. The taxi cost is about 1,000¥ and the bus is 200¥ per person. A bus leaves the airport every 40 minutes beginning at 08:30 with the last run at 19:50. If you choose the bus, it is helpful to have yen ready. There is a box to deposit your fare as you board the bus.
After checking in, we were shown to our beautiful and well appointed room! Every room at the InterContinental has an ocean view; ours looked out over the beach, part of the golf course and a protected swimming area. Each room has free internet, TV (all Japanese stations), DVD player, and a full couch. I'm pretty sure I've never seen such a well stocked minibar (Orion and Awamori)! The bathroom shares many features with my future dream bathroom: a deep soaking tub, separate shower, and a bidet with heated seat. If you forgot any of the bathroom essentials, most could be found in the room (hairdryer, shampoo, conditioner, soap, razors, toothbrushes, toothpaste or shower cap). The room came with "room wear" too: robes, pajamas, plus slippers! (click pix below for larger views)
It might be tempting to spend all your time in such a luxurious room, but resort has more to offer! The InterContinental has six restaurants and a lounge: Yaeyama Japanese, Ishigaki Okinawa, Omoto Temppanyaki, China Shadow, Suncoast Café, and Fireside Terrace. While there we had a chance to have dinner at the Yaeyama restaurant, breakfasts at the Suncoast, and a snack in the lounge.
Dinner in the Yaeyama was traditional Japanese with an Ishigaki flare. The menu had a large al a carte section as well as several sets ranging in price from 5800¥ – 8000¥. Each part of the meal was served with an explanation of each dish. This gave us a chance to retry old favorites like sashimi and miso soup, as well as try some new dishes like mugwort tofu (much better than it sounds)! Reservations are recommended for dinner at any of the resort's restaurants. Consider making these reservations when you reserve your room.
The Suncoast offers different buffets throughout the day; we sampled the breakfast. Billed as international, it did not disappoint. They had pastries (made on site), cereal, custom made omelets, sausage, rice porridge, smoked salmon with capers, fresh fruits, juices, tea and coffee. There were also some dishes I don't usually associate with breakfast: salad bar, pasta dishes and a honey-sweetened vinegar drink. Although similar, the buffet changed slightly each day. With all this in your stomach for breakfast, who needs lunch? Depending on how you book your room, this breakfast may be included in the price of your room.
Also included with the price of your room is access to the beach house, garden swimming pool with waterslide, gym, indoor swimming pool, computer and printer equipped business area, Japanese bath and sauna. The resort also has a golf course, tennis courts, and spa. There are two gift shops offering traditional Okinawa/Ishigaki items like Taketomi Minsa (traditional weaving from the area), Ishigaki salt, shisa and sanshin. There is also a convenience store where you can even pick up some famed Ishigaki beef to take home.
Childcare is free for children aged 4 – 12. The childcare facility had an indoor and outdoor area with plenty to keep kids busy and a staff there to lead activities and keep the children safe. They also offer a chance for the kids to make photo stand or paper mâché shisa (the care is free, but the craft fee is 1,000¥). Parents are encouraged to dress their children in clothes appropriate for indoor and outdoor play.
The beach is well protected first by the natural coral wall, then by a man-made rock wall barrier and finally a net. At the beach house you can rent all kinds of fun beach toys from snorkel and fins all the way up to kayaks, jet skis or a dragon boat. Some of the bigger items are only available during high tide, so plan accordingly.
If you still find time to leave the resort grounds, the concierge makes it easy. Would you like to take a ferry to another of the Yaeyama islands? The concierge can help book your ferry ticket, offer suggestions and reservations for things to do once you get there, and even a free shuttle to the port. The concierge can also book dive trips, recommend local attractions, and make reservations at local restaurants.
How about renting a car? We took this option and have never rented a car more efficiently. Before we ate breakfast we reserved and paid for a car [the prices are very reasonable: 6 hours for 5,000¥, 12 hours for 5,500¥, or 24 hours for 6,000¥]. At the reserved time we met the car rental representative in the lobby. He looked at our SOFA license, we checked the car, and just that easily he gave us the keys! When we were done we parked in the hotel parking lot and returned the keys to the front counter. We were not even required to return to refill gas.
Ishigaki has fewer English speakers than southern Okinawa and the InterContinental's main clientele are from mainland Japan, but don't let that deter you! Similar to northern Okinawa, you'll find ways to interpret signs, gesture and generally get by. All printed material at the resort is in both English and Japanese. The hotel staff went out of their way to make sure we understood: at the restaurant they brought out bilingual explanations of our food choices. The car rental representative had pre-printed bilingual cards guiding us through picking up the car: "私は今、あなたの車に行くことができます。I will take you to your car now." As we have often experienced in our travels, cooperation, patience and a smile can help get the point across.
The InterContinental excels in the details. Everything—from amazing meals to the exquisite room—is prepared with the greatest attention.  You will leave feeling pampered and relaxed.
Helpful websites:
InterContinental, Ishigaki  (Make reservations, see current prices, see videos and pictures)
InterContinental Hotels and Resorts, worldwide
ANA Priority Points (spending or earning points while staying at the InterContinental)
Other posts about the Yaeyama Islands: