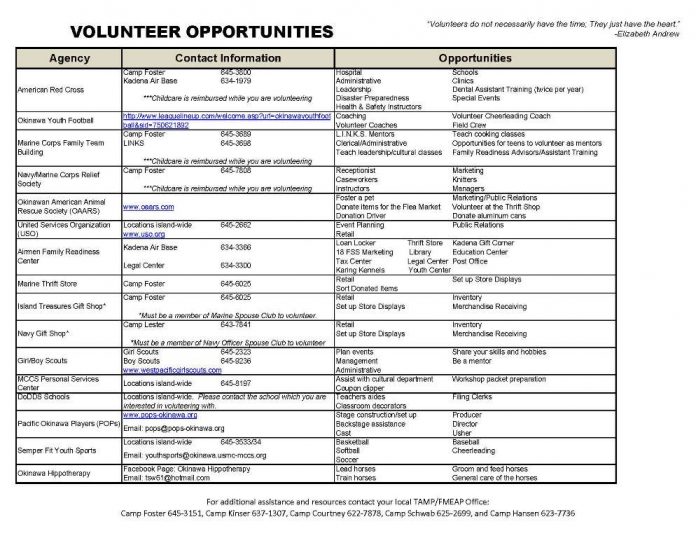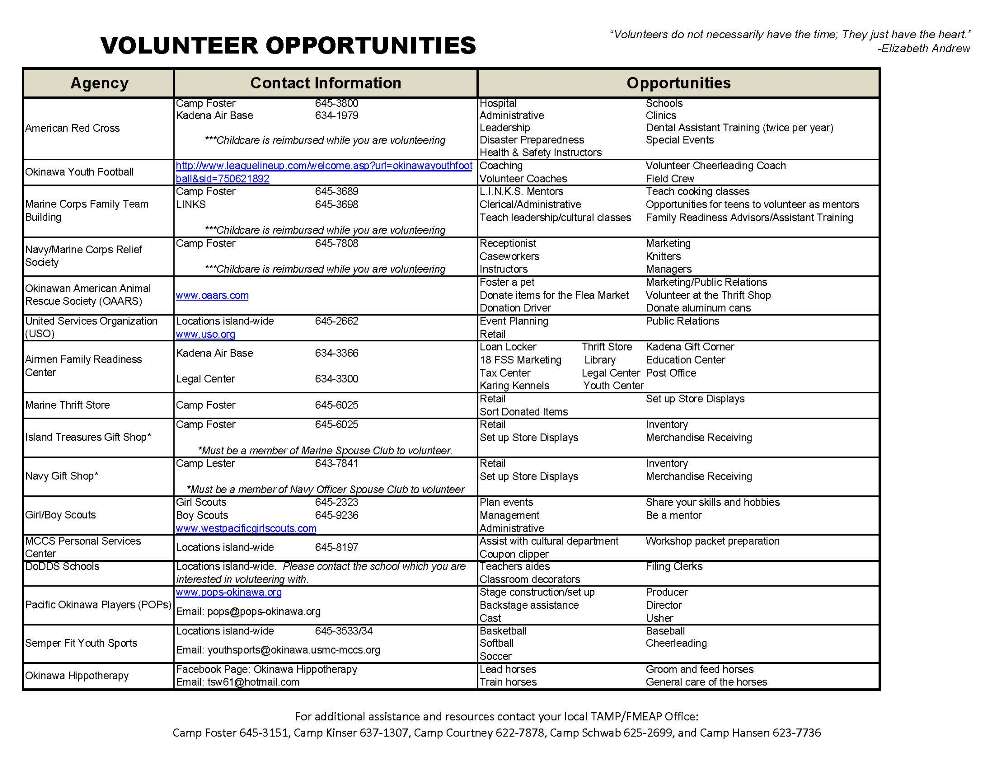 CONTRIBUTED BY KATIE GARTNER/ADDITIONAL RESOURCES FROM LORI CLEYMANS
Like many of you reading this, I attended the Newcomers' Orientation Welcome Aboard (NOWA) brief in a hazy state of mind brought on by a combination of jet lag and shock. Despite my semi-conscious state, I remember making the rounds of the various booths – speaking with representatives from the overwhelming assortment of entities, trying desperately to absorb the deluge of information, and collecting the requisite pamphlets, freebies, and refreshments.
Although much of that day is now a distant and foggy memory, I do remember stopping at a booth advertising employment-related information. At the time, finding a job was the last thing on my mind, but I remember the booth nonetheless. A friendly representative spoke with me about what their team had to offer me, and I distinctly remember the phrase "free classes." At that moment, I mentally discarded everything I had just been told and inserted a mental placeholder that cynically read, "How good can 'free' possibly be?"
Six months later I was restless. I loved Okinawa but I was lacking a sense of purpose. A friend from my bowling league mentioned that she had started a new job with some group called "TAMP." Though the meaning of the acronym eluded me, I could tell that she was truly passionate about whatever this mysterious TAMP place was all about. After a few weeks of hearing about how happy she was with her job, I asked her to tell me more about her group.
She told me that TAMP, or the Transition Assistance Management Program, helps people write resumes, practice interview skills, navigate the federal job application process, and learn various other career-related skills (Marie took the Federal Resume class, which you can read about here). She gave me a calendar of classes and I signed up for one purely out of curiosity. I approached my first class, "Career Assessment," with a degree of skepticism. After all, how good can free be?
My cynicism quickly turned to admiration as the instructor deftly guided the class through a series of fun exercises, all culminating in realistic answers to the daunting question, "What do I want to be when I grow up?" I was so pleased with the class that I immediately signed up for several more. Each class provided a wealth of useful, up-to-date knowledge and skills. I found myself asking a new question, "Why didn't I take these classes sooner?"
The answer to that question came after I had taken almost all of the course offerings. My friend, whom I now knew to be an important part of my career network, let me know about a job that she thought I would really enjoy. I worked hard to apply the skills I learned in the TAMP classes, as well as seeking out one-on-one help for my resume and interview. I was rewarded for my efforts, and was offered a position with the TAMP team. For the last year, I've had the ultimate satisfaction of working in a position that is perfect for me and with a team that I love.
And that's how amazing, awesome, fantastic, and wonderful free can be!
How TAMP can help YOU:
Whether you are looking for a job in Okinawa or you are heading back to the states and need help with your job search, the Marine & Family Programs-Resources can help. They offer workshops on:
Federal Government Employment Process
Resume Writing
Federal Resume Writing
Ace the Interview
Career Assessment
Professional Communication
Job Fair Success
Social Network Your Way to a Job
TAMP has offices on Camps Schwab, Hansen, Courtney, Foster, and Kinser. Their team offers assistance through the maze of finding a job.
Website: Marine and Family Programs – Resources (Click on the Transition Readiness Program)
Phone: 645-3151 (Camp Foster Office)
Additional Resources: