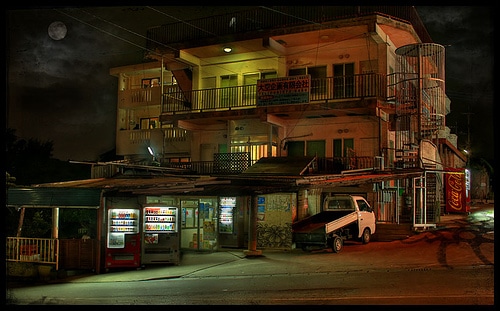 Editor's Note: Years ago, when Okinawa Hai had just a few readers and was getting its footing, we took an introspective look at the things we love about this tiny island, especially the details that might go unnoticed – or unappreciated – by many. 
We'd like to remind ourselves about what we have always loved about our island paradise… even that which may, at first glance, seem mundane and not worth stopping to examine.
We found this post buried way back in our archives, and thought it was time to bring it back again. Originally titled, "Here's A Bee For Your Bonnet", and published on April 25, 2007, we present you with
"I Love This About Okinawa: Go (Part 5)". 
CONTRIBUTED BY MEREDITH NOVARIO
originally uploaded by annya_okinawa.
Before arriving in Okinawa and seeing Okinawa, I had something close to paradise drawn up in my mind. And there are certainly pockets of paradise for your eyes and mind and body to feast upon. HOWEVER, in my opinion, much of what you see in a day isn't terribly aesthetically pleasing. I say this because it depressed me for months. The concrete felt like a rusty cage. Most buildings, maybe all, are made from concrete which isn't instantly beautiful.
This picture taken by Annya captures, for me, the feeling of the daily Okinawa. And as rough as it can appear, I am kindling some love for the concrete look. So much is nestled between these endless slabs of concrete. I have come to adore the winding, dangerously narrow streets as a kind of Christmas around every corner. It's taken almost two years for my eyes and heart to adjust to the hidden beauty.
Come on, look how those vending machines beckon you! Lovely, yes?
For more posts in our "What I Love About Okinawa" series, follow these links: 
Part 1
Part Two
Part Three
Part Four
What do YOU love about Okinawa that might not be obvious? Has one of its features or quirks grown on you over time? Leave a comment below, or write us a post; we'd love to continue this series.