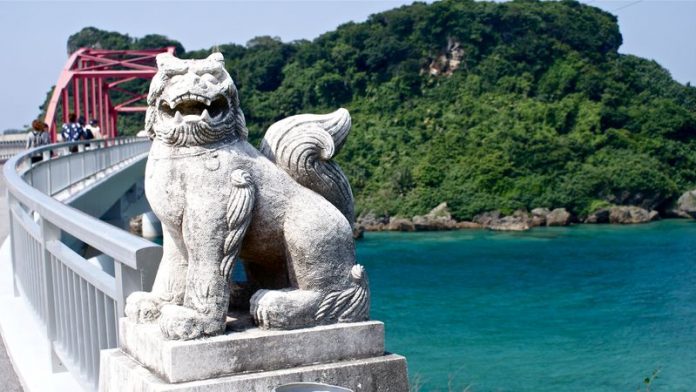 CONTRIBUTED BY JENNIFER SHUE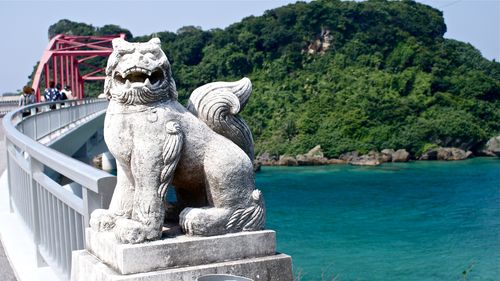 You know how sometimes you'll be sitting at your computer, rain pouring down outside (as it has done for days on end), staring at some maps thinking to yourself, "I wonder what's over there?" And then the sun comes out and you get in your car and go? 
Yes? Maybe? 
Well, recently such a scenario played itself out in my life and I went to Ikei Island. It is just a short drive from the "real world" of the rest of Okinawa – I was driving from Kinser and I think it took me about an hour to get there. But once you go over the bridge to Henza Island (which is on the way) you start to feel as though you've left the known world behind. There aren't even any Family Marts or Lawsons. Just fields, and cliffs, and deep turquoise seas. (But there are still vending machines along the fields, so you haven't left all of Japan behind.)
After you go through what I call the "graffiti tunnel" on Henza Island, you arrive on Miyagi Island. As the road ascends the cliffs the ocean views glimpsed through the trees will take your breath away. Keep going a few more minutes until you pass through the first of two open-tunnel-like structures. Pass over a red bridge and onto Ikei Island itself. 
You'll go through another one of these open tunnel things and then there will be Ikei Beach on your left. I highly recommend stopping and spending the afternoon here. There is a little parking lot and beach admission is 400Y for adults, 300Y for kids 4 and up, free for 3 and under. You buy your tickets from a little vending machine.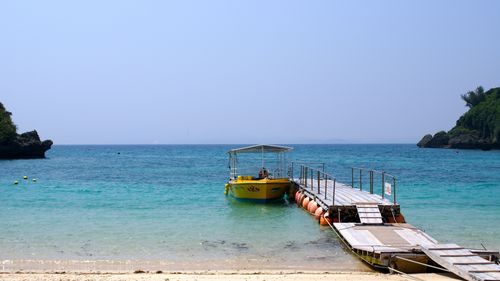 It is not the biggest beach in the world, but it is a gem. The water is an unimaginably perfect temperature, gentile little waves, not too many shells, not too powdery. I know they have jet skis you can rent (not sure how much), and I believe you can get a tour on that little boat. Next time I go I'll look into that. There is a sign at the entrance, however, that says no snorkeling. 
There is a teeny, tiny little town on the island, as well as fields of sugar cane and what looked like tobacco (I had no idea they grew that here, but I didn't exactly get out and scrutinise), but if you leave the beach and continue on the 10 (which you were driving on before the beach) further into the island, past all the fields, there is a resort at the end.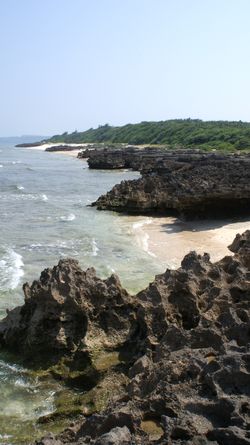 I forget the name of the place, "Big Time Ikei Island Resort" or something to that effect. I'm not sure if you are supposed to go there and hang out, but no one told me to leave. There is a little parking area after you enter the property. If you park there and walk over the grassy area and between a break in the shrubs, you'll see the end of the island. The view is beautiful, but wear some good rock/reef walking shoes because these rocks are really sharp and craggy. 
If you need to get away from your routine, this is a great little day or afternoon trip. Pack yen, snacks, and an adventurous spirit.
Directions:  If you are coming from Kadena you can go out Gate 2 and follow that road straight into Awase, then turn left (North, towards Uruma, Nakagsusku Port, Katsuren, etc) onto 33. Follow this past Nitori and Jusco until you reach 10. Turn right and follow the signs for Henza Island, Miyagi Island, Hamahiga Island, and Ikei Island. At one point 10 will make a left, so keep an eye out. A few bocks after you make the turn you'll see your last Family Mart before you start crossing some bridges. Just keep going on 10.