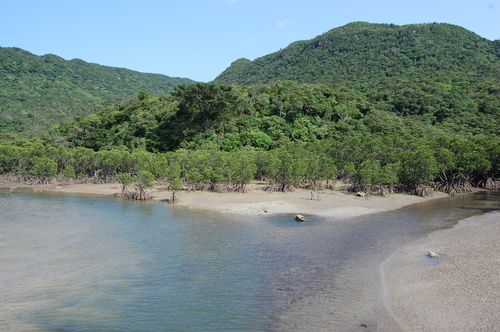 Continuing our features on the Yaeyama Islands…
CONTRIBUTED BY LISA RUPPERT
On our second full day in Ishigaki we decided to take a ferry to explore Iriomote Island, an island located about 25km west of Ishigaki.  Iriomote is in stark contrast to Ishigaki with its subtropical forests, mountains and rivers providing a wealth of opportunities for ecotourism.  Iriomote is a large island, second only to Okinawa-honto in the Okinawa Prefecture.  There is only one main road that connects the eastern, northern and western coastlines.  Due to the scope of this island, transportation is highly recommended.  Travel guides also suggest booking hotels and rental cars in advance.
Note:  Pick up English maps of Iriomote at the ferry terminal in Ishigaki.
Getting there:  There are two ports on Iriomote, Uehara in the north and Oohara in the south.  Ferries from Ishigaki go to both ports.  We chose to arrive and depart from the southern port, Oohara, since we were picking up a rental car nearby.  Our plan of attack was to work our way up to the northern/western portion of the island with some scheduled stops along the way for various sightseeing tours.
The ferry from Ishigaki to Iriomote was under an hour and a roundtrip ticket (with open return) was Y3390 per person.  I believe tickets are discounted for children.  The ferry service to Oohara begins at 7am and goes until 5pm.  The return ferry begins at 7:40am with the final departure at 5:50pm.  Ferries to the northern port are a little more (Y4400 round trip) and the final return ferry is a little later, at 6:20pm.
Note:  Keep in mind that ferry schedules are seasonal and often change.  Be sure to grab a copy of the ferry schedule from the Ishigaki terminal so you do not miss your return.
Transportation:  There are taxis available and there is a bus route that runs the main road.  We found a brochure at Ishigaki's ferry terminal for Yamaneko Renta Car so we decided to set up a car rental in advance.  We told them what time our ferry would be getting in and they arranged to pick us up in a shuttle bus at the port.  The cost for a newer economy car was Y3500 for the day and an additional Y1000 for the optional insurance.
The agent was very helpful and spoke a little English so he was able to show us maps and timetables for different tours we wanted to take.  The process was easier than I expected and it wasn't long before we were on our way to explore Iriomote. He even gave us a discount card when we told them we were doing one of the river tours!
I should also mention that when we turned the rental car in at the end of the day, the agent gave us a ride back to the port.  It wouldn't have been a long walk but nevertheless it was nice to have the option of transportation.
Note:  The car must be filled with gas upon returning it and they want a copy of the receipt.  "Mantan de onegaishimasu" means full tank, please.  Gas stations on the island are sparse but there is one near the rental agency we used.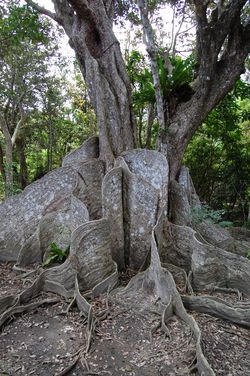 What to see:  There are two main rivers on Iriomote Island, Nakama River in the south and Urauchi River in the north.  We took the Nakama River Boat Cruise (Y1350 per person after the 10% discount card from car rental place).  The cruise was about an hour long and took us through the mangrove forests that grow along the banks of the river.  At one point we docked and were able to get off the boat and walk into the forest to see a 400 year old Sakishima-suou (Looking Glass Tree) whose roots grow above ground.  The Nakama River cruise provided us with the opportunity to see wild and untamed side of this tropical island.
The river cruise was easy to arrange with tickets purchased at Iriomote's Oohara port.  To the left of the ferry terminal building is another small building that is a little shop with souvenirs and snacks.  This is where you purchase the tickets and just outside at the port is also where you board the boat for the river cruise.
The Urauchi River (north) also offers the opportunity to get up close and personal with nature and there are many different guided tours that one can take to view this part of the island, including kayaking, boat and canoe trips coupled with hiking treks.  There are a few named waterfalls that are only accessible through these ecotours.  These tours can be arranged ahead of time at Ishigaki's ferry terminal.
Beaches:  There is one beach we found in the southern portion of the island while dawdling before our Nakama River cruise, Haemida Beach.  Signs pointed the way for us.  The road that snaked through mountains and farms was promising and even more majestic was the shaded path through the forest leading to Haemida.  Sadly, we were let down…this beach was littered with trash that washed up on the shores.
There are several other beaches on the northern/western coastline of Iriomote Island which we did not have the opportunity to visit so I cannot comment on them.  We really could have used more time exploring Iriomote and all it has to offer, one day was just not enough for us.
Yubu Island:  Located a stone's throw away from Iriomote's eastern coast is Yubu Island, a tiny sandy island boasting only a dozen or so inhabitants.  The water between the two islands is very shallow so water buffalo carriages are used to take tourists back and forth.  This is probably the most "touristy" thing we did on our trip and it was actually one of my favorite places to visit.  It was a beautiful little island!  The carriages depart every 30 minutes and it cost Y1300 per person (children are 50% off) and once you reach Yubu you can stay as long as you like and wander around.  There are beautiful botanical gardens, a little zoo area, a wading area for the water buffalo that aren't working, and a nice butterfly house.  There is also a building with bathrooms where you can purchase souvenirs, snacks and drinks.  When you are ready to return to Iriomote, you simply take a seat outside under the pavilion and one of the guides will let you know which carriage to board for your return.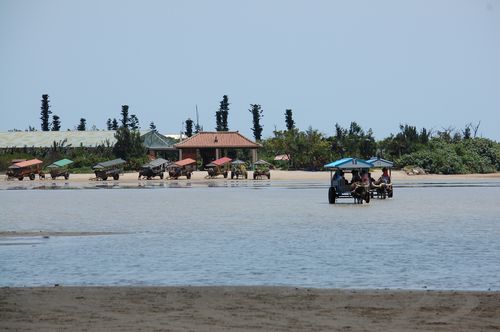 Iriomote Wildlife Center:  Located between Oohara Port and Yubu Island on the eastern side of the Iriomote, this center does not charge admission and boasts exhibits of flora and fauna found on the island.  There is also an Iriomote Wildcat display.  Hours are from 10am to 5pm and they are closed on Mondays and holidays.
What to eat:  Due to time constraints we were not able to fully travel Iriomote's one main road to the end so I really can't say if there are more restaurants on the western side or not.  I do know that it was somewhat difficult to find a place to eat here because there is a long stretch of roadway in which nothing can be found but nature.  We ended up turning off the main road in the northern reaches of the island when the signs pointed to Hoshisuna Beach.  Here we found a restaurant/guesthouse that overlooks the water.  There is seating both indoors and out, with steps leading down to the coast.  The view was captivating and the food was excellent.  For two orders of salt yakisoba and one large bowl of soba our bill came to Y2250.  The food was fresh and simple yet delicious.
Info:  Yamaneko Renta Car  0980-85-5111  Hours 8am-6pm
Other posts on the Yaeyama Islands:
Ishigaki (ANA Intercontinental)