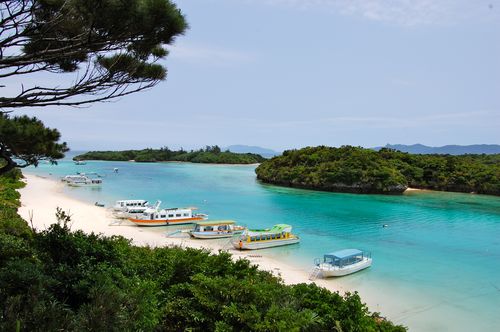 CONTRIBUTED BY LISA RUPPERT
In an effort to escape the doldrums of daily life and work, my husband and I decided to plan a little vacation during our daughter's spring break holiday.  We had seen programs highlighting Iriomote and Taketomi Islands on one of the AFN channels and we knew that these were two places we definitely wanted to visit while living on Okinawa.  We also wanted to visit Ishigaki Island so we figured we would head south to the Yaeyama Island Chain for our mini vacation and check a few boxes off our "Places to Visit" list.  The Yaeyama islands are the southernmost inhabited islands of Japan and are surrounded by coral reefs. Ishigaki is the most densely populated of the islands and is the hub of activity in the Yaeyama Island Chain.
As soon as we decided on Ishigaki as a destination, we checked with ITT on Kadena for hotel packages and airfare.  We learned that ITT only makes reservations through Club Med.  Since we planned to stay in Ishigaki for 5 days but leave the island for two of those days to explore the other islands, we decided NOT to purchase the all-inclusive Club Med package and book the trip on our own.  After crunching the numbers this saved us quite a bit of money in the long run considering the "extras" that we would have added onto the Club Med price in order to travel to the other islands.  It was very easy to plan this trip on our own (considering our limited Japanese-speaking abilities) and I am hoping that by sharing our experiences, others may be inspired to travel off the beaten path and explore the beautiful Yaeyamas.
Airfare:  We flew Japan Transoceanic Air and I booked our tickets through JAL's website.  I booked what I would consider last minute since my husband's work schedule is always up in the air, about 10 days out.  I noticed the fares are less expensive if you book further in advance.
The flight to Ishigaki from Naha is about 45 minutes.  The airport in Ishigaki is extremely small and it did not take long to retrieve our luggage and head to our hotel.  We took a 10 minute taxi ride to our hotel in downtown area for Y850.
Hotel:  I spent a day scouring hotel websites and reading reviews and finally settled on Hotel Patina Ishigakijima, in downtown Ishigaki near the port.  I found the hotel on www.tripadvisor.com and booked through a link on the website for www.booking.com.  I have never booked through this website so I was hesitant at first.  After booking online I called the hotel and they confirmed our reservation so we were all set.  The excellent reviews coupled with great rates and an ideal location really sealed the deal.  We were not disappointed either!  It is a newer, small hotel (about 30 rooms) and is located within walking distance of the ferry terminal.  It's location is perfect for exploring downtown Ishigaki including its cultural sites, shopping, and restaurants.  There is also a great little French bakery across the street from the hotel.
Hotel amenities include a small refrigerator, hair dryer, toiletries, tea and coffee, and small packages of Salt Cookies (me and my daughter's favorite- and they replenished the supply daily!).  There is a breakfast buffet daily from 7-9am that is included in the price of your stay.  There is a fairly large assortment of Japanese breakfast items including meats, breads, teas, coffee, and juices.
Complimentary cold tea is also located near the reception area.  There is a nice area near the buffet at the front of the hotel with Bali-style tables and chairs.  At the rear of the hotel is another good sized room with chairs and tables for doing work or reading.  There is free WiFi downstairs and free wired internet in the rooms. There is also the free use of washing machines and coin operated dryers.
The entire hotel was spotless, including our room, which was larger than I expected.  We booked the triple room and there were three twin beds, which are larger than the standard American twin.  The bathroom was modern but somewhat small and had a shower/bathtub.
You can also rent scooters, borrow bicycles, or arrange for a rental car through Hotel Patina.  Another plus is the free parking.  All in all, this hotel was perfect for what we wanted to accomplish on this trip.  On the other hand, if you are wanting a beach vacation you might want to book one of the other oceanside resorts.
One more note on Hotel Patina…since our flight arrived before check-in the hotel staff kindly held our luggage until our room was ready so we could go out and explore downtown Ishigaki.  They did the same since our return flight left several hours after check-out.  The staff of Hotel Patina was absolutely wonderful…very kind and efficient in every way!
Transportation:  There are cabs and several different bus lines available to help get you on your way to exploring Ishigaki.  We did not utilize the public transportation system but I believe they offer passes.  We chose not to rent a car for our entire stay since we would be off-island for the first part of our trip.  We explored the downtown area on foot for the first few days and rented a car through the hotel for our final two days.  The hotel staff kindly set up the rental for us and the car was delivered right to the hotel.  What service!  We tried to drive the rental agent back to his office but he insisted on borrowing a bike from the hotel!  To turn the car in, we were instructed to leave it in the airport parking lot with the keys and a receipt for gas showing that we filled up the tank.  Only in Ishigaki!
The cost:  We rented a smaller four-door economy car for 1.5 days for Y5000 plus another Y1000 for insurance.  I think it was Y3500 per full day without the insurance.  We paid cash for the car since he came to us and there was no credit card machine.
Key term:  "Mantan de onegaishimasu" – it means full tank, please.
What to do in Ishigaki:  While there are an abundance of sights to see and beaches to visit here, the first thing I recommend is obtaining English maps and brochures which can be found in the airport and at the ferry terminal building.
We took a wonderful walking tour of downtown Ishigaki which led us through Shinei Park, Tourinji Temple, Gogendo Shrine and the Miyara Dunchi House and the Yaeyama Museum.  We also journeyed to the Yu-gurena Mall, a covered shopping arcade where we purchased some local salts, hot sauces, and salt cookies.
Our first two full days were spent touring Taketomi and Iriomote Islands which were easily accessible by ferry. (Posts coming over the next few days!)
Our final days on Ishigaki were spent touring the rest of the island with use of the rental car.  Highlights include Tamatorizaki Observatory and the Hirakubozaki Lighthouse and Point on the east coast, Kabira Bay (glass bottom boat rides over the coral reefs for Y1000 per person), and Toujinbaka (the Chinese Tomb) on the west coast.  Also a favorite was Banna Forest Park on the interior of the island.
What to eat in Ishigaki:  There are several restaurants downtown that stand out to us.  The first is Kin-Jyo, which offers local Ishigaki beef.  The price was somewhat high but worth it…the beef just melts in your mouth.  I think we paid about Y9400 for 400 grams of beef, three sides and drinks.  Kin-Jyo is located on the street adjacent to the ferry terminal.  Kin-Jyo accepts cash and credit cards for payment.
We also frequented Antonio Trattoria, a small Italian restaurant run by a Roman expat located on the second floor of the building across the street from the bus terminal.  Antonio prepares meals using the freshest of ingredients and provided delightful and insightful conversation during our visits.  Antonio's set up is small as he truly cooks for pure pleasure and I do not know if he takes credit cards as we always paid in cash.
One final food that is unique to this area of Okinawa is the Yaeyama salt yakisoba.  Instead of using a dark sauce like we do here, locals create a fresh-tasting dish flavored with local sea salt.  It was simple yet amazing!
All in all, our five days exploring the Yaeyama Island Chain was everything we expected it to be…absolutely unforgettable!  The islands are truly a hidden gem…simply gorgeous and serene and the people are very welcoming, in true Okinawa fashion.  We plan to return before our time in Okinawa is up and hope that our experience inspires you to visit as well!
Other posts on the Yaeyama Islands:
Ishigaki (ANA Intercontinental)