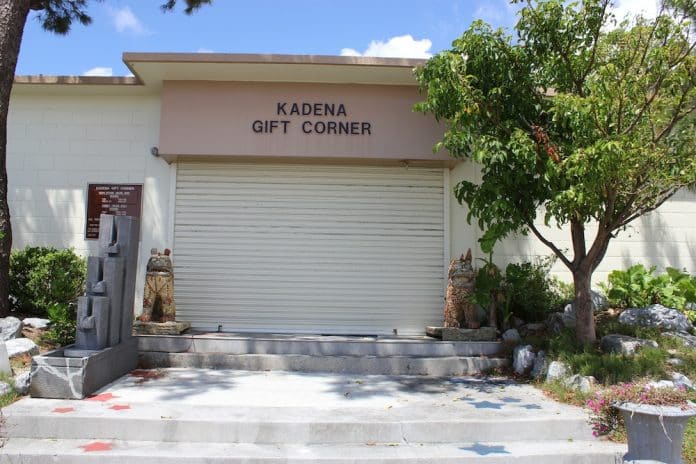 CONTRIBUTED BY SARAH FORTE

Kadena Gift Front
Where do you buy gifts for friends and family back in the States? I, for one, suffer from the self-imposed pressure of needing to buy something unique and—preferably—Asian. If I'm sending something from Japan, it doesn't seem right to send something they could have gotten from Walmart. Am I alone?

Kadena Gift 1
This is when I find myself coming back to the Kadena Gift Corner. The gifts here are far beyond Walmart! The women of Kadena Officers Spouse Club (KOSC) go on buying trips to Hong Kong, the Philippines, Bali, Vietnam, mainland Japan and even Germany to bring unique gifts to their store. Here you can find jewelry, clothes, toys, scarves, home decorating items and furniture items.
While some items are always available, such as the wide variety of kokeshi dolls, new items arrive frequently. During a recent visit, the store had just received their biannual Thailand shipment. Wood wall carvings, silk pillows, beautiful dishes and clothing items were just being unpacked from the shipping boxes. A store favorite, Thai rice pots, were being put on the shelves. Because many of these items were one-of-a-kind, it brings a little excitement to shopping and the thought, "If I don't get this now, it might not be here when I come back."

Kadena Gift 2
Kadena Gift Corner is the only Okinawa military base gift store featuring items from Germany. During the Christmas season they feature traditional nutcrackers, smokers and ornaments. For the first time this coming spring they will also have a shipment of non-Christmas German items.
Another distinctive offering is the line of Sak Saum items. Sak Saum items originate in Cambodia and are hand-crafted by women as a way out of their vulnerable or exploited lives. Their line includes charming purses and bags, baby shoes, nursing covers and aprons.
One more way that the Gift Corner also insures their wares are always fresh and new is by hosting a variety of vendors. Some are there permanently, such as Supreme Gems & Gold, while others rotate through. You may find professional Okinawan artwork, scrapbooks, hand-made jewelry or pottery. The upcoming and current vendors are featured on their website.
Just behind the Gift Corner is the furniture annex. To get there from the main store follow the stars and stripes painted on the sidewalk. Inside you will find many original furniture pieces ranging from small stools, to large dining room sets. While these might not be the perfect thing to send to your sister back home for her birthday, it would be a wonderful gift for yourself to remember your time here in Okinawa.

Kadena Gift 3
Need one more excuse for shopping? The Kadena Gift Corner is a non-profit enterprise. Most of the "employees" are volunteers and the proceeds from the store are split between the KOSC Charitable Fund and The American Women's Welfare Association (AWWA). The KOSC Charitable Fund, among other things, gives scholarships to Kadena US military dependants. The AWWA works with other base gift stores to fund a variety of American, Okinawan, Military and Japanese welfare projects, charities, and organizations. So as they say, "The more you spend, the more we give!"
There can never be enough volunteers to run a store like this. If you are interested, stop in and see how you can help. If you need even more incentive, volunteer hours can earn you bonus bucks to be spent at the store and chances to pre-buy before the new shipments are generally available.
For truly special gifts for your friends, family and yourself, try the Kadena Gift Corner. If you haven't been there in a week, you are sure to find something new you hadn't seen before.
Location: Building 436 on Kadena Airbase. Across the street from Navy Fed bank and the BX on the corner of Vincent Ave and Davis Ave.
Hours: Tuesday: 1000-1700; Wednesday, Friday, Saturday: 1000-1400
Website: www.kadenagiftcorner.com
Phone:  959-3161
They are also on facebook!