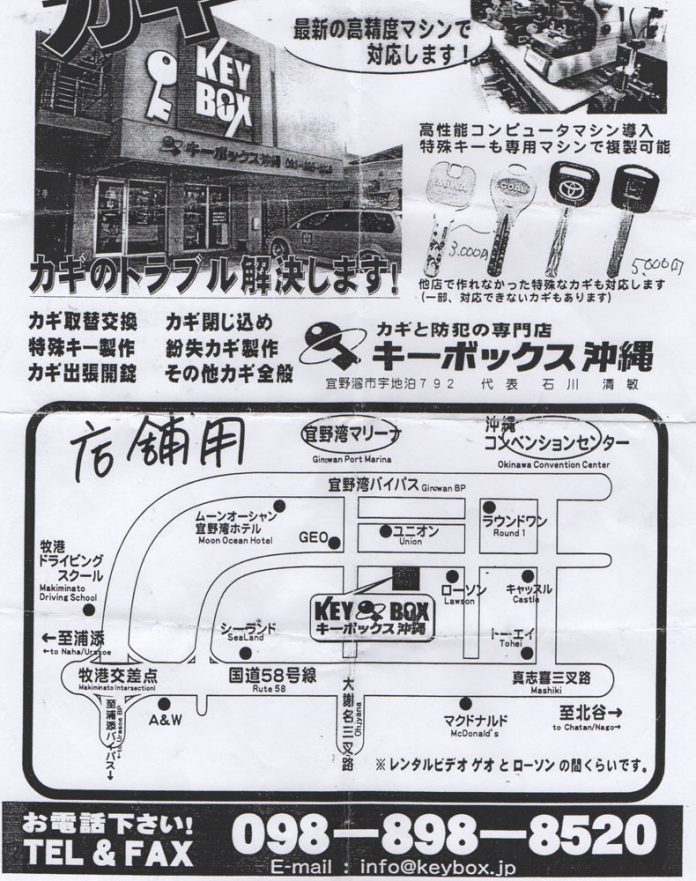 CONTRIBUTED BY SARAH BANCROFT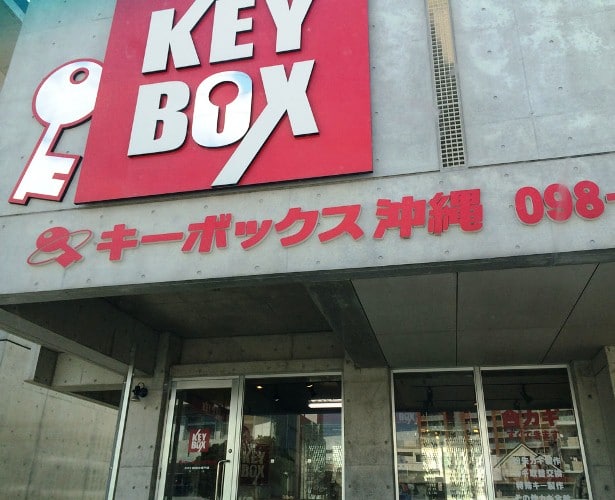 Do you need a new or duplicate key for your car? Well, we sure did when we purchased our new car once arriving on island. The key we received was in dire need of being replaced. When going about the process to get a new key, the first recommendation we received was to go to Makeman Hardware to see if they could make a copy. When we went to the key counter in the store, we were told that they cannot make the "electronic" type of key we were looking at replacing. The car that we purchased was a Toyota Progress and when you insert the key into the ignition the steering wheel adjusts to the driver's settings. We did not know this was something unique to our Progress.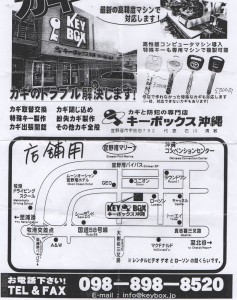 Thankfully, the employee at Makeman handed me a piece of paper with a map on it to a key store in Ginowan. Key Box is located just past the Round 1 off of the 58 Bypass. I was able to find it relatively easily with help from the map.
Once I arrived at the store I was approached by a young lady. She took one look at my key and it was obvious that it needed to be replaced. She took the key into the back and once she returned she had a spare key option and told me it would be 5000¥ to replace it. This key did not have a replacement for the auto lock/unlock, just the key that starts and locks/unlocks the car manually.
I waited for the key to be made and once it was done she came back out and motioned that she wanted me to test it out on the car. After unlocking, locking, starting, and then stopping the car I came back in and said that it worked just fine. She took the key back, made a few finishing touches, and then brought it back out. I paid for the key and off I went with a new key for our car. Thankfully one that will not fall apart at any moment!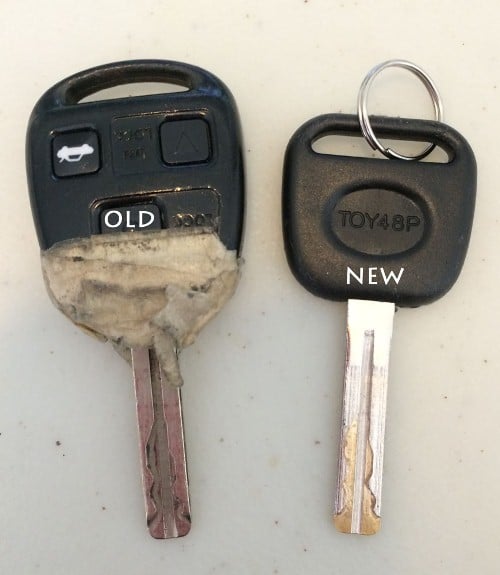 They also make standard copies of car keys starting at 3000¥. In the store's little lobby they also sell various locks, key chains, and accessories. For a copy of Toyota Progress key it was 5000¥.
Website: Key Box
Phone: 098-898-8520
Hours: 10:00 a.m. – 8:00 p.m.
Payment: Yen (¥)
Directions: From Foster Commissary Gate turn left heading south onto 58. Take an immediate right at the first light to get onto the 58 Bypass or Convention center road. Follow the bypass until you pass the Round 1 on your left. Take a left at the light right after Round 1 and before the new shopping center. Follow that road until you hit the next major intersection with a light. There will be a Lawson store on the right. Turn right at this intersection and proceed about 1/8 mile and Key Box will be on your left.