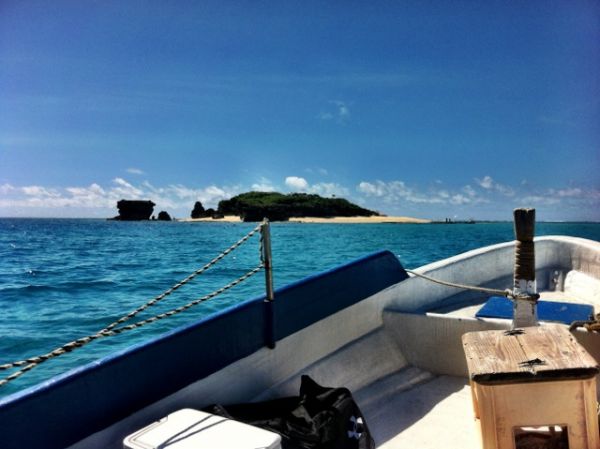 CONTRIBUTED BY QUENTIN RICHARDSON

I never though I would tell someone "I'd wish the fish would stop following me", especially since I love snorkeling. This place has so many hungry fish that literally stalk you for food as you swim. They know the benefit of human interaction leads to a quick meal. This place has as many, if not more fish than Maeda Point.

Komaka Boat
Komaka Island is a tiny, pea-shaped island paradise off the coast of Cape Chinen in Nanjo City. The island sits above the very shallow waters of the Philipine Sea. You can explore the entire island in under half an hour.

Komaka Sign

Komaka Pier
Upon reaching Chinen Marine Leisure Center, you board the speedboat that takes you out to the island, which is a 15 minute ride. You need a life jacket to speed over teal blue water to reach the tiny port of Komaka. The guides will instruct you on the safety of the island. Be prepared to make a wet landing if the tide is high since part of the ramp is underwater.

Komaka Beach Area
Once on the beach, you will see a shaded area under a small cliff (earlier in the day) so set up your umbrella and beach towel here. Shade will become scarce later in the day due to the lack of trees and amount of tourists, so get to it early. From here, you don't have to go far to get to the fish.

Komaka Fish 2
From the advice of a friend mixed with personal experience, I brought vienna sausages to feed the fish. Before you can even think about feeding them, they are already expecting you. Within 10 feet of the shore where the water is about 4 feet deep, schools of fish are being fed by tourists.

Komaka Fish 3
The sausages makes them go crazy, so does shrimp chips and regular fish food. You don't have to snorkel to feed them, but it's easier to take pictures of them underwater. For safety reasons, don't feed the fish with food too close to your hands underwater. The fish often mistake the pink sausages for fingertips.
It is highly advised to swim out to the deeper water, about 10 to 12 feet deep where it is sandy so you get to see the bigger fish too. I've seen fish that weigh more than 30 pounds sneak up to steal a snack. A larger fish with the ability to change the color of its scales followed me around the entire time I was in the water. If you are afraid of fish, this is not a place you want to visit.

Komaka Waters
Beside the hungry bunch, there are other types of fish feeding off the coral as well. They are shy, but they will let you get close enough to take pictures if you are patient. You can also enjoy watersports from the rental tent if you don't want to go snorkeling, or enjoy the glass bottom boat tour as well.
This is a cool trip for families if the sea conditions allow.

Komaka Timetable
---
Chinen Marine Leisure Center, Nanjo
Price:  The cost to get to Komaka island costs 2,500 yen roundtrip and the ferry schedule is posted right in front on the small inlet where the boats leave. You can rent life vests from the nearby store for 500 yen if you don't have one. You will need to pack a lunch, plenty of water, a large umbrella, a beach towel, snorkel gear, waterproof camera, a gym bag, and plenty of sunscreen. There is also a restroom on the island with a hose to rinse yourself off.
Website: chinenmarine.co.jp
Address:  676 Chinen Kudeken, Nanjo 901-1511, Okinawa Prefecture
GPS Coordinates: 26.1748791, 127.8295186
Directions: To get here, you need to catch the speedboat from Chinen Marine Leisure Center in Nanjo City. Drive south on the Okinawa Expressway and exit the Haebaru-Kita Interchange (A1). Turn left on to Highway 329 and head for Yonabaru/Sashiki. Continue east on Highway 329 until it becomes Highway 331. Follow Highway 331, reaching Nanjo and following the coastline as it wraps around a ridge. After passing Azama Port and Azama-san Beach, look for a yellow and orange statue with dolphins on it and turn left between them and immediately turn right down the hill. You will see the port and parking at the end.