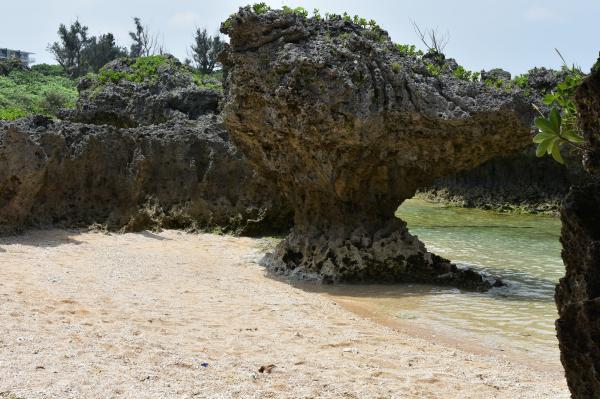 Maeda Flats Beach
CONTRIBUTED BY DIANA MIDDLETOWN (September 2007; 2016 update below)
photo submitted by Donna Mack
Maeda Flats is a cool beach because there is an area where the kids can play in the sand and if you go on a low tide day, they can wade in the water nicely. Also, just to the right of the sand, there is great diving/snorkeling area. My stepson found a cool starfish and some "neat-o mosquito"-looking fish (his words). Also, if anyone is interested, the actual Maeda Point is great for diving/snorkeling/surfing and they also have a mild hiking area–mild being for beginners who just want to take a stroll and have a nice view of the beach. The sand at Maeda Flats is great for burying your family, too!
photo submitted by Diana Middleton
A from the MCCS website: "Maeda Flats is a great place for reef walking. The out-of-the-way beach is a favorite to explore because of the protected cove. There are no amenities, but the sand is soft and the water clear. Low tide reveals a reef which is home to much marine life which you can get a glimpse of without mask and fins."
CONTRIBUTED BY DONNA MACK (May 2016)
The Cape Maeda area is known for some of the best snorkeling and scuba diving in the Okinawa area. There are actually a few beach areas that can be accessed by foot via some dirt paths and is located just west of the Maeda point. This "string" of little beaches is where we spent the day snorkeling.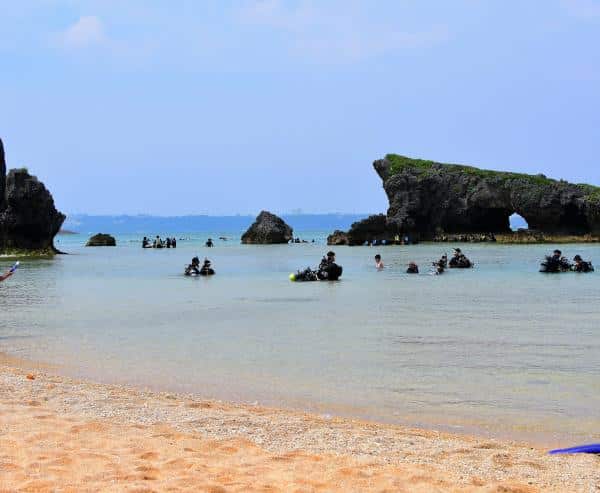 photo submitted by Donna Mack
On the day we visited, my family saw a wide variety of marine life to include needlefish, sea urchin, lionfish, and few other colorful fish. My son is a beginner at snorkeling. We have been told this area is considered a level 2; however, the day we visited the tide was low and seas were pretty calm, and he had no trouble going out 100 plus meters and stayed out about 45 minutes.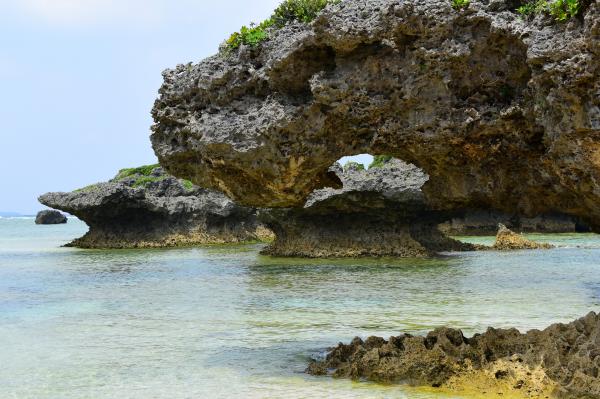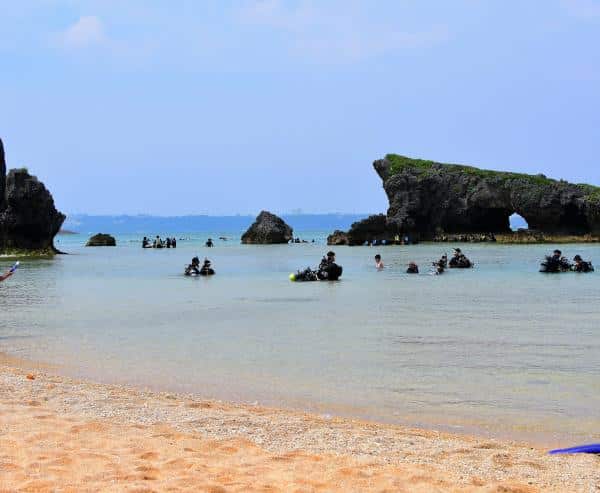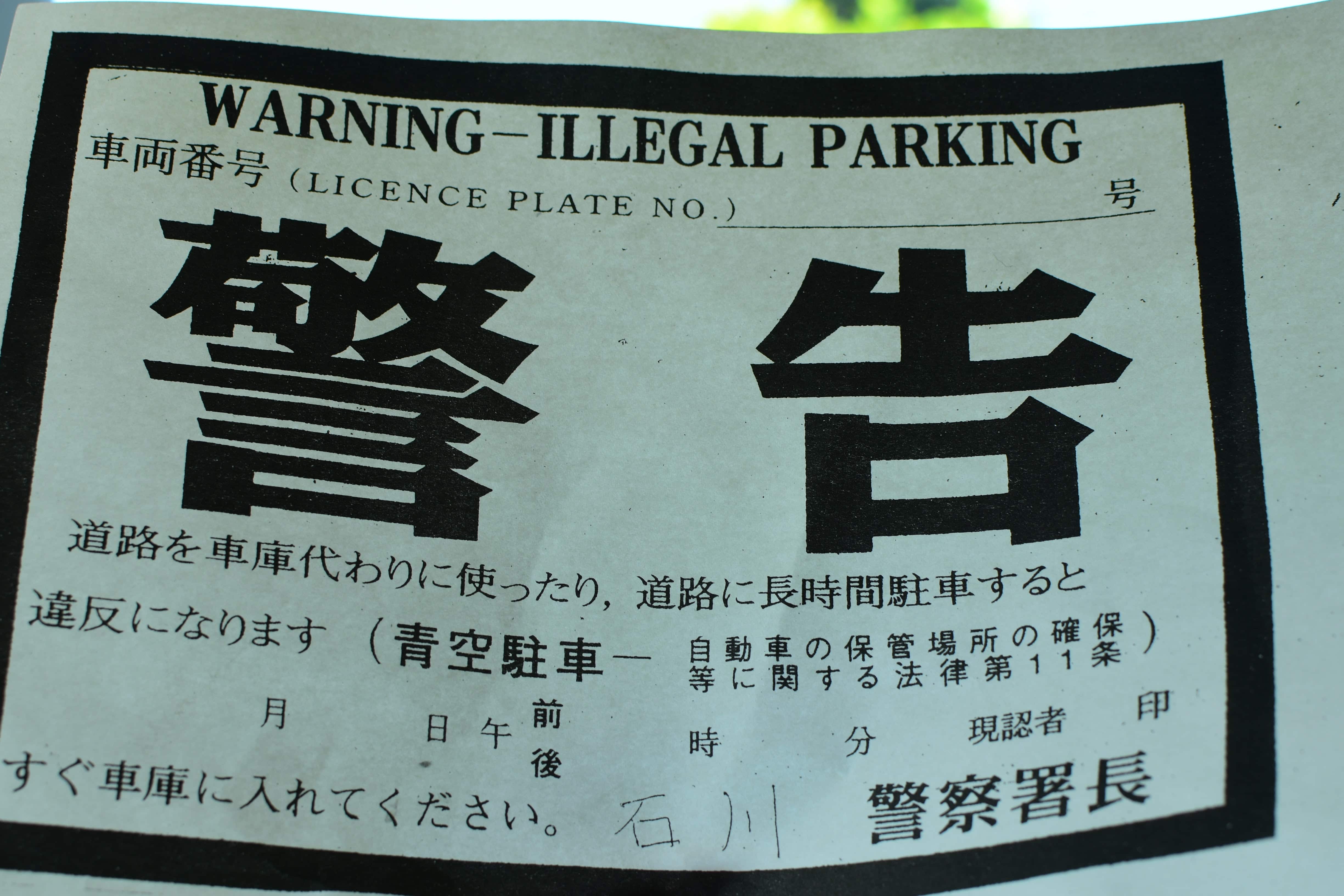 photos submitted by Donna Mack
---
Maeda Flats Beach & Point
Website: https://www.maedamisaki.jp/en/
Has parking cost information as well as a live camera feed and current sea conditions
Facilities at the main parking area
Restrooms for Men, Women, Physically-Challenged
20 Hot-Water Showers (200yen): 10 for Men, 10 for Women
Coin-Lockers (100yen)
Changing Rooms: 3 for Men, 3 for Women
4 Hair Dryers (100yen)
1 Telescope (100yen)
Address: 469-1 Maeda, Onna, Kunigami District, Okinawa Prefecture 904-0
GPS Coordinates: 26.4450618 127.7714252
Directions: Take Highway 58 north past Kadena Circle, make a left at the Ryukyu Mura sign (the sign is at the light, so watch for it). Turn left at the second light past a sign for Ryukyu Mura. Make a right at Maeda Misaki, about .8 km, and then left just before the parking lot.
Parking:
There are areas to pull off the road and walk to reach the beach area. However, the facility managers ask that you respect the local residents as parking along the narrow road causes traffic problems and poses difficulties to the local farmers trying to access their farmland. YOU WILL get a ticket if you park along the narrow road leading to the cape; we were lucky and heard the announcement and only received a warning.  I suggest the easiest way to get to the beaches is to go all the way to the Cape Maeda Facility area and pay to park, then hike down.
To get to the beach from the parking lot: if you are standing FACING the parking lot with the water behind it, you turn LEFT down that road. Once you've turned left from facing the parking lot, you'll go down maybe 1/4 or 1/2 mile, then look for a narrow dirt trail. The first part is dirt, the second part has steps, then out of nowhere, you'll see a pretty secluded beach area.
In the main parking lot, there are spaces for 180 vehicles, plus 4 handicapped vehicle spaces
To see more information regarding the cost of parking visit the website above.