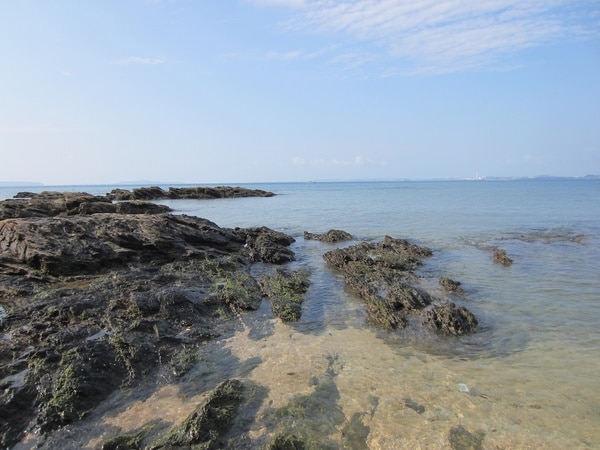 For those of you planning a move to Okinawa soon, we hope Marie's descriptions of the process of their travel and first months of settling in can help you with a few of the "unknowns." To read more of their story see links at the bottom of the post.
CONTRIBUTED BY MARIE LEWIS
"What's been your favorite thing about Okinawa so far?" Some friends of ours posed this question to Kenny and me over ice cream one lazy Saturday afternoon. We both both paused and looked at one another for a moment. There was so much to love, from the food to the beaches to the sense of safety that's increasingly hard to come by in the States. After a minute, Kenny and I came to the same conclusion: getting lost was the most fun.
We proceeded to tell our friends about the day we hopped in the van with a road map, a camera and a bottle of sunscreen, and just drove. An itinerary was nonexistent. We had a loose idea of driving as far north as possible and heading home a different way than we came. After a few wrong turns (we learned that there are two different route 85's), we found ourselves on 329 headed north, along the eastern coast of the island. The farther north we drove, the more rural our surroundings became. The views of the Pacific Ocean were spectacular. Our first stop was about 40 minutes from the commissary gate at Camp Foster. It was a small beach with a parking lot along 329. I saw no signs to tell us where we were. The beach was covered in coral and seashells. It reminded me of the hours I'd spent collecting shells and sea glass in Florida as a kid. It seemed like a good place to be alone, except for the road being so close. I couldn't believe the clarity of the water. Blue and crystal clear. The only thing that bothered me was the sight of some trash left behind from previous visitors. I wondered how anyone could think of leaving their garbage in this beautiful place. Kenny made a point to pick up what he could and throw it out before we left.

Newylwed First Stop
We made it to Camp Schwab and thought it might be a good time to fill up the gas tank. It was our first time there and it took us close to an hour to actually find the gas station. Well, not a station exactly–more like a single pump. It's so tiny we drove past it several times without noticing, but it's there. We also stumbled upon a beach on base and the Oura Wan cottages overlooking the ocean. It was quiet and secluded, and seemed like a great place to spend a low-key weekend.

Newlywed Beach
The next beach we stopped at was a little more difficult to access. We saw the sand through patches of trees but couldn't find an actual parking lot. We pulled over on a patch of dirt along 329 and walked toward the trees to investigate. What we found was a narrow dirt path leading closer to the beach. Again, I couldn't find a sign. We followed the path to a clearing where the ocean was in plain sight, but it was a steep drop down to the beach. A rope was tied around a huge tree and led down to the sand below. We guessed this was the way down!

Newlywed Beach access
Once on the beach, we saw a group of campers relaxing next to their tents along the water's edge. A few fishermen were casting their lines further down the coast. I spotted something that looked like a drain pipe sticking out of the sand and inched closer, wondering what in the world it could be. It was way to big to be a shell. I knelt down and starting digging. My eyes widened. It was a shell — a giant one. I would later learn that my discovery wasn't all that uncommon, but that's the beauty of being an island newbie. What's normal to everyone else is exciting and fascinating to me. Sure, I may have no idea where I'm going or what I'm doing, but that's the best part! Every day is a chance to explore a little deeper, venture out a little farther.

Newlywed Huge Shell

Newlywed Cape Hedo
And venture out we did. We drove all the way up 329, joking about the jungle in which we found ourselves. I half expected to see a dinosaur pop up out from the thick canopy of trees at any moment. I lost count of the times we pulled over to take pictures of the breathtaking views. It was pure amazement. The jewel in the crown was Cape Hedo. All I can say is, WOW. It has to be the most beautiful place I've ever seen, with panoramic views of the Pacific Ocean meeting the East China Sea. I felt particularly moved by a message inscribed on a pole: "May Peace Prevail On Earth." I repeated this silent prayer in my mind.
By the time we left Cape Hedo it was already mid-afternoon, so we made fewer stops on the way back. We drove south on Route 58, noting the clusters of beaches and resorts along the main drag. The traffic was much heavier on the way home. Kenny and I weren't bothered by it. We talked about all the things we'd seen that day and how much more we still wanted to explore. We were so consumed by the sights, we forgot to stop and eat! I couldn't believe I'd been so hesitant upon first hearing about our orders here. We would have missed an invaluable experience in a magnificent part of the world. We spent the rest of the drive soaking it all in.
The next time someone asks me what my favorite part about Okinawa has been, I may just refer them to this blog post. The only way to truly appreciate the joy of exploration is to go out and get lost yourself.
Read all the posts in this series: Parts 1, 2, 3, 4, 5, 6, 7, 8, 10, 11, 12, 13, 14