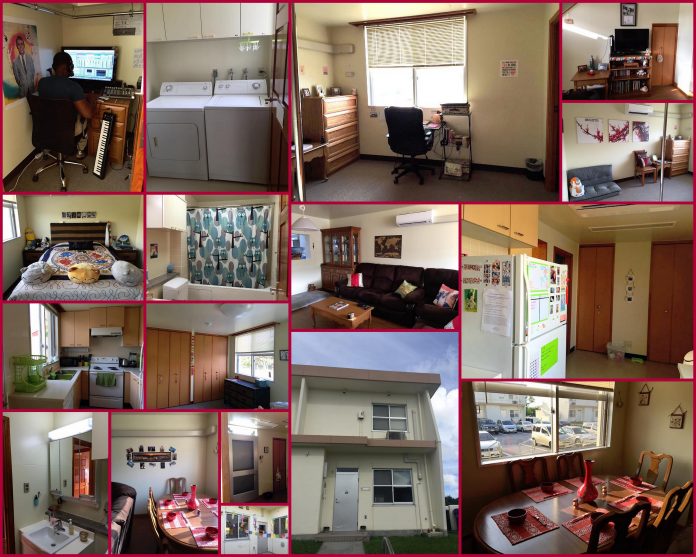 Living overseas has its challenges, and a commonly agreed upon one is finding that perfect place to live. To help those of us who are curious about the different options for living on Okinawa, readers have answered some of the most frequently asked questions about on-base housing. If you live in an on-base house that has not yet been featured on this site, please contact our Submissions Manager for the template.

Here's a great link to access, too, if you're on the fence as to whether to live on-base or off-base.
CONTRIBUTED BY LOUISE DUPUY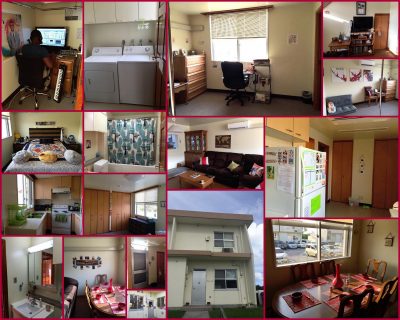 click photo to enlarge
What military base is your home located on? Camp Foster
What area of the island is your home located on (i.e. North Island, Central Island, South Island)? Central Island

What is the name of your neighborhood in which your home is located? Sada Housing

Generally speaking, most on-base homes are approved for occupancy based on military or government rank.  If you would like, please provide the range of ranks that your home is approved for? As far as I'm aware, all ranks.
What DODDS school district is your home attached to?  Is there a school bus system available? Killin Elementary School, Zukeran Elementary School, and Kubasaki High School. Middle school students are bussed to Lester Middle School. There is a school-age care facility and a daycare facility both within 5 minutes of where I live.
Please describe the "feel" of your neighborhood (i.e. pet-friendly, child-friendly, level of safety, friendly neighbors, spacious, etc.) It's peaceful, most neighbors are really friendly, it's pet-friendly, feels safe, and is pretty clean.
Please describe the style of your home (i.e. detached home, duplex, apartment, age of the home, etc.)  Duplex, end of row (6 houses per row)
Please provide general information about your home such as square footage, the number of bedrooms and baths, number of stories/levels, special amenities, etc. Two stories, two bedrooms, two bathrooms, living/dining room, kitchen, laundry room, and outside storage. It has a lot of storage space, feels light and airy, and is a decent size.
What places of services are available near your homes such as restaurants, shops, commissary, playgrounds, parks, etc.? 5-minute walk to the PX, food court, movie theater, post office, barber shop, beauty salon, cell phone shops, and local gift outlets.
How is parking provided for your home? One assigned space outside the property, with visitors spaces in between.
Is there any yard space or outdoor spaces provided for your home? Enclosed concrete yard to the rear, grassed yards to the front, side, and back.
What do you feel is special about your home or neighborhood – what makes it feel like "home" here on Okinawa?  Location. Close to base amenities, close to off base amenities, close to popular tourist attractions, and easy access to attractions and places beyond the locale.
What housing expenses are included with on-base housing (i.e. utilities, rent, appliances, etc.) Rent and utilities are paid, plus all appliances are included (fridge/ freezer, dishwasher, oven/ stove, washer and tumble dryer). No microwaves are available in the on-base housing; if you have one, bring it with you!
Are there any expenses or fees associated with on-base housing? No expenses, but if you want internet, cable, or a landline, this must be paid for by you. All exterior aesthetics must be maintained by you; weeding, lawn mowing, and sidewalks/yards kept clean and tidy.
Are you satisfied with the maintenance services provided by your on-base housing organization? Yes. They are pretty efficient, I've called them a few times.
Finally, what advantages and disadvantages do you feel have been your experience living on a military base here on Okinawa? Advantages: security, convenience, great location. Disadvantages: certain restrictions.
Please provide any COMMENTS that you feel would be helpful for others about living on-base. For the most part base living is pretty easy and pleasant. This is my first time living on a military base, and it's surprisingly easy to forget; it doesn't feel like a military installation most of the time! It's cheaper than living off-base but is close enough to all the wonderful things Okinawa has to offer that you get the best of both worlds.