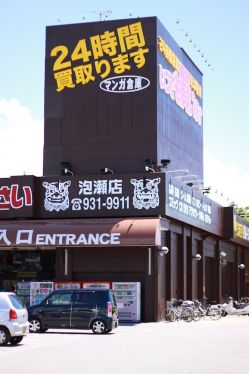 Recycle Store Exterior
CONTRIBUTED BY STEPHANIE MONROE
I've been on Okinawa about a year now, and since our arrival I've been lamenting the loss of one of my favorite activities: shopping the neighborhood thrift stores. Back in the states thrift stores are one of my regular stops to find unique, antique, or bargain priced items. I have eclectic taste and I love to find a bargain on anything from dishes to salvageable furniture that I can refinish or repurpose. Sure we have the on-base thrift stores, but I've really been looking for some Japanese thrift shops so I can find items that are strictly Japanese. I'd resigned myself to the fact that there really aren't places like that on the island. Like so many other things about this island, I've once again been proven wrong.
At a dinner party last weekend, a friend of a friend was talking about "The Recycle Store". Immediately my curiosity was peaked and as I listened to her describe the place, and I resolved to go there and check it out for myself as soon as possible. I recruited another friend who'd never been there to come along for company.

Recycle Store Aisles
As we pulled into the parking lot of the enormous, brown, warehouse-sized building I was practically twitching with excitement. What, oh what treasures awaited me inside? Practically everything as it turns out, is sold in this store. This place is the mother of all thrift shops.
It is roughly divided into sections. There are aisles and aisles of clothes, toys, watches, jewelry, musical instruments, electronics, collectables, an entire side of the store is devoted to books, a corner for dish sets and pottery, purses with everything from last season's designer bags to little costume plastic clutches. There is an entire shoe store's worth of second hand shoes, there's baby items, baskets, candles, and tons of video games . . . I can't even remember everything we looked at! It's practically a second-hand Wal-Mart!

A lot of items are priced for a great bargain! I nabbed an adorable little bento box for 200 yen. I've seen similar ones on Amazon.com for $15-$20!! There are dish sets for 200-800 yen, cups and glasses similarly priced that I didn't purchase, but I'll be back! And of course there are the items like hard-cased luggage, that due to the current yen rate you'd be better off buying on base. Some of the more unique and interesting items we came across were vintage Barbie dolls still in the box for roughly $50 American Dollars, the villain from the "Saw" movie franchise in doll form (creepy), little hand puzzles like the ones I had as a kid, and designer labels of every kind.
I do wish there had been a bit more furniture. I was really hoping to find some cute chairs or a desk for cheap that I could refinish. However I did spy a place that looked promising along the same road when we were headed home. That's a stop for a different day. Overall, I think I love this store!! I will definitely be back. It's the type of place you could spend the day in and still not see everything!! Happy shopping to my fellow thifters!!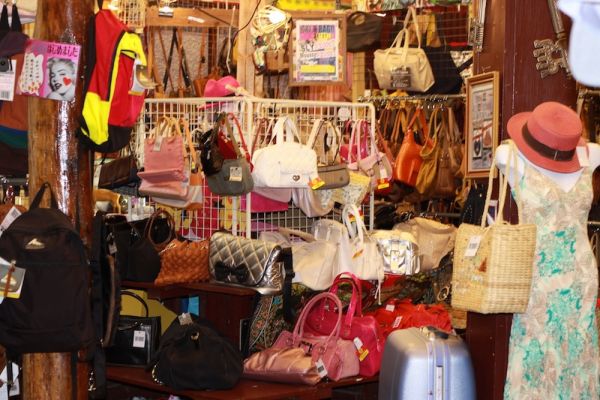 Hours: 24/7
Payment: Yen
Directions: Go out of Kadena Gate 1 and turn left onto 58 heading south. Turn left onto 130 which borders Camp Foster. Turn right onto 330, which is the road that divides Camp Foster. Turn left onto 81 toward Comprehensive Park. Stay on 81 all the way to the eastern side of the island. 81 becomes 227 (aka Awase Bay St.) The recycle store is a large brown building on the left side of the road right before the entrance to Comprehensive Park. If you go through two short tunnels, you've gone too far.