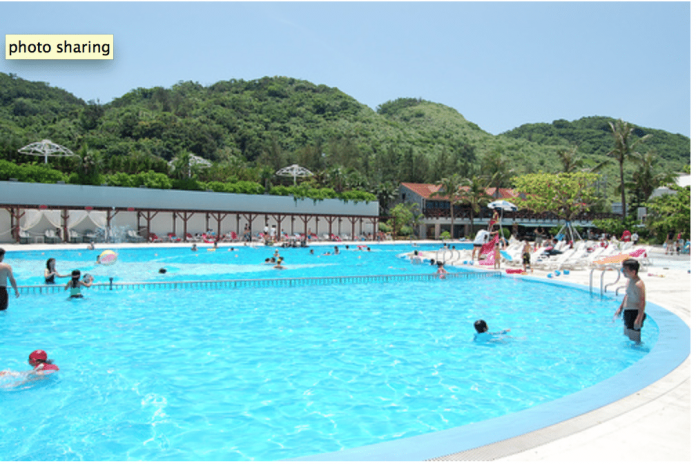 Renaissance Resort, originally uploaded by okinawa hai.
(Click on the photo above for more pictures.)
CONTRIBUTED BY JULIA
There is so much to do at the Renaissance Resort out by Onna that I hardly know where to start.  For a flat fee of 1260 yen (starting from age 6 and up) you can use their outdoor pool, indoor pool, spa, sauna, Jacuzzi, and beach.  There is also a touch pool that you can wade into which the kids love.  The last time we went there was a starfish, some sea cucumbers, and various fish swimming around.
They also have dolphin programs here.  Prices range from 3000 yen per person to 8000 yen per person.  If you don't want to do a program you can always catch a glimpse of the dolphins from afar.  My kids are usually quite happy with that.  I tried one of the programs last year with my older one who was about 18 months at the time but he was pretty scared to get up so close.
For more general information, click HERE.  For more information on the dolphin programs, click HERE.
Directions from Kadena:
Take a RIGHT onto Hwy 58 from Kadena Gate 1.
Continue on Hwy 58 past the rotary, some large cow and pig statues on your left, and a large sign for Ryukyu Mura also on your left side.
You will go over a stretch of road where you can see the East China Sea on your left and Renaissance Resort (large white hotel) up ahead.
There are a couple of options for parking:  1) You can take a LEFT-hand U-turn just before the light and park in the parking area on your left or adjacent to the hotel.  2) You can park in another designated parking lot on the right hand side of 58 but you will have to pass the light and make a U-turn up ahead to get to it.  Driving time is roughly 25 minutes unless traffic is really bad.