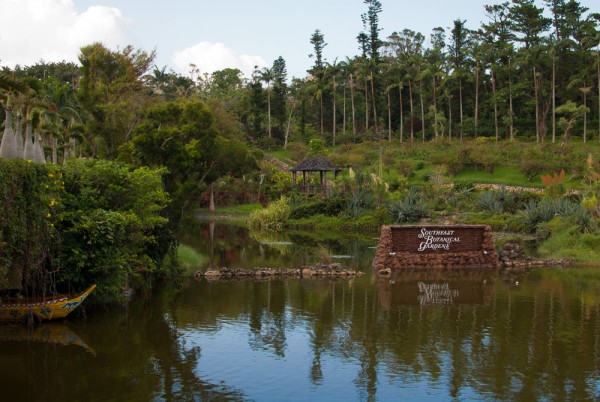 Editor's Note: The Southeast Botanical Gardens were originally reviewed on Okinawa Hai on March 29, 2007, August 27, 2007 and October 10, 2008; an additional review of its Christmas Lights Display was published on December 20, 2009; you can read a PDF copy of these original reviews HERE. This attraction closed for a couple of years while undergoing management restructuring. The post below is a review of this attraction after it reopened in 2013.
CONTRIBUTED BY JENNIFER MARTINEZ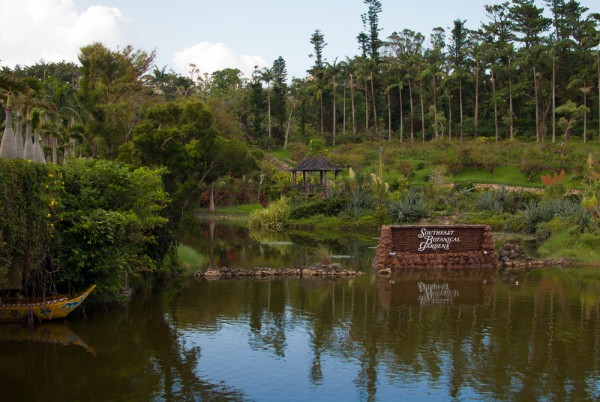 The newly re-opened Southeast Botanical Gardens has something for everyone. That's right nature lovers: your exotic sanctuary awaits.
The calm atmosphere of this sub-tropical paradise can be felt from within as you grace the cool concrete path on a relaxing walk through the dew-covered palms.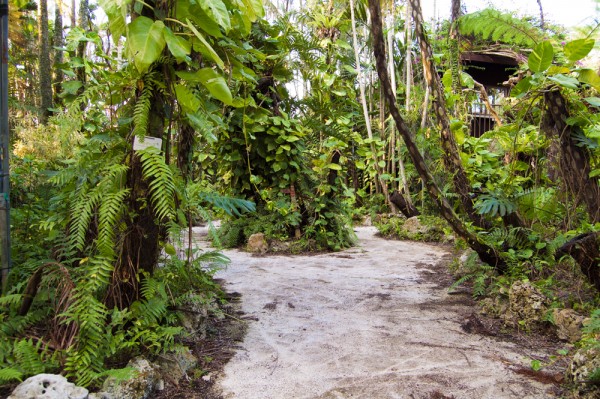 The delicate warmth of the sun shines from beyond the Eastern canopy, scattering a golden light throughout the entire park. If you are fortunate enough to experience the Southeast Botanical Gardens at dawn, beware; it is so visually striking that you may go home feeling a new sense of life appreciation.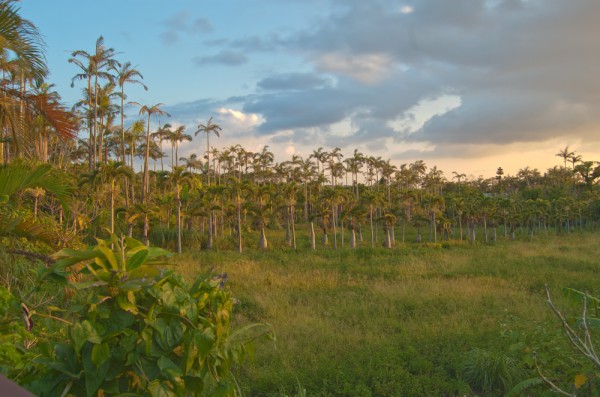 On a midsummer day, when the sweltering sun is at its highest point in the sky, when walking may not be the smartest choice, a trolley is available for you to sit back, relax, and enjoy a comfortable ride through the grounds. We chose to walk while taking advantage of the handheld fans provided at the front gate. The maps of both the Water and Botanical Gardens are conveniently located on the fan.
Upon walking in, one of the first things you'll probably do is walk out on the docks toward the fountain and feed fish. If you asked my kids today, what their favorite part of our trip was one would say "the Night Lights" and the other would say "the Giant Surfing Bull!" which you'll run into immediately after the carp and tilapia experience. I'll admit it was cool and completely unexpected to see an open yard full of white, life size bull statues. Kids can really run wild and let loose in this area. (If you stop here first don't exhaust the little kiddos because you still have a long way to go.) Next time, I will make the bulls our last stop instead of our first.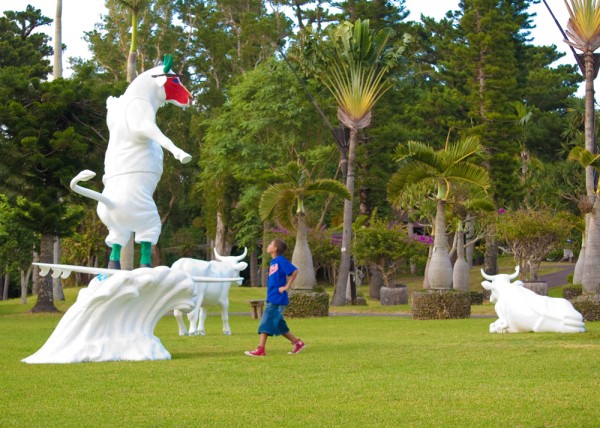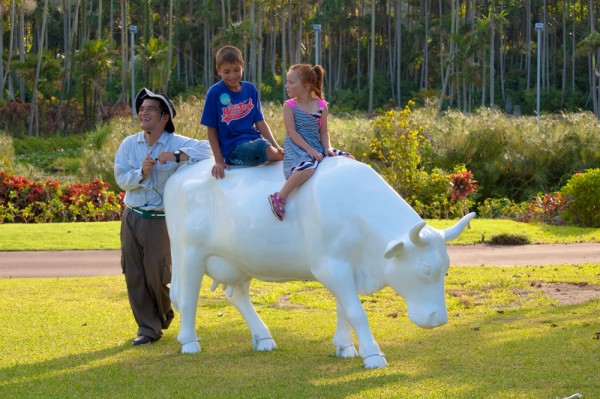 It had been a long sweaty afternoon and we were parched; let me tell you, those fans came in handy! A very helpful, English speaking guide kindly reminded us of the importance of hydration and escorted us to the Partnership Shop and Café. The products were priced fairly and the shop was immaculately clean. (Seriously, my jaw hit the sparkling floor!) The shop had a nice selection of flavored waters and an assortment of beverages similar to what you'd find at an off-base convenience store. If you want American brand drinks, they offer Coca Cola and Sprite. Chibana Gelato, benimo boxes and other snacks were available, although we did not stay to shop, I'm sure there is much more than what I noticed at a glance.
The Botanical Garden lives across the road from the main gates. On our visit it was somewhat bare, most likely due to the sweltering heat and lack of rain the weeks prior. Don't get me wrong; it was absolutely packed with labeled shrubs, trees, and plant life, but with only a few flowers. As the seasons change new blooms will emerge and growth will boost to new heights and I for one intend to return many more times to see this garden reclaim its full glory.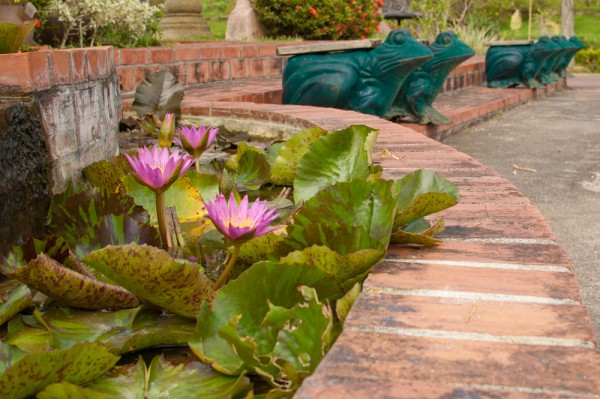 Most visitors walked through ever so quickly, passing us one after the next, never really stopping to look. The same could be said of life I suppose. A select few (maybe you) will see the beauty and inspiration that surrounds. Such a wondrous place is simply a dream for not only the grandparents, gardeners and botany enthusiasts of the world, but artists, photographers, imaginative children and families alike will make this place their playground.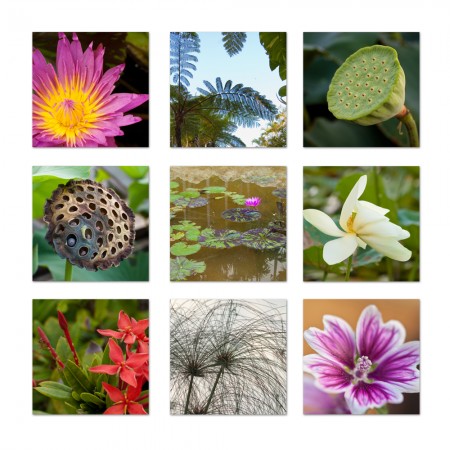 The Water Garden is the main area and in its finest moments, is absolutely breathtaking. Most of our time was spent within the borders of the Polynesian Lake, which is lit up for the Illumination that takes place from sundown until the park closes every night. Our trip was on a slow moving Monday and we were literally the only people left in the park, and as the night grew dark more creatures come out of hiding. The kids caught geckos and chased frogs as I sat back and enjoyed the genuine sounds of nature accompanied by a bamboo flute melody echoing from up the hill, and I watched overhead the blue tinted clouds of a full moon rolling over a magenta colored sky. To be honest I may have never experienced such a calm and natural ambiance in my entire life.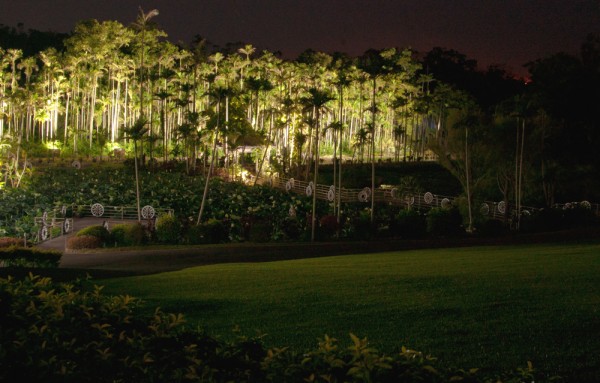 So whether you're an early bird or a night owl in need of an adventure or just a day away, the Southeast Botanical Gardens is a must-have experience in Okinawa.
Directions: Map Coordinates 26°22′30″N 127°48′24″E
Address: 2 1 4 6 Chibana  Okinawa, Okinawa Prefecture, Japan
Phone: 098-939-2555
Hours: 9:00 a.m. – 10:00 p.m. (Opens at 6:30 a.m. on Sat. & Sun. during July and August only)
Payment: 1,500 yen for adults; 1,000 yen for children ages 12-17; 500 yen for children ages 5-11; FREE for children under 5. Tickets sold at the gate are YEN only. You can pay cash at MCCS Tours+, but prices will vary based on the yen rate. To get tickets through MCCS Tours+ call 098-646-3502.
Tips & Warnings:  
Wear Bug Spray.

Watch out for Spiders and Snakes.

If you go during Illumination at night between 8:00-10:00 p.m., the only area you are allowed in is the Polynesian Lake.

For Your Safety DO NOT walk into the dark areas, blocked by signs. It would be easy for a small child to pass by these signs unnoticed, so pay attention parents. Consider bringing a flashlight just in case. 

The gate clerks warned us by pointing at certain areas on the map and saying "NO GO… DANGER!" That's pretty clear. (It gets pitch black out there at night since it's so far from city lights.) My guess is that Habu, and falling into the water may be the biggest safety concerns. So use your common sense and do not walk the unlit paths.

Check the website for information on hosting parties, picnics and crafty events for kids including painting the bulls.
Okinawa Hai Posts:
 Other Helpful Links: