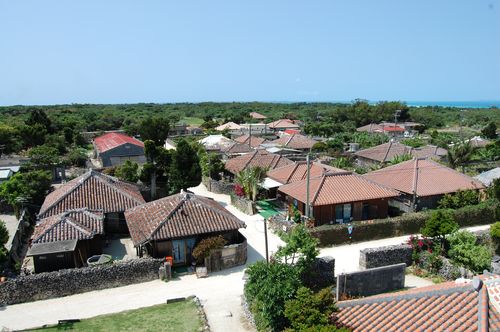 CONTRIBUTED BY LISA RUPPERT
Our spring break get-away to Ishigaki Island provided us with the perfect opportunity to explore this quaint little island.  Taketomi Island is small, roughly 2.5km wide by 3.5km in length, and is located about 6km from Ishigaki's port (in the southern portion of Ishigaki).
Taking a trip to Taketomi Island is like stepping back in time.  The village is a traditional Ryukyu village where its roughly 300 inhabitants adhere strictly to the traditional style of building.  The roadways are paved with white coral sands and are swept daily by island occupants.  Colorful flowers, including Easter Lilies, line the limestone walls intersecting the village.  Because of its quiet charm, Taketomi is popular with tourists.  However, there are not any resorts on the island, only guest houses for those travelers wishing to stay overnight.
Getting there:  It's close proximity makes getting to Taketomi a snap for even the most inexperienced traveller.  Ferries depart from Ishigaki's ferry terminal every 30 minutes beginning at 7:30am and run until 6pm.  We purchased our tickets (round trip with an open return) from a large desk in the terminal with a sign in English reading "Ticket Office."  Purchasing roundtrip tickets usually results in a discounted fare and I believe that tickets for younger children area also discounted but I am unsure by how much.  We paid Y1280 per person, roundtrip for the ferry to Taketomi.  Ferry gates outside the terminal are clearly labeled just like an airport and the ticket agent tells you which gate to board.  This was a very easy experience with nothing lost in translation.
The ferry trip took about 10 minutes and once you disembark you will see several shuttle buses waiting to take people into Taketomi's village center.  Different tours offer shuttle service to perspective customers:  There is an ox-cart tour through the village (about Y1200 per person) and bicycle rentals (Y300 per hour/Y1500 per day).  There is also a shuttle bus not affiliated with any tours that will take you to the village for Y200 per person.  The only way I can tell you to identify this particular shuttle is by the sign in the bus window saying "Y200."  Move quick if you want a shuttle because we noticed the buses roll out fast so they can return before the next ferry arrives.  If you choose to walk, as we did, the village is only about 10 minutes away.
Note:  Ferry schedules tend to change with the season and it is important to remember to plan ahead so you do not miss your ride off this quaint little island.  Check the ferry schedule for your return.  During our trip ferries ran every 30 minutes from Taketomi to Ishigaki starting at 7:45am with the final ferry departing Taketomi at 6:15pm.
What to see:  Taketomi Island Yugafu Center is located near the port and has interesting  displays of the coral reef ecosystem surrounding Taketomi.  The displays are not in English but this is still an enlightening place to visit while on the island.
At the center of the village is Nagomi Lookout Tower, a steep and narrow observation tower offering a 360 degree view of Taketomi.  Traveling the quaint village roads will also lead you to the Kihouin Historical Collection, a private collection of historical artifacts (Y300 adults, Y150 children).  We spent a couple of hours wandering around the village of Taketomi just taking everything in.  It really is a peaceful environment.
There are also several shrines and monuments to be found on Taketomi Island but it is important to realize that some of these are considered sacred places of worship reserved for locals and should not be frequented by tourists.
Beaches:  There are two main beaches on Taketomi, we found both easily by walking but if I had it to do over again, we would rent bicycles to access them since they were a little out of the way.  The first is Kondoi Beach, the only beach for sunbathing and swimming.  The water is crystal clear and the beach is sand, not coral.  There are showers and changing facilities, too.
The second beach is Kaiji Beach, or Star Sand Beach, where the elusive star sand (which is said to bring good luck) can be found.  We walked the shore from Kondoi Beach to Kaiji Beach very easily but the ease might also depend on the tide.  Kaiji Beach is not a place to swim but if you are searching for some star sand to take home, you can sift through on your own (and it's easy to find, you just need patience to pick those tiny little skeletons out) or purchase some from a little hut set up nearby.
What to eat:  We had a wonderful meal of local soba, curry, and two orders of local fried shrimp (ebi) and drinks for under Y3500.  This was four lunch sets!  It was a ton of food and everything was delicious and fresh!  I cannot remember the name of the restaurant, only that it was on the "main drag" of the village, not too far from the lookout tower.  It was somewhat big in comparison to some of the other eating establishments that can also be found within the village.  There are also places to get refreshments and Blue Seal ice cream around the village.
We really enjoyed our day spent touring Taketomi Island, it truly is a unique and special place and its tranquility provided a nice change of pace in the midst of our trip to the Yaeyamas.
Other posts on the Yaeyama Islands:
Ishigaki (ANA Intercontinental)