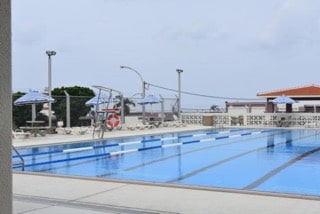 CONTRIBUTED BY DONNA MACK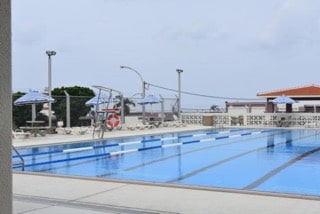 The Torii Station swimming pool in Yomitan is newly renovated as of 2016, and it looks amazing. The water is clear and ready!  Jason Evers is the aquatics director and I had the opportunity to stop by, take some pictures and verify the pool hours and information.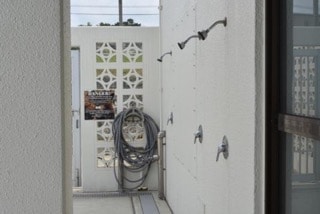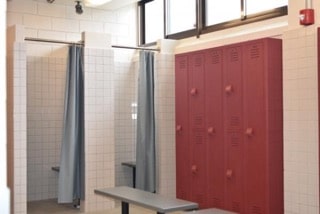 The pool has lockers, showers, restrooms, and an outdoor shower area.   There are picnic tables with umbrellas and lounge chairs along the pool area. The pool area has a view of the ocean. There are lifeguards on duty.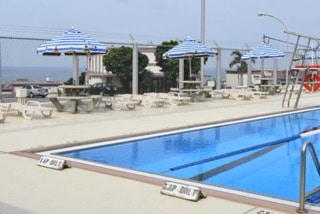 The following information is up-to-date for 2016
Hours of Operation –  For all ID Card holders
April 28th – June 1st
Thursday – Monday 10:00 a.m 18:00p.m
Closed on Tuesday and Wednesday.
June 2nd- September 12th
Thursday – Tuesday 10:00 a.m 18:00 p.m.
Closed on Wednesday
September 13th – November 7th
Thursday-Monday 10:00 a.m 18:00 p.m.
Closed on Tuesday and Wednesday
Hours for PT or Lap Swim
Every Monday and Thursday from 06:00 – 8:00 a.m. during the season.
Night Swimming (until 21:00)
July 9th
August 6th, August 20th
Pool Party Pricing
Day Parties
Per pavilion Sat/Sun/Holidays:           $95.00
Per pavilion on weekdays:                     $65.00
Both pavilions Sat/Sun/Holidays:        $150.00
Both pavilions on weekdays:                  $90.00
Night Parties
Up to 99 people                                        $70 per hour minimum 2 hours
Up to 100-149 people                              $95 per hour minimum 2 hours
Up to 150 + people                                  $120.00 per hour minimum 2 hours
Other Pool Usage
Certified scuba instructors can use the pool and the cost is $10 per student.
Unit Training
Unit Training (by reservation only) available 6:00-10:00 Tues, Wed, Fri. Torii pool is available for unit training during non-duty hours. To reserve the pool for unit training, contact the Aquatics Director at 644-4389. Reservations must be made a minimum of 3 days in advance.
Swim Lessons
There are no swim lessons being offered as of May 2016; however, it appears they are looking for instructors to teach swim lessons, water aerobics, and zumba. Stay posted by following the Torii MWR Facebook page.
Directions
The pool is located at building 242 on Torii Station. The pool is closest to Torii Gate 1 located off Hwy 6 in Yomitan. If you have any questions you can contact the pool at 644-4387 or from local cell 098-511-9111 dial tone then dial 644-4387.
Note: A water slide and splash pad are located on Torii Beach, which is a short 3-minute drive from the pool but not within walking distance with little ones in tow. Learn more about Torii Station in our military installation guide.