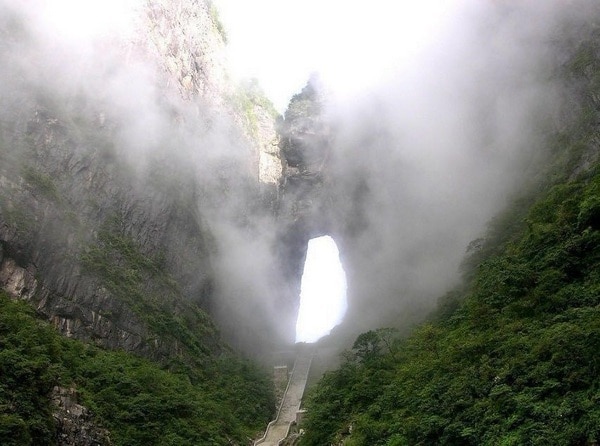 CONTRIBUTED BY PEGGY S.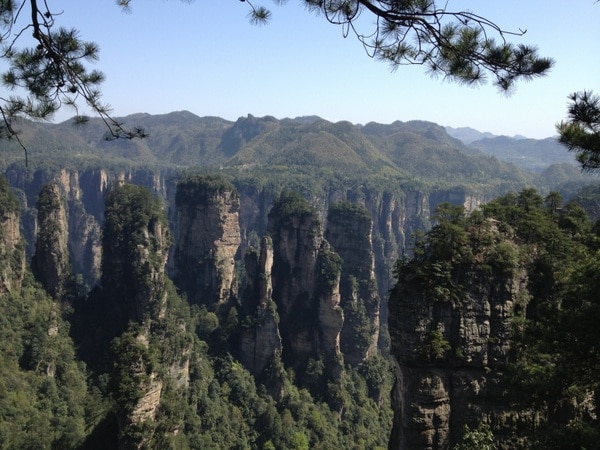 Since we are in Okinawa Japan, we want to take an advantage of our geographical location and visit surrounding countries. We decided to explore China and see what it had to offer.
Besides many popular cities such as Beijing and Xian, we wanted to explore other destinations in China for one week. Our top choice was Zhangjiajie National Forest Park located in the Hunan Province. The beautiful scenery inspired the movie Avatar. Traveling with our two kids who are four-years-old and seven-years-old along with my parents, we signed up for a tour package offered by Okichina. We booked our airfare with China Eastern Airline from Expedia.com. The ticket was around $375 per person and the tour was $600 per person. The tour was free for kids under seven years old, which was a very good deal indeed!
We began our journey from Okinawa. Our flight was at 5 pm flying into Changsha with a 2-hour layover in Shanghai. By the time we arrived in Changsha, it was almost 11 pm. We met our tour guide who took us to a very nice hotel.
Fenghuang
After breakfast, we swiftly set off for the four-hour drive to Fenghuang by a private bus. It was a very comfortable ride with the entire bus to our small private 10 person tour group. Our tour guide was treating us to all kinds of stories and historical facts about Hunan and Fenghuang, we didn't even realize that the time went by so quickly.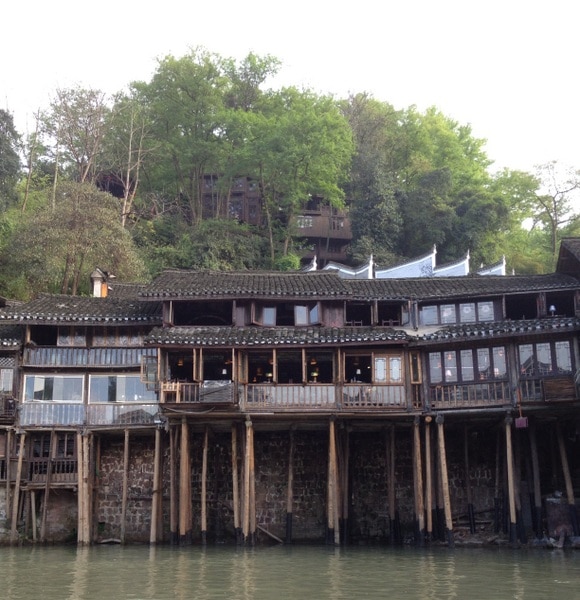 Fenghuang is an ancient city built along a river on the western side of Hunan Province. This small and beautiful town is covered with allies that can lead you to everywhere. There are shops for traditional Fenghuang snacks and handicrafts. According to the tour guide, all the buildings would light up and the city would come alive at night. Regretfully, my family and I didn't get a chance to see that amazing scenery because we didn't go out that night.
Zhangjiajie National Park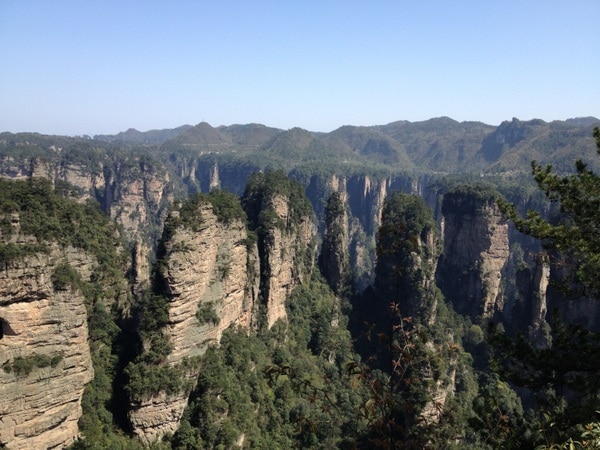 The next morning, we got back on the bus and headed east to Zhangjiajie. When speaking to friends about this place, I told them, "I am going to 'Avatar-land.'" The Zhangjiajie National Park has unique sandstone formations that inspired the "floating islands of Pandora" in the movie Avatar. First, we climbed up Huangshizhai (Yellow Stone Village) with the help of a gondola ride. The pathway was very steep and partially cloudy. However, the view on the top of the peak was breathtaking and worthwhile. Especially the clouds added a little mysterious feeling to the scene. While walking around, the tour guide took us to multiple secluded viewpoints where other tourists normally would not visit. We checked into a five-star Pullman Hotel in the park. That was a rather comfortable stay for our next few days. Our kids were thrilled to jump into the pool in the hotel even though the weather in March was still kind of chilly.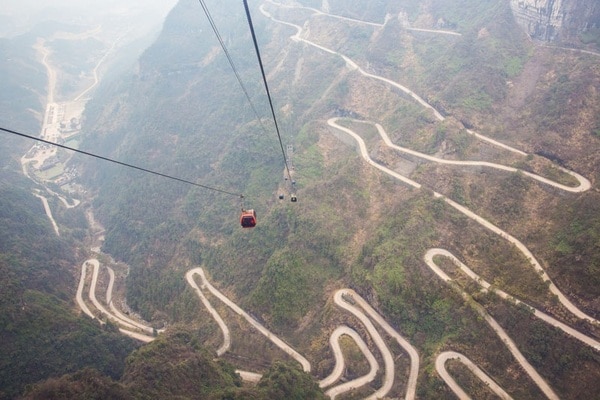 Tianmen Mountain
The next day we got up early to head to Tianmen Mountain. To get to the mountaintop, we went on the longest gondola ride in China—40 minutes!! It was fun to see the city below and the countryside. When we got there, we saw a long pathway which allowed us to walk around. At one point there was a glass bottom section where you could look down. It was pretty scary.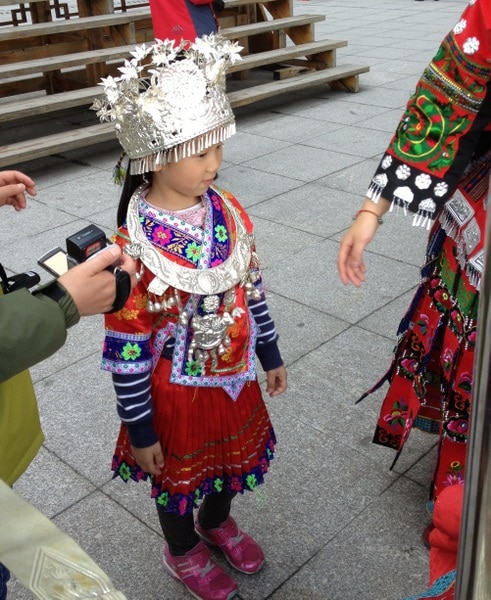 Next, we headed to Tianmen Cave, a huge water-eroded hole formed between two peaks and the highest natural arch in the world. There is a stairway of 999 steps to the top or an escalator that runs both ways. There are a million locks that people put on the gate. There is a small store where you could buy a lock and get it engraved. Obviously, we had to take a part in this tradition. Our names will now forever remain somewhere in China. That night we went to a show that was held at the base of the mountain.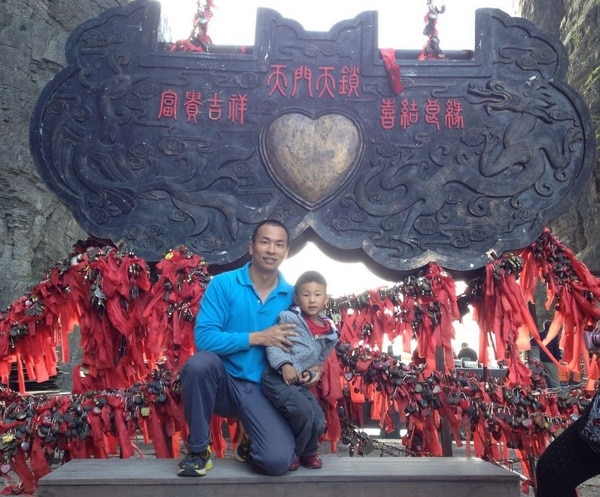 Yuanjiajie
The national park itself has many scenic points. Without a tour guide, it could be hard to decide where to go first and which viewpoints to skip. I am glad that we had Dawn as our local tour guide. He definitely knows when is the best time to visit the viewpoints depending on the weather and avoiding the crowds.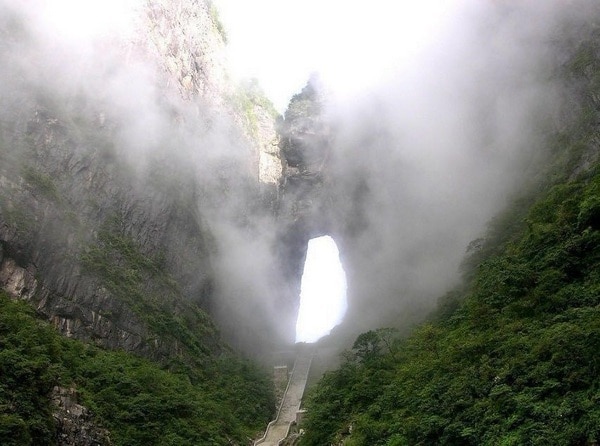 We finally came to the Yuanjiajie Scenic Area, where the famous Avatar's Hallelujah Mountain is located. There is also a 335-meters glass elevator (Bailong Elevator), one of the highest elevators in the world, situated on the side of a mountain. We decided to take on the challenge of the predicted 2-hour queue for the ride up to the top. I was sure that it was a once-in-a-lifetime experience and I would never have another chance to ride on it again in my life. If you have a serious fear of heights or have a tendency to distrust technology, I would recommend you not to take this elevator because two minutes is a long time to be terrified! Thankfully we all arrived at the top safely. And as you're squeezed in with as many people as the elevator could fit, there is not much to be scared of. After dinner, the tour guide took us to get a foot massage to relax our feet after walking for so many steps. This was such a treat for us!
Baofeng Lake
This was the last day of our trip. We spent a night at Changsha before heading back to Okinawa. Before setting off, we stopped at the "Ten Miles Gallery." It is reachable by monorail followed by a short walk on the "Golden Whip Stream." At this point, my kids didn't want to hike anymore, so we took a 30-minute boat ride at Baofeng Lake. Although the scenery was nice, I was somewhat underwhelmed in comparison to what I had already seen.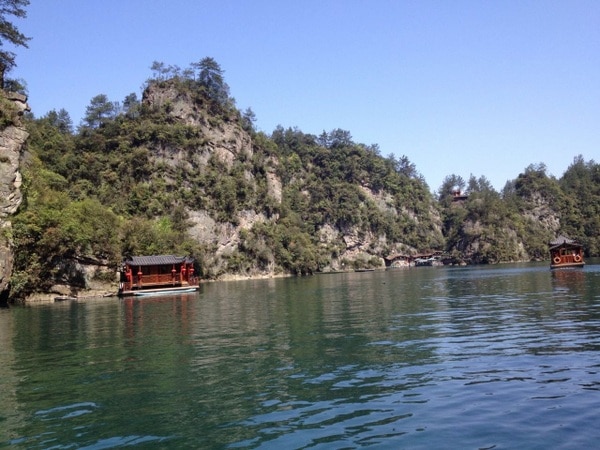 Our tour package included 3 meals a day. The Chinese food we had here was "interesting." You have to try Hunan's way of cooking with their spices. We did ask the tour guide to take us to McDonald's for lunch once to let our taste buds take a break.
It was such an amazing trip, very well worth it. The package included hotel and meals accommodations, all the entrance to the attractions, shows, and transportation. From the boat ride in BaoFeng Lake to the longest and the most scenic view of Tianmen Mountain, to the inspired Avatar Mountains and to the Fox Fairy Musical was indeed magnificent! However, beware of the unending climbing of the stairs. It was really tiring!  Zhangjiajie is our new favorite destination to recommend to people. My dream is to visit this place once again during the winter time. I cannot imagine the view of snow-covered mountain peaks!