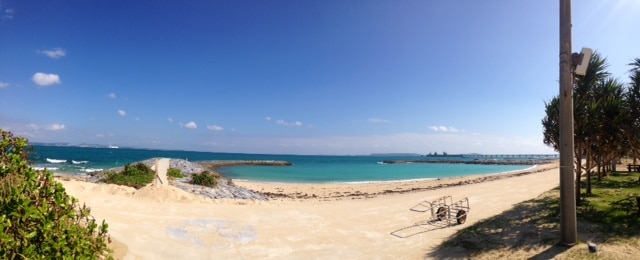 CONTRIBUTED BY ELIZA GROFF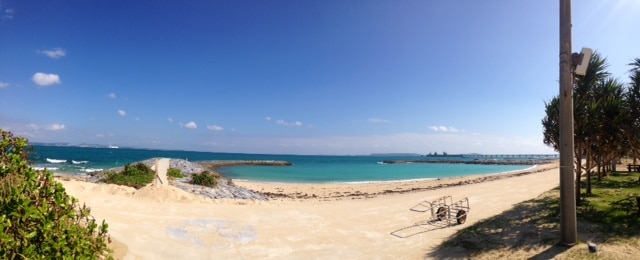 Are you a fisherman? A camper? A white sand sun-bathing fanatic? Uken Beach near Camp Courtney is a paradise for all of the above people. Some time ago, Uken beach had a reputation for being trashy. By trashy, I mean full of trash. Literally. Trash used to be dumped in the Pacific Ocean near there and collect in protected coves created by the jetties' long arms. Now, the beach is clean, beautiful, and seldom frequented by Americans.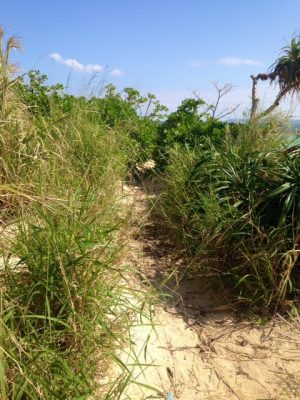 When we pulled up to the Uken Beach parking area for the first time, I was excited to see the jetty walkways reaching out into the ocean. These jetties host many fishermen tossing out their lines to try their luck. I loved seeing old women bundled up in defense of the sun's harsh rays, reaching into their bait buckets, and threading their hooks with flopping sardines.
The Uken Beach office collects a fare for camping in designated campsites, which includes access to showers and restrooms. Reservations must be made in advance. You can also rent pavilions for day use, with access to a charcoal grill. The office advertises rental of various aquatic sport gear. Though we have not rented any gear from the sports office, my husband and I have stopped to pet the office owners' adorable white dog, who is very friendly begs you not to leave her.
Uken Beach in Central Uruma City forms part of the Kinbo Bay shoreline. White sands stretch the shoreline, and jetties form two swimming areas for lazy afternoon lounging in the waters of the Pacific during the swimming season (from April through October from 9:00 a.m. – 6:00 p.m.)  Sea conditions determine whether the swimming areas will be open. The beach is open to walkers and fisherman year round.
Street parking not allowed. Parking in the beach parking lot costs 500 yen per vehicle.
To my surprise, there is a paintball arena (currently under repair from Typhoon Vongfong) near the main parking area. I am not sure when it will reopen, but it looks like a lot of fun!
Although I love the beautiful coral sands of many of Okinawa's beaches, at times I am in the mood for the silky soft touch of fine white sand between my toes – one of the many attractions of Uken Beach. This beach is perfect for taking a short walk, and enjoying the view of bluffs on the left hand side and Miyagi Island on the eastern horizon.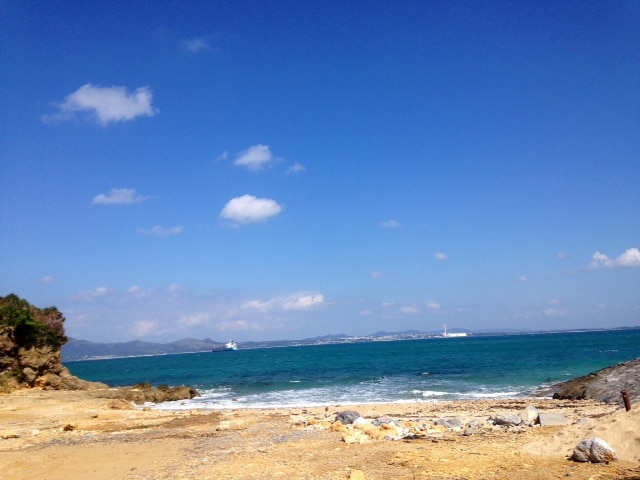 Phone: 098-974-7772
Address: Uken Kaihin Koen (Uken Beach) 644-3 Uken, Uruma, Okinawa Japan
Directions: From Camp Courtney, take 224 East and follow the signs to Uken Beach. Or type 09 974 7772 into Google Maps and it will take you right to the beach!
Map Coordinates: 26.3844317, 127.87389600000006