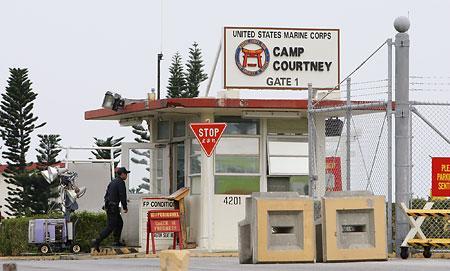 We will be publishing base reviews of all US Military Installations on Okinawa over the course of the rest of this year. Many thanks to Anthony for taking on this time-intensive and incredibly helpful series for our readers!
CONTRIBUTED BY ANTHONY CAMINA
Camp Courtney, Uruma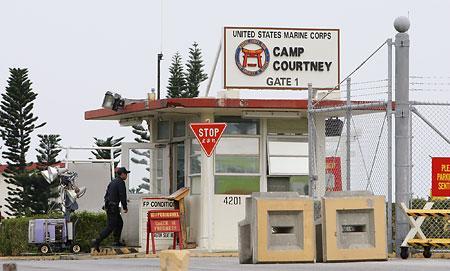 Overview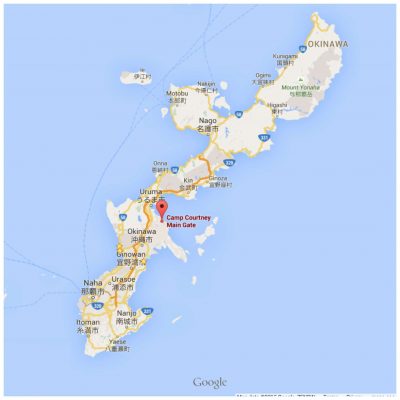 Originally called Camp Tengan, it was renamed after Major Henry A. Courtney who was awarded the Congressional Medal of Honor posthumously for his heroic actions during the Battle of Okinawa during the Second World War. Camp Courtney is one of several installations throughout Okinawa which make up the Marine Corps Base Smedley D. Butler. One key difference about Camp Courtney compared to other installations is that it is split into two geographically separated areas, informally referred to by locals as the "commissary side" and the "main side". Marines who work on the commissary side are permitted to walk off base in uniform between their BEQ and their workplace.
Lodging
Camp Courtney does have family housing units and a satellite military housing office. Units on Courtney range from multiplex to apartment-style tower quarters. All housing on Okinawa is run by the Air Force. For more information, or to view floor plans, you can visit the Okinawa housing website at: https://www.housing.af.mil/okinawa/.
Currently, you can only live off base if your designated housing areas are at 98 percent capacity or above. The primary housing area for Courtney is on Camp Courtney itself or at the adjacent Camp McTureous (also known as McT). Occasionally housing will allow personnel to live as far as Camp Shields or Kadena airbase depending on the individual situation. Generally four bedroom housing fills up the fastest because only the multiplex units contain quarters that large. The housing occupancy numbers are updated weekly.
Camp Courtney also has bachelor quarters for junior enlisted, Staff NCO, and Officer unaccompanied Marines. Most individual units manage their own barracks but SNCO and Officer Quarters are managed by the base's Camp Services Section.
Camp Courtney is equipped with a cozy 16-suite temporary lodging facility in building 4440, located near the satellite housing office https://www.mccsokinawa.com/courtney_lodge/ . Typically, most inbound families to Camp Courtney stay at the Courtney Inn or Shogun Inn on Kadena AFB https://af.dodlodging.net/propertys/Kadena-AB.
Shopping
The base has a small exchange in building 4131 on the commissary side, which offers decent electronics, apparel, household goods, toys and a stationery section. The main exchange building houses a small food court, barber shop, beauty shop, souvenir vendors and a Softbank cell phone retailer. The Exchange here also has a military clothing department which has a decent selection of Navy and Marine Corps uniform items. On the external side of the exchange facing the parking lot is the music school.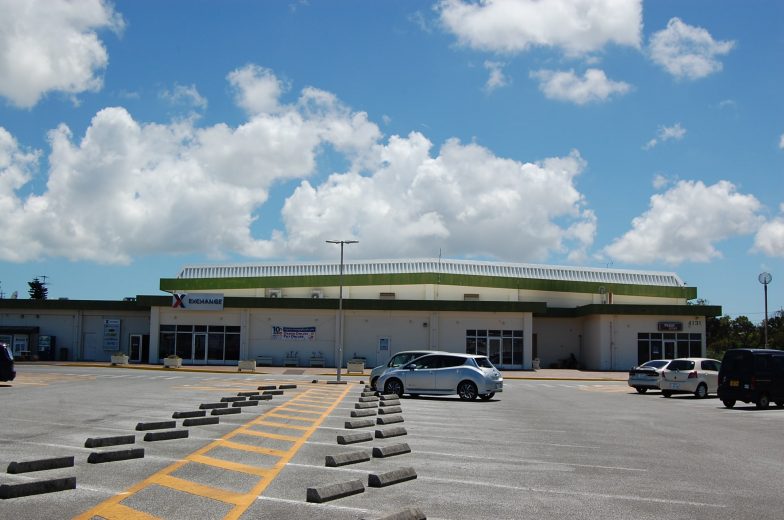 On the main side of the camp there is an Express Exchange in building 4312, across the street from the food court. This Exchange Express rents movies as well as houses a barber shop, exchange new car sales and dry cleaner/alteration shop. The main website for the Exchange on Camp Courtney is: https://www.shopmyexchange.com/exchange-stores/Okinawa/OKI/Camp%20Courtney/Camp-Courtney-1771003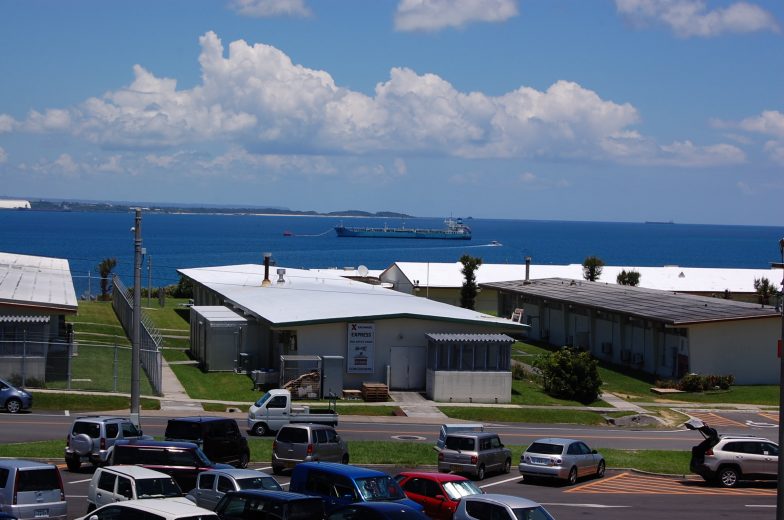 Adjacent to the main exchange is a medium sized commissary. This particular commissary takes cash, credit and debit cards with the added convenience of self-checkout lanes. Occasionally the staff at this particular commissary will actually tape valid coupons to merchandise throughout the store which is not only super thoughtful but also a great benefit to its patrons. There is also a deli and bakery onsite where one can order a sandwich at lunchtime or preorder a custom birthday cake. For more info visit: https://www.commissaries.com/stores/html/store.cfm?dodaac=hqcwhm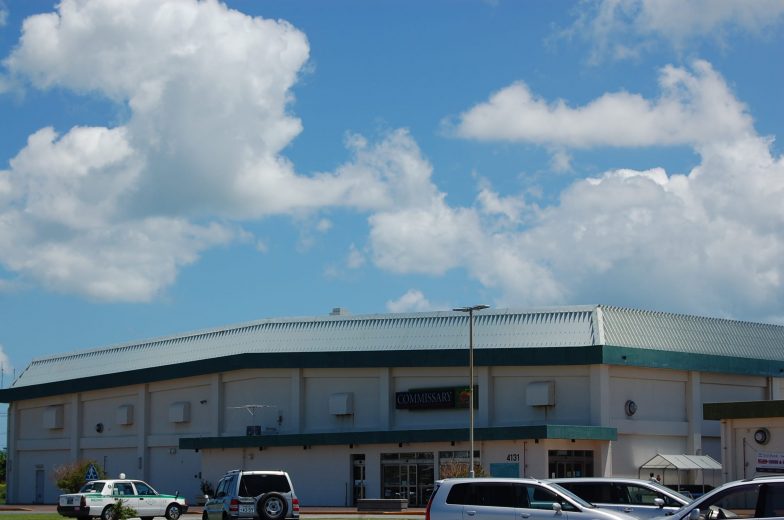 There are two financial institutions located on Camp Courtney. Community Bank is located in building 4135, adjacent to the post office, and is the only of the two financial institutions that can exchange foreign currency. Navy Federal Credit Union serves all branches of the military, to include DoD members and their families. The credit union is located in the same building as the main side food court (bldg 4228). For more info on Navy Fed visit their website at: https://www.navyfederal.org/branches-atms/locations-by-service.php?branch=MarineCorps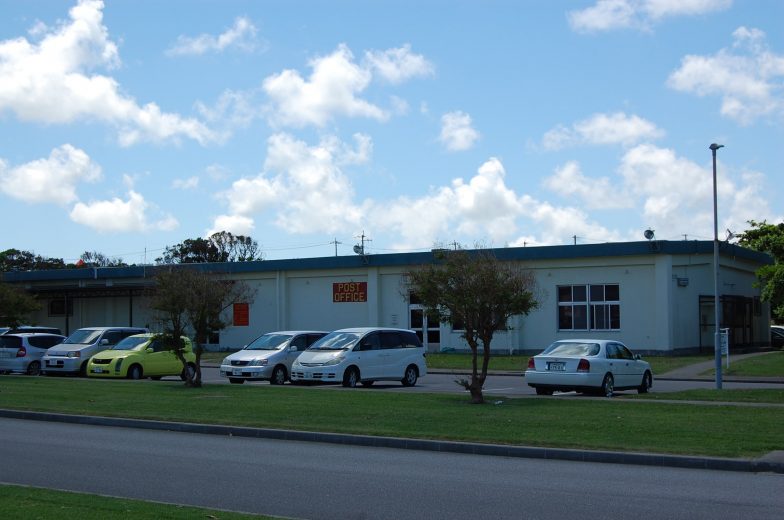 There is a fully functional United States Post office in building 4135 that offers retails services such as Express mail, Priority Mail, standard shipping, stamp sales, and money order sales. The post office accepts cash, credit, or debit cards. The Courtney post office also houses PO boxes which are issued to personnel with an area clearance. Despite many misconceptions, a sponsor can reserve a PO Box for an inbound family as long as he has a copy of that inbound family's area clearance and orders. It is extremely helpful for a family to know their new mailing address before they have to move to Okinawa.
Dining
The Exchange food court on main side (bldg 4228) offers franchise favorites such as Anthony's Pizza, Taco Bell and Burger King. The Commissary / Main Exchange food court has a Subway, Baskin Robbins and Anthony's pizza. All food court eateries accept USD, yen, credit and debit cards.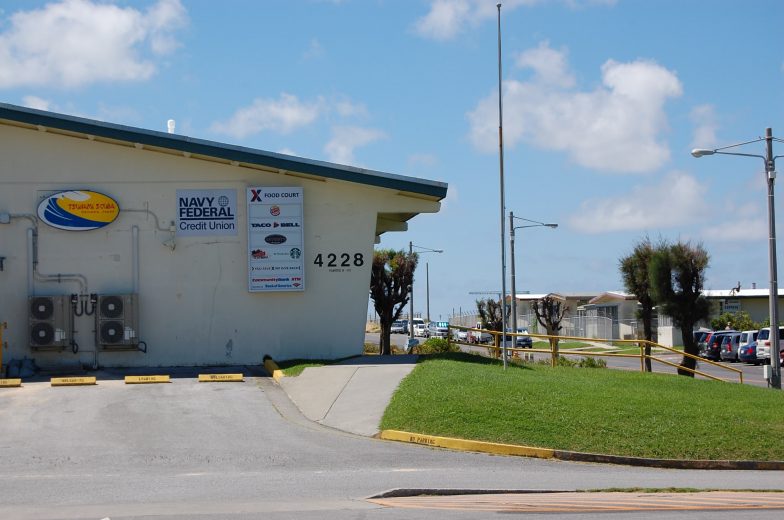 Tengan Castle is one of the largest sit-down dining establishments on Camp Courtney. It has gorgeous views of the Pacific Ocean and surrounding mountains. Tengan Castle is a full service club which hosts weekly events such as Sunday Brunch and Mongolian BBQ. This particular club is located in building 4419. For specific information such as hours for lunch and dinner visit: https://www.mccsokinawa.com/tengancastle/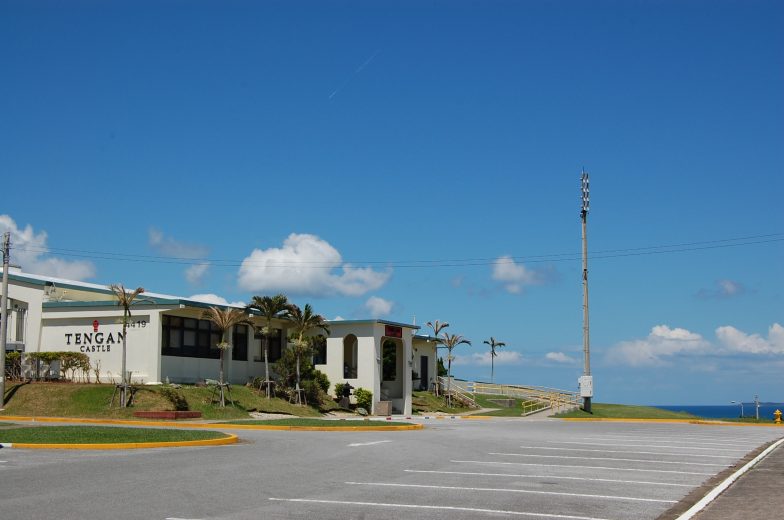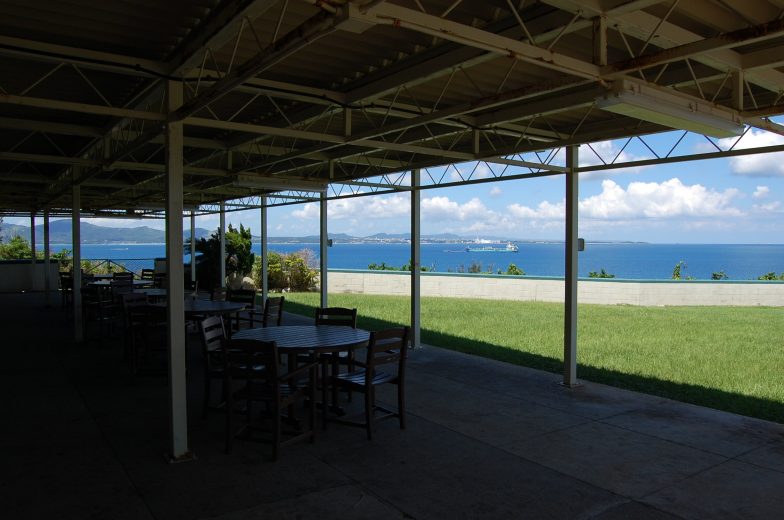 Near the main side movie theatre, in building 4218, is the Bayview and Bulldogs restaurant. The specialty here is burgers and sandwiches. Current hours can be found at: https://www.mccsokinawa.com/bayview/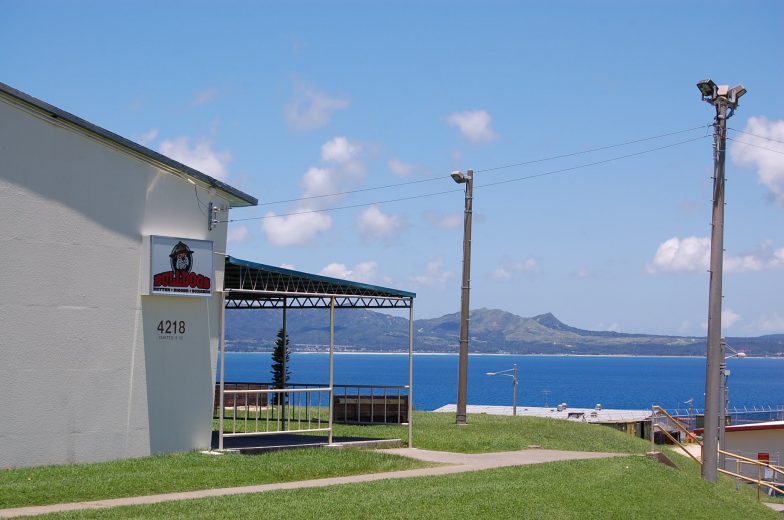 The current menu can be found at: https://www.mccsokinawa.com/uploadedFiles/MainSite/Content/Dining_and_Entertainment/Dining_and_Clubs/Menus/bulldogs%20menu.pdf
Recreation
The Ironworks Fitness Center is located on the main side and can be found in building 4451. This gym offers a large weight room, adequate cardio room, racquetball courts, basketball court, HITT room and martial arts room. For specific information on hours or contact info, please visit the MCCS Fitness Center website at https://www.mccsokinawa.com/fitness/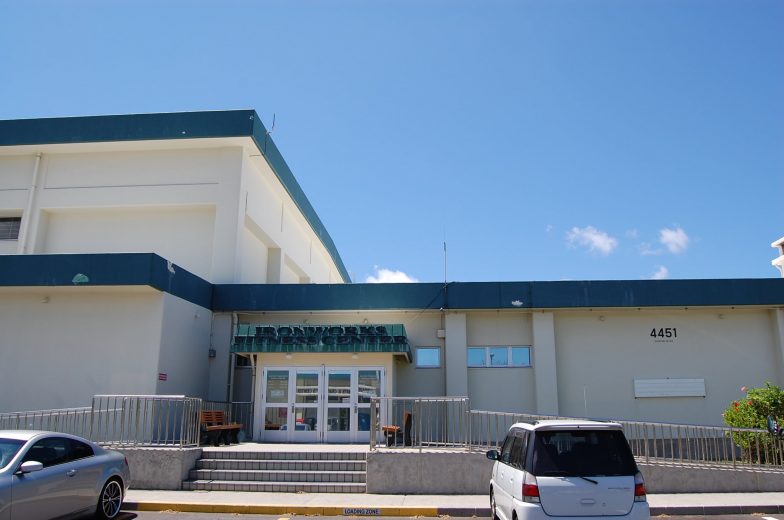 Near the Theatre on the main side, is the base pool. This facility is located in building 4227 and has both a 25-meter lap pool and a Kiddie Pool. The pool offers both recreational and lap swim times. For specific info on hours visit: https://www.mccsokinawa.com/pools/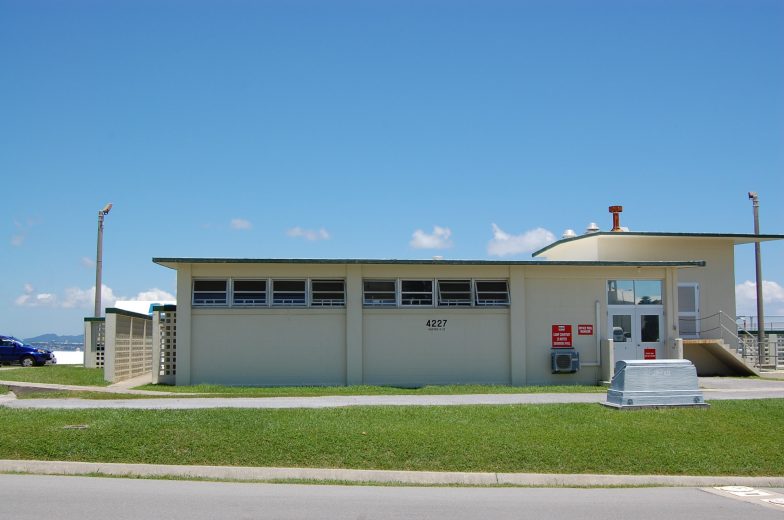 One unique advantage Camp Courtney has over other camps is its beach access on the base. There is a park (across the street from theInternet/Cable and Single Marine Program offices (bldg.4319), near the Helicopter pad), with a path that leads directly to the beach.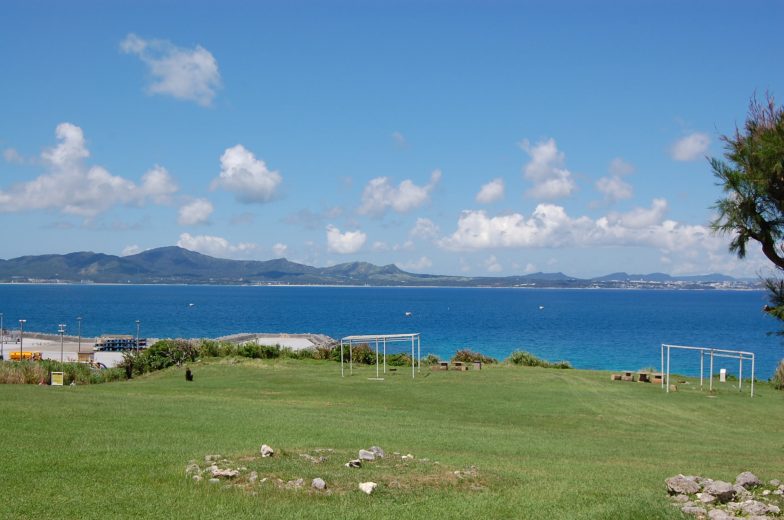 Since you can get to the beach from Courtney, it seems like a no-brainer to also have a fully equipped scuba shop: Tsunami Scuba. All Tsunami SCUBA shops on island also serve as PADI 5 Star-Instructor Development Centers dedicated to the military community. If you have ever entertained the idea of a PADI license, Okinawa is the place to do it. The website for Tsunami Scuba is: https://www.mccsokinawa.com/tsunamiscuba/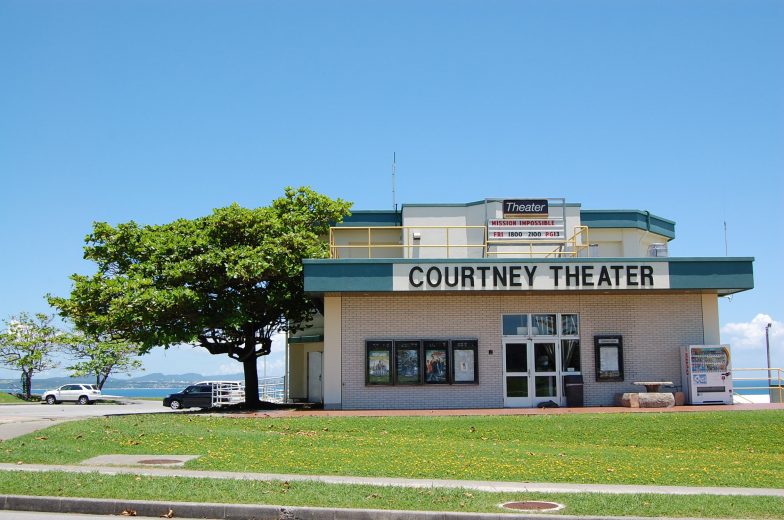 The base theatre is located on main side and offers current movies inside with a beautiful view of the Pacific Ocean outside. For current prices and show times visit the Exchange Reel Time website at: https://www.shopmyexchange.com/reel-time-theatres/-1771003
The Courtney Youth and Teen Center is found in building 4446. Specific information is available at: https://www.mccsokinawa.com/youthandteen/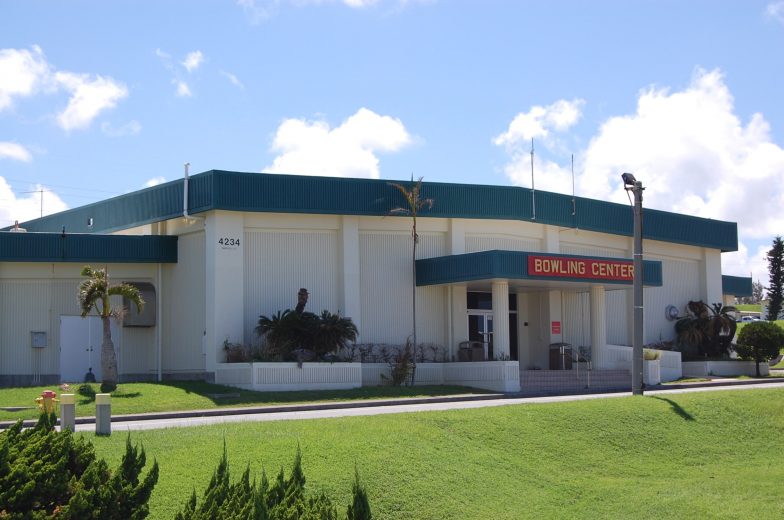 Camp Courtney has a large bowling facility in building 4234. For specific information on the MCCS bowling alleys, visit https://www.mccsokinawa.com/bowling/
The USO is located in building 4430 near the Library. More info can be found at their face book page: https://www.facebook.com/USOCampCourtney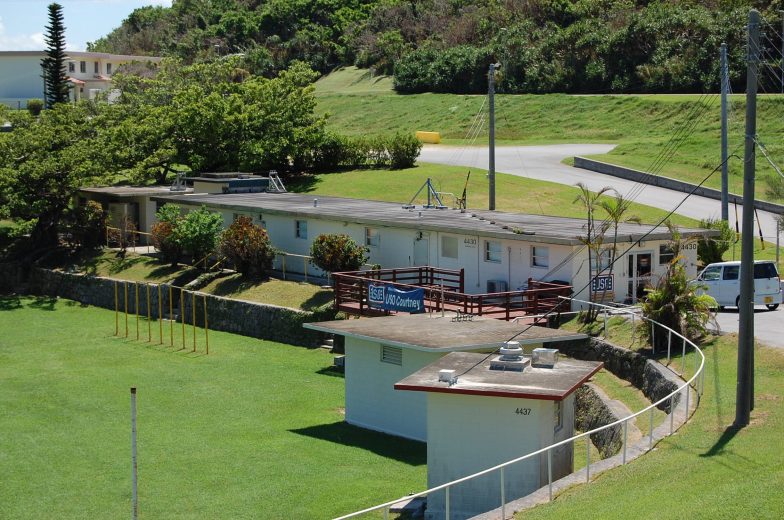 The Courtney Arts and Crafts Center offers classes, hosts birthday parties, and has experts to assist with most projects. The site also has a fully functional woodshop for amateur carpenters on the island. For more information visit: https://www.mccsokinawa.com/courtneyartsandcrafts/
Education
There is no middle or high school on Camp Courtney. Elementary students attend Bechtel Elementary School on Camp McTureous. Most middle school students living on Courtney are bused to the nearby Ryukyu Middle School on Kadena AB, and high school students usually attend Kubasaki High School on Camp Foster. Both are highly regarded DODEA schools. For more information visit: https://www.dodea.edu/Pacific/Okinawa/
There is also a Child Development Center on Camp Courtney called the Chura Warabi. Specific information can be found at: https://www.mccsokinawa.com/cdc/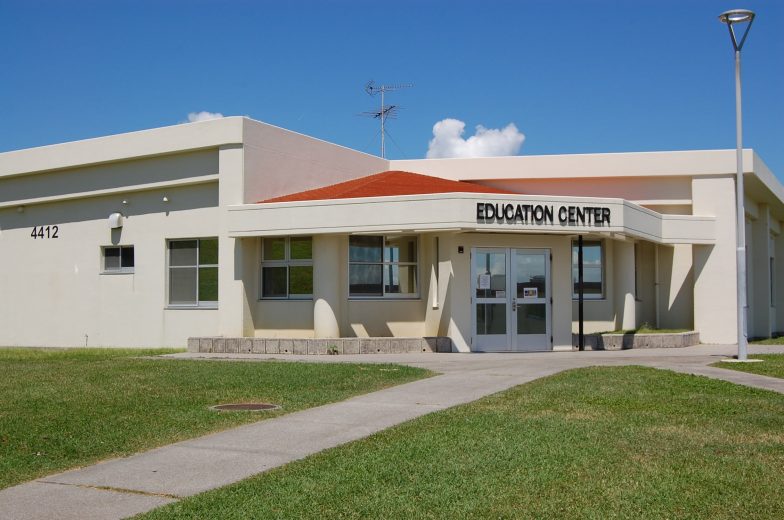 The base Education Center is near Tengan Castle, in building 4412, and offers tuition assistance, as well as hosts various self-help and transitional classes offered by MCCS. The education center contains offices manned by representatives from the main college campuses in Okinawa as well as flyers and literature from various online campuses. For more info on the education options on Courtney through MCCS visit: https://www.mccsokinawa.com/educationandcareerservices/
MCCS runs a library on Camp Courtney in building 4453 that checks out books, movies and video games. There are also a variety of resources on site such as computer access, printers and reference materials. All MCCS libraries are networked so a book checked out on one base can be returned at another. For more information visit their webpage at: https://www.mccsokinawa.com/libraries/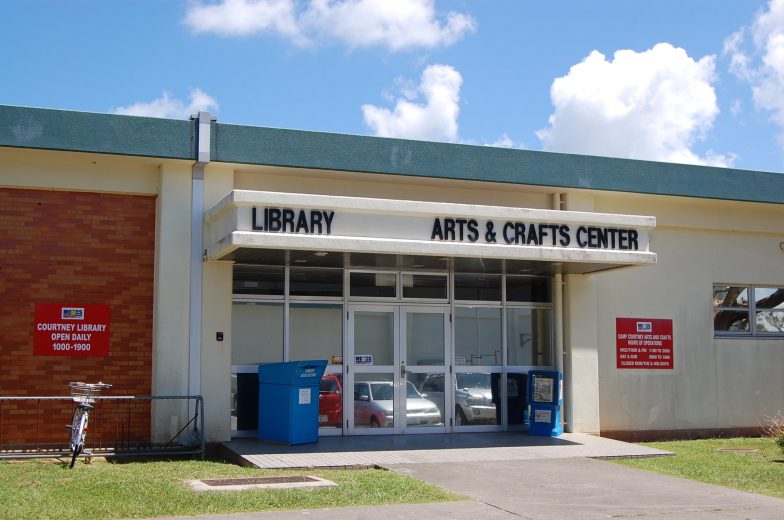 Unique Attractions
Camp Courtney hosts a periodic flea market on the Main Exchange/Commissary side of the base on certain weekends. For upcoming dates and details visit: https://www.mccsokinawa.com/fleamarket/
Family Services
Marine and Family Programs have a well-equipped facility which is located within building 4425. For newcomers in the Courtney area, this is also the location of the loan locker. For more information you can go to their webpage at: https://www.mccsokinawa.com/mfp-r/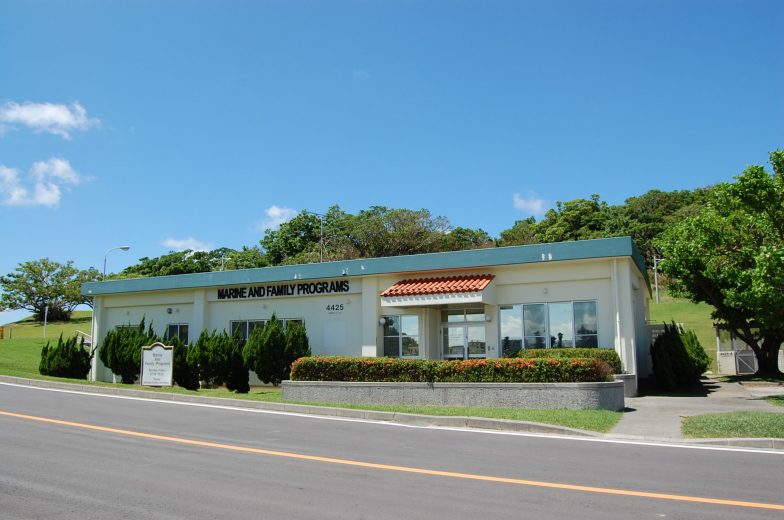 Medical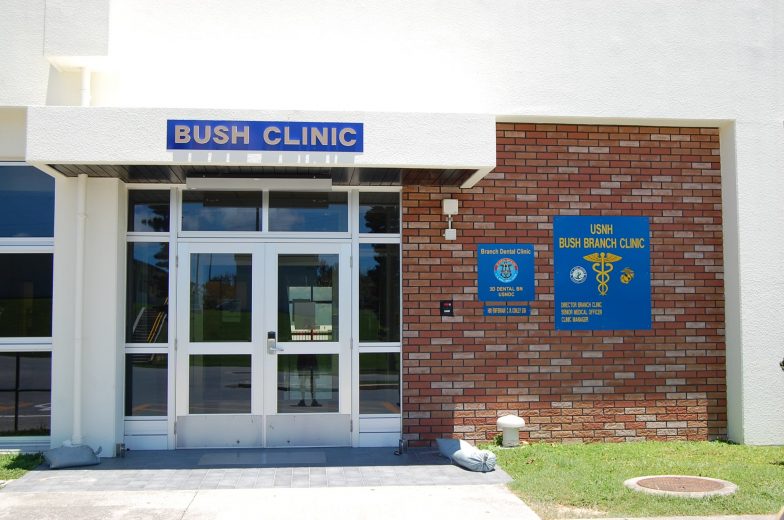 Camp Courtney has its own medical and dental branch clinics which services family members, retirees and active duty alike. This facility is the Bush Branch Medical Clinic.
Specific information on the Bush Medical clinic located in building 4231 can be found at: https://www.med.navy.mil
For dental, visit this site: hhttps://www.med.navy.mil
Transportation / Car Care
There is a fuel station and repair shop operated by the Exchange on the commissary side of the base just before you get to the main exchange. This facility is prominently located a few hundred meters through the gate and has an automated car wash machine that takes yen. The service station does oil changes and other repairs by appointment. Store information can be found at: https://www.shopmyexchange.com/exchange-stores/Okinawa/OKI/Camp%20Courtney/Camp-Courtney-1771003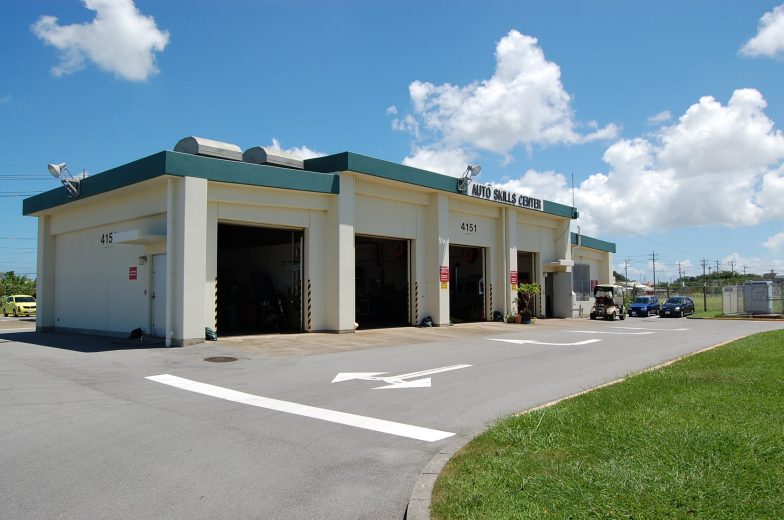 The auto hobby shop on Courtney is called Typhoon Motors, and is also on the commissary side of the camp. This facility is run by MCCS and offers full service repairs or bay, lift and tool rental for those wanting to get their hands dirty. The main page for all things Typhoon motor related on island is: https://www.mccsokinawa.com/typhoonmotors/
Marine Corps Bases Camp Butler offers a camp to camp bus service called The Green Line for service members and space available transportation for authorized ID card holders. The Camp Courtney Bus is the #4 line and goes from Courtney to Camp Foster. There is also a #3 bus that goes back and forth to Camp Hansen. For more information you can visit the MCB Butler Shuttle Service main page at: https://www.mcbbutler.marines.mil/BaseInformation/TheGreenLine.aspx
There are various taxi services available in the area. Here is a useful article from Staci on the subject: https://okinawahai.com/taxis-and-thong/
Popular Nearby Attractions
Camp Courtney is in the center of the island with an abundance of nearby activities to do. Below are but a few suggestions by fellow Okinawa Hai alumni.
There is a great park and impressive little known castle ruin within walking distance of Camp Courtney and McTureous. Be careful if you visit in summer as there will be a lot of vegetation and spiders in the ruins themselves. https://okinawahai.com/agena-castle-ruins/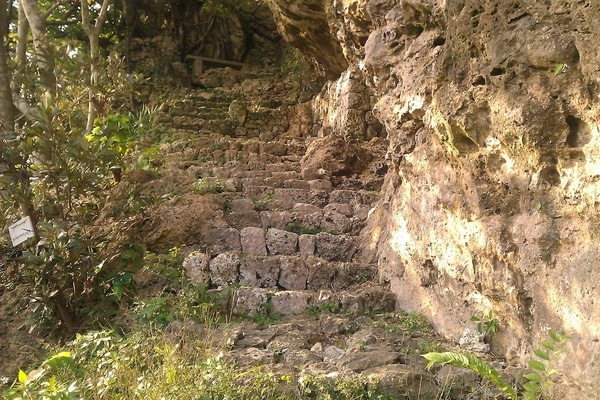 This is a popular off base beach near the base. Many years ago it was nicknamed "trash beach" but after an extensive clean up and renovation effort by both the local community and bases, it is now very clean and beautiful. Here is a detailed article by Eliza; https://okinawahai.com/uken-beach/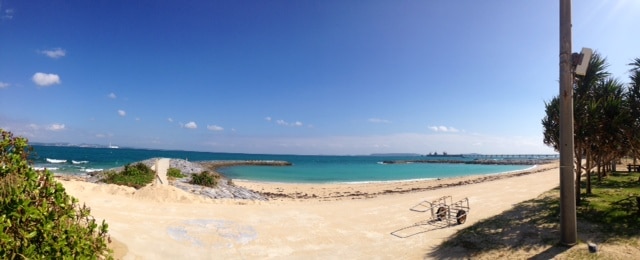 The Chinese Dragon is a restaurant that is super popular with both Americans and locals because of the awesome sized portions, frugal pricing, delicious tasting dishes, and last but not least—free self-serve sweet tea. Dasha breaks things down in this article which is a little old but still very relevant. Also of note, this place is a chain with several locations on island, but this article specifically covers the one near Courtney/McT. https://okinawahai.com/chinese-dragon-restaurant/
Kafe Kelp is near the commissary gate of Courtney. Colleen speaks very highly of it in this article: https://okinawahai.com/cafe-kelp/
Exit Café can be seen on the shortcut many Americans use to bypass the 75 heading toward Ishikawa. It boasts great views and quirky individuality, served with good food. https://okinawahai.com/exit-cafe/
Okay, I know this place stirs strong emotions because of the use of the words "Authentic Mexican" on the sign outside, (as referenced in the comments section of the article attached), but Obbligato's is one of the few places to get Mexican food other than tacos or taco rice and it's popular with locals. https://okinawahai.com/obbligatos-uruma/
Restaurant Guide
There are many restaurants near Camp Courtney that are well worth visiting. You can find all of our Okinawa Hai reader-reviewed restaurants on-island, with an extensive section covering the Courtney-McT area on our To Eat Index – By Location page.
---
Have we missed something useful about Camp Courtney in this post? Please leave a comment with any information that can be helpful for our community!