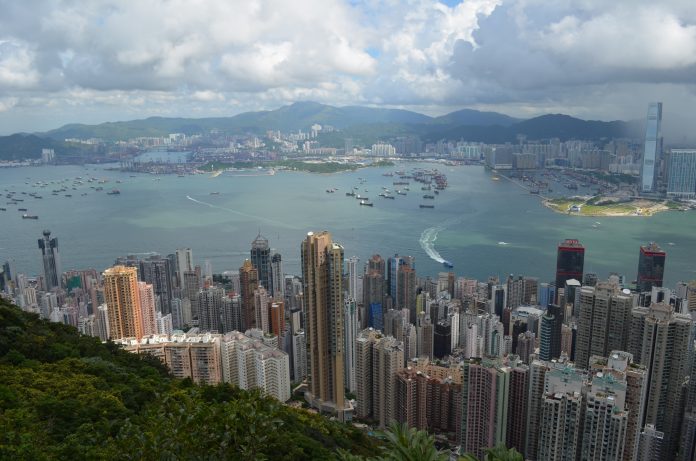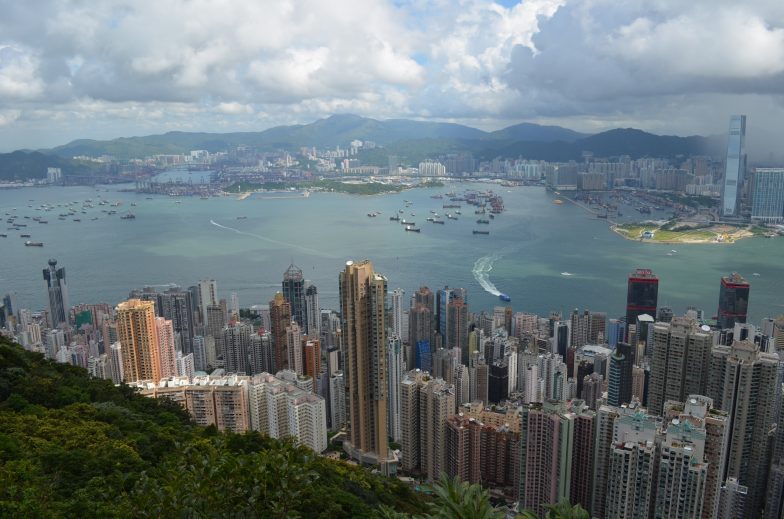 CONTRIBUTED BY MICHELLE BUDZIEN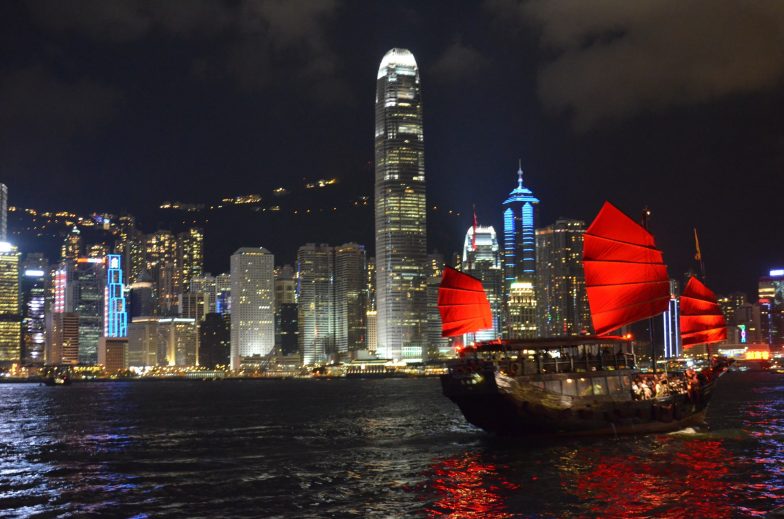 Are you interested in seeing the Great Wall of China, but you don't want to pay the hefty Chinese visa fee? There's a way around it! Michelle, from SemperTravel.com, is sharing the secrets of the 72-hour visa in a five-part series. Today's chapter: Hong Kong
Follow along with her trip here: Part 1, Part 2
Travel Dates:  30 Aug – 2 Sept 2014
It was a bit warm over Labor Day weekend, so you may want to consider traveling in Fall or Spring. We're used to the humidity, but hiking Elephant's Peak was a bit too sweaty!
Airline:  Hong Kong Airlines direct flight via Vayama.com
Our cost for 2 adults: $592 + $150.28 taxes = $742.28 roundtrip
Many budget airlines now fly to Hong Kong! Shortly after our trip, Peach added direct flights from Okinawa to Hong Kong for as little as $120! You can also look for flights to Osaka or Tokyo, and then to Hong Kong, if you want to save money and don't mind a layover.
Visa:  Not required for Hong Kong!  Check with the embassy before traveling to make sure nothing has changed. However, if you want to stop in Mainland China before Hong Kong, check out this article on the 72-hour no fee visa for China!
Exchanging Money:  We exchanged at the airport and in the metro station.  There are plenty of exchange booths.  At the time of our trip, the rate was approx. 1 USD to 7.08 HKD (We found a place for 7.46 out in town).
Hotel:  The Garden View YWCA Hotel
Purchased on Orbitz:  $91.75/night – Orbitz rewards bucks = $255.47 for 3 nights
A 15 minutes walk from Pacific Palace (Admiralty), Central MTR Station (Subway) and Lan Kwai Fong & Soho area.  This was a great hotel for the money and pretty good location, but it is up a HUGE hill.  (It's about one block past "The Peak" tram station.)  The hotel upgraded us to a suite.  There's a grocery store next door, and the hotel has a fitness center and pool (but after sightseeing all day and climbing the hill you probably won't need it).  The hill up to the hotel was not fun, so you could wait for bus 12A to the hotel from Central MTR station for only 4.60 HKD (about 59 cents).  Once you become familiar with the location, you'll realize the hotel is close to many areas like Lan Kwai Fong, Hollywood Dr., Central, Admiralty and more, but the streets may confuse you at first. Grab a map and look at the signs…streets look far apart, but they're not!
Transportation:
We bought the Octopus Metro (MTR) card.  There's an option for 3 days unlimited including 2 one-way airport express passes for $35 each.  The 3 days unlimited starts when you first swipe the card, so it lasts 72 hours (not 3 calendar days).
Where to purchase? We bought them at the airport MTR ticket counter.  Ask for the 3 day unlimited with 2 airport express passes (300 HKD but you get a 50 HKD deposit returned when you bring the card back to the airport before you leave).
The MTR is very inexpensive, so you could also "pay as you go" with the Octopus card or with cash. Any money you put on the Octopus card you can get back when you bring it back to the airport before you leave.
Airport transportation: If you want to pay separately, you can still take the airport express. The Hong Kong Airport Express is a high-speed train to center of town, taking about 24 minutes, costing $13 one-way per person. It leaves every 12 minutes from about 0550 through 0048. Check ahead of time for the exact off-hours times in case it has changed. There are plenty of English signs around the airport to help you find it!
So what should you do in Hong Kong? Here was our itinerary and a few more suggestions!
Saturday, 30 Aug
Arrived at about 1400. Traveled to hotel via Airport Express.
Tim Ho Wan Restaurant (recommended by Anthony Bourdain and an online documentary)
Multiple locations! We went to the location inside of the Airport Express mall, because our hotel thought the other location might be closed. (Silly, we didn't know that, so we had already gone to the hotel and went back. But the airport express mall is right next to central MTR which is close by) Try the Dim Sum, Gluh Rice (sticky rice wrapped in lotus leaf with meat), and Baked BBQ Pork Bun.
Temple Street Market (Anthony Bourdain)

MTR Yau Ma Tei Station, Exit C, turn onto Temple Street at Man Ming Lane.
MTR Jordan Station, Exit A. Turn right onto Jordan Road and then take another right onto Temple Street.
This is Hong Kong's most famous night market. With a festive atmosphere and outdoor stalls, you can find everything from Chinese souvenirs to clothing and accessories, plus fortunetellers and street opera singers. The market opens daily at 4pm, but it is better to go around 7pm.
Ladies' Market

MTR Mong Kok Station, Exit E2. Walk along Nelson Street for two blocks.
You can easily walk from the Temple Street Market to the Ladies' Market in a few minutes.  They both sell similar items.  The Ladies Market was next to a busy area with street performers and lots of shops.
Hong Kong Skyline – This was very impressive! I enjoyed looking at it more than I thought.
Definitely visit the skyline for the evening light show. There are 1,251 skyscrapers, more than double that of New York City! A great place to view the light show is from the Tsim Sha Tsui Promenade also known as the Avenue of Stars. Take the MTR East Tsim Sha Tsui Station, Exit J. Follow signs to the Avenue of Stars. The Symphony of Lights show is every evening at 8pm. You can listen to the show's music and English narration along the Tsim Sha Tsui waterfront between the Avenue of Stars and Cultural Center (on MWF nights). It is in the Guinness World Records for the "World's Largest Permanent Light & Sound Show." I also heard that on Monday, Wednesday, or Friday you may be able join a free 1-hour lesson in tai chi, conducted at 8am in the Hong Kong Museum of Art's Sculpture Court near the promenade.
Sunday, 31 Aug
The Peak – The Peak has great views of the city! It is the highest point on Hong Kong island.
The Peak Tram, which began operations in 1888, takes 8-minutes to climb up Victoria Peak, where you'll be rewarded with fantastic views from Hong Kong Island's tallest hill if the weather is clear. Peak Tower has an observation platform with 360-degree panoramic views. There are many walking paths at the top so I recommend wearing fitness clothes and taking a jog around the peak.  There were many runners and fitness stations. The Peak Tram is at the Peak Tram Lower Terminus on Garden Road (you can it take bus 15C from the lay-by outside the Star Ferry pier in Central, or walk from MTR Central Station, Exit J2). Bus 15 from Exchange Square bus terminus (near MTR Hong Kong Station, Exit D) will also take you there, as well as Minibus 1 from MTR Hong Kong Station public transport interchange.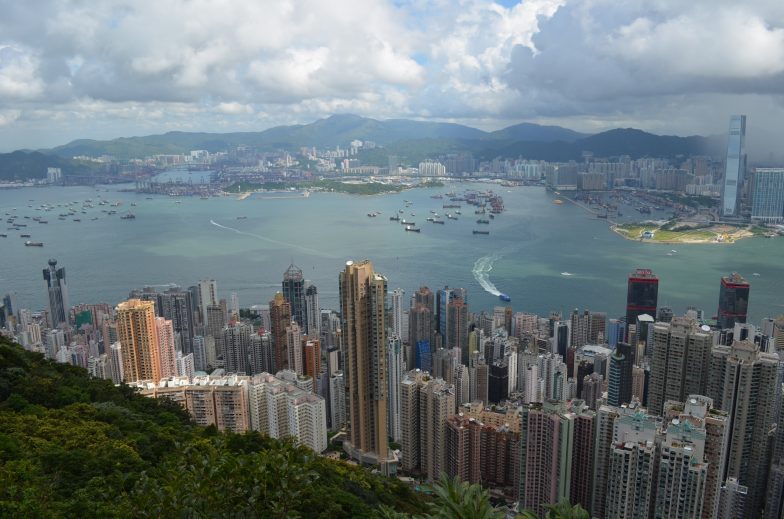 Ferry to Lantau from Central Ferry Piers (You can add $ to your Octopus MTR card so that you
don't have to buy tickets.  It was about 42 HKD for the express ferry (30 minutes).  We didn't realize that the metro also takes you there.  We took that home.  If you don't care about the ferry ride, just take the metro to Tung Chung station. You can also take the bus or cable car to Ngong Ping Plateau. Bus no. 2 from Silvermine Bay (Mui Wo in Chinese) hurtles around hair-raising curves through lush countryside on its 45-minute trip to Ngong Ping.
Giant Buddha: Open 10am-6pm, last admission at 5:30pm
Built in 1993, this is the world's largest seated outdoor bronze Buddha. Climb 260-some steps to the viewing platform for sweeping views from Ngong Ping Plateau, 738m (2,420 ft.) above sea level.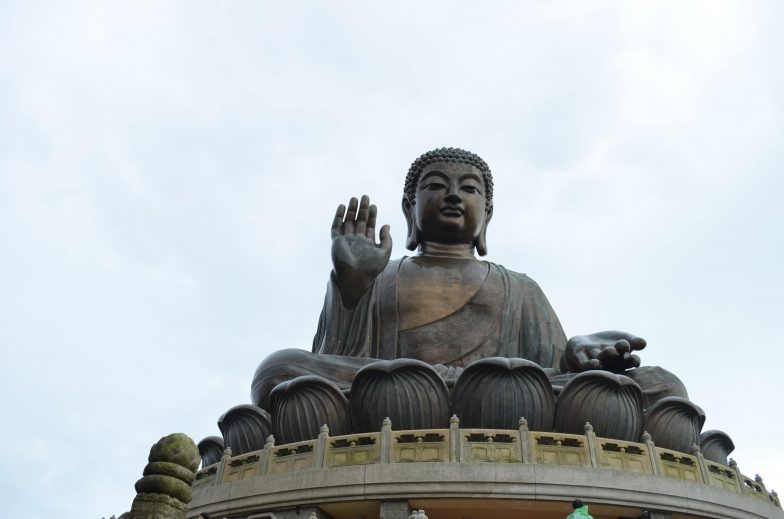 Large wooden pillars, placed in the form of a figure eight to symbolize infinity, display the Heart Sutra, a centuries-old prayer revered by Confucians, Buddhists, and Taoists alike.
Po Lin Monastery (open daily 9am-6pm)
Located right next to the Giant Buddha and Wisdom Path.  We tried some food at the vegetarian cafe too.
A little tourist village where the bus drops you off, right next to the Giant Buddha.
One Dim Sum was a delicious restaurant for dinner (recommended by Bourdain). Try the dim sum and steamed custard buns. It is located just 1 block away from the Prince Edward MTR station at 15 Playing Field Road.
After that, you can easily walk through Ladies Market and Temple Street Market.  (We probably could have skipped doing this twice, but the first night we were just getting a feel for the city.)
Monday, 1 Sept
Breakfast at Tsui Wah (recommended by Bourdain)
A diner that felt like George Webbs.  In Lan Kwai Fong (bar district) so we could imagine it being good for both late night food and breakfast.  Many businessmen were eating with us.
Located at 15-19 Wellington St., Central MTR  (close walk from the YWCA hotel).
The Monastery of the 10,000 Buddhas
An uphill path lined with thousands of Buddha statues.  When you arrive, there is a large complex that looks like it would be this, but it's not.  Just before entering the parking lot for a different monastery, turn right down an alley.  There was a small red sign on the ground saying "10,000 Buddhas."  It looks almost like a trash path.  1 block in you'll start seeing the path up with the Buddha's. The Monastery is open 9am to 5-30pm daily. The monastery may close during heavy rain or when typhoon signal 8 or above is issued. Take the MTR East Rail to Sha Tin Station. From station exit B take the ramp alongside the bus terminus, down to street level and past Pai Tau Village on the left. Turn left, Homesquare/Ikea should be on the corner.  It's 1 block behind the Homesquare/Ikea.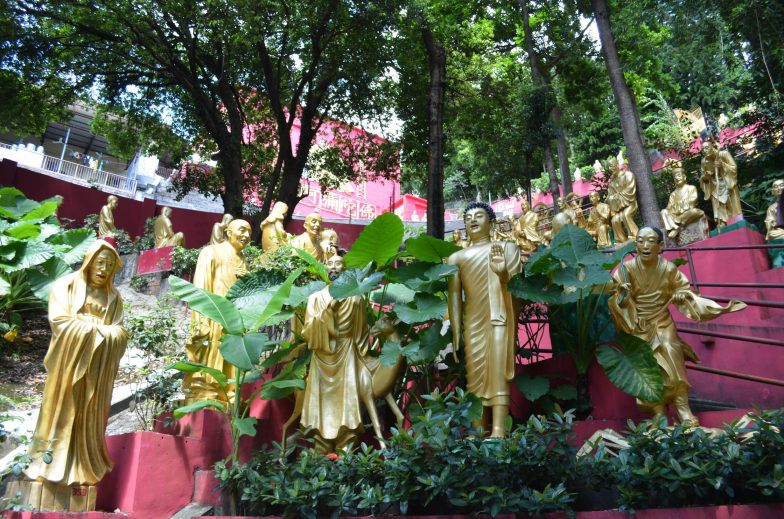 Located at MTR Diamond Hill Station Exit C2, follow the signs and walk for around 5 minutes. It was on the way back from the 10,000 Buddhas, so stop here for a quick look at a peaceful nunnery tucked away in the heart of the city.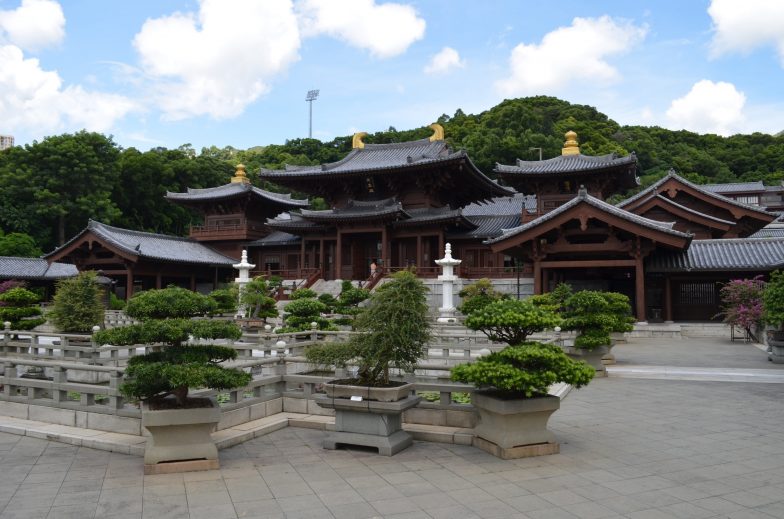 Sik Sik Yuen Wong Tai Sin Temple
Located at MTR Wong Tai Sin Station Exit B2, it's right there.
On the way back from the Chi Lin Nunnery, stop at this temple for a quick visit.  It's right outside of the MTR station.
Mak An Kee Restaurant (recommended by Bourdain)
We enjoyed shrimp-filled wonton egg-noodle soup  (it wasn't our favorite but it was still fun experiencing different cultural foods). Located at 77 Wellington St. Central MTR.
Hollywood Drive ("Antique street")
Also known as Cat Street, this area has lots of Chinese souvenirs. Take Hollywood Dr. to the Man Mo Temple. This is 1 block in front of the temple.
Take bus #6X from Central MTR (8.40 HKD per person one-way), about a 45 minute ride to the other side of Hong Kong island. It feels more like a small Chinese town (relaxed with beaches, hills, and coves). I recommend only if you have time.  There are restaurants and some shopping.  If you want to make it a beach day, Repulse Bay is on the way.  Or, if you have kids, maybe check out Ocean Park (an amusement park).
Joy Hing Restaurant (recommended by Bourdain)
This was a nice, small, family-owned Cantonese restaurant. We tried the goose and BBQ pork.  It was good, but bring napkins!  You'll get meat piled on top of rice.  The sauces on the table added lots of flavor to the rice.  It was only about $5, but you don't get a lot of meat so you might want to order 2. The location is 265-267 Hennessy Rd., Wan Chai MTR  (We got off of bus 6X on the way home from Stanley market.  It stops nearby.) It's actually around the corner from Hennessy Rd. on Steward Street.  It's a small place with meat hanging in the window.  Joy Hing is written very small on the sidewall.  It is very easy to miss!
We walked through Lan Kwai Fong district on the way back to the hotel.  We were too tired to hang out at a bar, but it was fun to see the nightlife starting to come out.
Tuesday, 2 Sept
We woke up early (not on purpose) so we decided to take a walk along the Avenue of Stars
before heading to the airport via the Airport Express.  It only took 45 minutes, but we couldn't remember exactly how long it took so better safe than sorry!
At the airport, make sure to get a refund for the MTR Octopus Card! Ours said non-refundable, but I had read that if you buy the multi-day pass that you can get the deposit back, and I was right!
Traveling Tips:
We were out from about 8-8:30am to 8:30-10:30pm every day.  Our feet were tired, and there are lots of hills, so we recommend tennis shoes!
Carry some toilet paper and wipes.  Many public restrooms were out.  Also, the food can be messy, so wipes would be nice to clean your fingers.
Even if your Octopus Card says "no deposit on this card," you should still be able to return it for the 50 HKD refund deposit.
The buses do not give change.  Either have exact cash or add money to your MTR card.  The MTR unlimited pass is only good for metros, not buses, but you can still swipe the card on the buses if you add cash.
Save time & money getting to Lantau Island (Giant Buddha) by taking the metro instead of the ferry.
If you have kids, you may enjoy Ocean Park (amusement park) or Disney World.