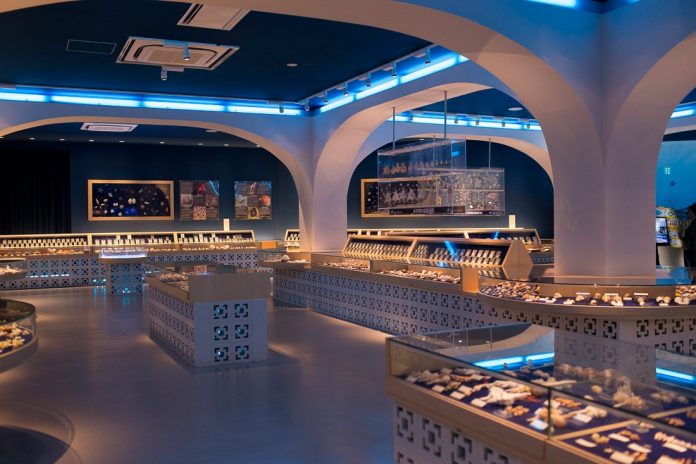 CONTRIBUTED BY HANNAH CURTIS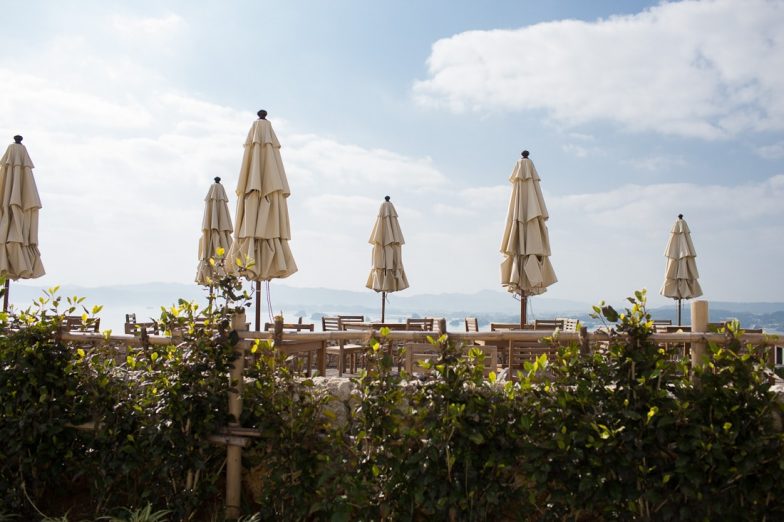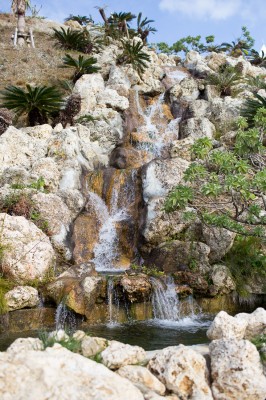 My goal this year is to visit as many of the surrounding islands as I can; I am starting off easy by doing the ones we can drive to and will work my way up to the outer islands. Over Valentine's weekend our family spent a night camping on Kouri Island, the first island on our list, which was quite fitting since it is also known as the 'island of love' due to its heart shaped rocks!
From our campsite, on a small hidden beach, all we could see of the island was this giant white tower and sometimes we could make out a person on the top of it, naturally the next day we went to investigate what the tower was all about.
It was easy to find and thankfully there was ample parking, but my husband & I were both a little hesitant to pay 800 yen a piece (our girls, pre-school age, were free) to enter the Kouri Ocean Tower without really knowing what was inside.
As it turns out it was a fantastic way to finish our already awesome Kouri Island adventure.
You can head to the observation tower by walking through the park; with tropical plants & a waterfall, or by riding an automatic cart…our 4 year old was amazed that the cart was driving itself; in fact so was I!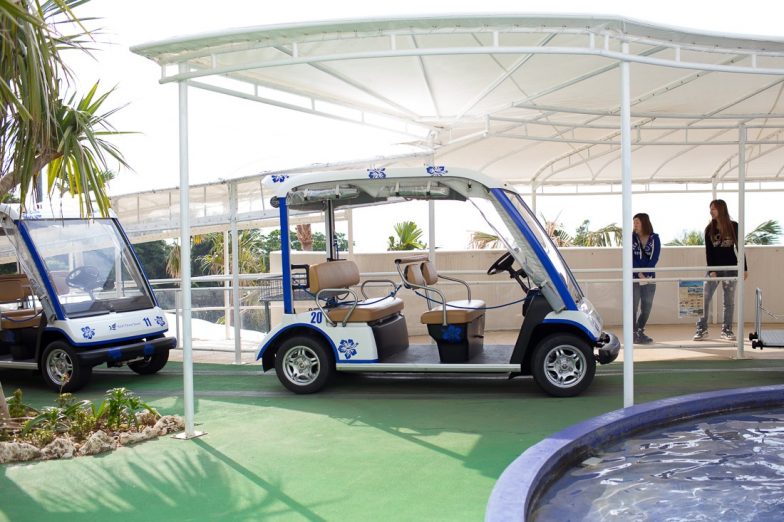 The first floor of the tower is a shell museum where you can see more than 10,000 shells of varying shapes, colors and sizes from all over the world! My favorite were the 'heart' shaped shells.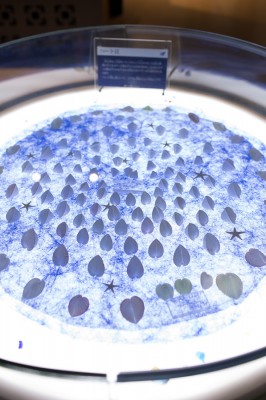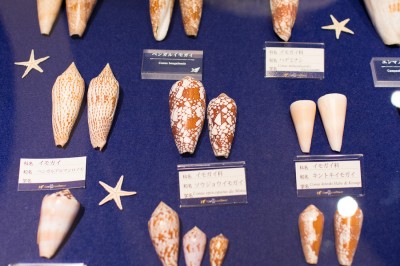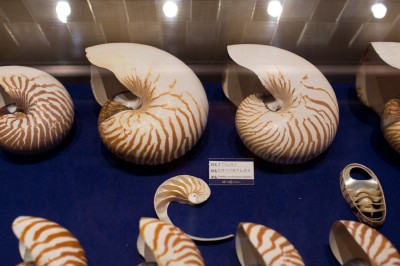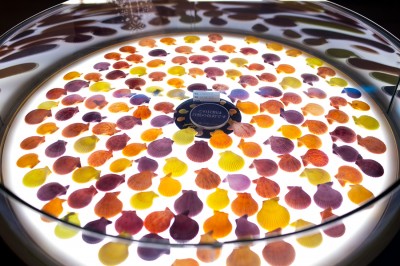 Following the Shell Museum is a small shop selling some cheaper souvenirs as well as some rather pricey bits of coral (1,000,000 yen) needless to say we whizzed through this section pretty quickly before our 2 year old could break anything!
We then went up to the next floor to check out the wonderful views: Yagaji Island and the main island of Okinawa, as well as the vast emerald ocean.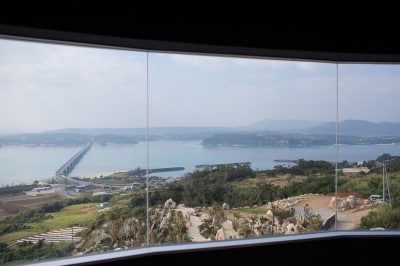 From here we climbed some stairs to the very top of the tower where you can ring a bell and, I believe, pay for souvenir photos…our oldest thought it was pretty neat being able to ring the bell.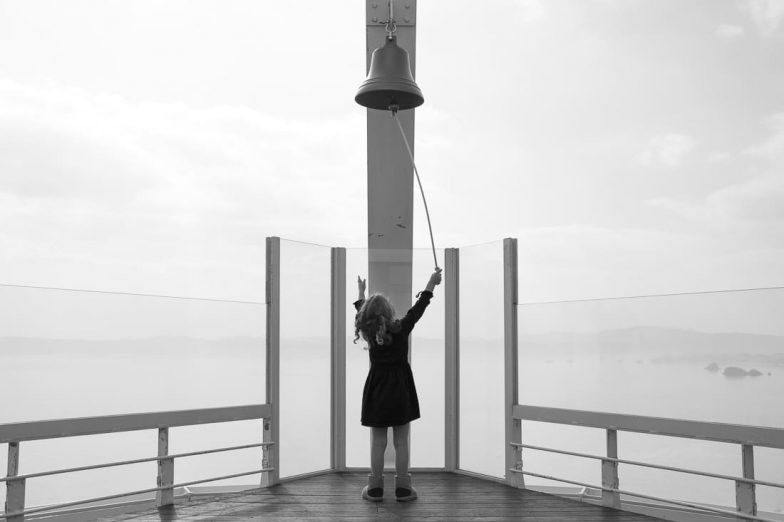 On our way back down we spotted the restaurant, which we would definitely have eaten at if it wasn't only 10:30 a.m. It looks as though the specialty is Neapolitan pizza, but I also saw an advertisement for curry and it seems as though they use a lot of local ingredients: from Okinawan pork to Kouri Island pumpkin.
Lastly we visited the factory shop where, like Pineapple Park, you get to try various samples- lots of pumpkin flavors (my favorite being a pumpkin cream filled croissant!) as well as many heart shaped items, representing the island of love.
We were pleasantly surprised by our trip to Kouri Ocean Tower, although a little disappointed that the automatic cart ride was much shorter on the trip back down.
Whether you take a leaf out of Monette Eames book and visit Kouri for a stay-cation, head camping like we did, or simply do a day trip, I think you'll enjoy the views and exploring the Kouri Ocean Tower.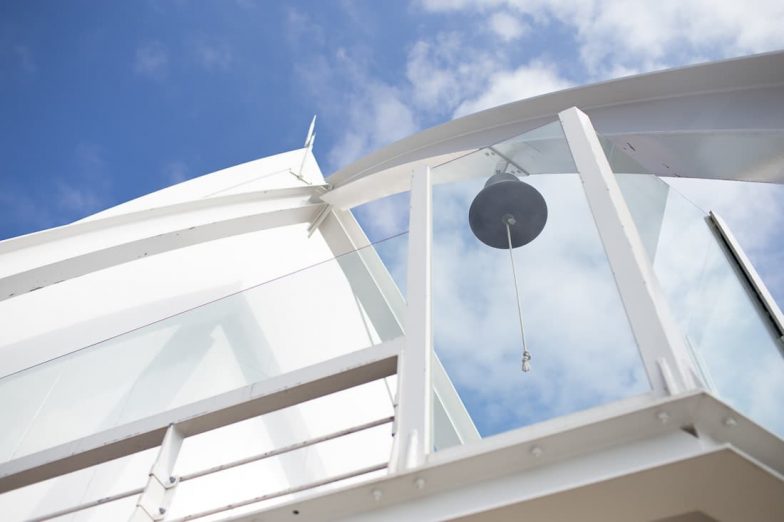 Hours: open all year 9:00 a.m. – 6:00 p.m.
Phone: 098 056 1616
Entrance Fees:  
Adult: 800 Yen
13-18: 600 Yen
6-12: 300 Yen
Under 6: Free
Address: 538 Kouri, Nakijin-son, Kunigami-gun, Okinawa-ken 905-0406, Japan
Coordinates: 26.7002437, 128.0242425
Website:  https://www.kouri-oceantower.com/en/index.html