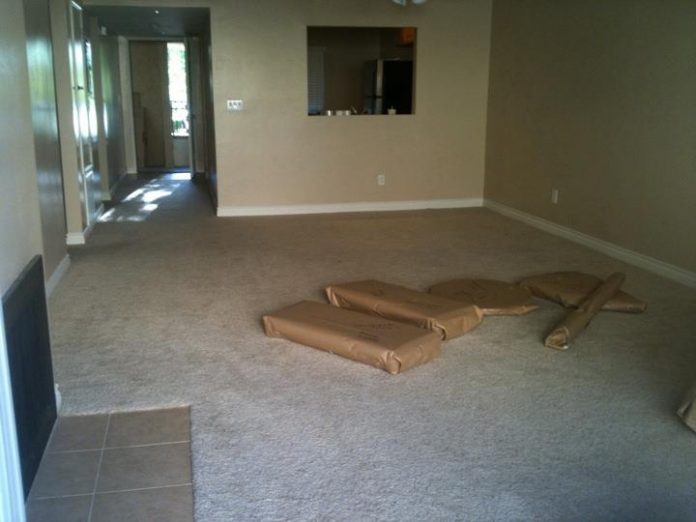 For those of you planning a move to Okinawa soon, we hope Marie's descriptions of the process of their travel and first months of settling in can help you with a few of the "unknowns." To read more of their story see links at the bottom of the post.
CONTRIBUTED BY MARIE LEWIS
It's hard to describe the feeling of relief at having received clearance to accompany Kenny to Okinawa. We could finally breathe easy, no longer fearing we'd be separated for the duration of his tour. Then came the big move.

Newlywed PCS HHG kitchen chaos
I remember it like this: a marathon, not a sprint. As a couple we didn't have a whole lot of stuff. We were pretty good about keeping clutter to a minimum. But the painstaking process of organizing our belongings into categories made me feel as if we had more "stuff" than a king. The groups were as follows: "Non-Temporary Storage," "Household Goods," and "Unaccompanied Baggage." These categories presented a new set of acronyms to add to my laundry list of military abbreviations: NTS, HHG, and UAB.
We started moving all of our NTS items into our living room. Because we were allowed only 2,000 lbs of HHG, most of our furniture would have to go into storage. Our kitchen became the designated spot for our HHG. We organized our UAB into our master bedroom. That would be the first shipment to arrive in Oki, so it included all of the clothes and toiletries we couldn't fit in the baggage we would have on us. We gave away all of our cleaning supplies and liquids that could not come with us. This process of moving everything we owned between these three rooms became a little chaotic, as you might imagine. But by the time the movers came, I was glad we did it that way. We were able to tell one set of movers to pack up everything in the kitchen, another set to pack up just the master bedroom, and the third to pack up just the living room.

Newlywed PCS movers at work
Sure, there were a few snags. The biggest was probably the Friday morning we were expecting the first set of movers. We were told they would be at our apartment anytime between eight and five. We waited about four hours before Kenny started making some calls, trying to get a more definite time. Then I saw Kenny's face drop as he listened on the phone. "What do you mean, 'they weren't scheduled to be here,' " he told the person on the other end. Turned out, there was a mix-up at the booking office. They told us to expect the movers that day, but somehow the movers never got the memo. Each office pointed the finger at the other, and I never felt like we got a straight explanation as to what happened. Worse things could happen, but it was frustrating.

Newlywed PCS Empty
Those movers ended up coming the next week, just in time for us to clean the apartment and turn in the keys. Phew!

Newlywed PCS UAB for Oki
Another big relief. We were officially moved out, and our car was packed with everything we'd need from San Diego to Okinawa. (We'd be leaving the car with family before our flight to Seattle.) Passports, birth certificates, all of our important documents were in tow. For the next month we'd be driving across the country, visiting family in several states and saying our goodbyes before our port of call date. The night before we started the drive, I slept light. The move was becoming more real, and the excitement was building. It's easy to be afraid of the unknown, but it's a lot more fun to imagine the possibilities.
---
Read all the posts in this series: Parts 1, 3, 4, 5, 6, 7, 8, 9, 10, 11, 12, 13, 14