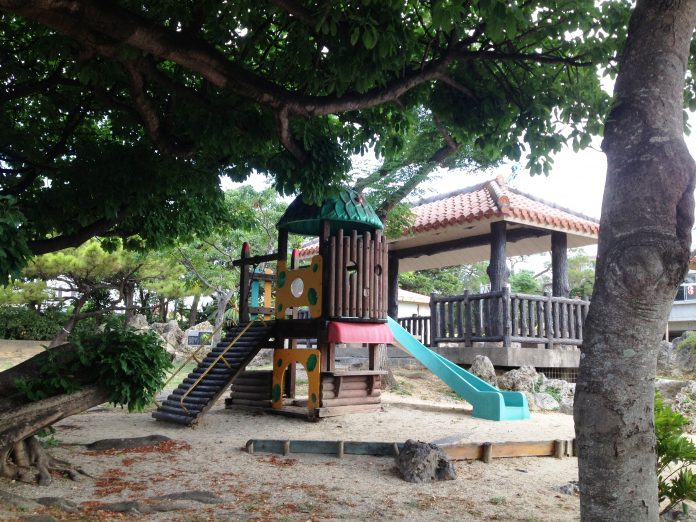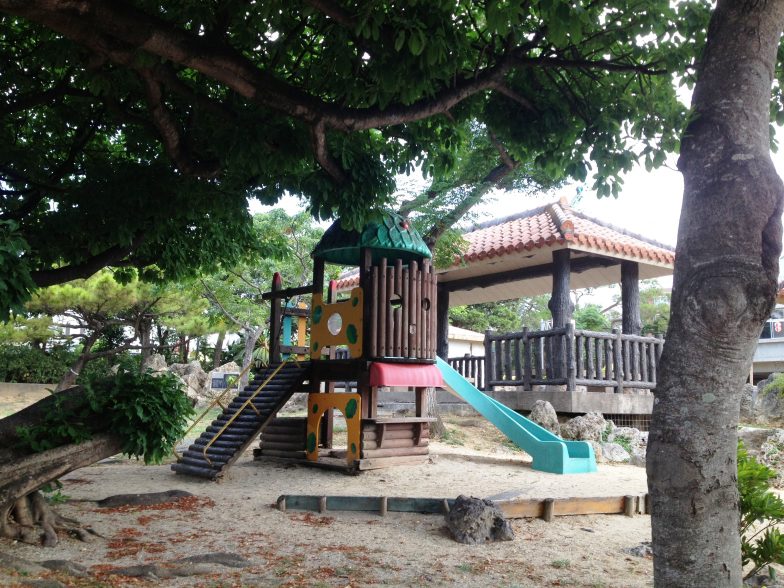 CONTRIBUTED BY HEATHER OLSEN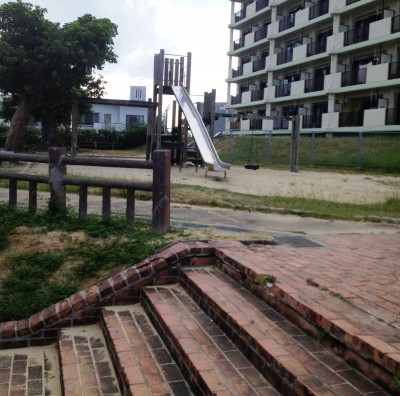 One great thing about living in the Urasoe area is that it is filled with parks! The parks may not be massive in size and grandeur like Ogido Park or Urasoe Park, but they still provide variety and fun. One thing that we have done is 'park hopping.' We started at one park and then made our way to a different park in the area. Many of them are three to four blocks apart, making it an easy walk. These parks are on the smaller roads so it is street parking only. If you plan to walk to each park, it would be wise to park your car at a grocery store or the USC Plaza and walk to the first park. We had gotten a notice once for leaving our car on the street when we were no longer at that park because we had walked to another one.
If you plan to park-hop, from the USC Plaza, you can follow the parks in this order: Izomi Sho Park, Panji Park, Suzuran Park, Maehara Park and Asayara Park. There are two other parks in the area that I did not include because one is very small and the other had no play equipment. When you finish you will be about 0.8 of a mile away from the USC Plaza. There are other places to park your car that are close to the parks but just remember to make sure that it is not a posted lot. (I have already written about Izumi Sho Park and Maehara Park on this website, so I will touch on Panji, Suzuran, and Asayara below.)
Panji Koen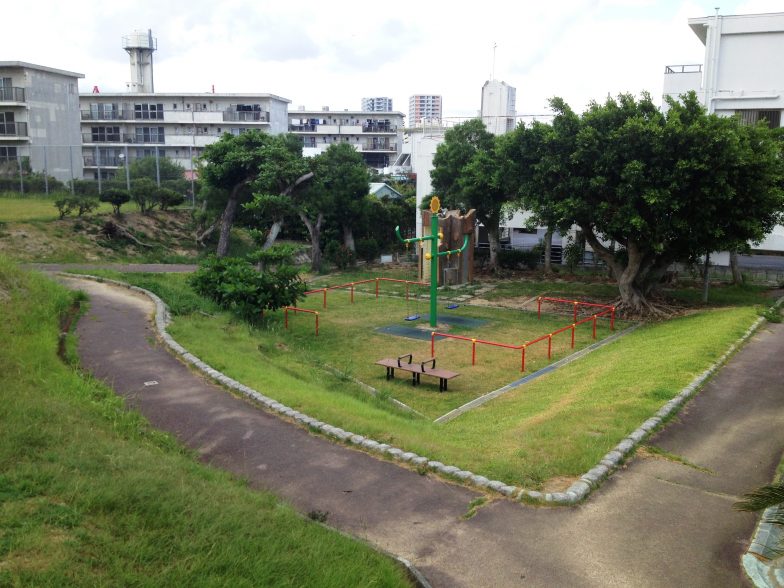 This park reminded me a lot of the playgrounds I knew growing up. There is a nicer swing set as well as a wooden playground that has a slide, monkey bars and tire swing. The wooden playground has a sand box as well. There isn't much grass area to play in but my kids enjoyed climbing up the big steps to get to the slide. There is a parking area across from the brick staircase up to the park but it is not for the park.
Directions: Heading south on the 58, you will pass Futenma, cross the bridge, the Faraoh Casino and Makeman.  Turn left on the street right before the intersection for Kinser's gate 3.  There is a car dealership on this corner and the USC Plaza is one of the first buildings on the left.  No more than a quarter mile down the road you will see Izomi Sho Park on your left.  Turn left on the street after the park. (So Izumi Sho Park will still be on your left) Turn left on the second street.  Turn right at the T-intersection.  Panji Park will be your left.
Google Map Points: 26.256404, 127.716546
Suzuran Koen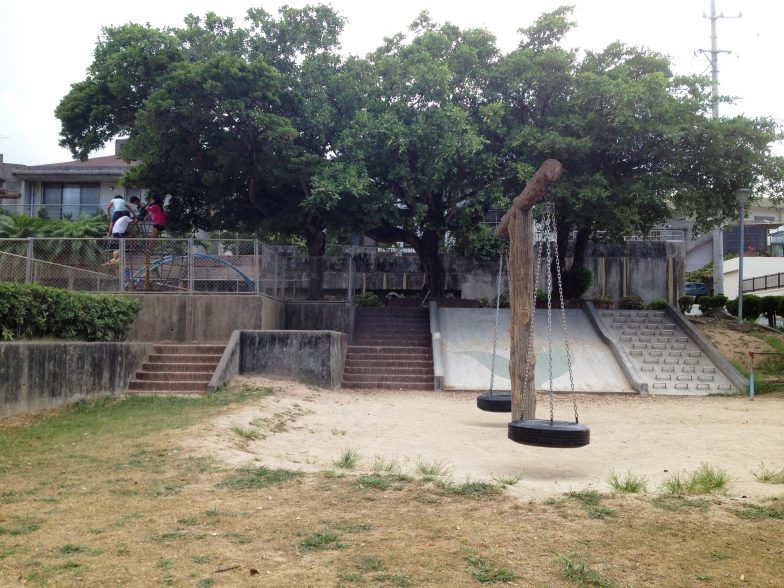 My kids have nicknamed this park, "Spin Ball Park." This park has a half-court dirt basketball court, zip line, two tire swings, cement slide, titter-totter and a rotating metal ball.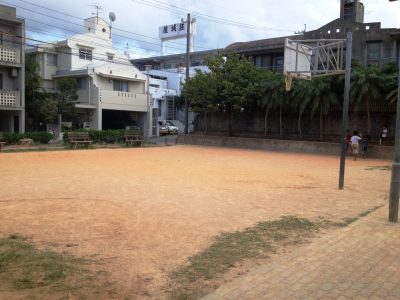 My kids are still a little younger so this park is pretty fun for them. They are able to test their abilities climbing in the ball. One thing we have noticed, however, that the park tends to retain water after it has rained under the much of the play equipment, making it a muddy mess. Of course the kids enjoy the challenge and adventure of trying to get on and off the play equipment without landing in the mud!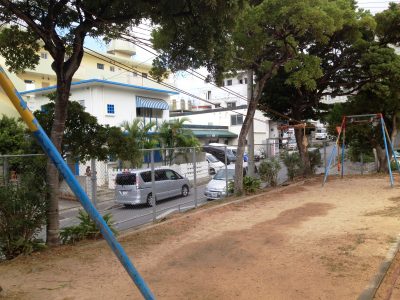 Directions: From Panji Park, go north (park will be on your left). Turn right at T-intersection.  Turn left at the 2nd street.  Suzuran Park will be on your right two blocks down.
From Suzuran Park to Maehara Park: Head West (you will walk past the zip line on your right). Maehara is four blocks down.
Google Map Points: 26.255763, 127.720033
Asayara Koen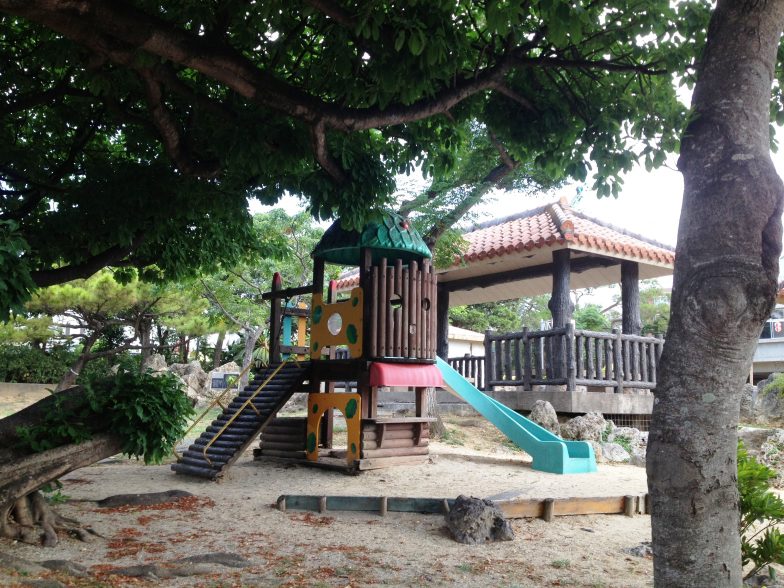 This park is fun because it gives off a tree house feel. The playgrounds are under heavily-shaded trees and are designed to look like they are made out of logs. There is a nice covered sitting area right next to the playground as well.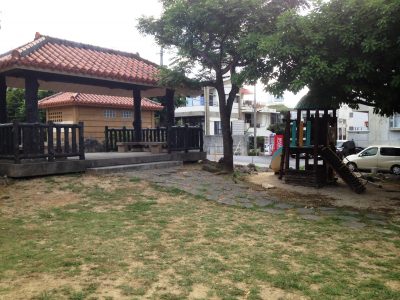 There are some picnic tables and a small grass area. There are some stones in the park that have engraved plaques on them. It is written in the Okinawan dialect so my friend that translates for me could not read it but thought that it may be a poem.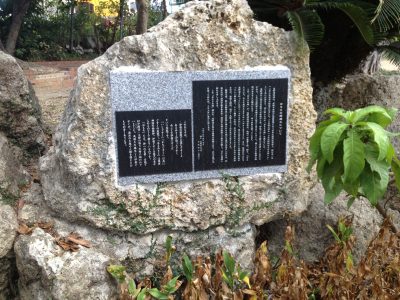 Directions: From Maehara Park, go south (park will be on your left). At the T-intersection, turn left. Asayara Park is on the next corner on the right.
Google Map Points: 26.253122, 127.719766