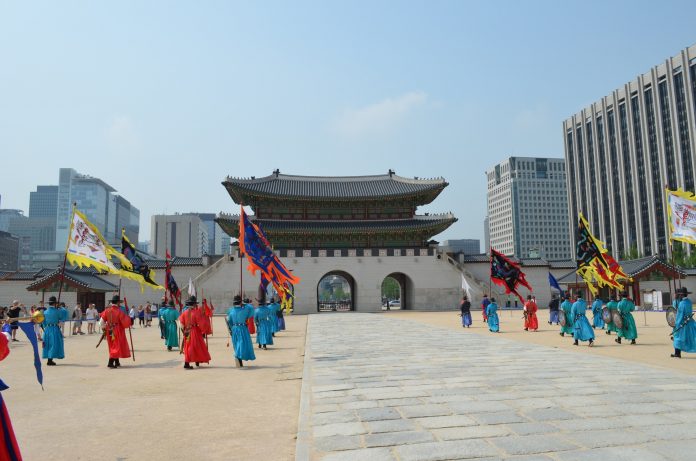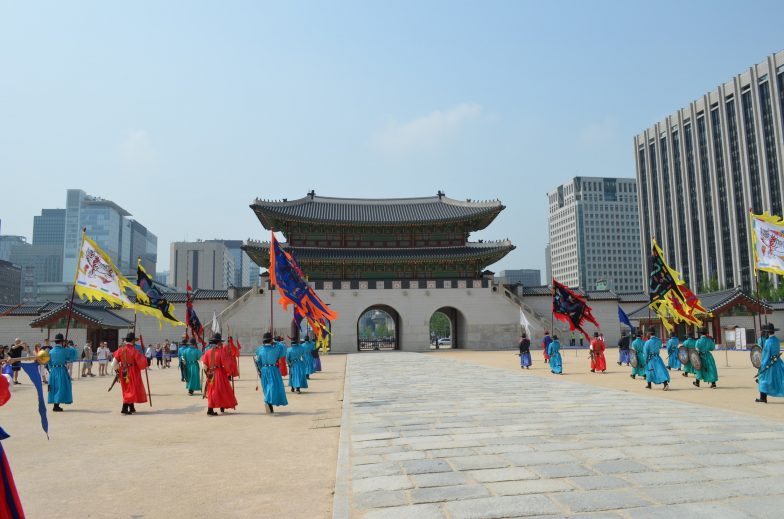 CONTRIBUTED BY MICHELLE BUDZIEN
Are you interested in seeing the Great Wall of China, but you don't want to pay the hefty Chinese visa fee? There's a way around it! Michelle, from SemperTravel.com, is sharing the secrets of the 72-hour visa in a five-part series. Today's chapter: Seoul
Follow along with her trip here: Part 1, Part 2, Part 3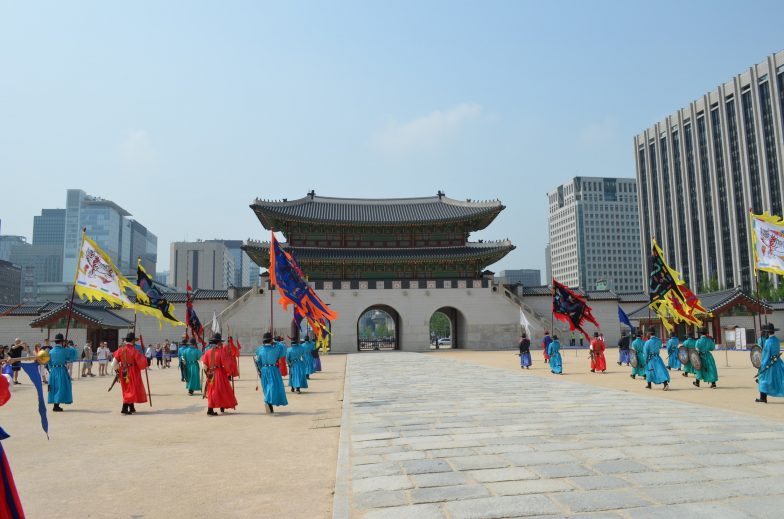 We loved our trip to Seoul! Despite the DMZ being closed due to MERS, we had a great time and we were still able to see North Korea from another border area. Here's what we did:
Seoul Travel Dates:  16-21 June, 2015
Airline:  Since we utilized the "72 hour no fee visa" visiting China prior to coming from Seoul, so we flew Air China from Okinawa to Beijing, and Asiana Air from Beijing to Seoul ($1,091.80 for 2 people).  To fly home from Seoul, we flew Peach for $241.98 for 2 people.
Just our luck, similar to our vacation to Hong Kong, right after we booked it, Peach announced it will start a direct flight to Seoul in Sept 2015!  We had to book 2 separate Peach flights, with a layover in Osaka, but it was okay since we have access to the lounges and could enjoy some snacks and beverages between flights.
Peach has strict luggage requirements (22 pounds max per person unless you pay for checked luggage).  We used backpacks, but since our first two flights allowed more, we shipped a box home from the base in Seoul.  APO to FPO is free shipping!
Visa:  No visa is needed in Seoul at this time, but check the embassy website to make sure nothing has changed!
Hotel:  Dragon Hill Lodge (on Yongsan military base)
The hotel is in a great location, even though it is on base, it is only a moderate walk to the metro and very close to the war museum.  My favorite part of the hotel was the fitness center, with a pool and hot tub.  There are also many restaurants located within the hotel, including a PX (but dependents need ration cards, I'll mention more later).  It's only a 10-minute walk to Itaewon, which is a lively area with plenty of restaurants.
Room rates are based on rank, but we did the 5 night/6 day special which included the DMZ tour, Seoul Tower, Palace/city tour, and Nanta show for $299/person = $598 total.  (We were not going to do this, because we wanted to do the USO DMZ/JSA tour; however, while in flight to Korea we learned all tours to the DMZ were cancelled due to MERS.  The hotel's DMZ tour had an alternative to go visit the Northern Limit Line and look into North Korea from an observatory, so we switched to that.)
Transportation:  If you're military, use the Dragon Hill Lodge free airport shuttle bus!  It's free and takes only 45 minutes. After baggage claim, just walk all the way to the left end of the building, it's the very last booth. We missed the bus by 10 minutes, but there's free Wi-Fi and after debating the other options (which take longer and cost money) we decided to wait 1.5 hours for the next bus. You can find the schedule on the Dragon Hill Lodge website.
There is an airport express train that takes you downtown, where you can connect to the normal subway system. It looked fairly simple. Or there are other bus shuttles that go downtown. A taxi is expensive. Someone we met accidentally took a local taxi instead of an AAFES taxi that can go on base. Apparently it was over $125; while the AAFES taxi is apparently $65.
The metro system is very easy to use. It's vast, but most of the sights are within a few stops from the hotel. The hotel is close to the Noksapyeong and Samgakji subway stations.
Itinerary:
Tuesday night:  Since our flight landed a bit late, we didn't get to the hotel until 10:00 p.m.
Wednesday:  We stopped at the Discover Seoul tour desk in the hotel to figure out our new plan since the USO DMZ tour was cancelled. Thankfully they had openings on their tours today and tomorrow.
9:00 – 12:15:  Gyeongbokgung Palace and Jogyesa Temple Guided Tour
The palace was very pretty.  It was nice have a guide to explain different aspects.  We also saw the changing of the guard's ceremony.  The only downside to the tour was stopping at an amethyst store.  Obvious sales pitch.
Note on Ration Cards:  We wanted to stop at the Commissary on base quickly for some groceries. We found out it was 1 to 1.5 miles from the hotel, but decided to walk.  Once we got there, the lady didn't let us in because we didn't have ration cards. I had read about it, but thought it was only for dependents, so my husband should have been able to get in. (I was right, but the lady didn't know that.) We took a taxi to the ID center to get ration cards, where they told us my husband doesn't need one! The base has a "post run" (shuttle bus), so we took the bus back to the commissary (it takes about 15 minutes) and showed the lady the policy. I was extremely frustrated to have wasted so much time. (If you are a dependent, you need a ration card though, so ask the hotel for information. Active Duty does NOT need a ration card. The ID center is right across the parking lot from the hotel.) After getting groceries, we enjoyed working out in the hotel's huge fitness center!
Evening: We headed to Myeong Dong for the Nanta Cooking Show. This district was very fun, with plenty of restaurants, street food, and vendors. We enjoyed trying some local dishes for dinner. The Nanta Cooking Show was also unique. It's located in the middle of Myeong Dong. The hotel can give you directions, but they might tell you to take a taxi, and you don't need to, the subway was easy!
Thursday:  Northern Limit Line Tour (replacing the DMZ tour):  From 7:40-1:20, we took this tour that headed to Gangwha Island.  Our tour guide emphasized how special this itinerary was and that it was actually the closest point to North Korea (1.8 km vs. 2 km). We were still disappointed not to go to the DMZ/JSA, but it was better than nothing. There is a large observatory on a hill where you can look over a river into North Korea. They have binoculars, but bring your own if you have them. We were able to see a fake village and some buildings and farms in North Korea. On the way home from the NLL Tour, we stopped at a war sight on Gangwha Island, and another amethyst store.
In the afternoon we visited the War Museum, and it was awesome! I don't like reading everything in museums, but this one was very entertaining. The documentary videos inside are worth it; they are interactive (3D, seats, move, etc.). There are also free English guided tours at 10:00 a.m. and 2:00 p.m. The guide was very nice and knowledgeable. You could easily spend 3 hours here, or more! There is an outside exhibit with planes and tanks and a children's park too.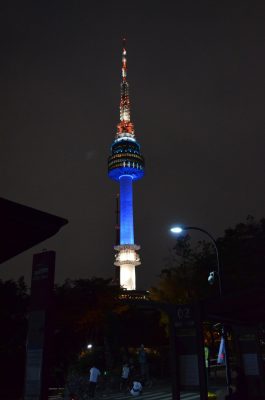 In the evening we headed to Seoul tower, which took much longer than expected. The #3 shuttle bus (only $1) leaves from Itaewon, but we thought it came every 15 minutes, and it definitely took 40 minutes (we started waiting at 5:15 p.m.). We got to Seoul Tower a bit early for sunset though (6:30 p.m.), so we ended up hanging out at the top, enjoying the view, for about 2 hours so we could see the city in daylight and at night.  If you can, time to get to the top just before sunset and you'll get the best of both worlds!  Waiting for the bus home was just as slow, so we didn't get back until 9:30 p.m.
We enjoyed a late dinner in Itaewon at Vatos Mexican. I liked my tacos and my husband's burrito was delicious, but it was a little overpriced for Mexican. We wanted to find a Korean BBQ, but it was already 10:00 p.m. and we couldn't find it, so I had heard of Vatos and figured we'd try it.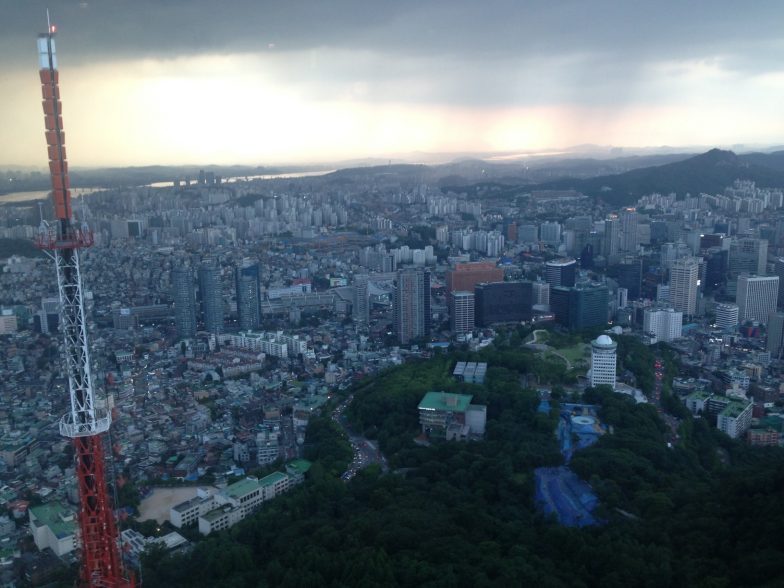 Friday:  Today we set out on our own!
Changdeokgung Palace – (3,000 KRW) Very similar to the other palace…could skip it if you're tight on time. It's known for it's secret gardens (5,000 KRW), but we weren't that impressed. There was a guided tour of the gardens, but we left after 45 minutes (it was 1.5 hours for the full tour).
Bukchon Hanok Village – Just around the corner from the palace, you can explore this traditional village portion of the city. The sights are built into the actual city, so we just walked through it and looked at a few buildings.
Ice Gallery – I had read about the world's first indoor ice gallery, and it was in Bukchon, so I figured we'd stop by. It was quite hilarious. Not at all what I expected.  I was thinking ice sculptures in a museum setting…it was more like a kid's haunted house in their basement, but instead it was ice. For $5, it was amusing…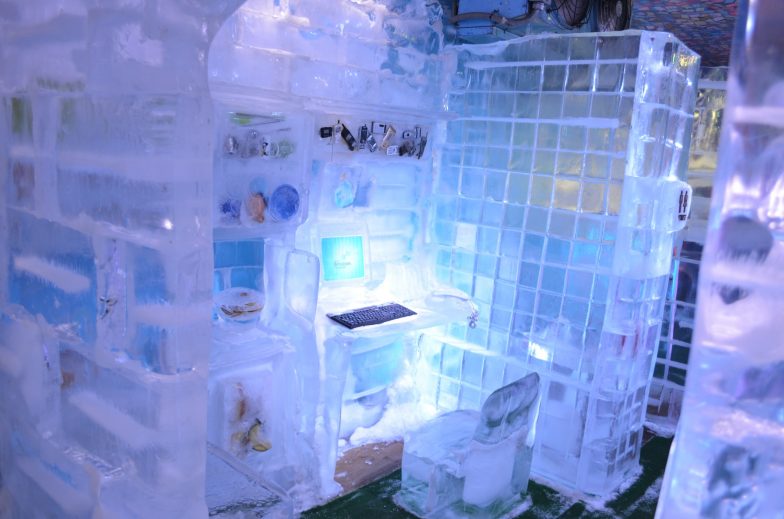 Dongdaemun Market – We headed over to the market for lunch, but this market didn't have as much food. It was primarily cloth items. It's huge, but from what we saw it was mainly socks, underwear, scarves, hats, some purses, buttons, etc. Maybe we missed the main place? (But we did walk through it for quite some time…)  It's right by an art museum if you're interested in stopping there too.
National Museum of Korea – It's on the backside of base, so we figured we'd stop by.  It wasn't that interesting to us, mainly pottery and paintings. It's free, but if there's a special exhibit on the other half that might cost money. Walking home took some time because we had to get to the base entrance, so once we got inside base we waited for the base "post run" shuttle bus to get back to the hotel.
Gangnam – Very fun district!  We were looking for a Korean BBQ restaurant for dinner, and many nice people helped us try to find it, but we found out it was closed!  (No wonder it wasn't where we thought it was.) Instead, we ate where one of the couples were waiting that had helped us look for it. It was a trendy Korean BBQ place, so just what we wanted! It was delicious. For about $28 we both had a variety of meat and veggies. There are tons of restaurants, so if we go back we'd definitely have dinner in this area again!
Saturday:  Rainy day! Thankfully we did most of our sightseeing already. After a work out, we opted to go to one of the world's largest indoor theme parks, Lotte World. I wish there were more roller coasters, there was really only one, but my husband really enjoyed the three different shooting games.  There's an ice rink in the middle, and plenty of 3D rides, kid rides, etc. We purchased discounted tickets at the hotel ($39 instead of $48). It wasn't quite worth it, but it was still something to see, especially on a rainy day. Maybe if we had kids…!
We had lunch in the mall by Lotte World, at TGI Fridays. Overpriced, but it sounded so good. Had we known we weren't going back into Lotte World, we would have found a different restaurant on the way home. When we got back into Lotte World, we didn't feel like waiting in any lines so we headed out.
If you want to stop at the Olympic Park, it's in this area. We were going to if it wasn't still raining…
We got back to the hotel, worked out, enjoyed the hot tub, and had some food. We hadn't checked out the hotel restaurants until now, and we regretted eating at TGI Fridays because the food looked good, but we were full.
Here are a few other things you could do that I heard about but we didn't make a priority:
Korea Furniture Museum
um
Cheonggyecheon Stream – A 3.6 mile walk with very serene small waterfalls and bridges
King Sejong statue
Insadong district
Namdaemun market
Seoul City Tour Bus
Myeongdong Cathedral
Banpo Bridge
Deoksugung Palace
Namsangol Hanok Village
Traveling Tips:
Are you military stationed overseas? Remember that APO/FPO to APO/FPO shipping is free! Why is this useful? If you book a budget airline home, you can go to the base post office before you leave and ship the majority of your stuff home!
The ATM actually had a worse exchange rate than the hotel, but the best rates were in the exchange booths in the popular parts of town (like Itaewon and Myeong Dong).
If you're on base, spouses/dependents need a ration card to buy things at the PX or commissary!
Schedule the USO DMZ/JSA tour in advance! It books up fast.
Take the free Dragon Hill Lodge Shuttle Bus from the airport to the hotel.
Taxis on base are actually fairly inexpensive. $3.30 to get to the commissary from the hotel. $3 to the metro station.  (We usually walked, but in the rain we gave in.)
We highly recommend visiting Seoul! It was the perfect amount of time to see everything we wanted to without feeling rushed!