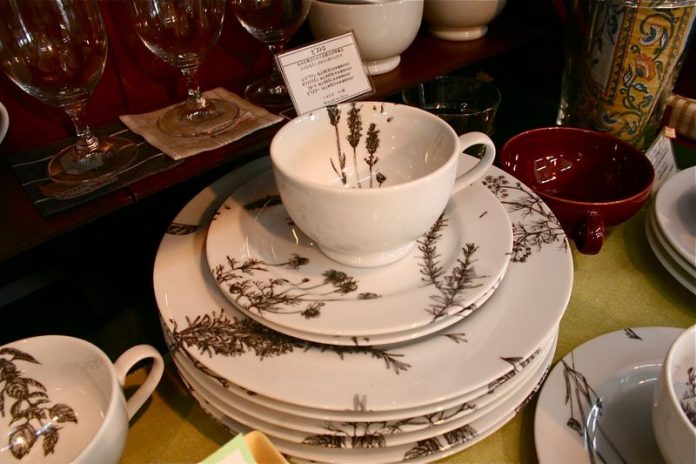 CONTRIBUTED BY KELLYERACE
Where do you buy your home decor on the island? Not art, but I guess what you might call "interior goods." Towels, linens, table settings, candles and such?
Me, I got a cool rug for my bedroom at Mixx Life Style. A nifty dish scrubber thing at maxplus.  Coffee spoons, curtain rods and kitchen mats from places like Ramayana.  I like the 100 yen and gift shops for baskets.  And of course, the odd Yankee Candle at the PX.
But last week, while my mom was here, I went to a shop that made me want to reach for my non-existent handkerchief and pat my drool dry.  I don't know if it was the warm lighting that triggered this impulse, the high quality of merchandise, or simply the aesthetic – kind of a French country meets Japan. Anyway, it was just gorgeous.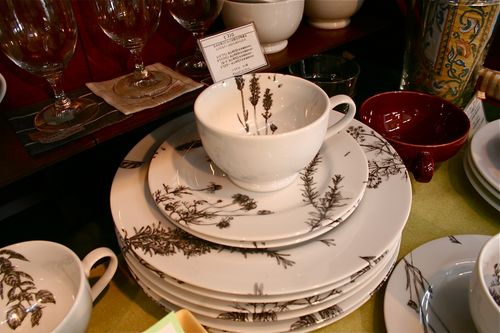 You know you are entering someplace special when you walk through the door and are immediately enveloped by sumptuous fragrance.  It's the smell of flowers and fine linens.  This is a shop where details are attended to. It's small, however, if you are like me you could spend a fair amount of time here. You might find yourself reaching out to touch everything–pillowcases, towels, the luxurious bathrobes.  Or lingering over the table settings, flipping plates over to find the price…just in case.  I found myself considering taking up gardening just so I'd have an excuse to buy their cool rubber boots and garden gear.  Again and again, I wove through the shop delighting in something new with each pass.
Family Boutique isn't cheap, but even if you aren't buying it's worth the trip. Just go there to touch and feel and smell and browse.  If you combine it with a lovely lunch or tea at Fertile across the street, it would make for a very pleasant girls' afternoon.  (Or a good solo afternoon for that matter.) Top that off with an appointment to get your piggies painted, as I did with my mom that day, and it's pretty close to perfect!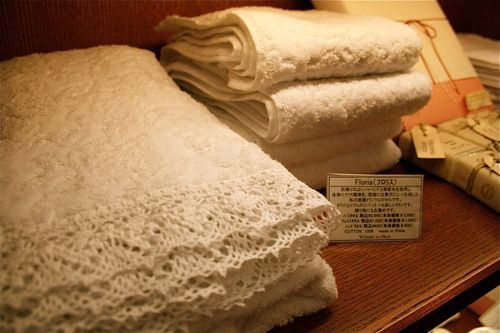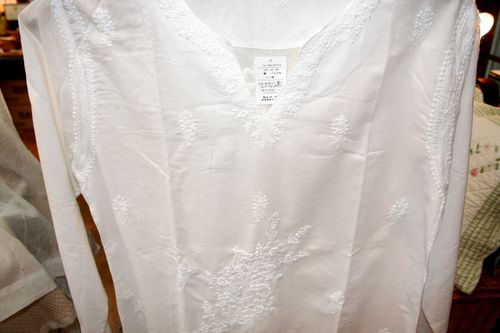 (My mom fell in love with these towels a little bit, about $25 a pop!  I fell in love with these pajamas a little bit…I think they were pajamas anyway, they were with the robes!)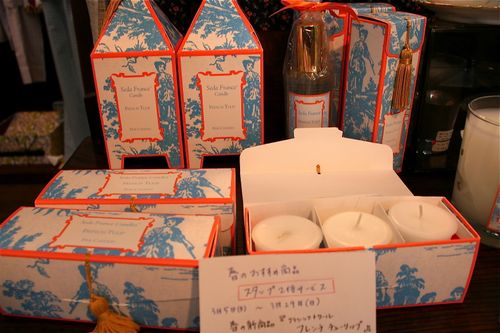 I've seen these candles in a fancy-pants boutique in Asheville, NC.

A cool metal topped table.                  Cute glass jars.
---
Family Boutique

INFO AND HOURS
Open everyday
DIRECTIONS
Go straight out Kadena gate 2. Make a left at the 4th light (the corner where Top Embroidery sits). Follow this road past Mike's Tex Mex on the left. You'll pass one stoplight. At the first intersection past that first light you want to make a right (before you turn, there is a building with an orange awning on the right and an "Anew" store on the left). You'll see a sign that s says "Boutique Paris" on the left. Turn left here.  Family Boutique will be on your left hand side, right after the parking lot.