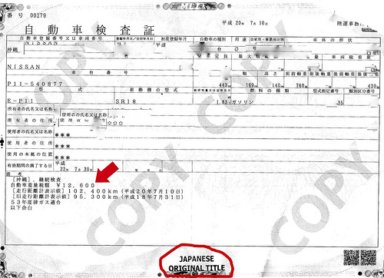 CONTRIBUTED BY KANDY
Update: Summer 2011
JCI. It's one of those "scary" we-don't-have-this-where-I-come-from type of things. Some people hire someone else to do all the required steps. In July 2008, OkinawaHai published an article about doing it yourself (the entire article is printed below). We'd like to think we've empowered many to try it on your own. It's not hard. If it goes well, it can easily be done in a morning.
Some of the prices have changed from the original article below. The process remains unchanged. Here are the steps our On-Island Manager took to get her Funcargo through JCI in June. Her husband ran the same steps in August. Here are the steps they used:
1) If your hubcaps come off, take them off before you get started.
2) Go and get JCI insurance. There are multiple places to get this done and the price is the same: ¥11,730. We went to ACE inside Kadena's USO. They open at 0900. Bring your whole package of vehicle registration forms inside.
3) Go to the Joint Services Vehicle Registration Office, building 5638 on Foster. If you come into Foster at the Commissary Gate, take your first right. The building will be your left.
4) Take note of your odometer reading. Take that number, yen and your paperwork package inside.
5) Go in the front doors and head to the counter on the far right. You will pay for weight tax and need your odometer reading. This varies by vehicle. For our 2000 Funcargo I paid ¥15,800. Their hours are 0900-1130 and 1230-1530.
6) Go outside and around the left side of the building to door 6. Pay AAFES $20 for the inspection. The inspector's hours start at 0930.
7) Get in your car and drive to the rear of the building on the right side. Get in lane 5. When it is your turn, follow their directions (turn signals, hazards, horn, lights, drive into the building, accelerate, break, emergency break, ect.). When they put your car on the lift, you will be asked to get out and wait.
8 ) After they bring your car down from the lift they will tell you to proceed to lane 3 or 4 if you passed. If you need to fix something they will give you a list of things to fix. Depending on what needs to be fixed, you may need to do the inspection over. They will tell you if you need to come back to lane 5 for the entire inspection or come back to lanes 3 or 4 if the fix is not as involved (new tires for example.)
9) Inside lane 3 or 4 they will give you paperwork that you have passed the inspection.
10) Go inside the front door to the same counter where you paid your weight tax. Show them the paperwork that you have passed. They will give you your sticker and annotate your paperwork to show you are good for the next two years.
11) Drive your vehicle through lanes 1 or 2. They will remove your old stickers and apply your new ones.
12) Celebrate! You did it and probably saved yourself a chunk of change!
Notes:
• You will need to be alone in your car. No kids, no passengers. No exceptions.
• If you fail the inspection and return the same day with the car fixed, you will have no additional charges. If you come back the next day you will be recharged ¥1,400 or ¥1,500 (depending on vehicle) at the front counter AND $20 at door #6.
• This website has many helpful instructions for SOFA status vehicles.