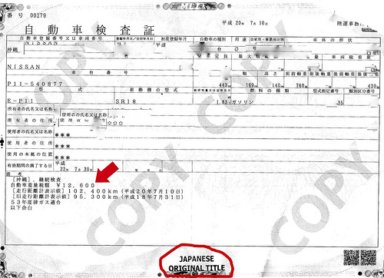 The lady inside changed my title to reflect the new JCI and handed me the golden ticket, I mean, JCI sticker, meaning I was good for 2 more years.
I took this, drove back through lane 2 and yet another nice lady came out and changed my sticker for me.
10:30am: I leave Foster with a $270 JCI and a smile on my face. I hope you can do the same.
Also, along the way I asked if these various fees were refundable. IF we had major work to do, we weren't going to follow through with the JCI. All is refundable same day except the 3,200¥ fee they charge at the weight tax desk.
You can get a pre-JCI inspection through typhoon motors for $75, and I was told later Kadena Auto Skills does the pre-inspection for $40. So, if you must know about any needed repairs before hand, you can always do that.
UPDATE (as of 1/06/09)
You can start the JCI process up to 30 days before your JCI actually expires. Saves a lot of hassle and stress. Temporary tags are 1,500 yen, and are only good for three days (including date of issue!!) (Update contributed by Penelope.)