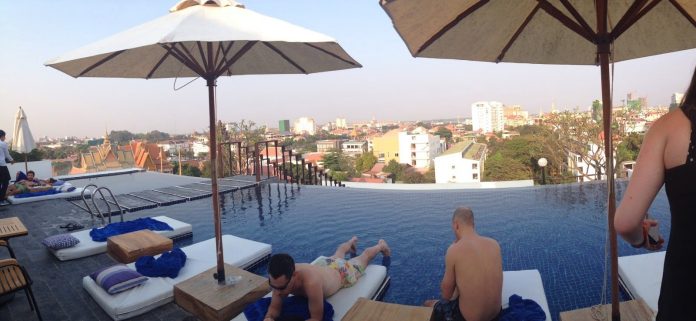 Editor's Note: This is the fifth installment of Kassie's adventure through Cambodia and Vietnam with her sister. Click on the following links to read the others: Part 1, Part 2, Part 3, Part 4, Part 6, Part 7, Part 8, Part 9, Part 10
CONTRIBUTED BY KASSIE O'DRISCOLL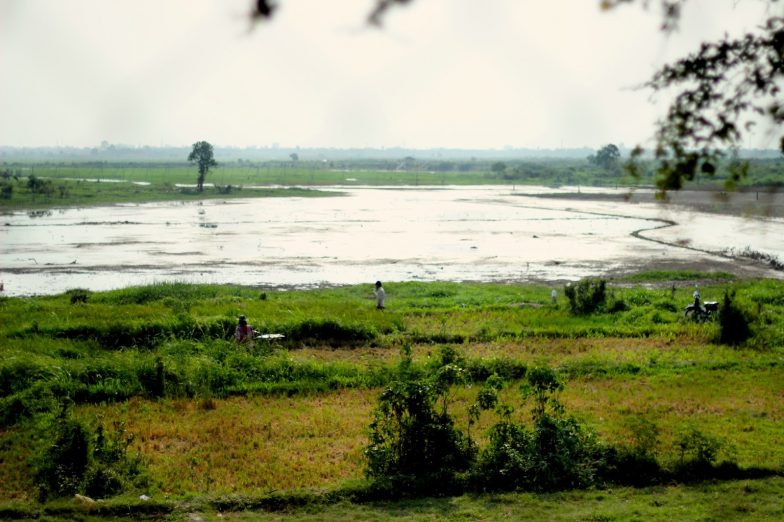 Tabitha and I started our journey to Phnom Penh in the afternoon. Our hotel booked our bus for us using Giant Ibis Transport, which was the company that we were going to use anyway. Get used to just letting your guesthouse or hotel "handle it;" they're very good at it! The particular bus was the size of a Greyhound and had two outlets for charging things and crappy WiFi, but WiFi nonetheless!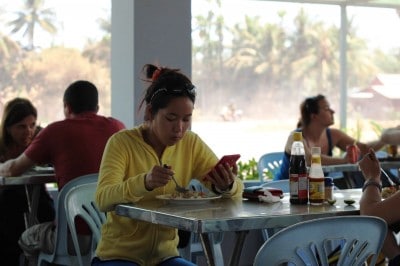 Unfortunate photo of this girl eating (above), but I wanted to show the dust coming up from the "road" in the background.
The photo below isn't altered. The dust literally covered everything facing the road. Sometimes, you could see the back of the house and see what color it was SUPPOSED to be.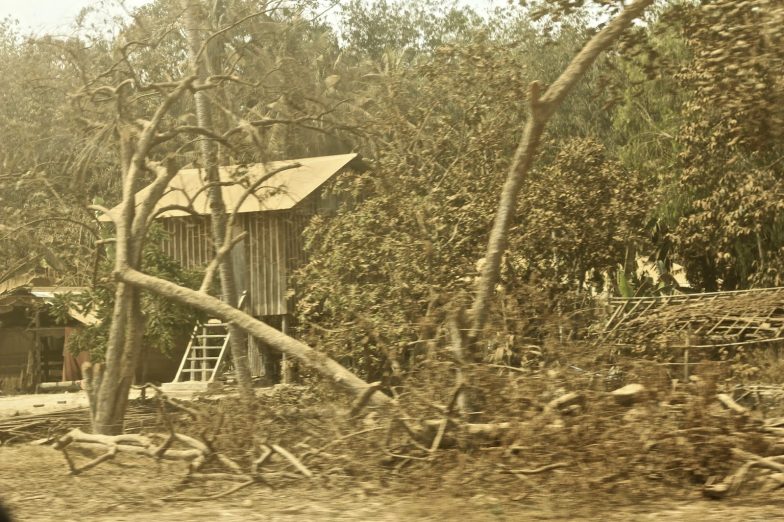 The whole trip took about 6 hours, but it wasn't so bad. We stopped twice along the way; once for a bathroom/snack break and once for lunch. Be sure to pack toilet paper because I don't think either place had any. The trip was on a pretty decent road, for the most part. There were some parts under construction so we just rode on the "red dirt road," that ran alongside the actual road. It seemed crazy, but everyone was doing it. When in Rome…
After being on the bus for so long we were VERY happy to see how awesome the pool at our next hotel was…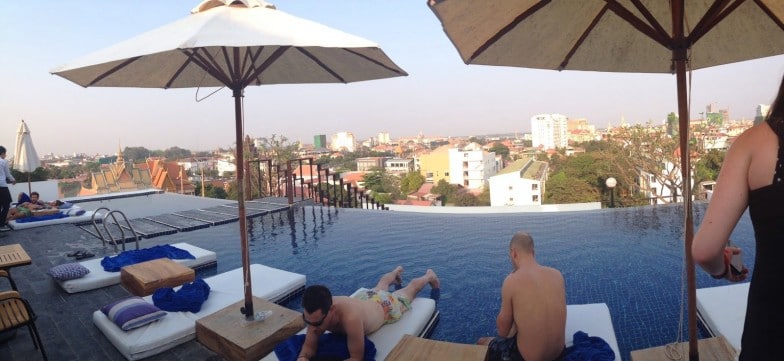 Actually, I think we would have been super pumped about this pool regardless of what we had done that day. The Patio Hotel & Urban Resort is a fairly new hotel in Phnom Penh and it's gorgeous! The rooftop alone is enough to make you fall in love with it and the rooms are nice, too.
We spent the evening enjoying happy hour by the pool and talking to an attorney who knew a lot of about the city. He recommended an area for us to go to eat, but we really just wanted really good street noodles. We had been looking up and down Siem Reap for street carts, but they just didn't really exist. So, after walking around for a bit, we finally found what we were looking for … and oh, was it worth the wait!!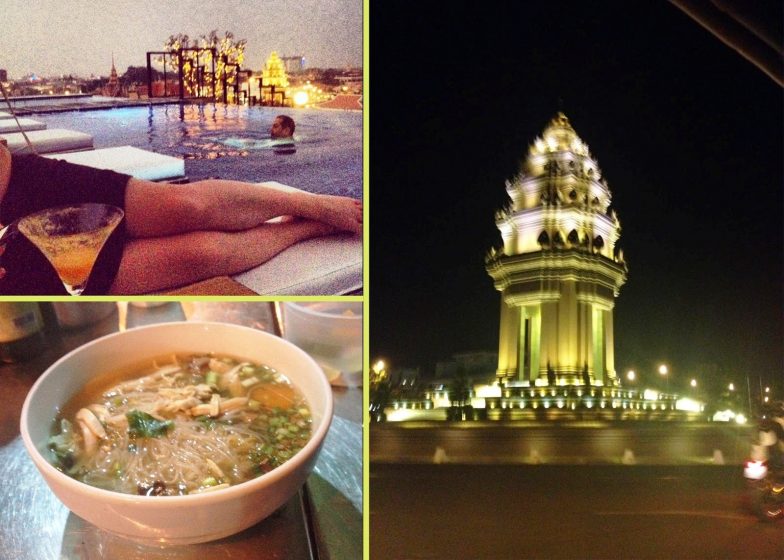 When we walked up we were so happy, but didn't really know what to do. Tabitha just stood in front of the cart as the lady asked, "Noodles? Chicken? Spicy?" and nodded "yes," when appropriate. They told us to sit and they brought us some of the most delicious noodles ever. The memory of the aroma of lemongrass, spicy peppers, and a broth that had been simmering all day (at least) leaves my mouth watering. It set the tone for what food lay ahead of us and we were so ecstatic!
On our way home from dinner, we decided to try a bar (The BlueDog Guesthouse) that was walking distance from our hotel. We sat down and had a few beers. While we were there, we had quite the experience! First of all, we thought it was funny that they were selling a combo of a shot, helium balloon, and beer. Not to mention that they played 90's R&B music all night. Then, the rat showed up. I'm talking the biggest rat EVER. It was crawling along the banisters and I freaked out. It settled right behind that American flag in the photo (below) and I couldn't stop staring at the good ole stars and stripes! Ha! After that, there was a cockroach on the ground. I told you it was eventful. I have to mention that, after all of that took place, we both agreed that we would go back! It was a fun night … and we're a bit loony!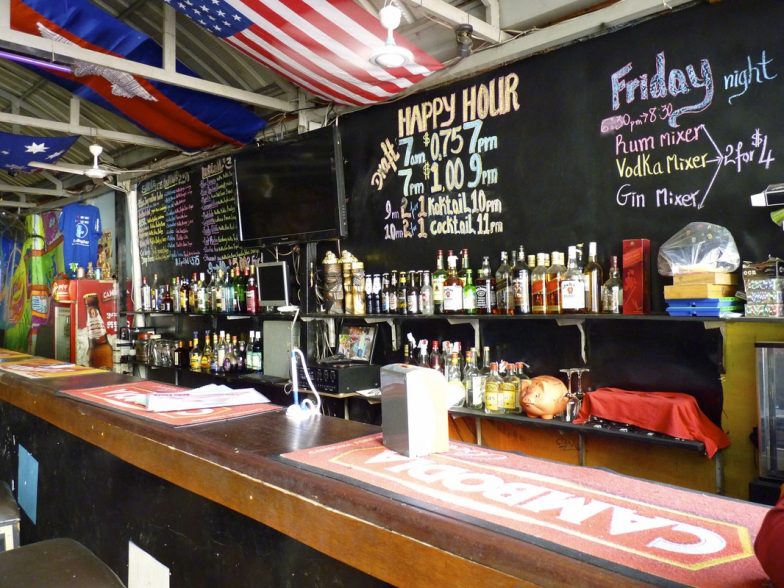 The next morning was an early morning because we wanted to do things before too many people were out and about (and before it was scorching hot). First stop was to buy some sunglasses because I had left mine on the bus – ugh. Luckily, I got a pair of "Ray Bans" for $3. The market was pretty cool, overall. It's set up like a department store, each aisle sells something specific.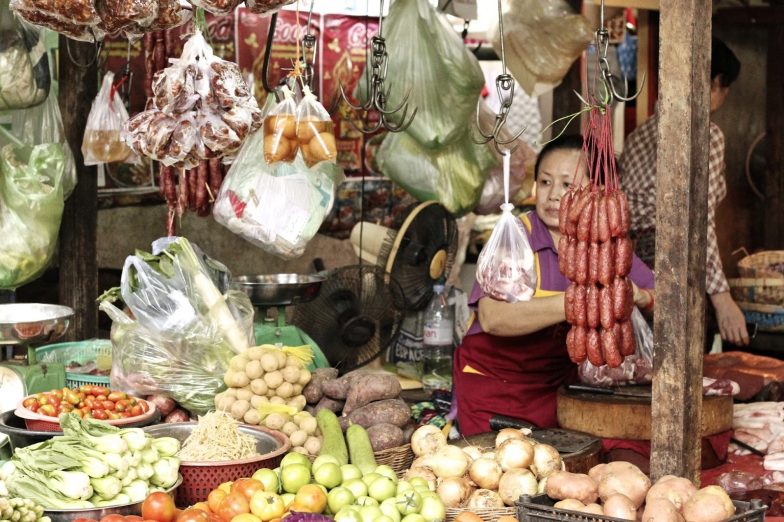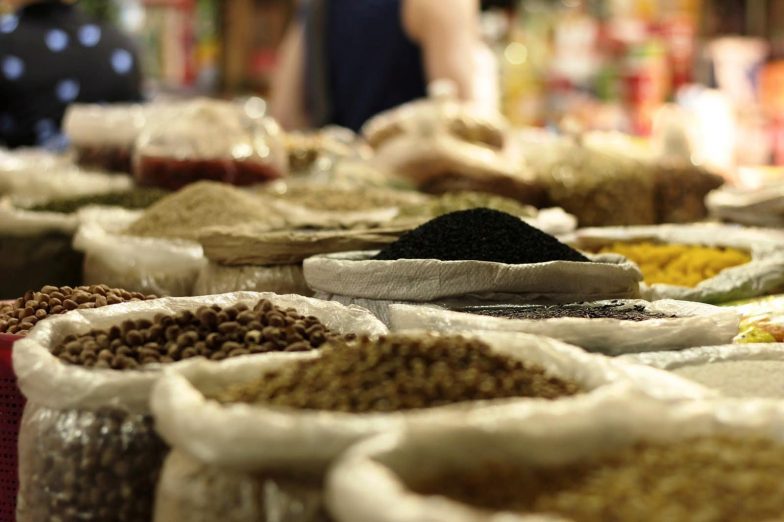 That's a chicken heart found in my sister's soup (below). She's the lucky winner … said no one ever. Ha!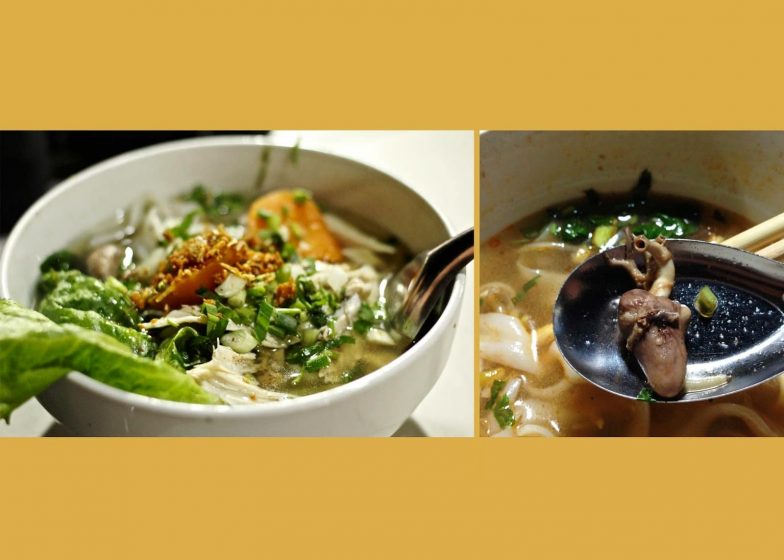 In the middle of the market, we found more tasty noodles – who doesn't love spicy, delicious noodles at 9am?! The lemongrass, people, the LEMONGRASS! It changes everything. I digress…
Outside, we had seen many carts with, what looked like, peanuts being pushed around. We finally were somewhere that we could find out what they were. Turns out, they were clams. I think that they lay them out on the carts to warm them up, maybe? I don't really know. What I do know is that tons of people would be carrying plastic grocery bags full of them around. Tabitha decided to try them and after, unsuccessfully, trying to open it on her own (with her teeth and with an opened clam), she was given assistance from the cart owner. She didn't have much of an opinion of them other than that they were warm.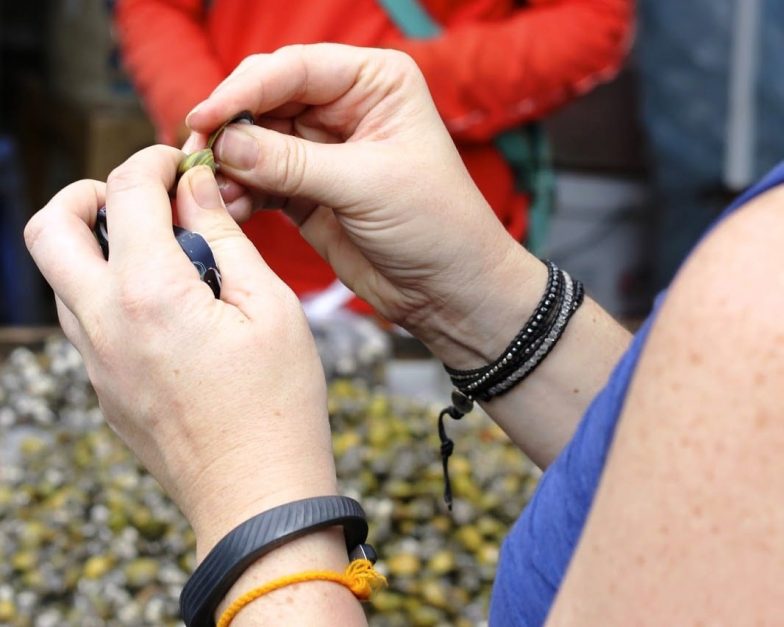 We even found "Creation from Destruction" – beautiful jewelry made from bombshells.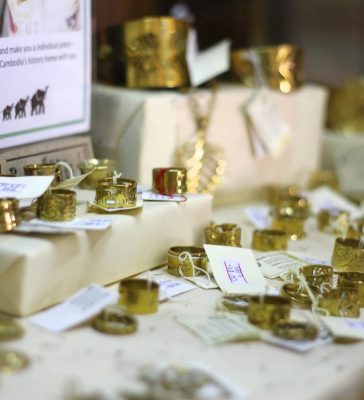 After we left the market, we stumbled upon Rajana, a fair trade company that works with young people by teaching them a trade and giving them fair compensation for their work. This place opened our eyes to exactly the type of shopping we should have been doing the whole time. Even now that the trip is over Rajana is my favorite shop that we found.
After doing some more shopping (for more shopping ideas check out my Pinterest board) on Street 178, we got some tasty smoothies. The "smoothie connoisseur"  had all of the fresh fruit and everything waiting for us to choose. Then, we sat on a bamboo bench. It was nice to take a break in the shade and it wasn't long after this that we decided to head back to our pool … I mean hotel.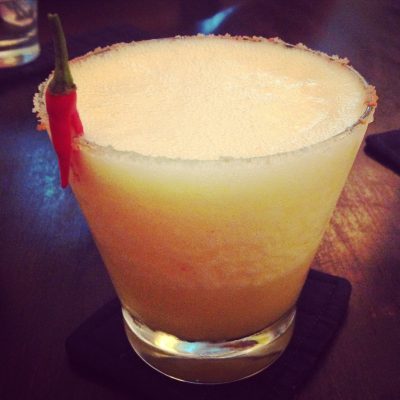 That night we ate at Friends the Restaurant, a restaurant that hires kids off the streets and helps them build a future for themselves. The menu was similar to the food at our hotel so we think that there are many chefs that share their menus with FtR in order to increase the amount of people that come in. The beauty above is a Pineapple Chili Margarita. It was fantastic! It had a sea salt, chili rim and was just spicy enough to make you notice. The pineapple was fresh and was the perfect amount of tart. You MUST get this if you visit this cute little place.