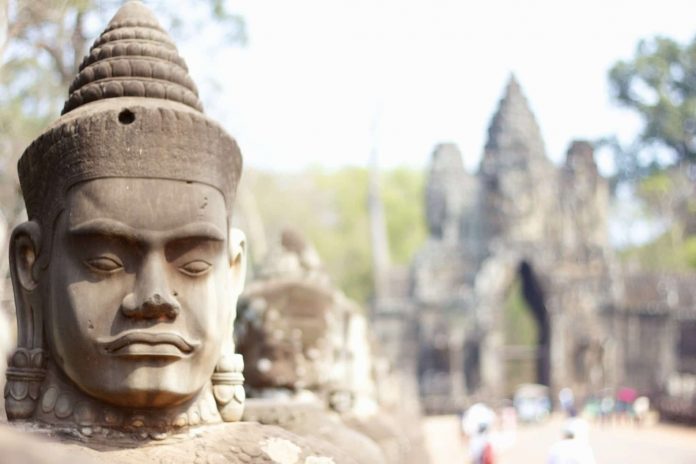 Editor's Note: Kassie recently trekked through Cambodia and Vietnam with her sister, and she had a LOT to say about the journey. Every Thursday from now through August 2014 we'll publish a new segment of their trip, so you can take whatever helps you plan your own vacation and leave the rest! 
Follow along on their travels: Part 2, Part 3, Part 4, Part 5, Part 6, Part 7, Part 8, Part 9, Part 10
For another perspective of Cambodia, you can also read Katrina's post about Siem Reap here.
CONTRIBUTED BY KASSIE O'DRISCOLL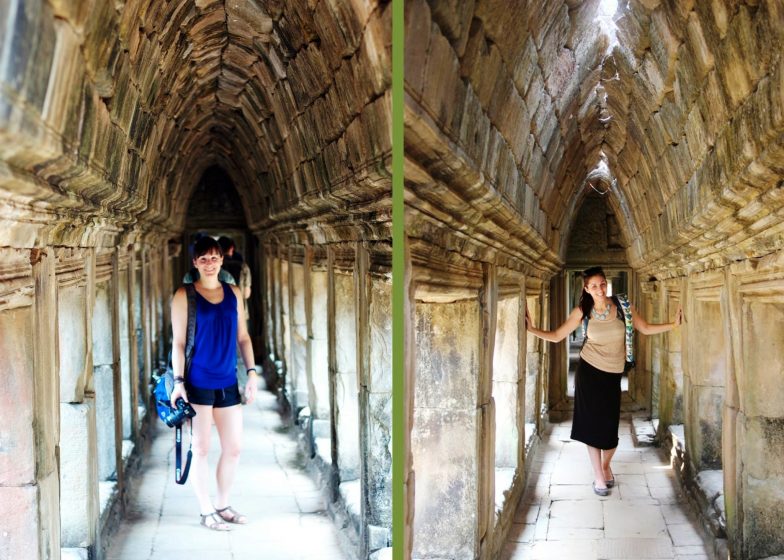 Tabitha, my sister, and I met in Siem Reap for an epic Sister Trip. I was lucky enough to have a much shorter journey to Cambodia, but dealt with an overnight layover in Hong Kong. The airport there is fantastic! I didn't even leave security. They have lounge chairs and plenty of restaurants and charging stations. My only advice is to bring a blanket (it gets chilly) and be prepared to spend some extra money on meals … Hong Kong is EXPENSIVE!
The first three days of our trip were dedicated to Angkor. We could have seen everything in two days, but it was nice to have time to relax and not feel super rushed. It was also great because we did our own thing and didn't worry about a tour bus or any of that nonsense. Our time here definitely set the tone for the entire trip. We were so happy to have all of our time to do whatever we wanted to do … including cocktails by the pool.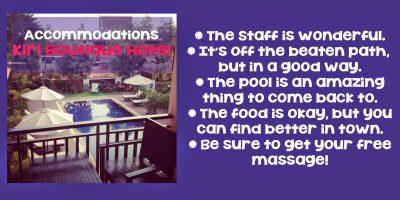 On our first full day, we decided to bike into Angkor and head to Angkor Thom to see Bayon. The gates of Angkor Thom were so incredible. To me, it was the image of Angkor that I had had in my mind since we started planning our trip. I remember, as we were biking up to the South Gate, I gasped and pointed. It was that amazing!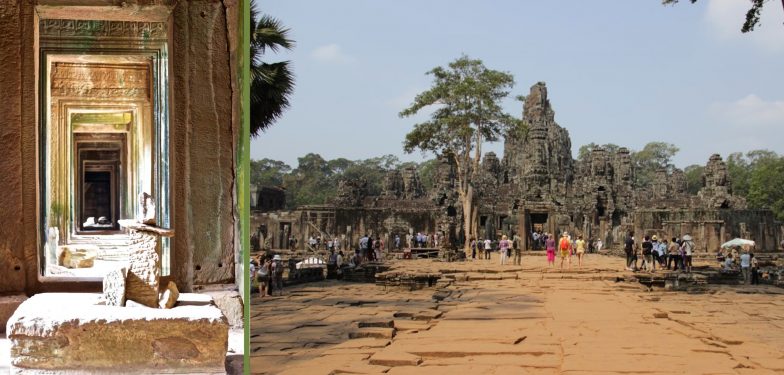 After biking through the gate (ohmygosh, we biked through a gate of Angkor Thom!), we headed straight for Bayon. It's deceivingly farther than the map suggests, but that has a lot to do with us being on bikes and it being extremely hot. We were so eager to see everything and soak it all in that it was, looking back, a little overwhelming!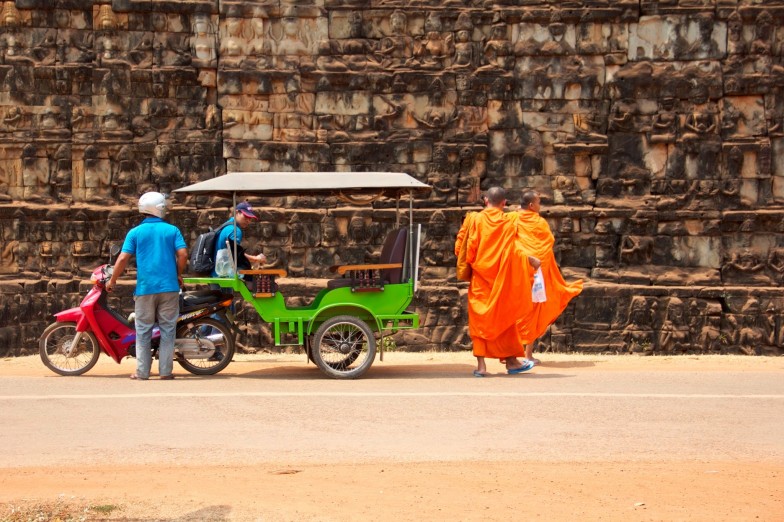 People were getting elephant rides, monkeys were frolicking, tuk-tuks everywhere, and a HUGE temple in front of us… that's a lot to absorb!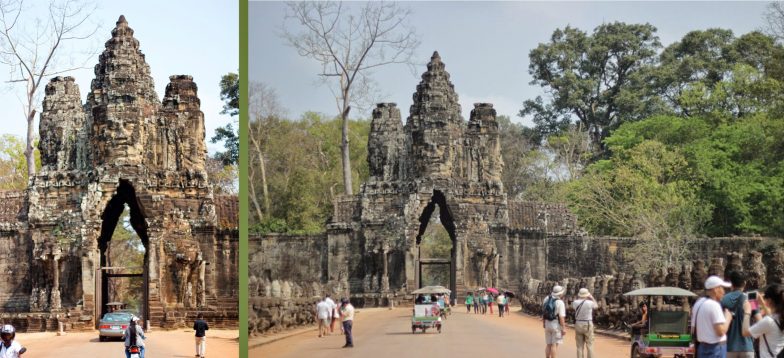 Something that we found to be true in almost all of the temples that we saw was the architectural symmetry. Over and over again we saw endless doorways in all directions. With that said, you'll see (over and over again) pictures of endless doorways in all directions. However, something that separates Bayon from the others is its faces. Literally, all of the stone faces throughout the structure make it pretty unique compared to the others.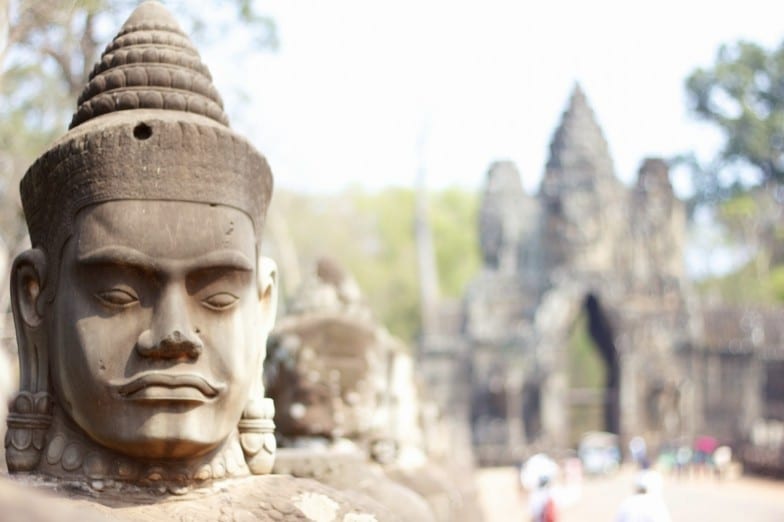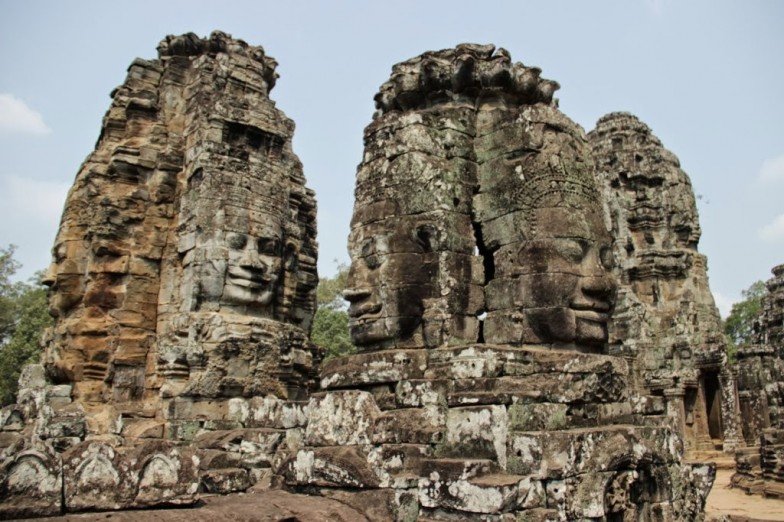 Sticking with the route, next up was Baphuon. It had a unique entrance via the path seen in the photo below: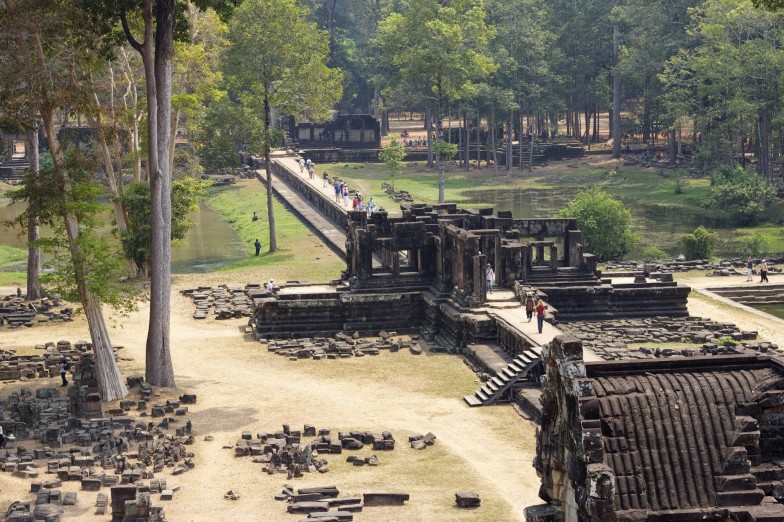 Then, it was up from there. Literally! We walked up a lot of steep stairs! Honestly, it was closing in on midday when we arrived here and it was so hot that it was hard to concentrate on anything else. That doesn't mean I didn't think it was amazing, but I was just so hot that that's the first memory that comes to mind.
We were thinking about wrapping up our day, but we couldn't leave Angkor Thom without seeing the Elephants Terrace. We headed in that direction and were able to enjoy a tourist wading in the pond next to Baphuon. Did I mention that it was hot? We joked about how silly he looked but, in my head, I secretly wanted to be him. Ha!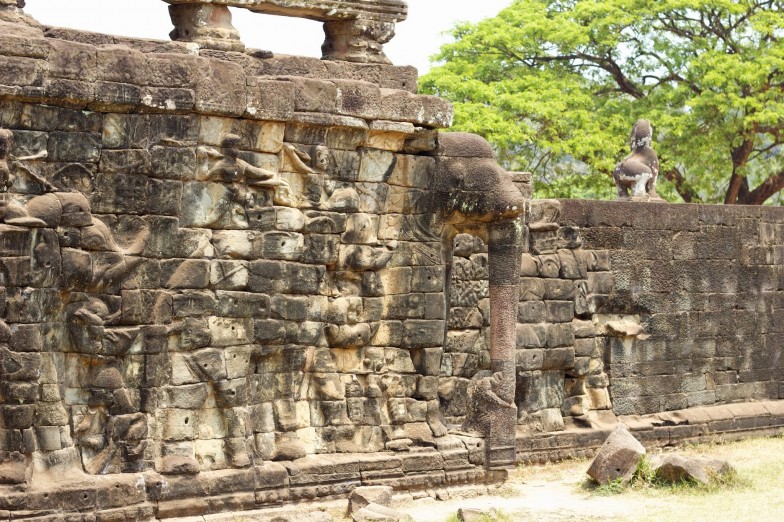 The Terrace was amazing. To be honest, I barely remember it on the first day that we were there (again, I was hot and getting grumpy). However, the next day when we were driving past it in a tuk-tuk I really took it in. It was so cool! I have a newfound obsession for elephants, so you can imagine how excited I was to see it.
We ended the day on a high note … and by that I mean that Tabitha got a flat tire. Ha! It was very comical considering our state of mind at this point. I think it went something like this…
K: "Your bike sounds weird." (riding ahead of her for the first time ever)
T: "Uh, something IS wrong with my bike."
K: (slows down) "Ummm, yeah… you totally have a flat tire."
T: "Omg, SERIOUSLY?!"
K: "Don't worry! I saw tire place up the road."
T: "Omg… Are we close???"
K: "Yeah! It's just right up here."
…… one mile later……
We made it to the "tire place" and realized that it was the working 7-11 of Angkor. They had gas, cigarettes, food, water, and an air compressor! It cost her a dollar, mostly because nothing is cheaper than a dollar in Cambodia, and we were on our way.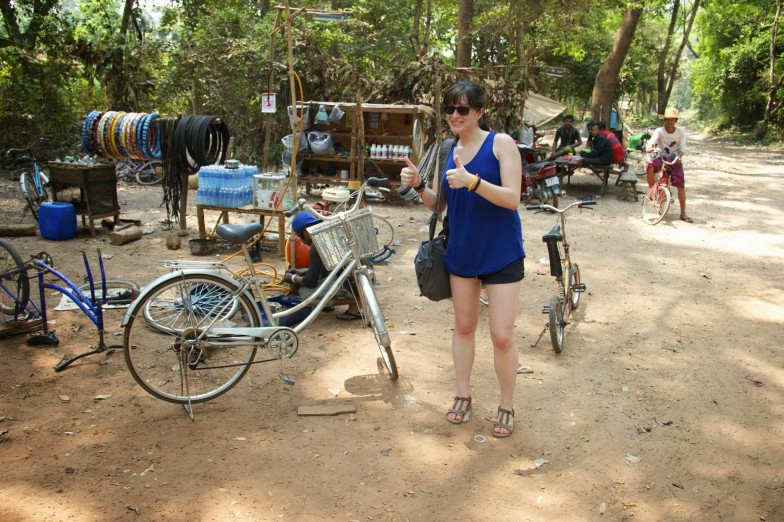 We made it back to the guesthouse, dropped off our bikes, and headed to the pool. Whew! It seems like we had a long day but it was really only one or two in the afternoon!