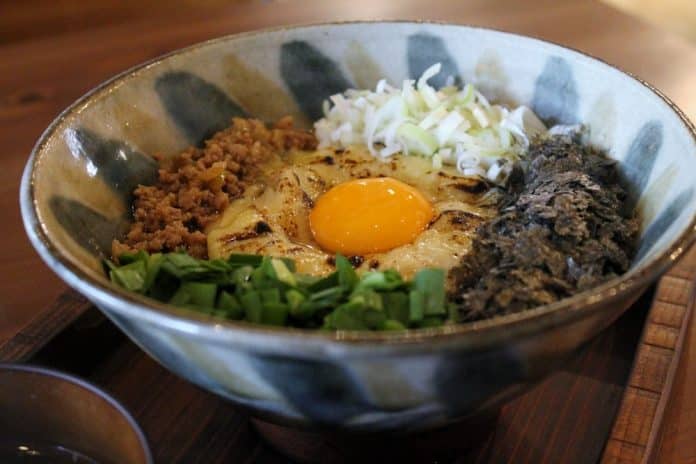 Contributed by Keri C
Sponsored by Mahoroba Noodle Shop
October 4th – 6th
Across Japan – Tsukimi (a.k.a. Jugoya), Moon-Viewing
Across Japan people will be enjoying the beautiful Autumn moon as part of the Tsukimi (or Jugoya) tradition. Accompanying this moon-viewing are traditional foods reminiscent of the moon, like tsukimi dango or tsukimi udon (udon topped with an egg representing the full moon).
Tensbusu Hall- "Mittman" at Ship of the Ryukyu 2017
Mittman is an original comedy show featuring the combination of Karate, which originated in Okinawa, and traditional Japanese drumming. It is mostly a non-verbal performance, with only the word "Usu" spoken. Full of action with an easy-to-follow storyline, Mittman brings a smile to the entire audience — not only to children but also to adults — without drawing attention to language barriers.
Date & Time: Fri, 6th October 20:00 / Sat, 7th 16:00 & 20:00 / Sun, 8th 13:00 &16:00
Venue: Tenbusu Hall (Naha City Bunka Tenbusukan) on Kokusai street.
October 7th – 8th
Okinawa Veterinary clinic- Too cute to spook 
Dress your pets in costume and take photos for free at the Okinawa Veterinary clinic. 
Kokusai Dori, Kumoji Intersection – Naha Giant Tug-of-War Festival
Visit Kokusai Street in Naha (Kumoji Intersection) between 1100 and 2100 for fun parades and festivities on the 7th and for the epic, record-breaking tug-of-war on the 8th. This event is free and the tug-of-war is definitely a sight to see at least once during your time in Okinawa! Prepare for crazy crowds and get there plenty early since traffic will be blocked off in the area for the festivities. Visit the following page for more information: https://www.naha-navi.or.jp/event/195/
Kumoji, Naha-shi, Okinawa, 900-0015, Japan 900-0015 TEL: 098-866-4858 
"Mittman" at Ship of the Ryukyu 2017
Date & Time: Fri, 6th October 20:00 / Sat, 7th 16:00 & 20:00 / Sun, 8th 13:00 &16:00
Sunrise Shopping Street – Sunrise Market
A great Farmer's Market event is happening on October 8th in Naha from 10:00-16:00. This market features the best of what Okinawa has to offer: fruits and veggies, food products, and crafts sold to you directly by the farmers, producers, and artisans who grew and made them. Check their FaceBook page for more info
October 9th
Across Japan – Taiiku no Hi (Sports Day)
All across Japan people will be celebrating Sports Day (also called Health-Sports Day), a national holiday commemorating the 1964 Summer Olympics in Tokyo and intended to continue to promote a healthy, active lifestyle amongst citizens. People often celebrate this day by playing various sports or visiting local parks to do healthy outdoor activities like walking or doing group exercises.
October 14th
Moon Beach – 3rd Annual Churaumi Fireworks Festival
Between 5:30 p.m. and 8 p.m. (when the fireworks start), visit Moon Beach for fun festivities and a huge fireworks display! Because of the crowds, there will be various shuttle buses to the festival leaving from Akama Sports Park (the location posted below) and the fishing port. Please see the following page for more details: https://www.facebook.com/onnaweek/
Japan, 〒904-0411 Okinawa Prefecture, Kunigami District, 恩納村恩納7441 TEL: 98-966-2893
October 21st
Ishikawa Dome – Free Bullfighting Event
Visit the Ishikawa Dome in the Uruma area around 1 p.m. on the 21st for a free bullfighting event. These bullfighting exhibitions are usually paid events but this particular one is part of the 12th Annual Uruma Festival. There will be 10 rounds/matches and, as of now, it appears no tickets will be needed to enter since it's free. Please visit the Uruma City website for more details as they become available: www.city.uruma.lg.jp.e.up.hp.transer.com/index.php
Ishikawa Dome, Ishikawa, Uruma, Okinawa Prefecture 904-1106, Japan TEL: 98-973-5079
Kadena BX Parking lot – Green Knights (chapter 138) first annual bike show.
October 21st, 10am to 3pm. There will be music, food trucks, Beer goggles trike race and 50/50 Raffle!
October 22nd
Zakimi Castle Ruins, Yomitan – Zakimi Fureai Festival
As of this posting, details have not yet been released about the times and festivities for this year's festival but previous years' festivals have involved lots of vendors lined up along the street leading to the Zakimi Castle Ruins and fun music and live performances. Typically the festivities run from around noon to 1900. Please visit the festival committee's Facebook page to keep updated on the times and what to expect: https://www.facebook.com/zakimi.fureai.fes/
Japan, 〒904-0301 Okinawa Prefecture, Nakagami District, 読谷村Zakimi, 708−6 TEL: 98-958-3141
October 28th
Southeast Botanical Gardens – Halloween at Southeast Botanical Gardens
Between 4 and 7 p.m. on Saturday the 28th, visit the Southeast Botanical Gardens for fun Halloween festivities! Fees range from 2000 yen per adult/high school-aged student to 500 yen for kids 6 and up (kids under 6 can get in for free) and include admission and a free drink (both alcoholic and soft drink). Festivities will include a costume contest, Instagram photo contest, candy being handed out, etc. This sounds like a great activity for kids if you aren't able (or prefer not) to participate in the few on-base Halloween festivities. Visit the following website for more information: https://www.southeast-botanical.jp/events/detail.php?id=40
2146 Chibana, Okinawa, Okinawa Prefecture 904-2143, Japan TEL: 98-939-2555
October 28th – 29th
Yomitan Athletic Field, Yomitan Village – 43rd Annual Yomitan Matsuri
Visit Yomitan Athletic Field on Saturday the 28th and/or Sunday the 29th for fun free festivities like live music and dancing! Saturday festivities take place between1400 and 2100 and Sunday festivities between 1000 and 2100. Sunday's fireworks should start around 8:45 p.m. For more information please visit the following page: https://www.facebook.com/yomitan.kankoukyoukai/posts/1688426637858345
2901 Zakimi, Yomitan Village, Okinawa TEL: 098-982-9201
October 31st
Mihama American Village – Halloween 2017 American Village
Visit the popular tourist destination Mihama American Village for fun Halloween festivities on Halloween night. Vendors at various shops around American Village usually hand out candy to kids in costumes and, while the yearly costume contest isn't being held on an actual stage this year (it's going to be an online contest through Instagram) there will likely be plenty of people milling around in costume. Visit the American Village webpage for updated information as it comes (as of this posting, not much information is available yet): https://www.okinawa-americanvillage.com/?p=4433
15-69 Mihama, 北谷町 Nakagami District, Okinawa Prefecture 904-0115, Japan TEL: 98-926-5678