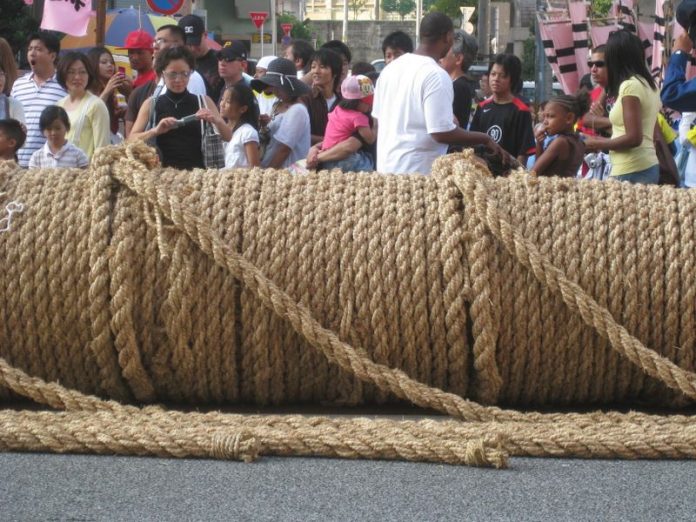 CONTRIBUTED BY MARY RICHARDSON
Having been on island for one year now, my husband and I have experienced Okinawa in all its glory during different times of year and seasons. Though there aren't drastic transitions in the weather like we might experience in the States, the passing of time here is marked by an array of changing produce in the farmer's markets and various local community events.
We made a list of some of our favorite experiences over the past 12 months for newbies to the island. A few of them can be enjoyed any time of year.
Now, I have to admit that we have done so many great things in our first year here that it was hard to come up with a top 5. However, in one way or another, each To Do on our list was meaningful or special in some way to us. Perhaps they offered us some insight to understanding the island and Okinawan people or maybe they were just really fun days for us. I'm sure that lots of you would probably have different things on your list.
Since most of these have been discussed on Okinawahai before, I won't go into more detail about them here. Please refer to the links for more information and directions. Time goes fast here, so mark them on your calendars and don't miss out!
1. Naha Tug of War– (Oct 11) Watch an amazing parade that brings out the whole community, pull on a gigantic rope with hundreds of other people, and witness the pandemonium that breaks out when your side wins! Please make plans to visit this event!
2. Hiji Falls and Pizza in the Sky– (anytime) Hike to a beautiful waterfall and from there, drive to another scenic spot to enjoy pizza Okinawan style with a view. The Falls and the pizza are not related in the least, except that it's just such a nice outing for the day… and okay, I know it's pizza (not Okinawan), but it's such a beautiful place to enjoy it!
3. Shrine visit on New Year's Day– (Jan 1) Start the year off like the locals do and enjoy the carnival like atmosphere at any shrine. Admire women wearing kimono, eat fried noodles, make an offering, and find out your fortune for the year! I'll recommend the one we visited last year the closer we get to holiday season!
4. Cherry Blossom viewing– (late January and February) Visit Mt Yaedake or Nakijin Castle in Northern Okinawa for a glimpse of these special bright pink flowers. Japanese come all the way from mainland to admire these blossoms, which are different from the ones in Kyoto. The sight of pink flowers against blue sky and blue ocean in the distance is gorgeous!
5. Peace Prayer Park– (anytime) Visit this sacred site to honor the fallen and contemplate the Battle of Okinawa. On the more serious side, this park more than any other place on island helped me realize the enormity of sacrifices of soldiers during the war and made me appreciate our unique opportunity to live here.
What's on your list of top 5 Okinawan To Dos for island newbies?