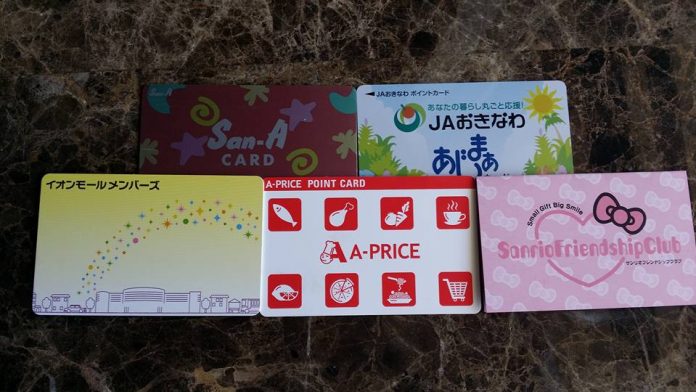 Point Cards
CONTRIBUTED BY KERI CARLSON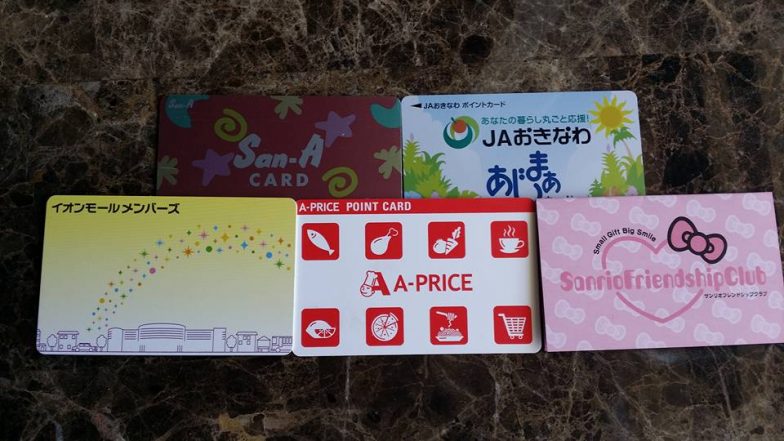 When I lived stateside I used to love when stores had frequent-buyer cards. I think most of my wallet was taken up with various point cards or store loyalty cards. Who doesn't love getting perks for buying things you already would have bought anyway? When I moved to Okinawa I didn't really think about that being an option here (nor did I have any idea how to get the loyalty card anyway even if it was available) so I resigned myself to a life without the joy of accumulating loyalty points for my shopping. That changed, however, when I discovered that point cards are a big deal here in Japan and that applying for them really isn't as intimidating as I might have expected!
My first foray into applying for a point card happened when I was on one of my weekly grocery shopping trips to San A (the store with the yellow sign with the three "A's" on it, for those who have seen the stores but didn't know what they were). As she was ringing up my purchases the cashier asked me in Japanese if I had a point card ("point-o cah-do," she said; despite my poor Japanese language skills I still was able to pick up that part of the question). I said no but asked in my little kid-level Japanese (plus a few charades, always helpful in a bind) where to apply for one. She became animated at this point as she went on a mission to help me apply, pulling out a binder with the application forms in them and ushering me to a nearby counter where she pulled a younger cashier out of her line to help me with filling it out and answering my questions. I asked the cashier in Japanese if English was ok for the form and she said, "Yes" and told me what each block on the form said so I could answer each question.
After I finished filling it out, she took me back to the original cashier (who had kindly waited for me) and she gave me my point card and scanned it to get my points for the groceries I was buying. I swear I walked out of the store feeling as proud as if I had just gotten a gold medal in the Olympics, holding my point card in front of me like it was some kind of trophy. I had such a sense of accomplishment for navigating something intimidating in a foreign country (albeit with lots of hand-holding by store staff)!  From that point forward I was hooked and applied for point cards wherever they were available.
Now, a couple years later, I have a whole collection of point cards from various stores ranging from chain supermarkets to smaller stores and the ever-popular T-Point Card. Having applied for so many, I think at this point I can give you, Dear Readers, some advice about what to expect. First off, if your Japanese language skills aren't great, the easiest way to apply for the point cards (aside from having local friends with you to help; more on that later since I did have to go that route a couple times) is to apply at some of the larger, more tourist-friendly branches of that particular chain.
For example, I got my San A and Aeon point cards at the big San A Main City branch (in Gushikawa) and at the Aeon Rycom Mall (at the customer service desk on the 2nd floor not far from the supermarket side; I just followed the big point card signs). They had staff members who spoke enough English to help point me in the right direction and Google Translate helped me the rest of the way (taking pictures of the format Aeon and translating each block helped me know where and what to fill out on the form).
Important Note: For those coming to/living in Okinawa with the military, keep in mind that many of the stores only give out point cards to people with Japanese addresses (so for those who live off-base). My second tip would be to ask the store as best you can if you have to have a Japanese address to get a point card. Another thing is that some point cards can be used at various places but some can only be used at one branch (the Aeon Rycom one, for example, can only be used at Aeon Rycom Mall but the T-Point Card, which I applied for at Tsutaya – a Blockbuster type of store – can be used at Family Mart and elsewhere). Also, some point cards double as membership cards (like the aforementioned Tsutaya card) so they cost money to apply for and to renew (I believe the Tsutaya one was 300 yen originally or 500 yen for a special character design card… please check with the store to make sure, though). That does mean you can rent movies/games at the store too, though, in addition to being able to use the card to collect points at other stores that take T-Point Cards.
Two of the stores, where I got point cards, were a little more advanced for this far-from-fluent-in-Japanese person, though, so I enlisted the help of some local friends. The T-Point Card application at Tsutaya, for example, needed to be filled out in Japanese so my friends helped me fill it out at the counter. For the JA point card (for the JA farmers markets around town) the application process was a little more complicated because of a. these markets aren't really touristy things and don't have much English-speaking staff and b. the point card is mainly geared towards customers with JA bank account,s so my friend helped me explain that I didn't have a bank account with them but that I shopped at JA frequently (the store staff explained to me, through my friend/translator, that customers without JA bank accounts can apply for their point card but the rate at which they, versus account holders, accumulate points is much less, something like only getting 1 point per 500 yen spent instead of a more even ratio of 1 point to every 100 yen like many places offer). I shop there enough, however, that it still seemed worth it to me (plus their point card has a really cute design).
My last tip would be to have lots of free wallet space and have fun with the point cards! Some places offer really cute designs from which you can choose (Tsutaya is great for this; their T-Point cards range from the basic one with the "T" on it to designs that change per month with different anime characters or popular J-pop groups on them – in August, the design was a big Doraemon face on the front of the card) and some have promo periods during which you have the chance to get free themed goods (like a bag or something) with your point card application. Have fun with it and go catch 'em all!