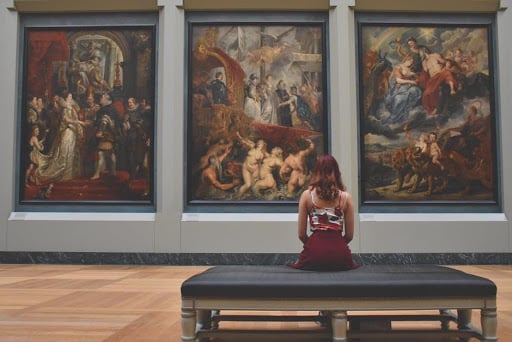 Okinawa is a vibrant collection of Japanese islands and there's plenty to do here whatever your interests. For lovers of the outdoors, Okinawa has countless beaches, as well as the chance to swim with a huge variety of marine wildlife from giant turtles to manta rays. More intrepid visitors might be drawn to the fascinating Iriomote forest, which contains Japan's biggest mangrove. Teeming with flora and fauna, Okinawa is known as the "Galapagos of the East" with thousands of travellers arriving every year to explore it. It's likely to get even busier during the Tokyo 2020 Olympics.

If you prefer staying indoors, you're equally spoilt for choice. Surely one of the most poignant locations is the Peace Memorial close to Naha, which acts as a moving tribute to the many thousands who lost their lives during the Second World War. From the more distant past, there's also no shortage of historical remains including the castles of Gushikawa and Katsuren.

Okinawa is also famous for its art scene – and here's what all art lovers should know about these islands before setting foot on them.

Gallery life
Okinawa is renowned for its art – so make sure you don't overlook it during your time there. There are fantastic examples in all kinds of media to enjoy from painting to sculpture, pottery to weaving and a great deal more besides.

The first place that any art lover should head for is the Okinawa Prefectural and Art Museum. The first aspect that you're certain to appreciate about the site is the building itself. Built mainly from Okinawan limestone, the modernist style is intended to echo historic castles in a witty and impactful way. Originally opened in 2007 as a replacement for the first Prefectural Museum which had been opened in 1972, the new site is surrounded by beautiful and tranquil gardens that make the perfect setting for a wide range of striking and contemporary sculptures along with buildings that have been lovingly reconstructed from the past.

The art gallery itself provides a calm and relaxing environment where you can see fine examples of art predominantly from Okinawa, but also from across Japan and Asia. In a nod to the US presence in the region there's also a significant amount of American art, too.

As well as the permanent displays, there are also temporary exhibitions that change two or three times a year. From now until June 2019 there's a great collection of post-war photographs by local photographers Ishmine Takashi and Heshiki Kenshichi of ordinary Okinawan people caught going about their normal lives – transcending beauty in everyday routines.
One of the greatest things of all about the museum is that the entrance fee is just 310 Yen and even less for students and schoolchildren.
Signed by the artist
Many talented artists also display their work in their own spaces and at art markets. One of the very best of these can be found at Kyoko Art Gallery just near to Shuri Castle. It's owned and run by Kyoko Nakamoto, an artist whose fame even extends to the US, where she has held exhibitions in New York and Los Angeles.
Using a charming style, Nakamoto's pictures capture scenes from traditional Japanese life viewed with a childlike curiosity – a fact that is reflected by the small figures that appear in many of her paintings. So expect to see cherry-blossom time, fireworks festivals and dragon boat races amongst the many scenes that are depicted in her work.
Best of all, the pictures in the gallery are all for sale and Nakamoto also offers prints of some of her most famous works for between 3,000 and 6,000 yen. In addition, she has also recreated many of her most iconic pieces on attractive plates and dishes – honouring another of Okinawa's traditional art forms, delicate and precise ceramic work. So next time you're visiting Shuri Castle be sure to make some time to pop in. You may even get to meet Nakamoto herself.
Pop art in Japan
One artistic movement that's touched most of the world is pop art, and Japan is no exception. Here it evolved from the avant-garde scene in the 1920s and 30s. Japanese pop artists such as Harue Koga would use real-life life photographs, copied from magazines, and subvert them into photomontage paintings.
In the 1960s, Tadanori Yokoo came to prominence with his advertisements and portrayals of Marilyn Monroe and the Beatles. Another leading pop artist was Keiichi Tanaami, who combined traditional Japanese manga cartoons with pop art – creating Speed Racer and Astro Boy. However, it was probably Kayoi Kusama who enjoyed the most international influence, with Andy Warhol known to be a huge follower of his.
Pop art was a movement that was absolutely in keeping with the times when the boundaries between commerce and art were blurred like never before. In New York, the advertising agency Doyle Dane Bernbach was transforming the way brands communicated with people and there was arguably the first great consumer boom of the 20th century.
The fact that pop art is still a very vibrant genre today is evident from the number of ways it continues to be used all around the world. The bright colours and polka dots are familiar with consumers across the globe – inspiring many industries to put pop art at the heart of their branding. A prime example of this comes from the UK, where a leading online gambling operator uses the style extensively to make a strong visual impact with players.
Its bright colours and forceful imagery work to perfectly complement the excitement of playing on the site. This, combined with the comic-strip styling that is just as impactful as anything you would find in manga, makes for a brand that can't be ignored – as you'll see when visiting this online bingo site.
Today, the biggest works of Japanese Pop Art are displayed in galleries across Tokyo and in the Osaka Museum of Modern Art. The latter even has some originals by Warhol, and the museum entrance fee of 500 yen is a small price to pay to see such a well-known artist.
Summary
There's plenty to inspire art lovers in Okinawa. Creativity and expression underpins what these islands are all about – and there's a lot to be understood about these lesser-known cultures by the works displayed in galleries and markets.