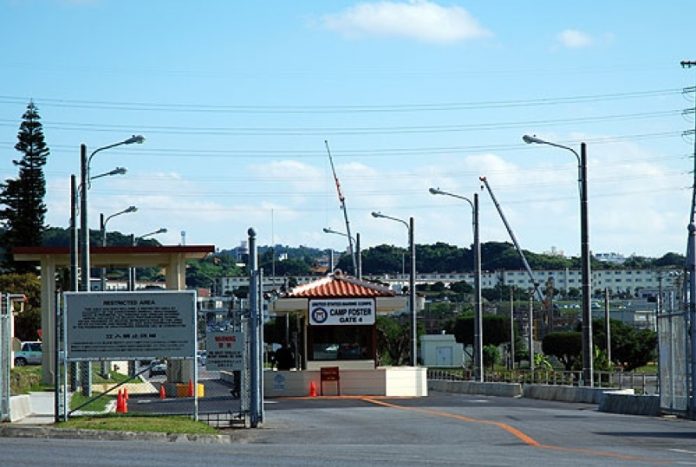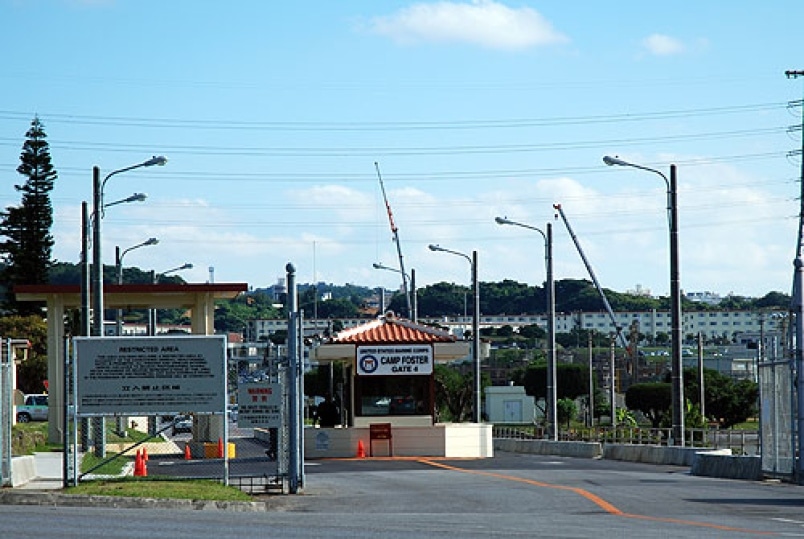 We will be publishing base reviews of all US Military Installations on Okinawa over the course of the rest of this year. Many thanks to Anthony for taking on this time-intensive and incredibly helpful series for our readers!
CONTRIBUTED BY ANTHONY CAMINA
Camp Foster, Ginowan City

Overview
Camp Foster is one of the central camps on Okinawa in both location and function. Regardless of what service you are in you will likely find some reason to visit this diverse base. It is named after Private First Class William A. Foster who was awarded the Congressional Medal of Honor posthumously for his heroic actions during the Battle of Okinawa during the Second World War. Camp Foster is one of several installations throughout Okinawa which make up the Marine Corps Base Smedley D. Butler. Camp Foster is one of the largest camps on Okinawa and has several gates that residents on the island refer to by the most prominent landmark nearest to the gate. Examples would be the Fire Station Gate, Spot Gate, and Legion Gate (which is located near the American Legion offices just outside). When signing in visitors, it is recommended you visit the Commissary Gate.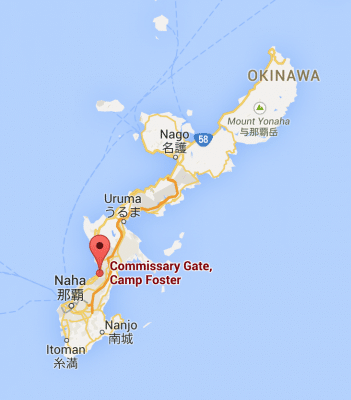 Housing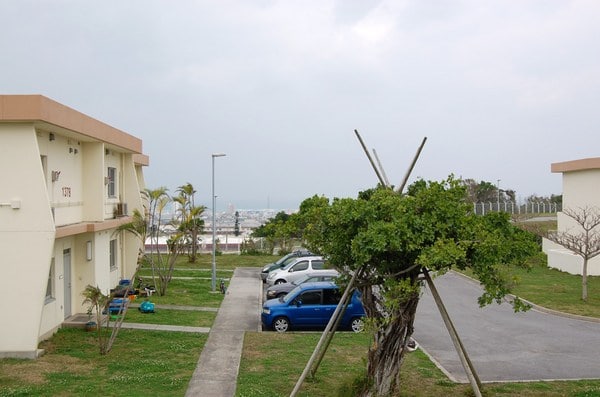 Camp Foster does have family housing units that range from multiplex, single family homes to tower apartment style quarters which the majority of have been recently renovated. All housing on Okinawa is run by the Air Force. For more information or floor plans you can visit the Okinawa housing website at: http://www.housing.af.mil/okinawa/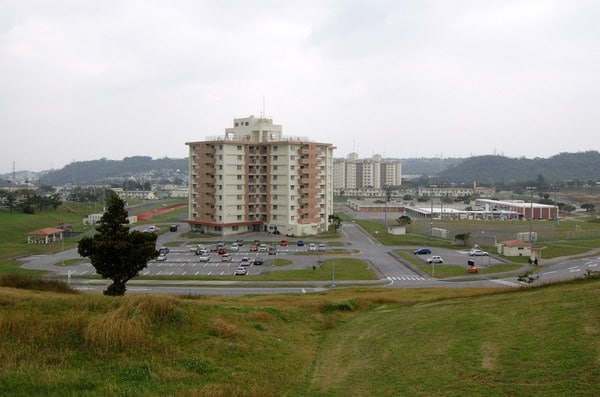 Currently, you can only live off base if your designated housing areas are 98 percent filled or above. Generally 4 bedroom housing fills up the fastest because only the multiplex or single family units contain quarters that large. The single family houses are the oldest quarters in use and most fall under the Tier II category, which means they are on the chopping block for renovation or demolition. The housing occupancy numbers are updated weekly. You can read all our housing reviews for Camp Foster on Okinawa Hai here.
Camp Foster does also have bachelor quarters for junior enlisted, Staff NCO, and Officer unaccompanied Marines. Most individual units manage their own barracks but SNCO and Officer Quarters are managed by the base's Camp Services Section.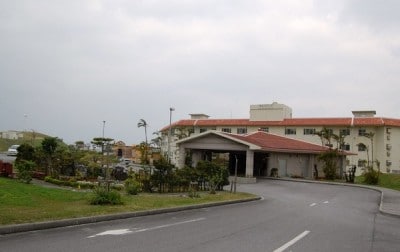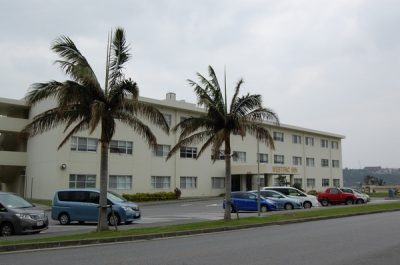 Camp Foster has two temporary lodging facilities located nearby Building 1 and the Macaroni Grill restaurant. These facilities are the Westpac Inn and Westpac Lodge. The Inn is for bachelor unaccompanied guests. Typically most inbound families to Camp Foster stay at the Westpac Lodge http://www.mccsokinawa.com/lodging/ or Shogun Inn http://af.dodlodging.net/propertys/Kadena-AB (Kadena AFB).  An alternative that many overlook is the well managed Navy Gateway Inn on Kadena AFB http://ngis.dodlodging.net/propertys/Okinawa-CFA—Japan . Kadena AFB is a short and usually fast drive from Camp Foster depending on time of day and traffic.
Shopping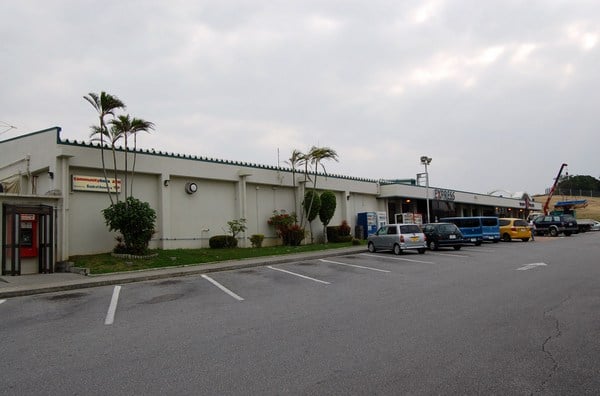 The base has a large newly renovated exchange in building 1004 which offers an impressive selection of goods and services one would expect to find in any stateside department store. The main exchange building houses a small food court with a Subway and Taco Bell shop.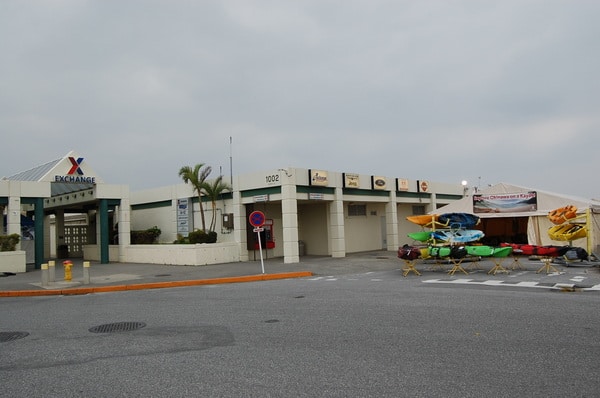 Just next door and connected to the main store by covered walking path is the Camp Foster Marketplace (aka Mini Mall). The Marketplace rents store space to a multitude of local vendors which sell everything from furniture to souvenirs and clothing. This facility also has a barber shop, beauty shop, plaque shop, flower shop, optical center, garden store, Cinnabon, New Car Sales and cell phone dealers (AU and Softbank). If you need help mailing or packing all your purchases there is also a mail center/pack and wrap that can assist you for a small fee. Many of the vendors change out month to month so it is always worth stopping by to see what is new. There are also two Community Bank ATMs outside between the mini mall and Theatre.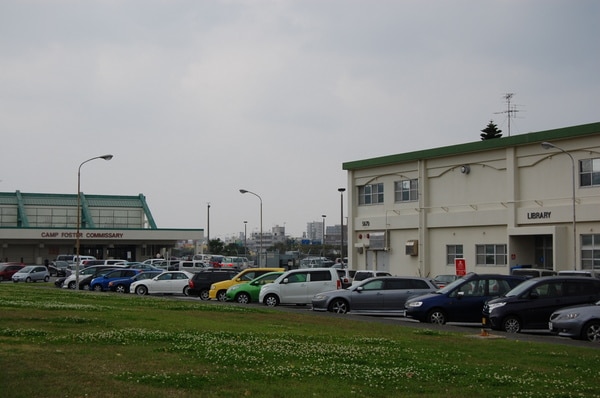 Camp Foster has a large commissary. This particular commissary takes cash, credit, or debit and has convenient self-checkout lanes. There is also a deli, bakery, butcher onsite that one can order some fresh sushi or preorder a custom birthday cake. For more info visit: http://www.commissaries.com/stores/html/store.cfm?dodaac=HQCWHN
There is an exchange convenience store near the Legion Gate in building 464 which sells alcohol, snacks, drinks, hotdogs, medicine, magazines, and household convenience items. This location also has a video rental section that sells used DVDs and Blue Ray disks. This store is known as the Butler Express and is open 24 hours a day.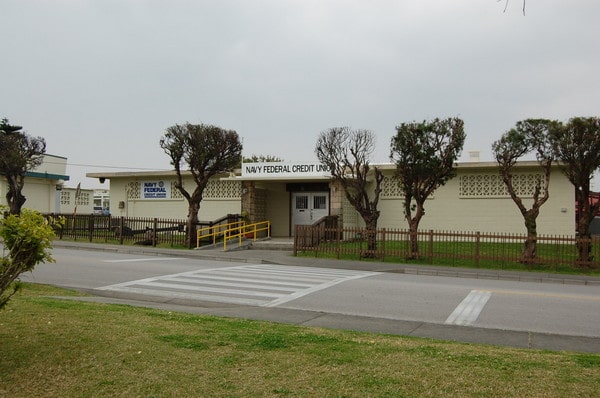 There are two financial institutions located on Camp Foster. Community Bank is located in building 1005 and is the only of the two financial institutions that can exchange foreign currency http://www.dodcommunitybank.com/m/locations/banking_center?id=678 .
Navy Federal Credit Union serves all branches of the military to include DoD members and their families. The credit union is located near the base theatre across the street from Popeye's in building 1009. For more info on Navy Fed visit their website at: https://www.navyfederal.org/branches-atms/locations-by-service.php?branch=MarineCorps
There is a fully functional United States Post office that offers retails services such as Express mail, Priority Mail, standard shipping, stamp sales, and money order sales. It is located near the Main Exchange food court in building 1006. The post office accepts cash, credit, or debit cards. The Foster post office also houses PO boxes which are issued to personnel with an area clearance. Despite many misconceptions, a sponsor can reserve a PO Box for an inbound family as long as he has a copy of that inbound family's area clearance and orders. It is extremely helpful for a family to know their new mailing address before they have to move to Okinawa. All posts offices on Okinawa are closed Sundays, Wednesdays, and federal holidays.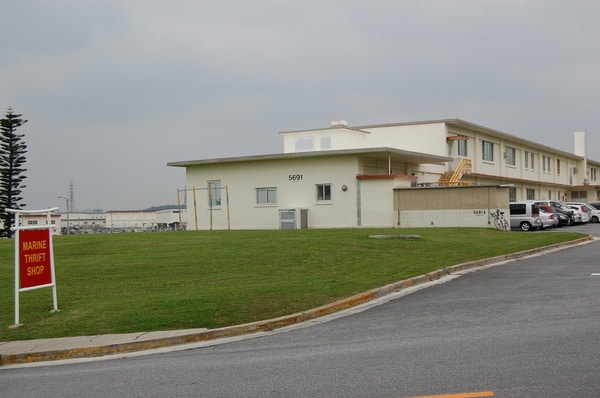 The "Marine Thrift Shop" in building 5691 offers terrific deals on clothing, toys, books, movies, uniform items, and other items donated to the store. The Thrift Shop also has volunteer opportunities for those interested in helping the community. For more information visit the site's webpage at: http://www.marinethriftshopokinawa.org/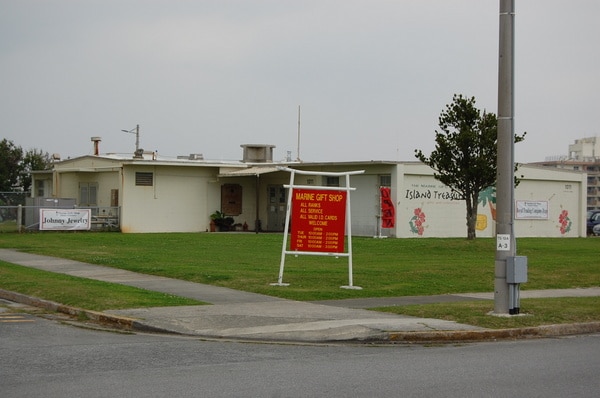 Near the Foster Theatre is "Island Treasures" in building 1011 which is a gift shop that sells items from all around the Pacific. Stock rotates on a regular basis so it is always worth your time to stop by and see what is new. Island Treasures has also expanded and opened a furniture annex in building 461 near the Chapel. For more information visit: www.marinegiftshopokinawa.com/
*A note about buying furniture on Okinawa. The central location of the island in the Pacific region allows for merchants to affordably import and sell furniture made out of prized woods (sometimes antique or hand carved) such as Chinese oak, teak, teak root, maple, mango and rosewood at a small fraction of the price you would pay stateside. The wood is also usually made from solid pieces and the really good stuff is put together with dowels instead of nails or tacks. If you do your homework before you buy, you can return to the USA with coveted woodwork that will actually increase in value or function as prized heirlooms.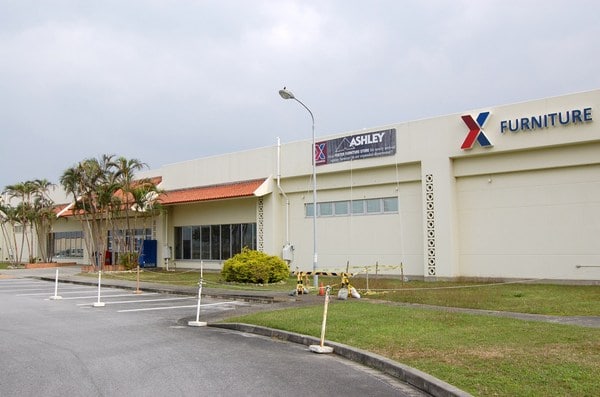 Camp Foster is unique in that it has its own dedicated furniture and appliance store. Located in building 5949, this large facility sells bedroom sets, couches, chairs, rugs, table sets, washers, dryers, refrigerators and other items for the home. Though command sponsored service members aboard Okinawa (on or off base) rate furniture through the housing office, there are some nice alternatives at this store which will make your quarters or off base apartment feel more like a home. Most of the brands sold at this store are made by major stateside companies such as Ashley, Whirlpool, Basset, and General Electric. If you do live off base then some appliances bought here will require a transformer, which are also sold at this location. This location also offers third party delivery services on and off base for a small charge. For more info look at the "Stores" section of this page: https://www.shopmyexchange.com/exchange-stores/United%20States/AP/APO/Camp-Foster-(Okinawa)-1771001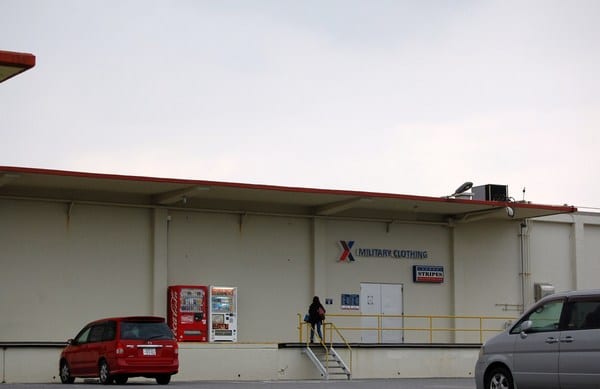 The Military Clothing store on Camp Foster is one of the largest on island. Aside from Marine and Navy uniform items you can find base souvenirs, athletic clothing, a department called "Stripes" for alterations and a small shop that does custom embroidery. The latter is especially useful if you need to get a unit Gideon (flag) made as a replacement or farewell gift. It is located in building 5950 which is directly across from the Furniture Store. You can visit the Camp Foster Exchange page for current info on hours and phone numbers: https://www.shopmyexchange.com/exchange-stores/United%20States/AP/APO/Camp-Foster-(Okinawa)-1771001
Dining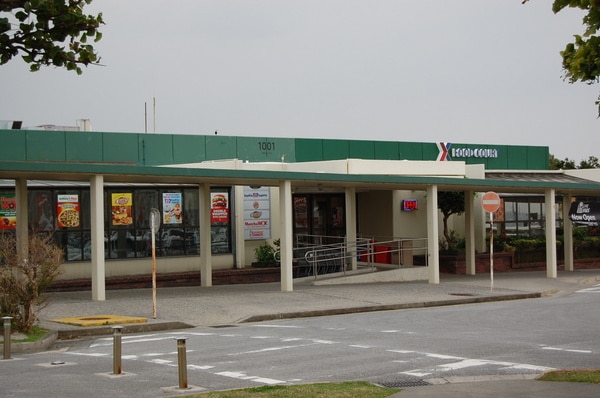 The Exchange food court (Bldg. 1001) offers franchise favorites such as Anthony's Pizza, Burger King, Charley's grilled subs, Manchu Wok and Dunkin Donuts/Baskin Robbins. Burger King is the only eatery at this location that offers a drive thru.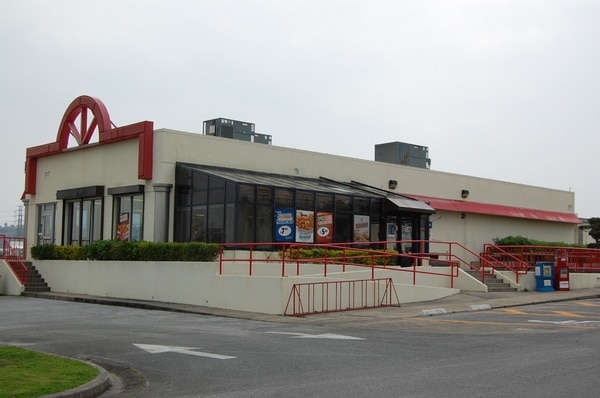 Popeye's has its own restaurant on Camp Foster in building 1017 across the street from Navy Fed. This location has a drive through window. Popeye's serves Cajun style food and specializes in spicy and mild fried chicken.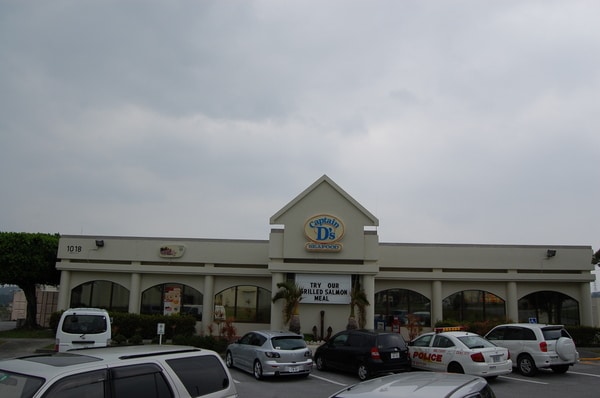 Another fast food favorite on Camp Foster is Captain D's which is located in building 1018 next door to Popeye's. Captain D's is a seafood restaurant which is very similar to Long John Silver's. The primary staples at Captain D's are the fried and broiled fish platters. There is also an expresso shop in the rear of the store called Main Street X-presso.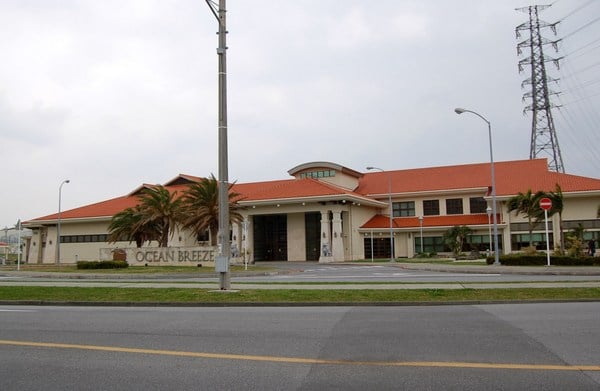 There is a rebuilt club on Camp Foster called the Ocean Breeze which has an SNCO lounge and Enlisted Club. There are two all ranks dining areas in this facility. The Veranda usually serves lunch buffet and event themed dinners. The décor in the Veranda is elegant and feels like eating in the dining room of a fancy hotel. The Globe and Anchor is the other dining option in the building which has a sports bar theme and is quite large inside. The Globe and Anchor serves burgers, sandwiches, steaks, and local favorites. For information on current hours, events or the menu visit: http://www.mccsokinawa.com/oceanbreeze/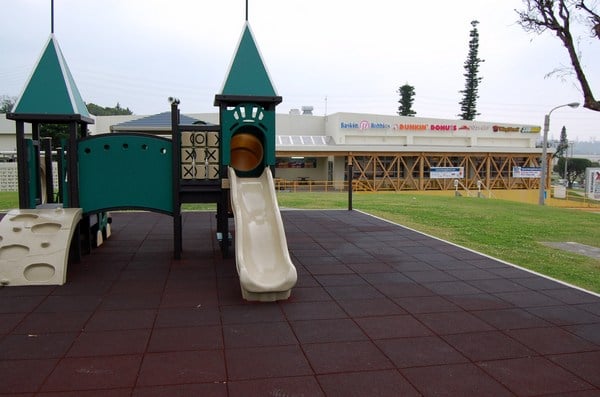 Near the Ocean Breeze are the Spot Food Court / Market Place facilities in Bldg. 200. Referred to by locals as simply "The Spot," this facility houses a Subway, Pizza Hut, and Dunkin Donuts/Baskin Robbins restaurants. This facility also has a beauty shop called "The Spa", a barber shop, alteration shop, dry cleaners, launderette, and Teen Center. There is a Community Bank ATM and a playground located near the parking lot. Further details can be found at: https://www.shopmyexchange.com/exchange-stores/United%20States/AP/APO/Camp-Foster-(Okinawa)-1771001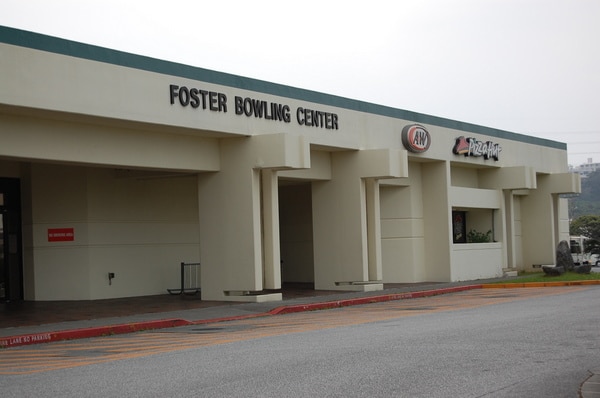 The Foster Bowling Alley in building 5670 has a Pizza Hut and A&W restaurant. If you have been to an A&W in the United States, this location will not disappoint as it has the same burgers, curly fries, chilidog combos and draft root beer in a glass mug offered stateside. The Pizza Hut is good but is more of a Pizza Hut express.
The Butler Officer's Club is located in the Plaza housing area and has a Sunday brunch buffet that is a force to be reckoned with. Though this is the Officer's club the main dining room is open to all ranks, valid ID card holders and guests. Monette hits all the wickets with this article.
For directions, hours and a handy map to the Butler Officer's Club visit their page at: http://www.mccsokinawa.com/boc/
Recreation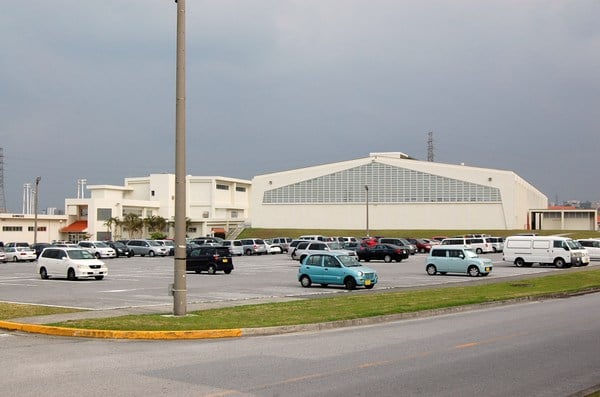 There is a base gym called "Gunners Gym" is the newest and one of the largest on Okinawa. Located in building 5902 the Gunners Fitness Center offers a large weight room, cardio room, racquetball courts, basketball court, sauna/steam room, and martial arts room. Adjacent to the main gym building are a baseball field, outdoor heated pool, tennis courts, field house, and an outdoor equipment rental facility. The gyms on Okinawa also offer a variety of classes and services from Karate and aerobics to massage therapy/personal trainers. For specific information on hours or contact info, please visit the MCCS Fitness Center website at http://www.mccsokinawa.com/fitness/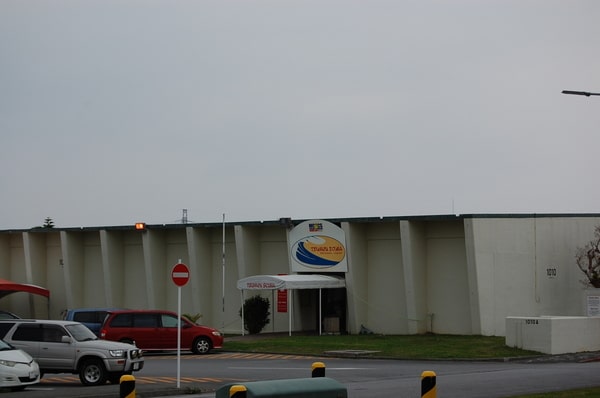 Okinawa is truly a diver or snorkeler's paradise. Camp Foster is located within a few minutes of several popular beach and dive sites along the South China Sea. The Foster dive shop is located between the theatre and Navy Fed. A good page to locate the store is http://www.mccsokinawa.com/mccs%20wireframes/_mb_sub2.aspx?pageid=2147496084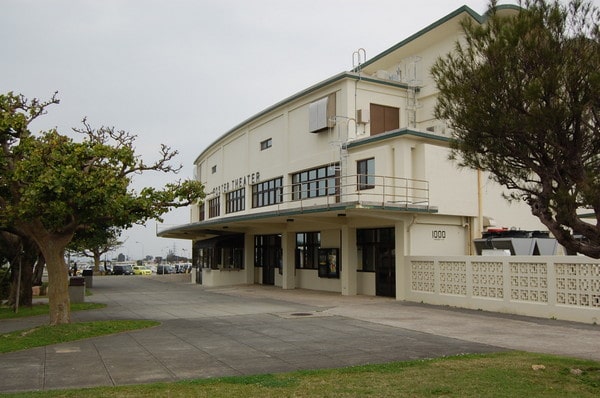 Camp Foster's theatre is conveniently located outside of the Main Exchange and Marketplace mini mall. This location tends to have more showings than most other camps and does play 3D movies. For current prices and show times visit the Exchange Reel Time website at: https://www.shopmyexchange.com/reel-time-theatres/Camp-Foster-1771001
The Foster Teen Center is available for dependents between the ages of 13-18 and is found in building 200 (The Spot). Specific information is available at: http://www.mccsokinawa.com/youthandteen/
The Foster Bowling Alley is a large facility equipped with a pro shop, Pizza Hut and A&W. This is a great place for a party or to relieve stress at lunch time. For specific information on the MCCS bowling alleys, visit http://www.mccsokinawa.com/bowling/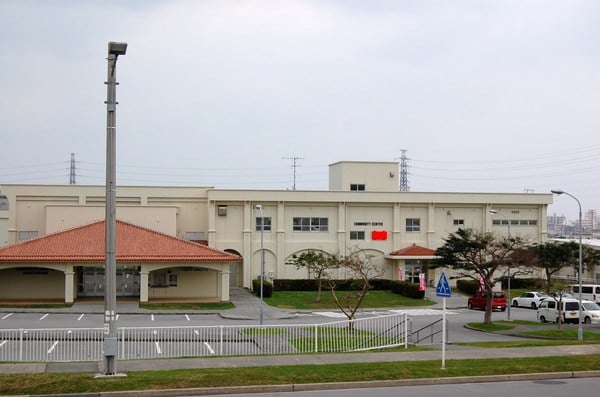 Children who are a bit younger can find activities at the Kishaba Youth Center in building 24 (near Popeye's) which has recreational activities for children between the ages of 10-12. All MCCS sponsored youth centers on island are affiliated with the Boys and Girls Clubs of America. Specific information can be found at: http://www.mccsokinawa.com/youth_centers/
MCCS Tours plus has an office in building 1010 located between the commissary and bowling alley. They are a great resource for getting acquainted to the many sites on Okinawa and for trips off island. For the current info on events and trips visit: http://www.mccsokinawa.com/tours/
The Custom Shop and Foster Framing and Fine Arts are both located in the Foster Community Center building (bldg. 5908). The Custom Shop is a one stop location for plaques, trophies, embroidery, silk-screening, engraving and laser engraving. For current info visit: http://www.mccsokinawa.com/customshop/
Foster Framing and Fine Arts offers classes in Ikebana, pottery, Japanese Calligraphy and other artistic disciplines. Aside from classes you can stop by and use the pottery wheels, easels, mat cutters, work tables and kiln services with the staff standing by to offer help and advice. For more info visit: http://www.mccsokinawa.com/framingandfinearts/
Education
Foster has three DODEA schools on the camp. They are Killin Elementary School, Zukeran Elementary School and Kubasaki High School. Middle school students are bussed to Lester Middle School.
All the DODEA schools on island are considered to be among safest and highest performing in the nation. For this particular reason Okinawa is considered a duty station of choice for families with school age children. For more information visit: http://www.dodea.edu/Pacific/Okinawa/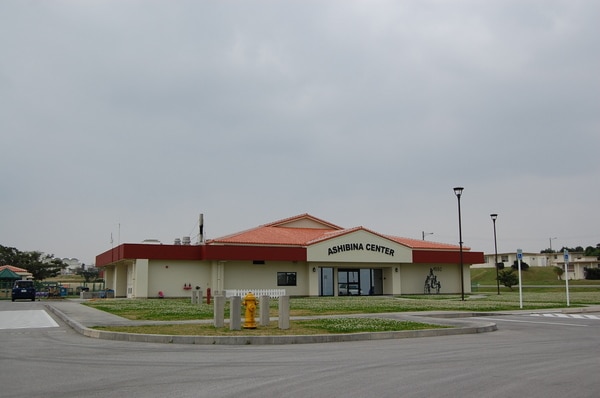 The Child Development Centers on Camp Foster are called the Foster Ashibina located in building 1680 and Foster Chimugukuru located in building 499.  Specific information can be found at: http://www.mccsokinawa.com/cdc/
The Base Education Center (building 5679) offers tuition assistance help as well as hosts various self-help and transitional classes offered by MCCS. The education center contains offices manned by representatives from the main College Campuses offered on Okinawa as well as flyers and literature from various online campuses. For more info on the education options on Foster through MCCS visit: http://www.mccsokinawa.com/educationandcareerservices/
There is a MCCS ran library on Foster that checks out books, movies, and video games. There are also a variety of resources on site such as a testing center, computer access, printers, and reference materials. All MCCS libraries are networked so a book checked out on another base can be returned at this location. For more information visit their webpage at: http://www.mccsokinawa.com/libraries/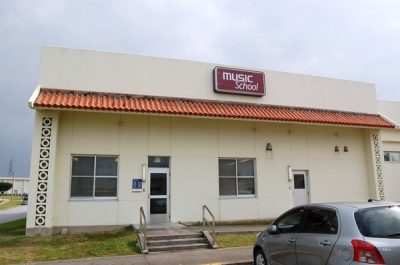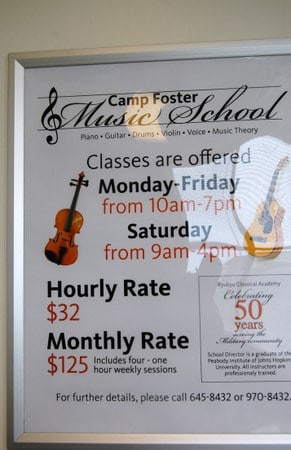 Located at the end of the furniture store is a Music School (also Bldg. 5949). Classes are offered Monday thru Friday from 1000 to 1900 and Saturday from 0900 to 1600. The school's headmaster is Professor Bienvenido S.P. Panganiban who served as director of the Ryukyu Classical Academy and completed dual Masters Degrees in music through Peabody. Joelle addressed this briefly in this article.
Unique Attractions or Services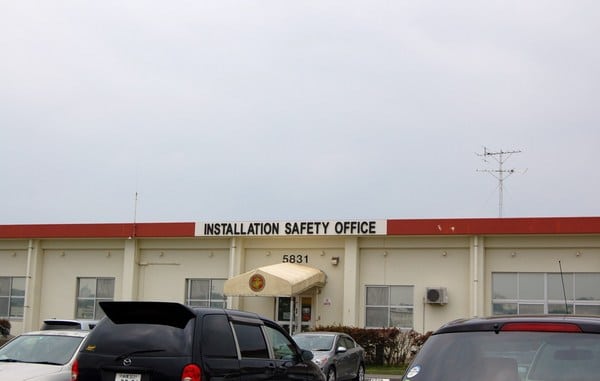 Camp Foster is the central location for the Joint Services Vehicle Registration Office, located in building 5638 behind the bowling center. This is where you go to register your car, transfer your registration upon selling your car, get duplicate titles, license plates, and where you can do your two year Japanese Compulsory Insurance (JCI) inspections. You also generally have to visit this office if you pay your annual road tax off base. On Okinawa, only one vehicle and motorcycle are allowed per licensed driver.
*A note on driving on Okinawa. There are a few differences about driving in Japan aside from the obvious shift to the left side of the street. One big difference is that local drivers on island tend to drive extremely cautiously, sometimes to a fault. This can be a culture shock to westerners who are used to traffic patterns that maintain a very fast flow. If a Japanese diver is unsure or unsafe, they tend to slow down or brake. Make sure you keep your attention focused on the road for sudden stops, slow moving vehicles or obstacles. Proper driving etiquette in Okinawa is also to flash your hazard lights as a "thank you", or "sorry" gesture to other drivers. You will see this when you let someone in the road in front of you or sometimes if you are actually cut off by a local driver who might not have seen you.  Before you drive angry look for the flashing hazard gesture and consider adopting it yourself to help diffuse road tension.
Camp Foster also has the primary office for issuing Personally Owned Vehicle (POV) licenses on Okinawa for SOFA personnel. This office is the POV licensing section inside of the MCIPAC Installation Safety Office (building 5831). For details on the licensing section and getting a license visit: https://www.mccsokinawa.com/uploadedFiles/MainSite/Content/Marine_and_Family/Marine_and_Family_Programs_-_Resources/Weclome_Aboard_Okinawa/Obtaining%20Sofa%20License.pdf
All incoming Marine Corps personnel are processed through Camp Foster via the Joint Reception Center (unaccompanied personnel), or New Comers Orientation Brief (accompanied, civilian employees, and dependents). This is a very useful booklet made by MCCS for incoming families: https://www.mccsokinawa.com/uploadedFiles/MainSite/Content/Marine_and_Family/Marine_and_Family_Programs_-_Resources/Weclome_Aboard_Okinawa/GettingSettled(1).pdf
Camp Foster is one of the few bases that host a flea market that is open to both SOFA status personnel and local residents. Information on scheduling or registering as a seller can be found at: http://www.mccsokinawa.com/fleamarket/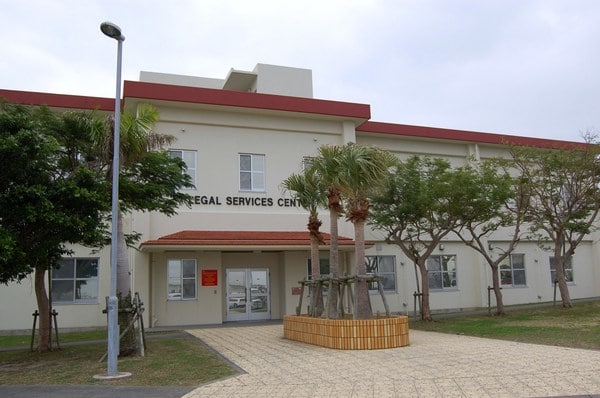 The Marine Corps main legal assistance office is located on Camp Foster in building 437.  The legal assistance office offers notary services, attorney consultation, and preventative law/pre-deployment briefs. For more information visit: http://www.mcbbutler.marines.mil/BaseInformation/LegalAssistance.aspx
The primary Passport office for the Marine Corps is in the IPAC building. This office can process no fee and tourist passports through the United States Consulate as well as provide a SOFA stamp on new passports as long as you provide a valid set of orders and area clearance. It is very important to have all the paperwork prior to showing up since the staff at this location is limited to one agent and a few helpers. Since there is not an actual webpage with current info due to administration office moves, here is the most current info:  the DSN phone number is 645-9848/9847; the hours are 0730-1100 & 1300-1600 daily, except Thursdays which is 0730-1100. They also do schedule appointments (highly advised) online at campfosterpassports.setmore.com.
Family Services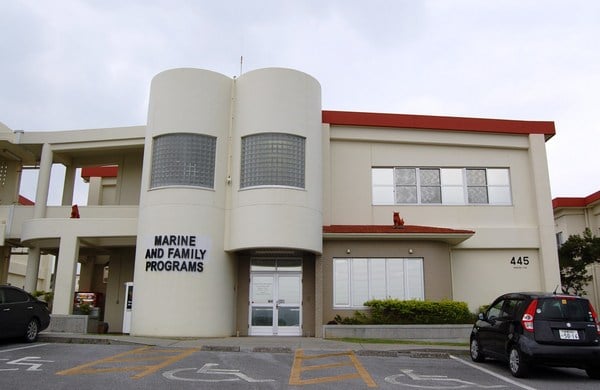 Marine and Family Programs have a well-equipped facility which is located within building 445.  For more information you can go to their webpage at: http://www.mccsokinawa.com/mfp-r/
Medical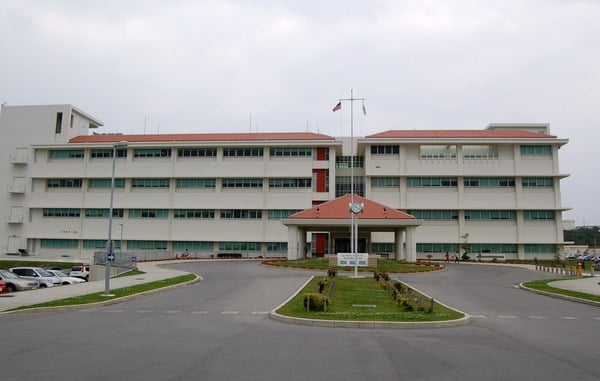 Camp Foster is now home to the new U.S. Naval Hospital Okinawa. This facility is not only state of the art but is currently the largest overseas hospital in the United States Navy. Located in building 960 this complex is almost a base within a camp. The Naval Hospital Okinawa is online at: http://www.med.navy.mil/sites/nhoki/Pages/default.aspx
The Naval Hospital has its own exchange, barber shop, gift shop, coffee shop and subway restaurant. Hours for the AAFES ran establishments can be found under "Hospital Exchange Facilities" at: https://www.shopmyexchange.com/exchange-stores/United%20States/AP/APO/Camp-Foster-(Okinawa)-1771001 . A new addition to the Hospital is Dean's Kitchen, which is in the process of moving from its location off base to the Naval Hospital. Dean's is known for its delicious yet healthy menu and excellent baked goods. The baked Coffee balls are unbelievably good and worth going out of your way for.
The Bush Dental clinic is the primary dental facility that services active duty, dependents, and retirees. The main page for info on all the Dental clinics on island can be found at: http://www.med.navy.mil/sites/nhoki/Patients/Pages/Dental.aspx
Transportation/Car Care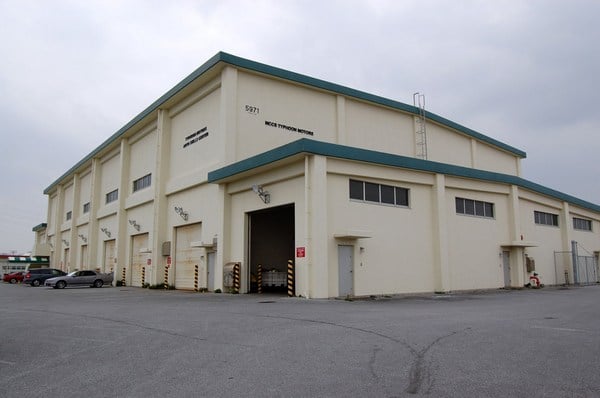 There is a fuel station, car rental store, convenience store and repair shop operated by the Exchange on this camp located in building 5644.  The service station does oil changes and other repairs by appointment. There is an automated car wash near the fuel pumps and an area that offers hand detailing for the interior and exterior of your vehicle. Store information can be found at: https://www.shopmyexchange.com/exchange-stores/Okinawa/AP/APO/Camp-Foster-(Okinawa)-1771001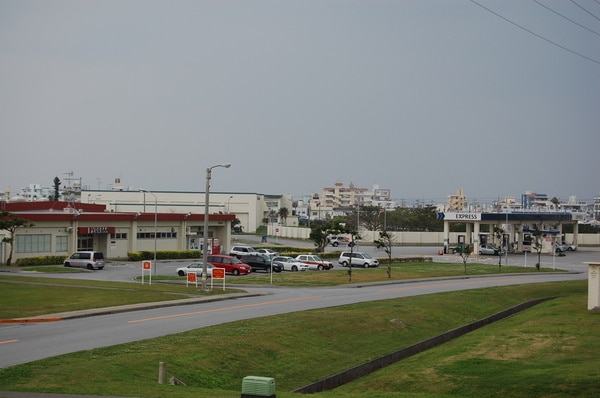 The auto hobby shop on Camp Foster is Typhoon Motors in building 5971. This facility is run by MCCS and offers full service repairs or bay, lift, or tool rental for those wanting to get their hands dirty. The Foster location specifically houses an Auto Recovery Center that serves as a great resource for used parts. Typhoon Motors on Camp Foster is also the hub for 24 hour island wide towing. The main page for all things Typhoon motor related on island is: http://www.mccsokinawa.com/typhoonmotors/
Marine Corps Bases Camp Butler offers a camp to camp bus service called The Green Line for service members and space available transportation for authorized ID card holders. The Camp Foster is the Green Line Hub with busses to every camp stopping at the Main Exchange bus stop. For more information you can visit the MCB Butler Shuttle Service main page at: http://www.mcbbutler.marines.mil/BaseInformation/TheGreenLine.aspx
There are various taxi services available in the area. Here is a useful article from Staci on the subject.
Popular Nearby Attractions
There are an enormous amount of restaurants, parks and tourist attractions that can be enjoyed near Camp Foster. Below are but a few suggestions by fellow Okinawa Hai alumni.
Araha Beach is very near the Commissary Gate and is a favorite place to visit among westerners and locals. The linked article is older but still relevant article, written by one of our original writers, Julia.
One place on most visitors to do list is Nakagusuku Castle. Here is a beautiful article about the UNESCO World Heritage site.
The Nakamurake Old House is near Nakagusuku Castle and is hundreds of years old. An article for this local treasure can be found linked above.
Sam's Café is located within walking distance of Camp Foster's Legion Gate. This establishment is a good place for island newbies to transition toward dining off base. The service is impeccable, the food is delicious and they accept all major credit cards.
One absolute favorite of most people around Camp Foster is Gen Restaurant. If you feel that you have graduated past Sam's and are ready for something more along the lines of a traditional Japanese flavor pallet, Gen will not disappoint.  The link above has a reader review along with comments which pretty much sum up what this culinary gem is all about.
A brunch favorite is the Rose Garden outside Plaza Housing. The Rose Garden is so popular that it often has issues with parking and overcrowding. To avoid the drama I would recommend going on a weekday. I also suggest getting the scones, eggs benedict, or pork chop with eggs.
A popular place outside the Legion Gate to shop for furniture and household goods is the Living Design Space or what most people refer to as Today Ok. This area is actually a combination of several stores. One area sells used furniture, one area sells imported goods and household items, and another area sells modern furniture and is reminiscent of IKEA. The final area on the second floor is co-located by a Café and sells upscale items made by famous designers but is very pricey. A great article can be found at this link.
Curry Rice is a Japanese staple but the reigning king of Japanese Curry in the minds of most westerners living on Okinawa is CoCoIchibanya aka CoCo's Curry House. When you are stateside and you run into people who lived in Okinawa, CoCo's usually tops everyone's list of most missed things. CoCo's is a chain franchise throughout the island with some locations offering specials not found at other locations. All accept dollars or yen but only specific locations will take credit card. Linked above is an article that mentions the Foster location outside the commissary gate.
Manga Souko is a popular store that sells all manner of used merchandise. To pass this off as simply a second hand store would be a huge mistake. Manga Souko has toys, video games, game systems, trading cards, musical instruments, music CD's (they work in American players), books, electronics, clothing, shoes, pottery, antiques, etc… You can read our review here.
Plaza Shopping Center is located near Plaza Base Housing. There are clothing, furniture, and gift shops as well as gourmet food stores. The main website is http://plazahouse.net/ which provides a useful overview of the facilities. Here are some other articles covering the establishments within Plaza Shopping Center:
Plaza House Chinese Restaurant
You can always find a detailed list of reader-reviewed restaurants here on Okinawa Hai, listed by location HERE.
---
Have we missed something useful about Camp Kinser in this post? Please leave a comment with any information that can be helpful for our community!