Gajumaru aka The Treehouse Restaurant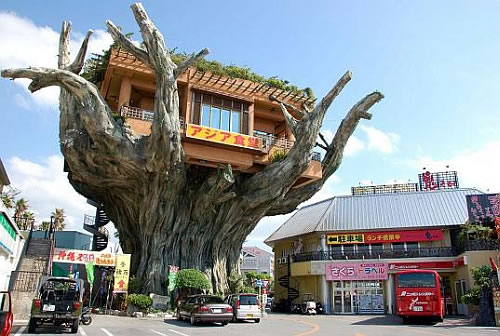 UPDATED BY SARAH FORTE

View of the restaurant from Route 58 (Picture from 2009)
Update: June 2012
Maybe you are familiar with a website that promotes "pinning" pictures and internet links that are "interesting" to you. Recently on that website, I've often seen a picture similar to the one posted above. I see it "pinned" by people that I know have never been to Okinawa. They often say something like "Isn't that a cool restaurant? I wonder where it is? I would love to eat there!"  Well, we are the lucky ones! It's in Okinawa, and you may have driven past it near the Naha airport. I have lived here three years and I believe it is on it's third owner and operating under it's third official name, but to most Americans it is commonly (if not creatively) known as "The Treehouse Restaurant."
It's most recent incarnation may be its best. It is now named Gajumaru and specializes in shabu-shabu. In the past, the location overlooking the Naha Harbor and the fantastic exterior design may have been the draw, but the food was forgettable. Not any more! I recently ate lunch with a group of friends ranging from shabu-shabu experts (they had had homemade shabu-shabu the day before) to the shabu-shabu newbies who had never heard of it before. All left satisfied and enjoyed the experience and the food.
Shabu-shabu, Step 1
What is shabu-shabu you ask? It is an Asian way of cooking that could best be compared to fondue. If you've never tried it before, don't worry. Gajumaru provides you with handy English instructions on how to handle this way of eating. First you need to order your type of shabu-shabu. The lunch options ranged from pork rib and chicken which were under 1000¥ to the more expensive types and quantities of meat for around 2000¥.
Shabu-shabu is a meal that you cook at your table. Instead of a grill in the middle of the table like yakiniku, there is a glass-top cooking surface. The server insured that each person who ordered shabu-shabu was near a container of broth that was brought to a boil at the table. Instead of a pot each container of broth was prepared in an interesting basket with a liner. The contraption looked like it was going to end disastrously with hot broth seeping out, but of course they held up wonderfully. Each set was served on a few dishes. There was a plate of vegetables and tofu, a tray of meat, and two kinds of dipping sauce: sesame and a citrusy soy. Whether you choose to follow the directions or go rouge is up to you. Traditionally, the tofu is added to the boiling broth first, then the vegetables. This is followed by the meat which is held by the chopsticks and swished through the boiling broth "like a paintbrush."
There were also non-shabu-shabu menu items available. For 980¥ each, you have your choice of nine different sets each served with rice, a vegetable and miso soup. These dishes featured familiar Okinawan dishes like curry, taco rice, ginger pork and more. Side dishes were also available such as dumplings, tofu, kimchee and others. There were a few small dessert items too.
Included with each lunch set (shabu-shabu or not) was a drink bar, salad bar and a bowl of rice. The drink bar had cold and hot teas, coffee and my favorite: Okinawan lemonade. This is code for shikwasa! The salad bar is simple and Okinawan; greens with toppings like corn, goya, and seaweed, finished with sesame or Japanese style dressings. The rice is your choice of brown or white and I highly suggest the brown. It was almost purple in color and full of flavor.
I imagine that dinner at Gajumaru would be wonderful. The lights of the harbor below would be great and there are even more options on both the shabu-shabu and regular menus. Maybe next time!
While the unique character and shape of this restaurant may still be it's biggest draw I now can fully recommend this restaurant for its food as well. Give it a try!
The whole set up!
Information: 
Directions: Gajumaru is located next to Naha Harbor on 58. (On some maps this is the point where 58 becomes 331, but it is the same road.) If you are driving south on 58 you will cross a bridge over the harbor and can see the restaurant from the bridge. After crossing the bridge, turn left at the giant treehouse! Parking for the restaurant is behind the tree and surrounded by a rental car lot. Walk to the back of the giant tree and you will see a smaller branch of the tree, which is the elevator. Be ready for a kijimuna inside!
Phone: 098-859-6530. Reservations may be needed for dinner hours.
Hours: Open daily year round. Lunch 1130-1530. Dinner 1830-0000.
Payment: Yen and credit card
Kids? Yes! This restaurant is kid friendly, especially at lunch. There is a children's lunch set and highchairs.
[/caption]