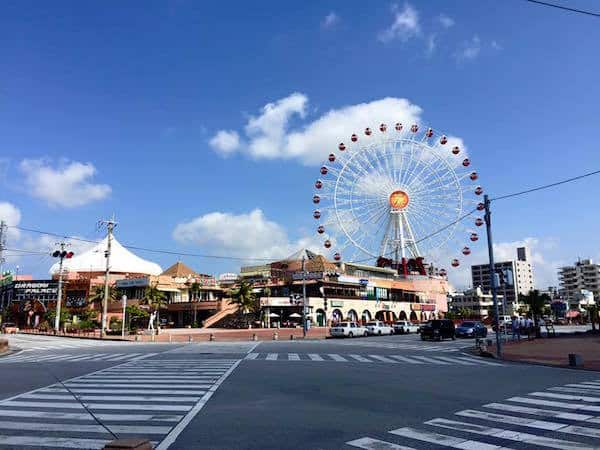 Mihama American Village
CONTRIBUTED BY LOUISE DUPUY
American Village is a hugely popular tourist attraction. A short drive off Highway 58, between Camp Foster and Kadena Air Base, and across from Camp Lester, it's a must-visit for locals and tourists alike. But what does it have to offer? Rather a lot, as you're about to discover.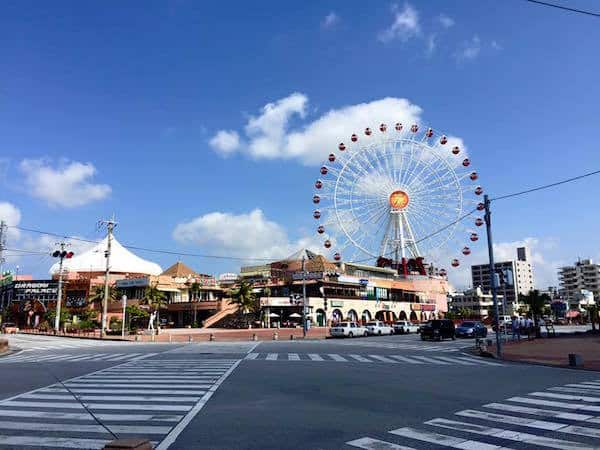 Shopping
Who doesn't love to shop? There's quite a variety here, including clothing, gifts, kids toys, perfume, accessories, and even hover boards, if that's your thing. All the buildings have facades, brightly colored, and the place has a kind of "Pirates Of The Caribbean" feel. There's a huge store selling everything Americana, though this is aimed at tourists, so it's maybe a little cheesy? However, they still have some splendid stuff. I like the old license plates particularly, and some of the quirky cool t-shirts. It would be a neat place to shop if you were theming a room.
Across from Depot Island (the area housing the Americana store, plus other shops and eateries), is a multilevel shopping center. It has a 100 yen shop, a tax-free shop, some gift places, a few clothing stores, and a quirky Japanese-style sells everything type place. It's called Honey, second floor, and it's worth at least a slice of your time. I love all the cat-themed items they carry! A short walk down from Depot Island, behind the multiplex, is a large Aeon Mall. You could spend a good few hours in here alone.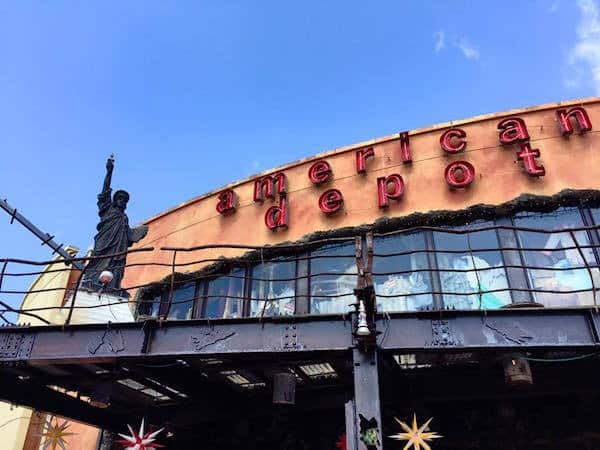 Dining
All that shopping is bound to work up quite an appetite. Luckily, there are a plethora of eateries to satiate! What do you fancy? Japanese? American? Mexican? Thai? Indian? You're covered. It's all here. There are also cafes and dessert places, in case you're peckish but not ravishing.
To find a full listing of restaurants we have reviews about in American Village, check out our To Eat Index: By Location.
A few of my favorites are Pizzeria Bar Ariccia and Taco Loco. Pizzeria Bar Ariccia is a brick oven Italian pizza restaurant overlooking the ocean. They have a rotating lunch special, spacious climate controlled dining area, and that awesome view. Their pizzas are simple and light with high-quality ingredients so they won't leave you feeling stuffed if you try them for lunch. They also have an awesome selection of fresh pastas for dinner and sunset happy hour
Taco Loco is a authentic mexican restaurant with great tacos al pastor. It's nestled in on the second floor with a relaxed bar style environment. Their recipes were carried to Okinawa via Mexico by Taku, who spent lots of time diving the Yucatan, to share with us in Okinawa. They also have a bar with beer and cocktails, and mojitos if you would like. #TACOTUESDAY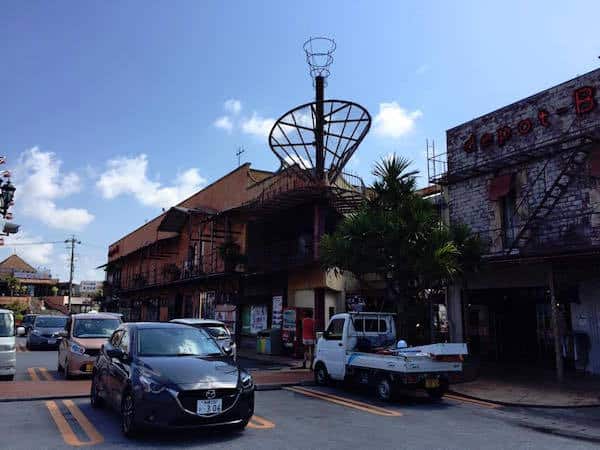 Entertainment
Have kids (or an adult) to wear out? American Village isn't just about food and shopping. There are two arcades: Sega and Dragon Palace. Dragon Palace is multilevel, plenty of running up and down will soon tire them out! A big variety of games will hold their attention too. Sega is also pretty big and has a similar selection to Dragon Palace.
There's also bowling, and of course, the Ferris wheel. You can ride this day or night (weather permitting), and get a spectacular view of the area. If your idea of entertainment is being pampered, you can find nail bars and salons here. Get your nails done, a new do, and grab a coffee and a slice of cake at a cafe! Perfect! Another option is the movie theater, a stone's throw from Depot Island. Do you love to sing? Test out your vocal chords at the karaoke! Delight (or horrify) with a rendition of your favorite song.
American Village can be a great place to go for a date as well. Many people flock to the area near sunset to watch the sun disappear off the west coast of the island. If you are single and wish to meet someone to enjoy the sunset with you can always try Universe Club dating site to meet people. At Universal singles can meet other singles for dates.  On any given night you may discover a local band playing in the plaza between the Ferris wheel building and Depot Island. Grab a cup of Starbucks or a cup of fro-yo and enjoy!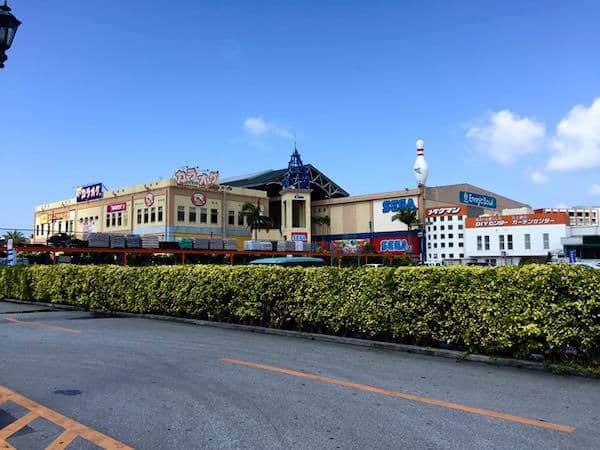 Services
There are several services showing up in American Village which means you can take care of needs and errands too. There are some hair and nail salons as well as barber shops and teeth whitening clinics for your grooming needs. Along the boardwalk, near the fisherina, there is an attorney's office , a fitness facility, and even a wedding chapel. Along this area is also where people watch the Chatan Haari (Dragon boat) races.
Parking
Parking isn't too bad. There's Mihama public parking across from the Aeon Mall, a small amount of parking behind Depot Island, and another fair-sized lot in front of the Sega arcade. It gets really busy on weekends and special holidays, but for the most part, you can usually find somewhere to park. And it's free, another bonus.
Life's A Beach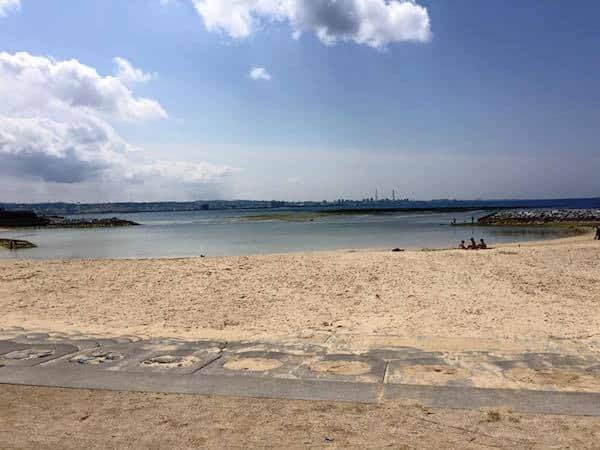 Just when you thought there wasn't more to do here, surprise! There's a beach too! Sunset beach Mihama is barely a 2-minute walk from the main hustle and bustle. It's a fair size, with soft, lemon-yellow sand, and crystal clear waters. If anyone has ever told you "you're never too far from a beach on Okinawa", they weren't exaggerating. As the name suggests, this is a wonderful spot to watch the setting sun. So after a long day of shopping, eating, and beating your loved ones at various arcade games, you can relax on the beach, feet in the ocean until it's time to catch a movie. Perfect.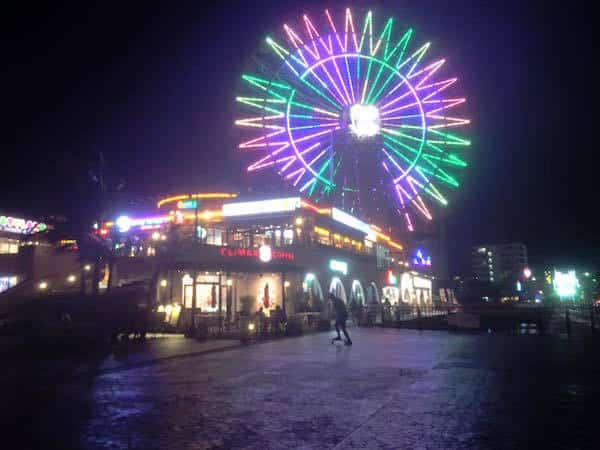 ---
Mihama American Village
Website: https://www.okinawa-americanvillage.com/?shopcat=en-shopping&lang=en
Address: Japan, 〒904-0115 Okinawa Prefecture, Nakagami District, 北谷町15−69
Google Maps Coordinates: 26.315851, 127.7576689
Directions: American Village is located in Mihama, just off 58. From Kadena Gate 1, take a left onto 58. Take a right at the 5th light; Four Seasons Steakhouse will be on your right. From Camp Foster Commissary Gate gate a left onto 58; take a left at the 6th light. A Lawson's Station will be on your left.